You Should Only Buy Reef-Safe Sunscreen
But be wary. Not all reef-safe sunscreens are created equal.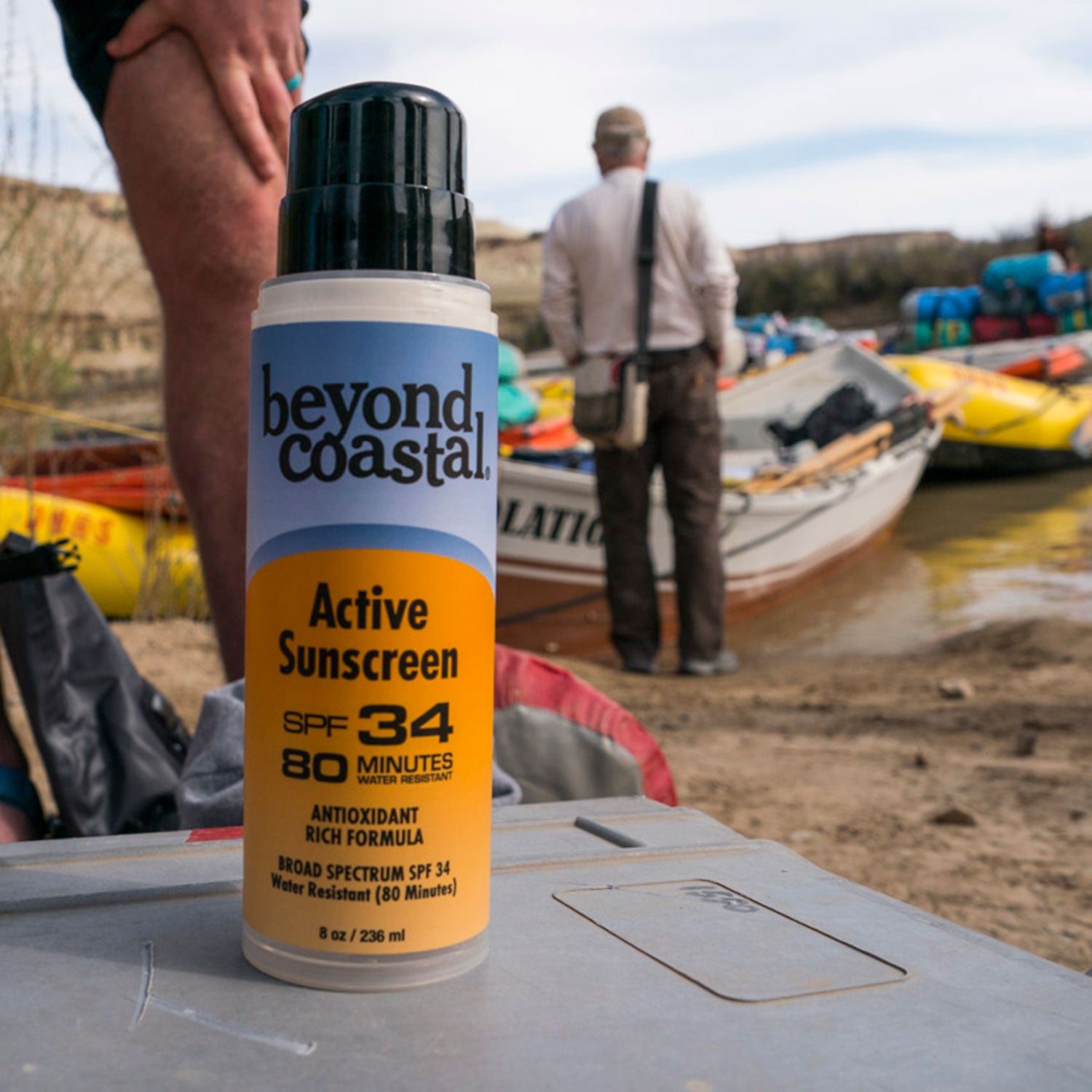 Adam Clark(Photo)
Heading out the door? Read this article on the new Outside+ app available now on iOS devices for members! Download the app.
There's a good chance the sunscreen you slather on at the beach is doing permanent damage to the ocean's reefs, thanks to a couple of common compounds that cause deformities in the coral. Mounting research shows that oxybenzone and octinoxate, two UV-blocking chemicals found in most sunscreens, cause bleaching, DNA damage, and death in coral when they're washed off of swimmers. According to the nonprofit Haereticus Environmental Laboratory, an estimated 14,000 tons of sunscreen are deposited in oceans every year.
"You can actually see the sunscreen in the water," says Colleen Gilligan, marketing director for Beyond Coastal, one of the pioneering reef-safe sunscreens on the market. "If you're on a diving trip, or even in a swimming pool, and you notice a greasy film on the surface, that's everyone's sunscreen washing off."
Combine our sunscreen addiction with other pollutants and rising water temperatures, and you get a bleak picture of coral health across the globe. Coral reefs have already declined by 40 percent in Hawaii, 50 percent in the Great Barrier Reef, 85 percent in the Caribbean and 99 percent in the Florida Keys.
So just buy sunscreen labeled "reef-safe," right? Wrong.
"There isn't any FDA or governmental definition for what qualifies as 'reef-safe,'" Gilligan says, adding that it's hard to trust a label on a bottle when there's no real oversight. Instead, you need to look at the actual ingredients. "Your best bet is to steer towards sunscreens that are mineral-based, not chemical-based."
Most true reef-safe sunscreens rely on naturally occurring minerals like zinc oxide (remember the white noses of the eighties?) as the active sun-blocking ingredient, instead of chemicals like oxybenzone. Hawaii has even taken steps to help you make the right choice. At the beginning of July, Hawaii's governor signed a bill that bans from the state the sale of sunscreens that contain chemicals harmful to coral reefs. It's the first law of its kind passed, not just in the U.S. but in the world. The ban goes into effect on January 1, 2021.
Want to do the right thing in the meantime? Wear more sun hats and sun shirts, and if you are going to use sunscreen, pick from this list.
Beyond Coastal Natural ($15)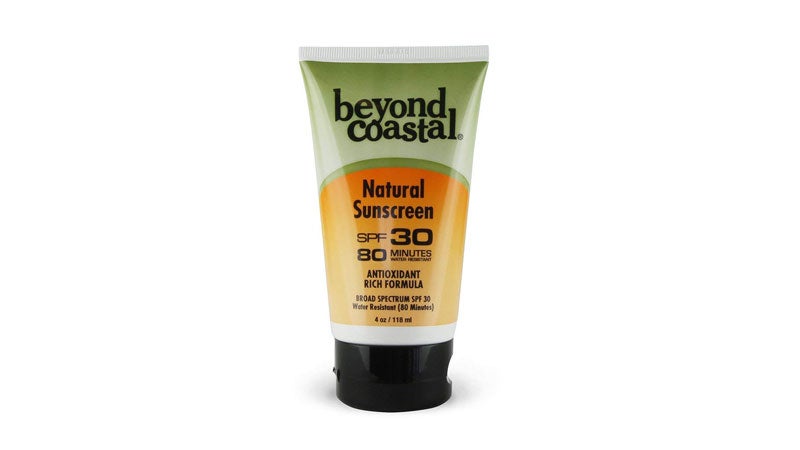 Beyond Coastal's SPF 34 Natural eschews the common chemicals and uses as its major active ingredient zinc oxide, which blocks 97 percent of UVB rays. In addition to the zinc oxide, the lotion has all kinds of skin-loving ingredients, like acai fruit extract, aloe vera, and cocoa butter. 
Hawaiian Sol SolGuard ($16)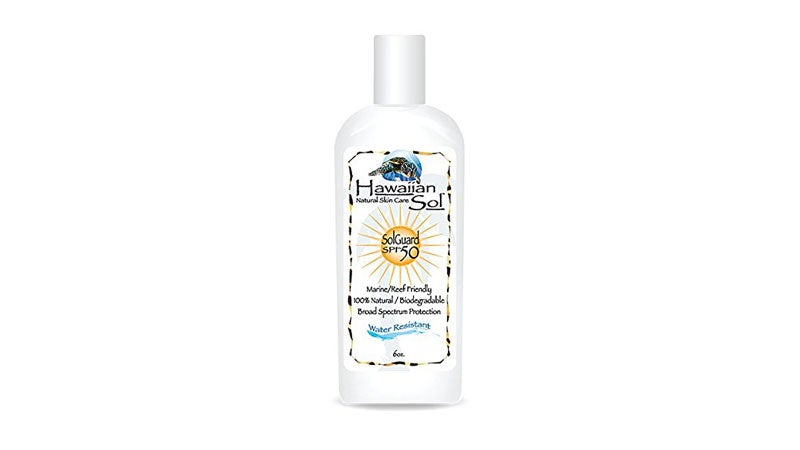 This is the sunscreen Hawaii's Hanauma Bay State Park recommends to its visitors. Like Beyond Coastal, it uses zinc oxide instead of the harmful chemicals to block UVB and UVA rays and runs the spectrum from SPF 8 to SPF 50. SolGuard also incorporates cucumber extract, aloe leaf, and kukui oil to help hydrate your skin.
Mama Kuleana Waterproof SPF 30 ($20)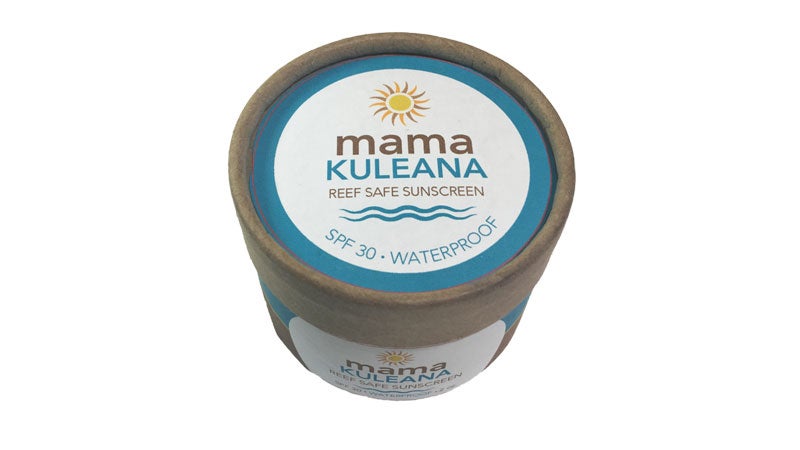 Even the packaging on this sunscreen is earth-friendly. Maui-based Mama Kuleana uses biodegradable containers for its sunscreen, which is loaded with organic shea butter, coconut oil, beeswax, almond oil, zinc powder, and a whole bunch of other things you'd find in random Whole Foods aisles. SPF30
ThinkSport ($12)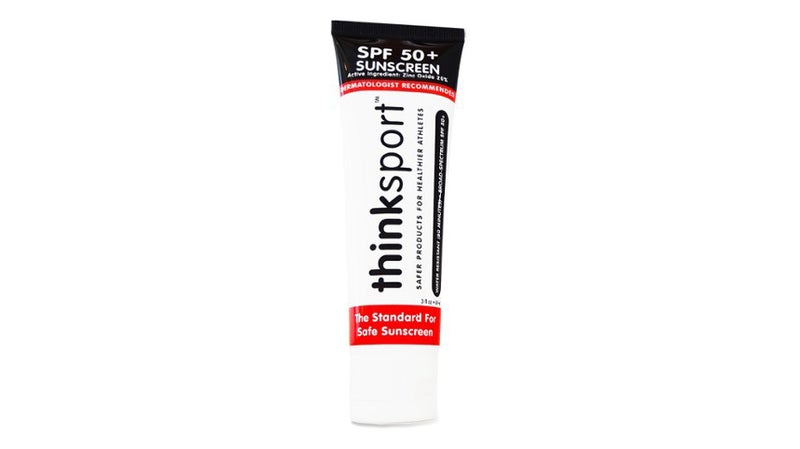 ThinkSport's zinc-oxide-based formula goes on easy and earned a perfect score from the Environmental Working Group. It's SPF 50, and it's even safe enough to put on your baby. Seriously.
Beyond Coastal Active ($15)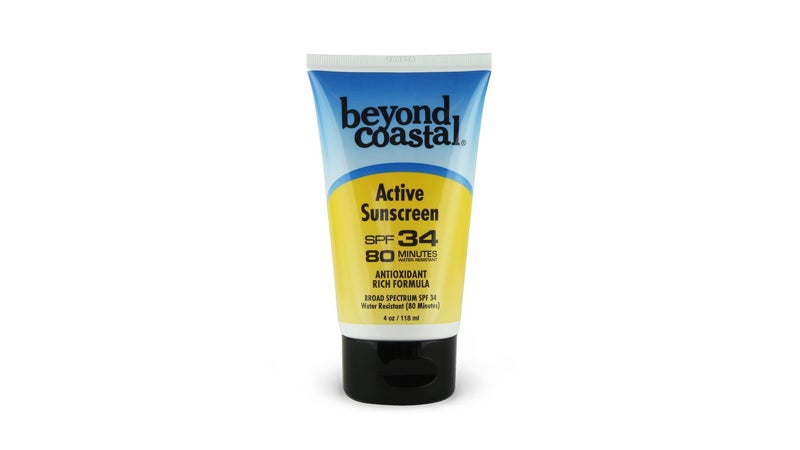 Some people don't like zinc oxide sunscreens because they create an actual physical barrier between your skin and the sun, making it difficult to sweat. Beyond Coastal's Active formula uses safer chemicals as well as the company's cocktail of natural ingredients that hydrate your skin.
Lead Photo: Adam Clark
Trending on Outside Online