2023 Summer Gear Guide
The Best Hydration Vests of 2023
We tested nearly 20 hydration packs on everything from roads to rugged trails. These five outperformed the rest.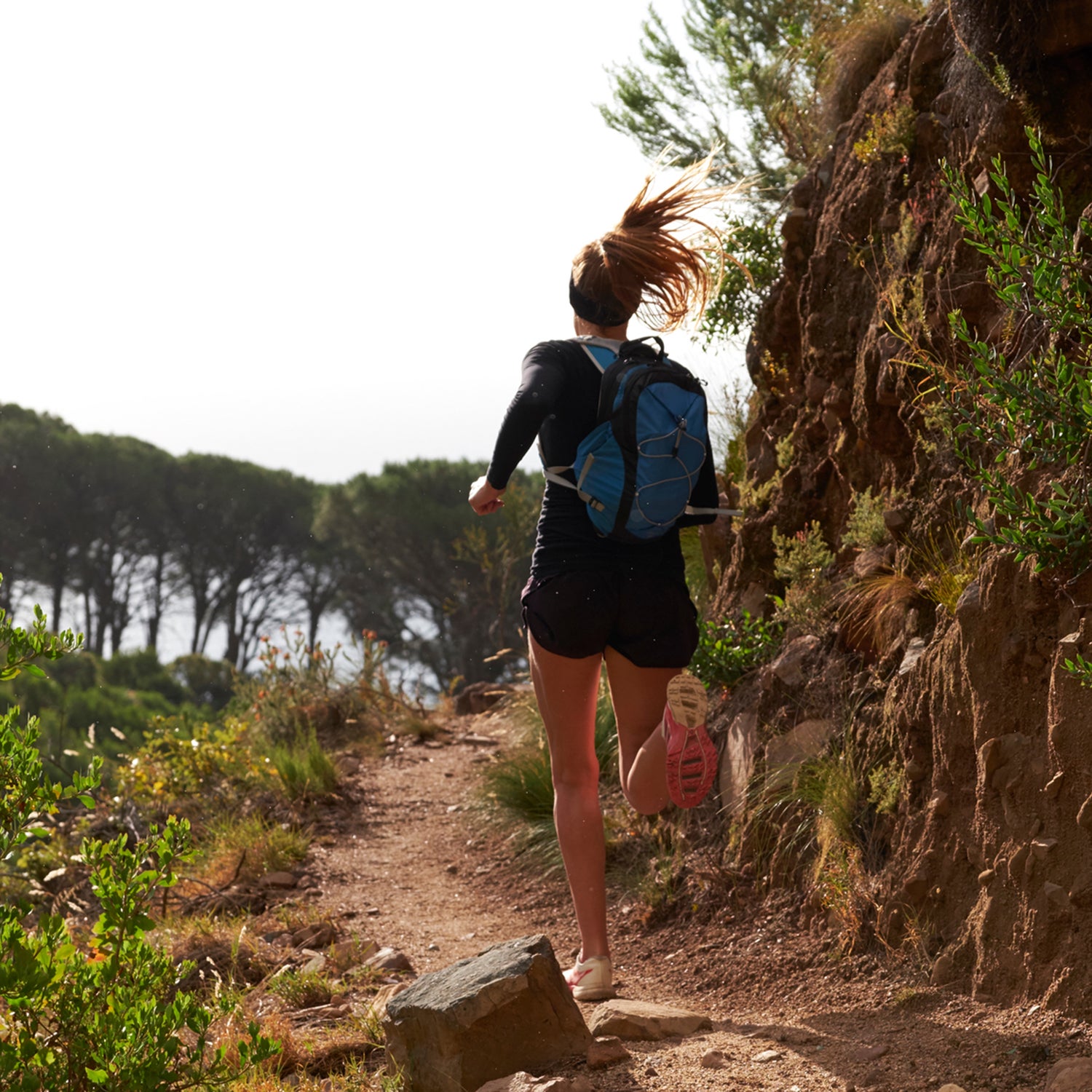 Heading out the door? Read this article on the new Outside+ app available now on iOS devices for members! Download the app.
Over the years, the hydration running vest market has gone from niche to mainstream. There's now a pack for every kind of runner and every kind of run. We've got sleek no-frills vests for fast and flat runs and feature-rich packs for long efforts on trails. There are even styles specifically designed for technical terrain. As the hydration pack scene becomes more robust, we've noticed that the designs are more precise than ever before: comfortable fit, no bounce, and plenty of pockets for snacks, layers, and poles that can be accessed without breaking stride. With such a high-quality pack market it was hard to pick our top vests, but a few stood out.
The Winners at a Glance
Best for Unsupported Ultra-Long Runs: Black Diamond Distance 22
Best for Weekend Long Runs: Salomon Adv Skin 12
Best for a Day on the Trail: Dynafit Alpine 8
Best for Setting an FKT: The North Face Summit Run Race Day Vest 8
Best for Ultra Races: Rab Veil 6
How We Test
Number of Testers: 3
Number of Products Tested: 18
Number of Miles: 472
Vertical Feet: 107,500 feet
Three runners, from the Cascades to the Rockies, tested 18 different hydration packs on every kind of run, from quick pre-work morning road workouts to long 30-hour pushes over rugged trails. Our small team included middle-of-the-pack runners and podium-finishers, those who enjoy pushing the pace and those who live for slow steep miles. We tested packs in late summer during prime alpine running season, but we also spent a good amount of time on casual runs close to home. What we found is that the best running packs excel in a few key areas: comfort, bounce (specifically, the lack thereof), and pockets. Each runner filled out a detailed questionnaire after each run to rank how well the packs performed in each of those categories. After two months of vetting, these five winners rose to the top.
Meet Our Lead Tester
Anna Callaghan is a freelance writer and ultrarunner based in Boulder, Colorado. She tested packs on backyard runs in the Flatirons, classic 26-mile loops in the alpine, and on the Wonderland Trail that circumnavigates Mount Rainier (Tahoma).
The Reviews: The Best Hydration Vests of 2023
Best for Unsupported Ultra-Long Runs: Black Diamond Distance 22 ($200)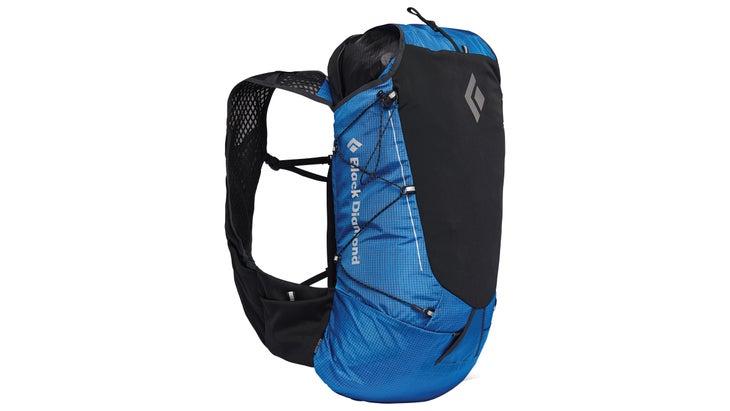 Weight: 14.5 ounces
Size Range: S–L
Hydration: Flasks or Bladder
The Distance 22 is Black Diamond's largest hybrid running vest/pack. It's similar to the brand's Distance 15, but adds an extra front zipper pocket and a large woven pocket on the back for storing easy-to-access essentials like a puffy jacket. The Distance 22's size translates to ample storage for any ultra trail runner on a long unsupported effort: a roomy main compartment, two zippered front pockets, two flask pockets, four mesh front and side pockets, and dedicated pole pockets. The dual ice-axe carry transforms the pack into the ideal mountain companion in technical terrain, too. One tester, who wore it for an attempt on the 93-mile Wonderland Trail, said "there was room for 30-miles worth of gels up front, my phone, and an InReach that was running on a battery pack. All the important stuff was accessible without things feeling cramped."
Best for Weekend Long Runs: Salomon Adv Skin 12 ($160)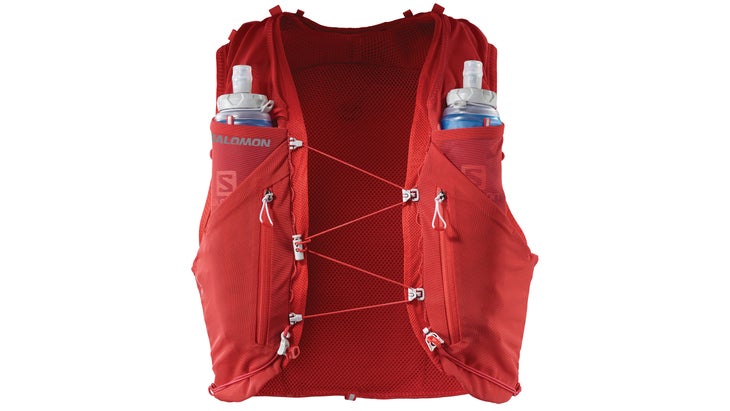 Weight: 10.33 ounces
Size Range: XS–XL
Hydration: Flasks or Bladder
The Skin 12 feels like a good hug—tight but not suffocating. Stretchy bungee cord adjustments provide an über-custom, snug fit and prevent flask sloshing and bouncing. Our testers loved all 13 (!) accessible pockets on the vest. It has all the expected mesh flask and snack pockets, plus zippered pockets for valuables, a large mesh kangaroo pocket on the back for big layers, and a sneaky bonus stretchy pocket behind the neck. On a 25-mile trail run, one tester stashed her wind shirt and water filter in the top rear pocket to avoid having to ever take off her pack. The Skin 12 fits everything you need for a triple-digit run, yet one tester also noted that the vest "wasn't cumbersome for a six-mile run where I wasn't carrying much."
Best for a Day on the Trail: Dynafit Alpine 8 ($130)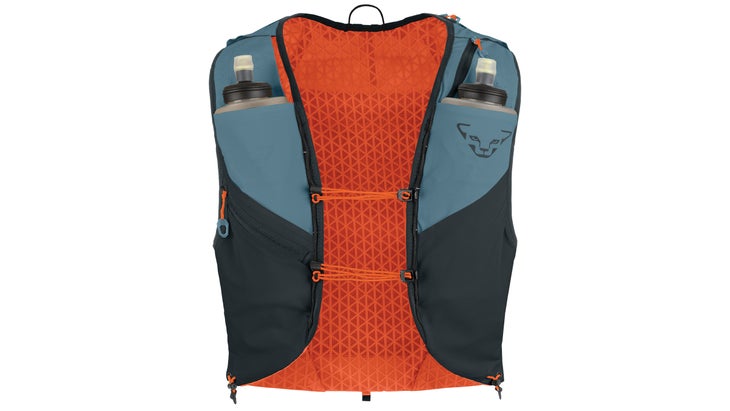 Weight: 8.3 ounces
Size Range: XS/S, M/L, XL
Hydration: Flasks or Bladder
Dynafit's new Alpine 8 is ideal for medium-to-long runs and, given its versatility, could easily suffice as a trail runner's one-pack quiver. One tester took the vest for a spin on a 20-mile traverse on the trails above Boulder, and reported that "basically every inch of this pack is an easy-to-access pocket." With ample storage, three different options for pole carrying, extra bungees and attachment points, plus a side fit-adjustment system, the Alpine 8 was the most customizable vest in the test, letting you choose your own adventure and optimize where you want to stash things.
Best for Setting an FKT: The North Face Summit Run Race Day Vest 8 ($150)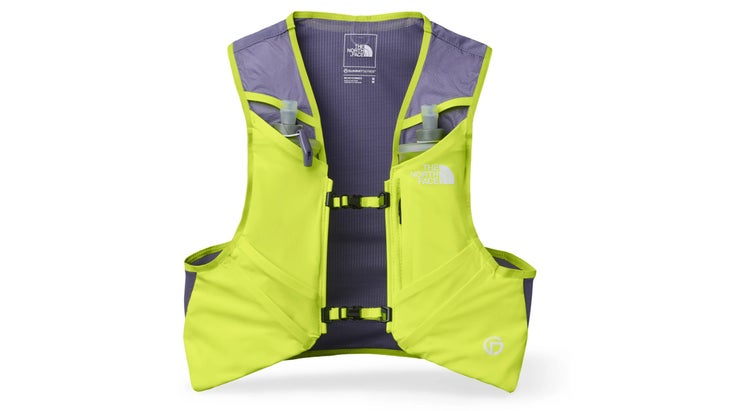 Weight: 4.37 ounces
Size Range: XS–XL
Hydration: Flasks or Bladder
Our first impression of the Race Day: it's weightless. At a mere 4.3 ounces, it's the lightest pack we tested this season. While it has an eight-liter capacity due to copious stretchy pockets, its minimalist design wears like a single layer of fabric so it feels like a much smaller pack. One tester appreciated how this "tiny-but-mighty vest" felt secure and cool during a six-mile tempo run on a hot day. TNF revamped the Race Day this year, using a tighter knit mesh with significantly less stretch to reduce bounce and improve fit. Those who are seeking quick transitions—or FKTs—will appreciate the water bottle leash system, which allows runners to tug bottles back into place quickly.
Best for Ultra Races: Rab Veil 6 ($150)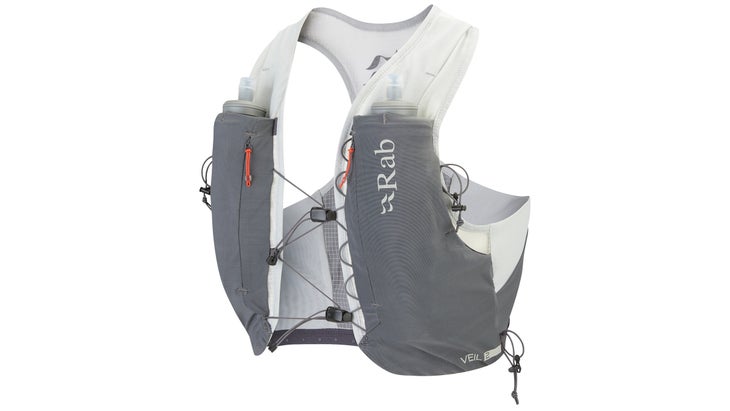 Weight: 8 ounces
Size Range: S–L
Hydration: Flasks or Bladder
Our testers were immediately keen on the clean, muted aesthetic of this pack's shades of gray. As Rab's first-ever dedicated mountain running vest, the Veil hits all the high notes: secure bungee adjustments, comfortable ride no matter how much (or little) is inside, and a sea of gigantic pockets. The chest pockets are layered for maximum storage: in front of each flask pocket there's a zippered pocket for valuables, and a large mesh pocket encompasses the whole ribcage from collar-bone to side (ideal for "cramming baggies full of calories," says one tester). The full kangaroo pocket on the back is great for on-the-go layer changes and can handily accommodate a compressed puffy and a wind shirt.
How to Buy
When it comes to carrying fluids on the run, comfort is key. We think the best way to assess fit is trying the pack on and run around a bit. That's the quickest way to figure out if it feels comfortable to you. Then move on to how you'll use it. When are you going to be wearing this vest? If you're going on short runs in a hot place then you'll want a no-fuss pack that carries water flasks securely. If you do that and also enjoy longer trail runs then you'll want something that can hold car keys and extra layers too. If you can only buy one pack you'll want it to do it all: be comfortable at short distances while mostly empty, and still feel good when crammed full of stuff for an all-day effort. If you're struggling with fit, try a women's model as they're designed to accommodate shorter torsos and breasts.
When it's time to upgrade your gear, don't let the old stuff go to waste–donate it for a good cause and divert it from the landfill. our partner, Gear Fix, will repair and resell your stuff for free! Just box up your retired items, print a free shipping label, and send them off. We'll donate 100 percent of the proceeds to The Outdoorist Oath.
Lead Photo: Jacques van Zyl/Stocksy