Our Gear Guy's 5 Favorite Running Tees
The search for the perfect jogging top has led us here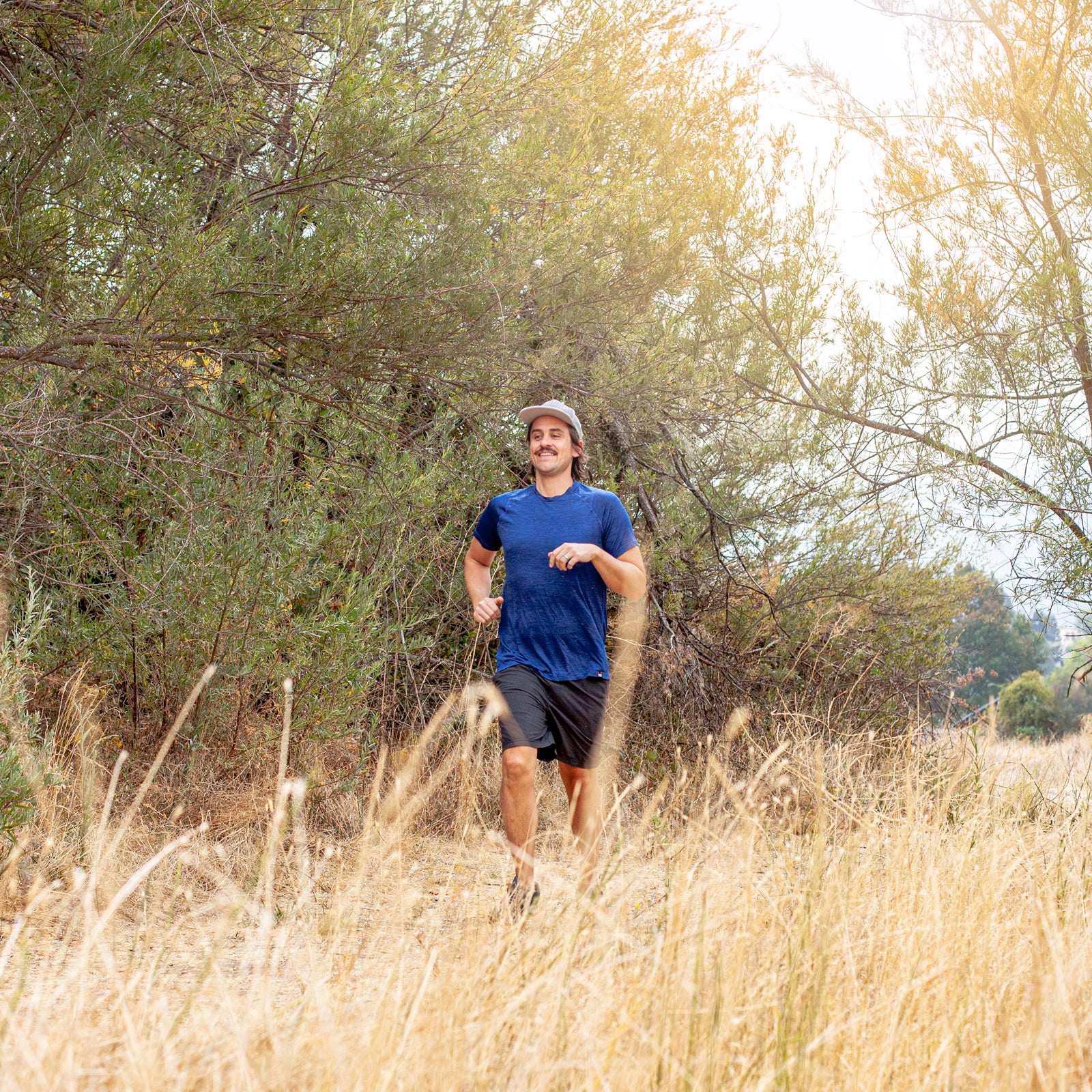 Sarah Jackson(Photo)
Heading out the door? Read this article on the new Outside+ app available now on iOS devices for members! Download the app.
As a person who runs extremely hot, I have spent six years looking for the perfect short-sleeved, lightweight running top. I've tested dozens during that time, over ten of them this year alone, and recently picked my five favorites, putting them in a head-to-head test over the past four months.
The Test
I logged a minimum of 60 running miles in each of these shirts. While many of those miles were completed during stroller jogs with my daughter, I wore all of these tops for the following challenges: a 90-minute run that gained more than 1,200 feet of vertical elevation, a run that took place in 90-plus-degree temperatures, and one on a day when weather was in the seventies.
I slept in every shirt for at least one night to take notes on comfort.
I weighed all of the shirts individually on my kitchen scale. I soaked each of them completely in a kiddie pool for 30 seconds, let them drip for 30 seconds, and weighed them again. After that I hung them up on my backyard clothesline and weighed them every ten minutes for an hour to see how quickly they dried.
Columbia Men's Titan Ultra II ($55)
Weight: 3.6 ounces
Moisture Movement: 5/5
Athletic Capability: 5/5
Comfort: 5/5
I hesitate to give perfect scores in my tests, but it's a fair assessment in this case. The Titan Ultra II was my favorite, in large part because it was by far the lightest of the lineup. It weighs a full ounce less than its closest competitor, which I could have guessed without the aid of my scale. It was softer against my skin than any other shirt here and delivered remarkable comfort and performance through every run. It breathed the most efficiently, thanks to its wicking polyester body material, and its ample mesh panels down the back and under the armpits cooled me down significantly on runs when temperatures hovered in the high eighties (and higher). It also shed moisture the quickest in my backyard test, losing nearly 25 percent of its water weight in the first ten minutes. It was so fantastic on the hottest runs that during a particularly brutal week in August, I noted, "Don't want to run in anything else!" The antimicrobial treatment Columbia used worked well enough for me to go four sweaty late-summer runs between washes, and the silken lightness made this a winner in the comfort category. With its paneling and color, this shirt looks extremely sporty—I wouldn't dress it up with jeans—but this wasn't a style test. For the purpose of keeping me comfortable on trails, this was a clear winner.
---
Tracksmith Strata ($88)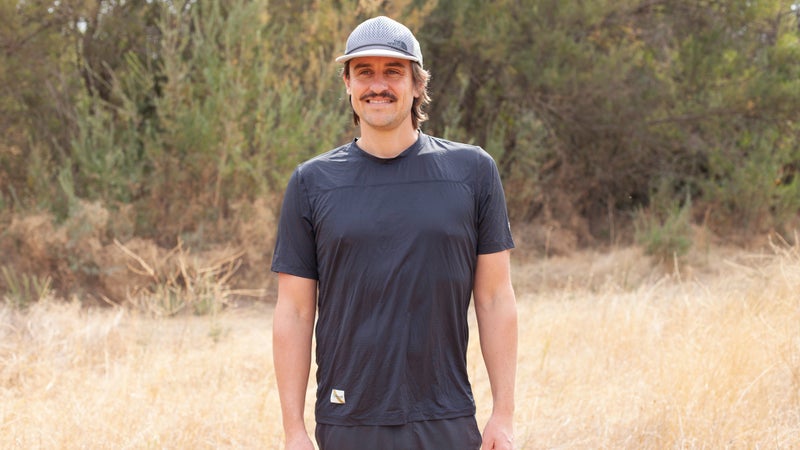 Weight: 4.6 ounces
Moisture Movement: 4.5/5
Athletic Capability: 4.5/5
Comfort: 4.5/5
In spite of being a full ounce heavier than the Columbia shirt, the Tracksmith Strata felt exceptionally light when I put it on. It also breathed almost as well as the Titan Ultra II, a result of the thousands of pinprick-size holes covering the entire top. While those holes were plenty wide to let me appreciate a ten-mile-per-hour breeze on a hot evening run, and see-through when held up to a light, they weren't so wide that you could see my skin beneath it. This shirt kept me cool on the hottest run of the test (it was 99 degrees when I started and only cooled down to 96), and I was so enthused when I finished that I put an exclamation point at the end of each sentence of my notes. It also took second place in my backyard drying test: it was nearly bone-dry at the end of the hour.
---
Saxx Crew Neck Aerator ($45)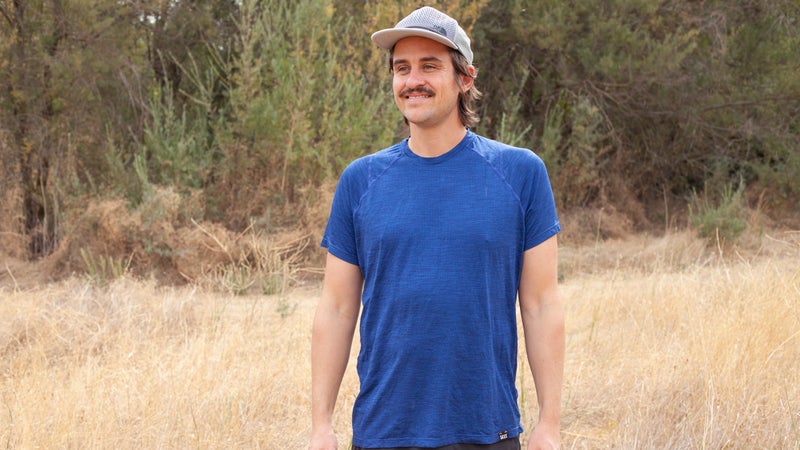 Weight: 5.2 ounces
Moisture Movement: 4/5
Athletic Capability: 4.5/5
Comfort: 4/5
The Aerator tied for third place with the two shirts below. I agonized over this three-way tie; while they scored the same (12.5 out of 15), each has different merits. The Aerator offered the best fit of the bunch: it felt tailored, but was still loose enough to keep me from feeling constricted while running. It's not as light and airy as the Columbia, but with its polyester and nearly as many pores as the Strata, it breathed well. The flatlock seams made it as comfortable in bed as any of the other tops. All that said, it didn't manage moisture as well as the first two shirts in this review: my nipples chafed on runs that lasted more than two hours.
---
Lululemon Metal Vent Tech 2.0 ($78)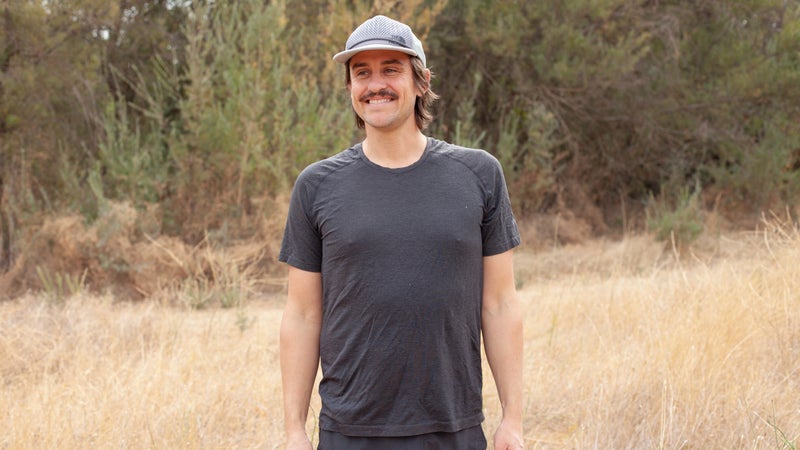 Weight: 4.6 ounces
Moisture Movement: 4/5
Athletic Capability: 4.5/5
Comfort: 4/5
If there were a style component to this test, the Metal Vent Tech 2.0 would have won it. It was the only shirt that I wore regularly with jeans, thanks to its matte exterior and slim fit. I received no less than three unsolicited compliments from my wife on it over my four months of testing. On top of looking dashing, it also moved like a champ, due to the brilliant construction of polyester, elastane, and nylon. In addition to wearing it for runs, this was my favorite top to don for garage kettlebell swings. It wasn't as light and didn't move moisture as efficiently as the top two picks, so it wasn't the best for a sweaty runner like myself, but I'd still call it a fantastic all-around workout shirt.
---
OR Next to None ($39)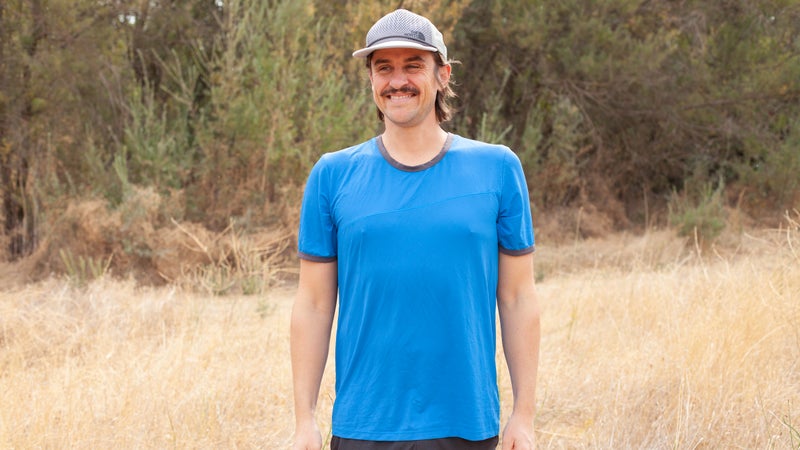 Weight: 5.3 ounces
Moisture Movement: 3.5/5
Athletic Capability: 4.5/5
Comfort: 4.5/5
The fact that the Next to None is tied for third place on this list and still guaranteed to be a staple in my already overcrowded T-shirt drawer is a testament to how good all five of these tops are. While it was a little heavy compared to the others and wasn't constructed from fancy see-through fabric, I fell in love with the simplicity of this polyester-spandex garment. The seams aren't flatlocked but they are smartly positioned to avoid chafing. Minus the moisture the shirt retained during runs, it was so comfortable I forgot I was wearing it. And it was great to sleep in. I wore it for four straight days during the wildfire-induced chaos happening in my town of Ashland, Oregon, and barely noticed that I hadn't changed, which speaks volumes.
Lead Photo: Sarah Jackson
Trending on Outside Online