RaesWear Makes Workout Gear with Functional Pockets
These tights and skirts each have one ingenious pocket big enough to stash all your essentials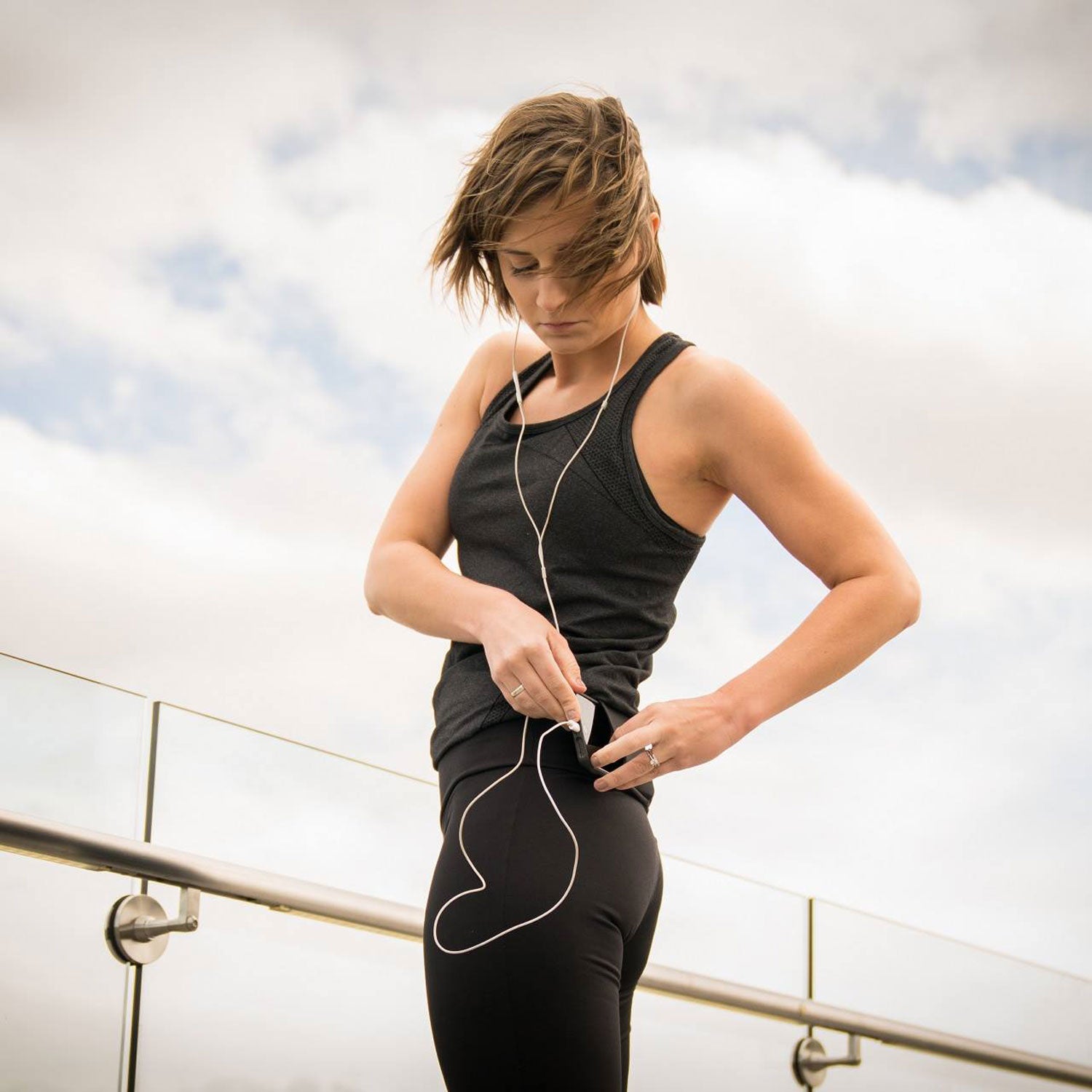 Courtesy RaesWear(Photo)
Heading out the door? Read this article on the new Outside+ app available now on iOS devices for members! Download the app.
Everyone's got a system for carrying stuff while running, but few of us can say we love it. A hotel key can usually fit into a shirt's gel pocket, but if you want to run with your phone so you can listen to music, track your route, or get coaching on your cadence, you need someplace to stash it. There aren't a lot of great solutions.
I rejected armbands after the first few tries because I found them bulky and uncomfortable. When I slid my phone into the thigh pocket on a pair of tights, the added weight made one leg feel heavier than the other. For long runs, the Ultimate Direction Vesta or CambelBak Ultra will hold my phone and so much more, like water and a jacket. But for short workouts, the storage solution is trickier.
Leigh Cockram struggled with the same problem. The Collinsville, Virginia, resident traveled a lot for her job in economic development, and when she'd leave a hotel for her daily five miles, she was frustrated with the lack of carrying options for her phone, keys, and wallet. "Storage belts would ride up around my waist while I ran, and I don't like the way fanny packs look," Cockram says.
One morning in Atlanta's Piedmont Park, she had a eureka moment: what if she expanded the gel pocket on the waistband of her tights to make it fit a phone or a wallet or both?
Cockram didn't know how to sew, but she sketched out her ideas and took them to manufacturing advisors at the Carolina Textile District. They introduced her to a designer who stitched Cockram's first prototypes. After a few rounds of revisions, Cockram launched RaesWear in 2014. Her original line comprised of running tights, boot-cut pants, and leggings for women, all with two simple but effective pockets built into the waistband that will secure a phone and a small wallet and keep them from bouncing while you run.
Now RaesWear has six different products, including running skirts and shorts. The fabric on the running capris is a bit thick for my liking—Cockram prefers a more compressive material than I typically go for—but the fit is great, and the storage can't be beat. I can slide my phone into the rear pocket and totally forget I'm carrying it.
You can fit big, bulky items into the RaesWear waistband pockets because the fabric is stretchy enough to accommodate a variety of shapes and firm enough to keep them from tumbling out. I'm uncomfortable with a ton of bulk on my waist, but when I wore RaesWear to summer concerts, I did like being able to slide something as large as a 16-ounce can into the pocket.
Some RaesWear shoppers are marathoners, says Cockram. Others wear her clothes for hiking, outdoor concerts, or happy hour—any place they'd rather not carry a tote or backpack. So far, her pocket revolution seems to be sticking. "We have a 1 percent return rate [compared to averages of 22 percent for many online apparel companies]," says Cockram, who left her economic development job in 2016 to focus on RaesWear full-time. "Now we're getting asked to make men's products."
Lead Photo: Courtesy RaesWear
Trending on Outside Online