Tested: Hoka One One Cavu Running Shoe
After weeks training in this road runner, I believe it's one of the company's fastest shoes yet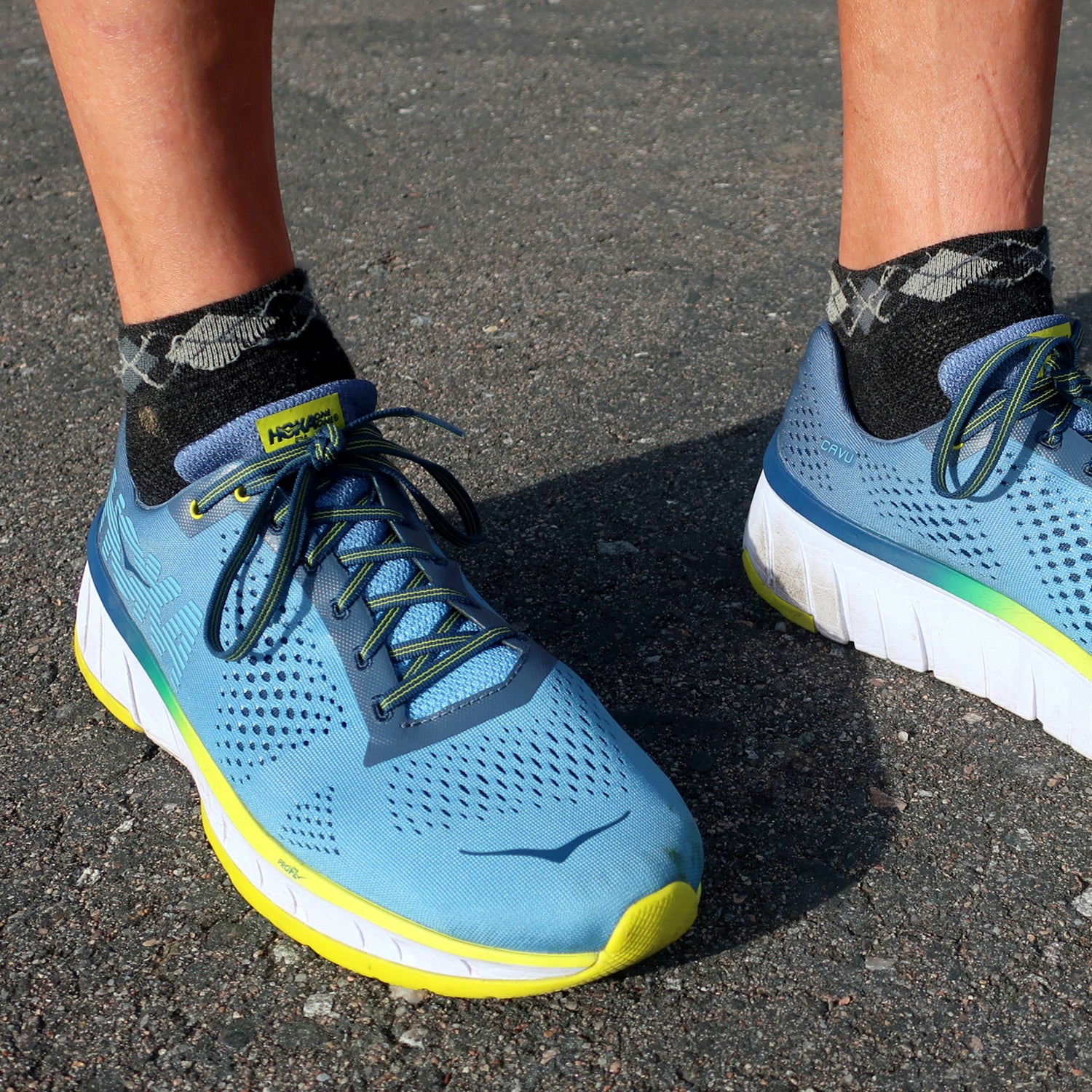 Andrew Skurka(Photo)
Heading out the door? Read this article on the new Outside+ app available now on iOS devices for members! Download the app.
Last week, I ran the Houston Marathon. For all my tempo workouts and hard, long efforts while training, I wore the new Hoka One One Cavu. In total, and over the course of 3.5 months, I put more than 280 miles on these road runners, including multiple 10Ks at race pace and long runs of up to 24 miles.
The Cavu is a neutral, lightweight road trainer that is moderately cushioned, responsive, and fast. It will best fit feet of average width and volume. This shoe is more durable and cushioned than a conventional racing flat like the Asics GEL-Hyper Speed 7 (read my review of that shoe), but it's nimbler than a standard road runner like the Hoka One One Clifton 4 (again, my review). For Hoka's sponsored trio of sub-2:14 marathoners, the Cavu may be a delightful daily trainer. For veteran-but-not-elite runners like me, it's best for workouts or marathon-plus races. And for others, it could be race-worthy in faster events.
Want a pair? Unfortunately, you'll have to wait until next month. I was able to obtain a production-quality sample in my size from Hoka for review. It will be released around the same time as the new Mach, which is the next-generation Clayton 2.
Key Product Specs
Weight: 8.2 oz (men's size 9); 6.6 oz (women's size 7); 9 oz for men's size 11.5 (verified)
Stack height: 24/20 mm (men's), 22/18 mm (women's) for heel/forefoot
Drop: 4 mm
Engineered mesh upper
ProFly midsole: firm forefoot, softer heel
RMAT outsole (blended rubber and foam) with exposed midsole foam
$110 MSRP
Release date: February 2018
Fit
Average-width feet will best fit the Cavu, but wider feet may find that the soft and unstructured upper is acceptably forgiving, and narrower feet (like mine) may feel secure enough with a simple tightening of the laces. The Cavu shares the same last as the Clifton 4 and new Challenger ATR 4, but it fits and feels different than both. To me, the axis of the Clifton 4 feels off by a few degrees, with my big toe and arch skewed toward the inside edge of the shoe. In the Cavu, I feel more centered, as I do in the Challenger ATR 4. However, the Challenger has a vastly different outsole (four-millimeter lugs), midsole (softer), and upper (reinforced toe bumper and forefoot overlays). Versus the Clifton 2 and Speedgoat 2, the Cavu is wider throughout, particularly in the toebox.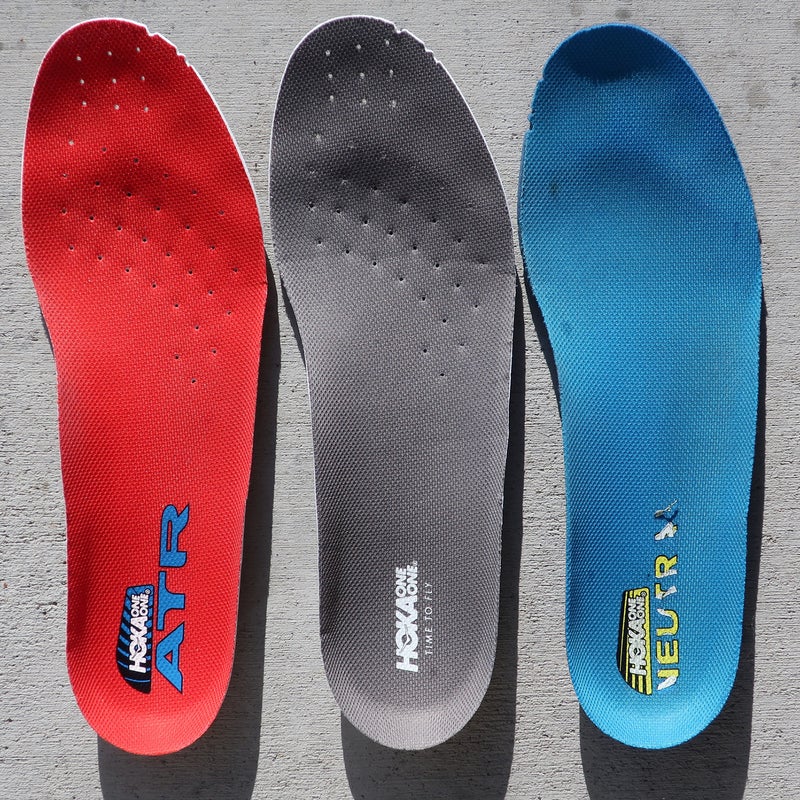 Sizing
I am a size 11.5 in other Hoka models (Clifton 2, Clifton 4, Speedgoat 2, Challenger 4) and in other brands (including Altra, Merrell, Salomon, and Salewa), and a size 45.5 in La Sportiva. The Cavu fits true to size, based on my experience.
Ride and Midsole
The Cavu is a neutral trainer with only four millimeters of drop from heel to toe, and it has no deliberate stabilizing or supportive features. As a generally efficient runner, I prefer my shoes this way. The Cavu's ProFLY midsole is soft in the heel for a forgiving landing and firmer in the forefoot for a more responsive push-off. The transition between soft and firm foams is continuous, not abrupt—the two midsole foams transition over a zone, without a concrete line or seam.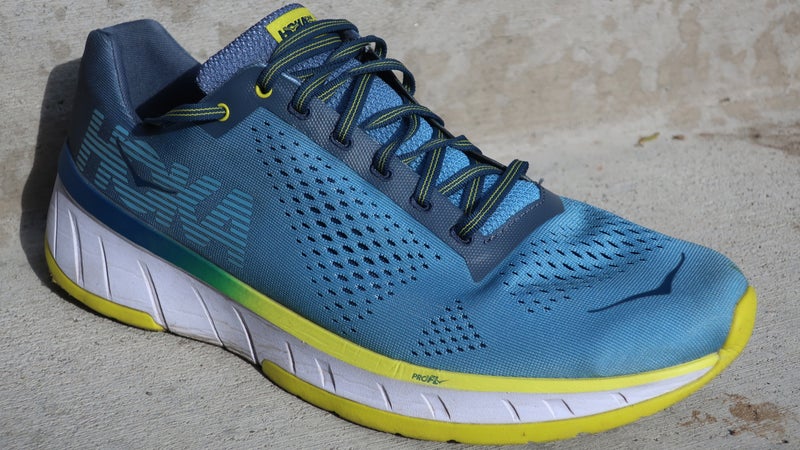 The heel cushioning feels on par with the Clifton 4 or Challenger ATR 4, but it's not marshmallowy like the Clifton 2 or Speedgoat 2. The forefoot is stiffer than any Hoka shoe I have worn. However, it's still pliable, not slappy, and with 20 millimeters of foam and soft foam-rubber outsole under the forefoot, it does not feel thin like other fast trainers, such as the Salomon Sonic Pro 2 (read my review), which is only 16mm at the toe and uses a harder outsole compound.
As a neutral shoe with a responsive forefoot and 8.2-ounce weight (men's size 9), the Cavu feels like a natural at high speeds. For context, my Houston goal was sub-2:30, and my harder efforts were in the low five-minute-per-mile range. The only faster shoes in my closet are the aforementioned Asics flat and the Nike VaporFly 4%, which I raced in for Houston. The Odyssey Pro 2 is on par with the Cavu, but the latter has a smoother heel-to-toe transition and better cushioning.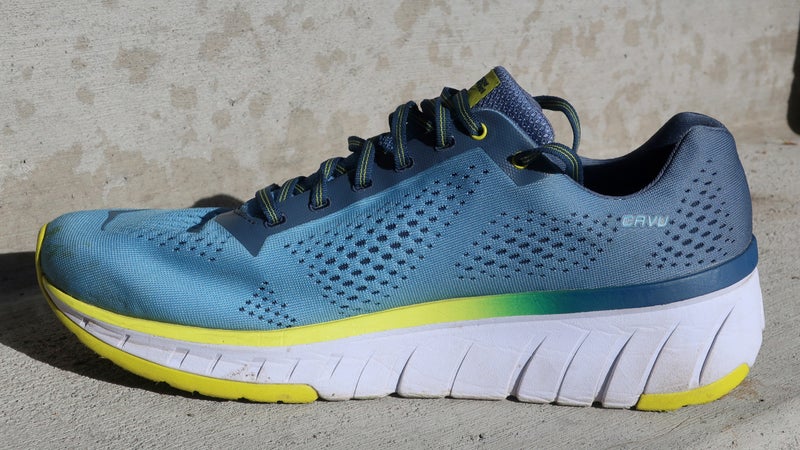 Outsole
In high-friction areas on the outsole (think forefoot and heel), the Cavu features a thick layer of proprietary R-MAT, which is a blend of midsole foam and rubber. It's lighter and more cushioned than pure rubber but more wear-resistant than pure foam. In low-friction regions, like the arch, the midsole foam is actually exposed.
At first, I was skeptical about using abrasion-prone foam in an outsole, but as long as the foam isn't in a high-wear spot, it seems to work just fine. On asphalt roads, concrete paths, and paint stripes, I've found the Cavu's outsole grip to be more than adequate. On pea-gravel bike trails and sandy road shoulders, there is some slippage—the Cavu is decidedly not a trail shoe.
And while R-MAT is not as durable as a conventional outsole rubber, it is thick enough on the Cavu not to be a serious issue. After 280-plus miles of use, the outsole appears to have at least half its life left, except along the outside heel (where I tend to strike when I get tired), where about one-third of the R-MAT remains.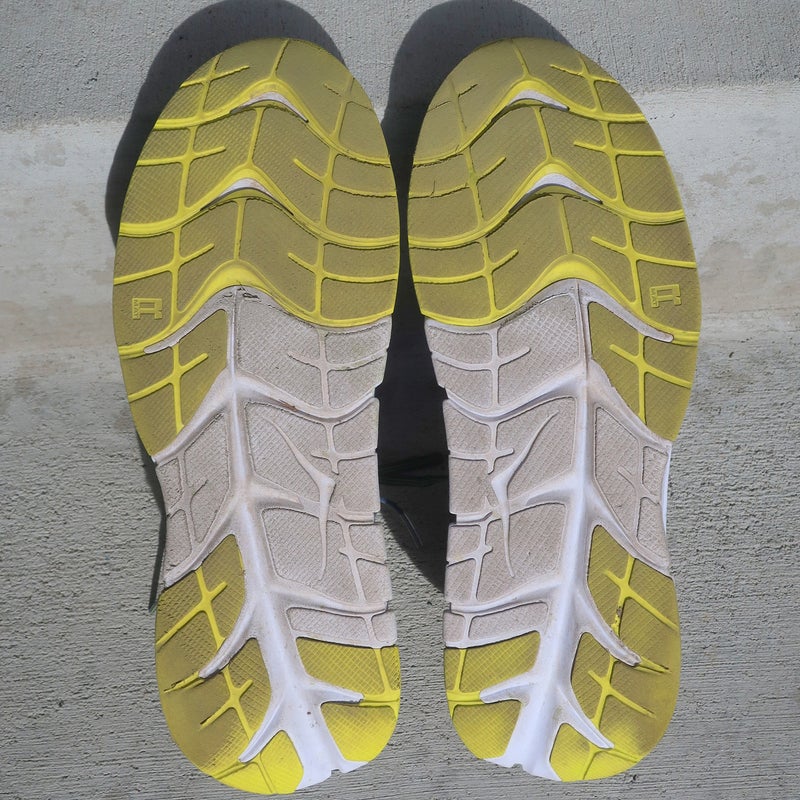 Upper
The Cavu has a secure heel counter, but otherwise the upper is slipper-like—a seamless, stretchy bootie covered with a soft and slightly stretchy engineered knit mesh, with no reinforcing overlays and a minimal toe bumper. The upper is comfortable, with no pinching or pressure points. Lateral and fore-and-aft control is supplied mostly by the elasticized bootie. If you have narrower and smaller-volume feet like mine, you might wish for a snugger fit, but that's a shortcoming I can accept on the road, where I'm almost always running in a straight line and on surfaces that are essentially flat and level.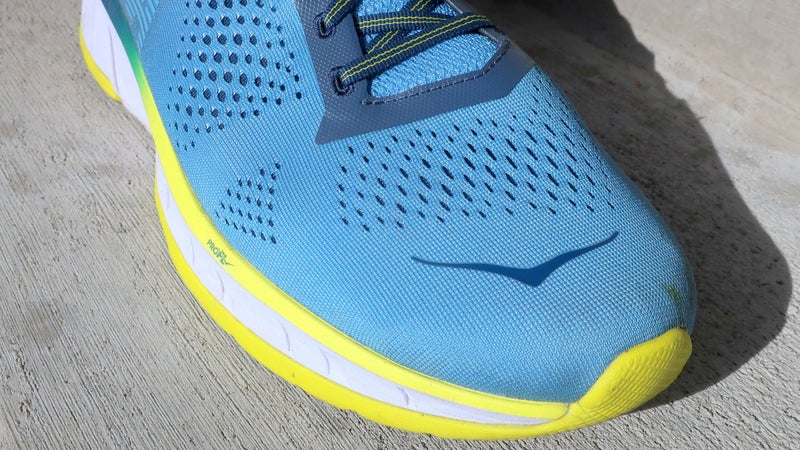 Fabric breathability is excellent, and the shoes should dry quickly if they get soaked.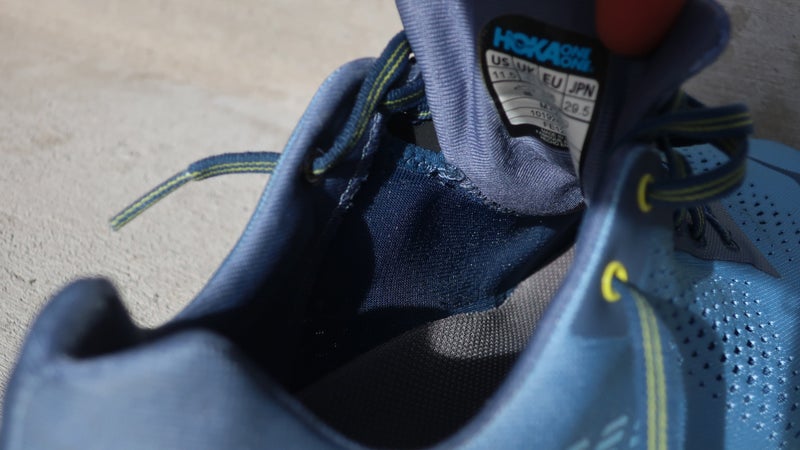 Aesthetics
By Hoka standards, the Cavu has wickedly understated looks. Its lines are clean and natural, and its colors will not offend (although the predominant blue is a shade too close to Carolina blue, in the opinion of a former Duke runner). I welcome this design change—I'm not a flashy runner, and previous Hoka color schemes have given me a reason not to buy an otherwise worthy shoe.
Bottom Line
I recommend the Cavu for road runners looking for a neutral, lightweight shoe for fast workouts, or perhaps even daily training or racing, without sacrificing underfoot cushioning or comfort. I wear-test many shoes—some only enough to publish a review. The Cavu, however, I'll keep in my closet till they wear out.
Lead Photo: Andrew Skurka