Tested: The Best Handheld Running Water Bottles
Your hydration needs are as unique as your training schedule. Here are four picks for every kind of run.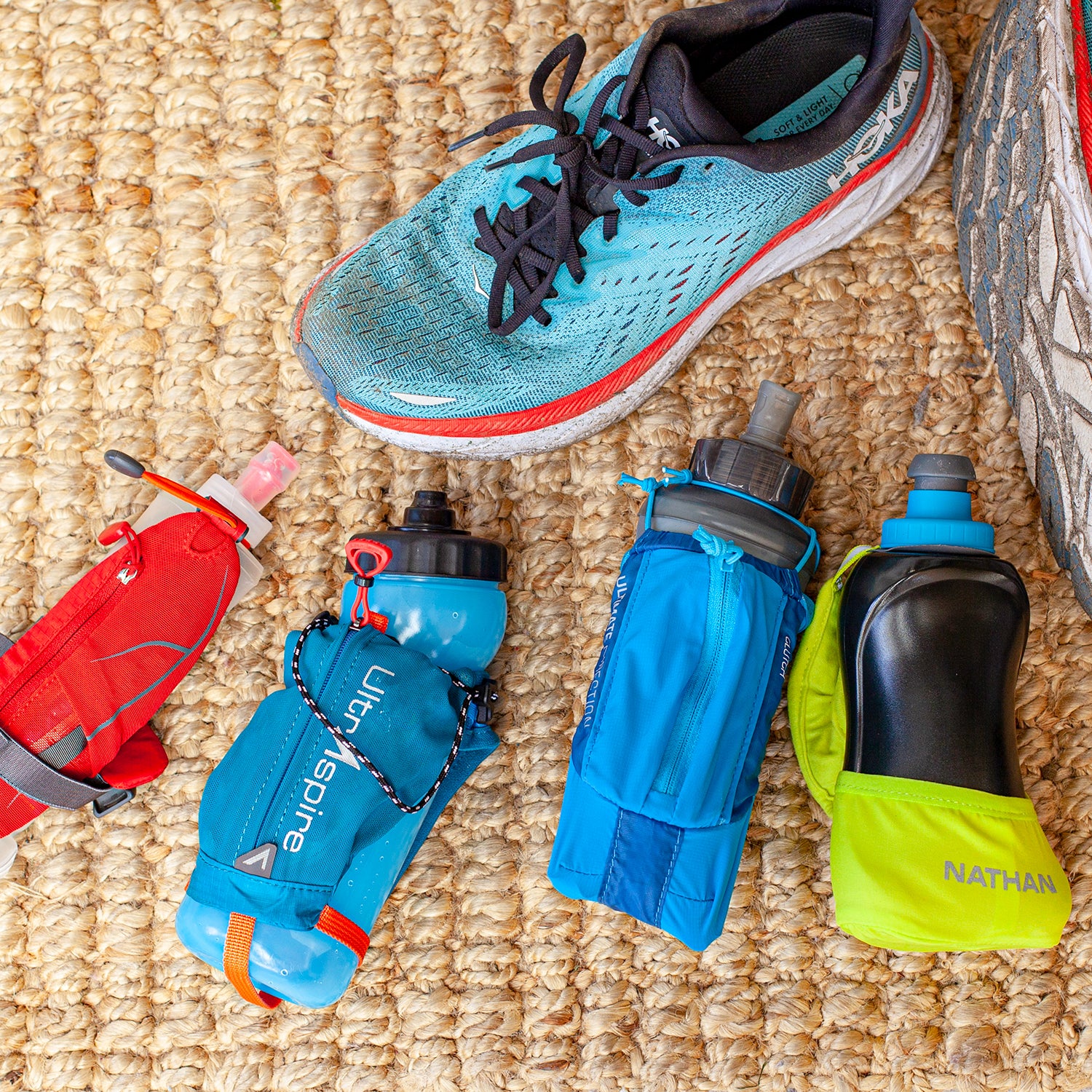 Heading out the door? Read this article on the new Outside+ app available now on iOS devices for members! Download the app.
Running in the heat sucks. While there is little you can do to mitigate the general discomfort of a super-sweaty, blazing-hot summer run, you can stave off dehydration by bringing a handheld bottle. To help you pick the best hydrating companion for your hottest runs this summer, I put four models in a head-to-head test for the past few months. Here's how the best running water bottles performed.
The Test
I ran with each of these handhelds for a minimum of 25 miles, or five hours. I took each on at least two daily driver runs (with my current training schedule, this is four to six miles, lasting one to 1.5 hours) and at least one long run. The long runs were at least 11 miles and over two hours. I ran with the handheld in both my right and left hands during every run, and, on the long ones, I carried a Spring Energy Gel and gummy snack. I hand-washed each three times. With race day aid stations in mind, I noted how easy they were to fill up. On top of using them on the road, I also drank out of each for a full day while at my desk and took notes on how well—or poorly—they doled out water.
The Caveat
I am currently training for two ultra-distance objectives, so my needs are pretty specific, and each handheld I tested turned out to be surprisingly unique. I catered my recommendations to equally suit specific types of runners.
The Results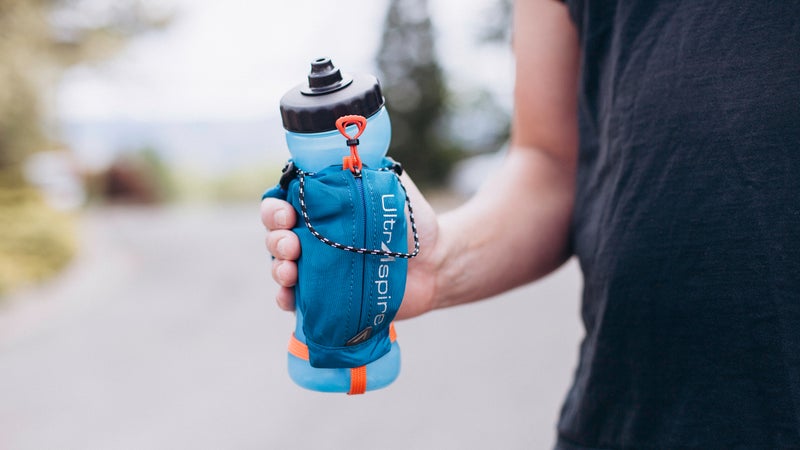 Best for the Long Haul
UltrAspire Iso Pocket Handheld 3.0 ($30)
The Iso Pocket Handheld 3.0 was the largest (20-ounce capacity) and most comfortable to hold, drink from, and run with of the bunch. I spent a great deal of trail-time trying to wrap my head around how UltrAspire made this handheld so remarkably ergonomic, settling on a three-fold answer: lid angle, materials, and ease of drinking.
The lid angle (the most pronounced of the test) was such that I never had to lift my elbow to shoulder level, even when the bottle only had an ounce or two of water in it. While that subtle ergonomic design is no big deal at your desk, it matters when you're taking dozens of little sips during a two-hour run. The bottle material is an extremely pliable thin plastic, which kept the unit light and also made it easy to squeeze. The body was thin and tapered in the middle, fitting perfectly in the natural C-shape of my hand. It was easy to drink thanks to a half-inch lid with a nozzle that delivers just as much water as you want—from a solid mouthful to a whistle-whetting sip—depending on how hard you squeeze. The maximum stream was so strong that I even used it like a squirt gun to fend off an attacking wild turkey one morning. It was so effective, that the one downside to this bottle was that I had to keep a gentle hand while running so as to not inadvertently dispense any.
Additionally, the mesh pocket was extremely stretchy and easy to open and close—even when stuffed with two energy gels and a fruit twist. The cinching system was simple—paracord at the top of the breathable synthetic hand strap can be tightened with a single plastic toggle—and allowed for a dialed-in fit on both my left and right hand.
---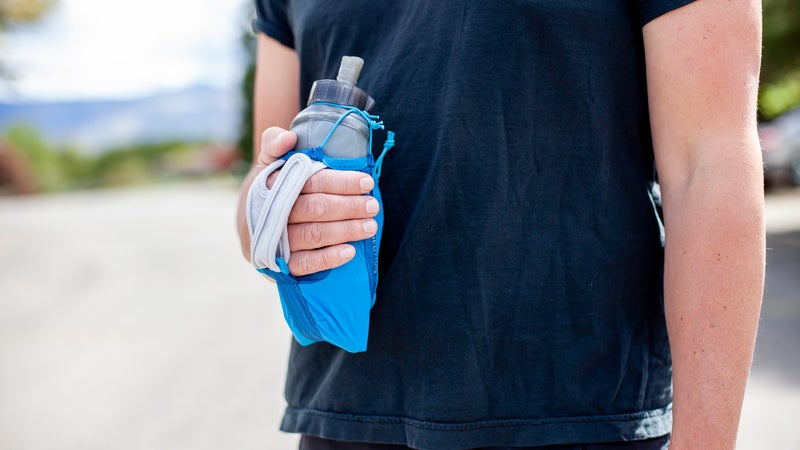 Best for Race Day
Ultimate Direction Clutch 5.0 ($40)
The Clutch 5.0 had the most efficient weight-to-water-capacity ratio in the test, making it a great pick for folks who are focused on minimizing hand fatigue or being as streamlined as possible on race day. I've tested five or six other handhelds with soft flasks, and this one had by far the best interface between the flask and the gossamer-thin sleeve that attaches it to your hand. Soft flasks are often either unwieldy when full or sloshy and annoying to hold when near-empty—this was a tidy, self-contained package whether at its 24-ounce capacity or with only a few ounces left. Thanks to the Clutch 5.0's stretchy sleeve material and bungee system, the entire unit shrunk with the flask as I drank.
The Clutch 5.0's stash pocket comfortably held two gels but was made from a light enough fabric and integrated so well into the unit that it barely added bulk to the piece. It has a simple, V-shaped strap that attaches on either the left or right side of the sleeve with velcro. Moving the strap from the right to the left when switching hands can be done mid-run with minimal thought or fuss, and the slight shift in connection allowed me to dial in the fit to either hand.
---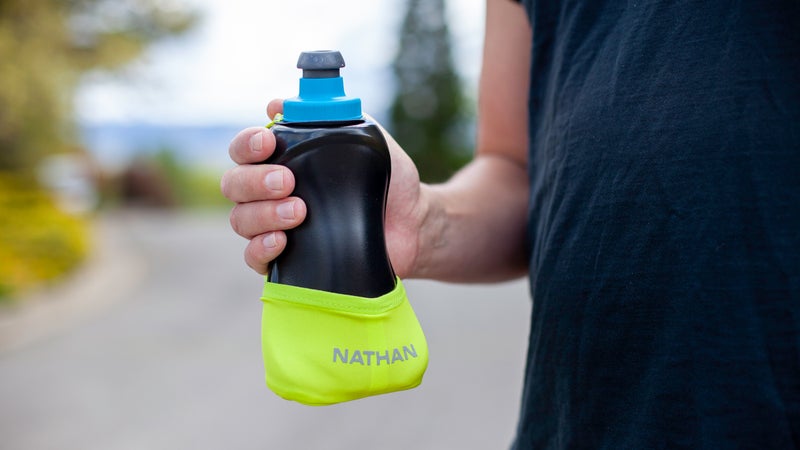 Best Daily Driver
Nathan Quicksqueeze Lite 18-Ounce ($22)
While the Quicksqueeze did not have the calorie-storing pockets or multi-point connection systems of others in the test, it had smart, simple features. Its mouthpiece—which looks like a giant version of that on a classic cycling bottle—made this the second best running water bottle (behind the UltrAspire) to drink from. The large, soft plastic mouthpiece was easy to open and close firmly, so it never spilled on any of my runs. The lid also proved the easiest by far to clean and the shape was comfortable in hand on long runs, which are essential features for a bottle that will get daily use.
My biggest issue with this unit was a lack of a dedicated snack sleeve. I was able to shove two energy gels into the stretchy base, but I was constantly worried they would fall out during a 2.5 hour run.
---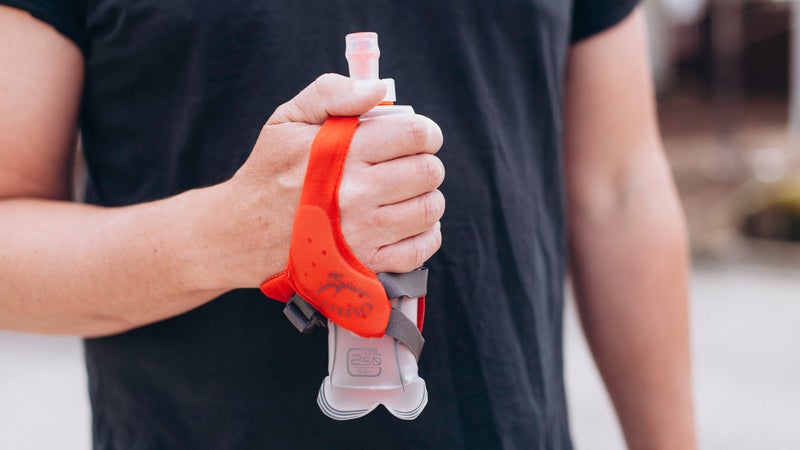 Best for Minimalists
Osprey Duro ($30)
It was tough to not bring my own bias into testing the Duro. As a distance runner, I rarely need the ten-ish sips of water the Duro holds. I was ready to tear apart this 8.5-ounce until I used it while putting in some sprint work up a fire service road—I legitimately forgot I had it on my hand.
The Duro was purpose-built for right-hand use and, at 8.5 ounces, left me damned thirsty on a 12-mile test run, but this handheld deserves both respect and a spot on this list. While talking it over with my editor, we thought of quite a few times it would be nice to have a few gulps in a package purpose-built for ergonomics—namely speedwork and short, hot runs. The Duro's ability to disappear is ideal if you need a handheld but hate using one. The small, thin-walled reservoir coupled with the solid, palm- and wrist-gripping attachment remained locked in place even when my hand was completely limp. It also features a minimalist zippered stash pocket that accommodates an energy gel or gummy snack.
Lead Photo: Sarah Jackson