The Case for Banning Drones at Ski Areas
Most U.S. resorts have adopted a no-drone policy. Here's what you need to know about where and when recreational UAVs can fly.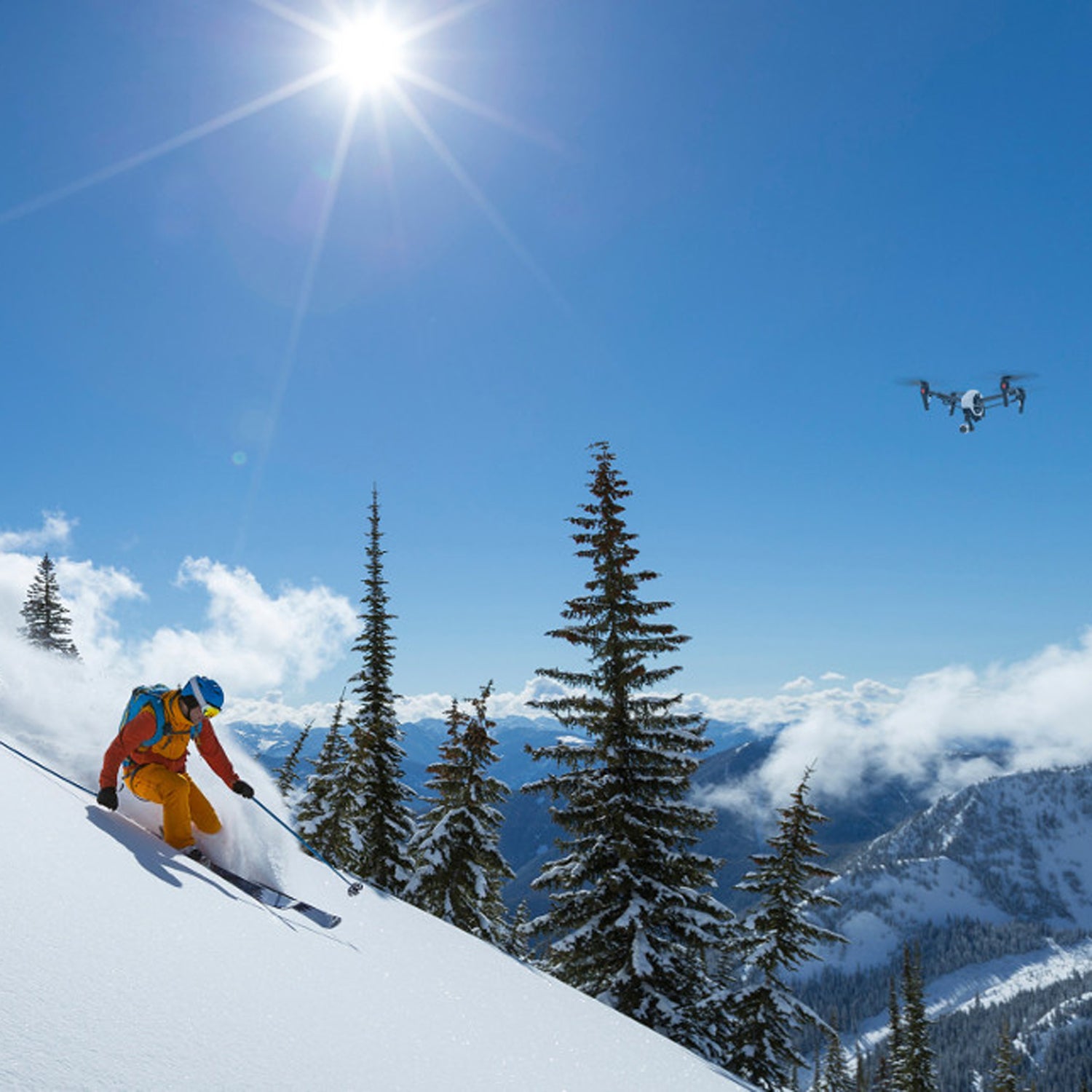 Heading out the door? Read this article on the new Outside+ app available now on iOS devices for members! Download the app.
Helmet-mounted GoPros have become a common sight at ski areas. The next step: ski-run footage shot from drones. As UAVs get more accessible and affordable (the Federal Aviation Administration predicts 1 million drones will be sold during the holidays this year), some organizations fear they could become just as ubiquitous as—but more dangerous than—action cams.
That's why the National Ski Area Association (NSAA), the trade association for 330 ski areas in the United States and Canada, released a sample policy that bans drones without prior authorization. An overwhelming majority of the organization's resorts, from Aspen to Jackson Hole, have already put that ban in place, or soon will.
"Drone technology is relatively new, and given that ski areas tend to be at high altitude and in cold climates, which affects the battery life of drones, their reliability remains untested," says Dave Byrd, director of risk and regulatory affairs at the NSAA. "We're also concerned that they may crash into chairlift towers, fall onto people, or startle people because of their noise and cause collisions. Also, having noisy drones flying all over the place goes against the grain of the sort of skiing-in-nature experience."
Drone regulation is about to get stricter across the country. A new rule just passed by the FAA will force all drone users to register their devices starting January 1, 2016.
"We're concerned that they may crash into chairlift towers, fall onto people, or startle people because of their noise and cause collisions."
Joey Schusler, a Boulder-based photographer and filmmaker, says he understands why resorts are trying to get out in front of the issue. "I totally get why the ski areas have so much concern, and in many ways I agree with them proposing this ban. If a lot of people had [drones], it would definitely cause a problem, not to mention take away some of the charm of going skiing."
While the NSAA is outspoken about prohibiting the use of drones by guests, the organization isn't anti-drone. Byrd says he realizes ski areas can benefit from this new technology. "I can see there being a tremendous benefit to search and rescue," says Byrd. "There's heat-sensing technology you can attach to a drone to find people." Telluride-based Mountain Drones also developed technology that allows drones to perform avalanche mitigation inside resort boundaries.
If you're keen on getting an aerial shot of you shredding, you can call your ski area to find out if it allows drones or if it will make an exception for a special event, like a wedding. There's also Cape Productions. The Bay Area startup secured an FAA permit known as a Section 333 exemption that allows it to operate a commercial drone videography service at nine resorts across the United States and Canada, including Winter Park, Colorado; Mount Hood Meadows, Oregon; Powder Mountain, Utah; Fernie, British Columbia; and Schweitzer Mountain, Idaho. For between $100 and $200, you can buy a professionally edited two-minute video. Cape Productions, which has the only permit that we know of to shoot at ski areas, differentiates itself from hobbyists with experienced pilots and engineers, plus custom software that keeps drones away from obstacles.
Byrd supports the company. "They're a good example of a way that skiers and ski areas can embrace drones by having a commercial operation on a couple of designated runs and not willy-nilly all over the mountain. It's a good compromise."
Of course, outside ski-area boundaries, all bets are still off. "People may want to go into the backcountry with drones, and that's totally fine," Byrd says.
Lead Photo: Courtesy of Cape Productions