Gear Guy
How to Care for Your EDC Knife
Take care of your blade, and your blade will take care of you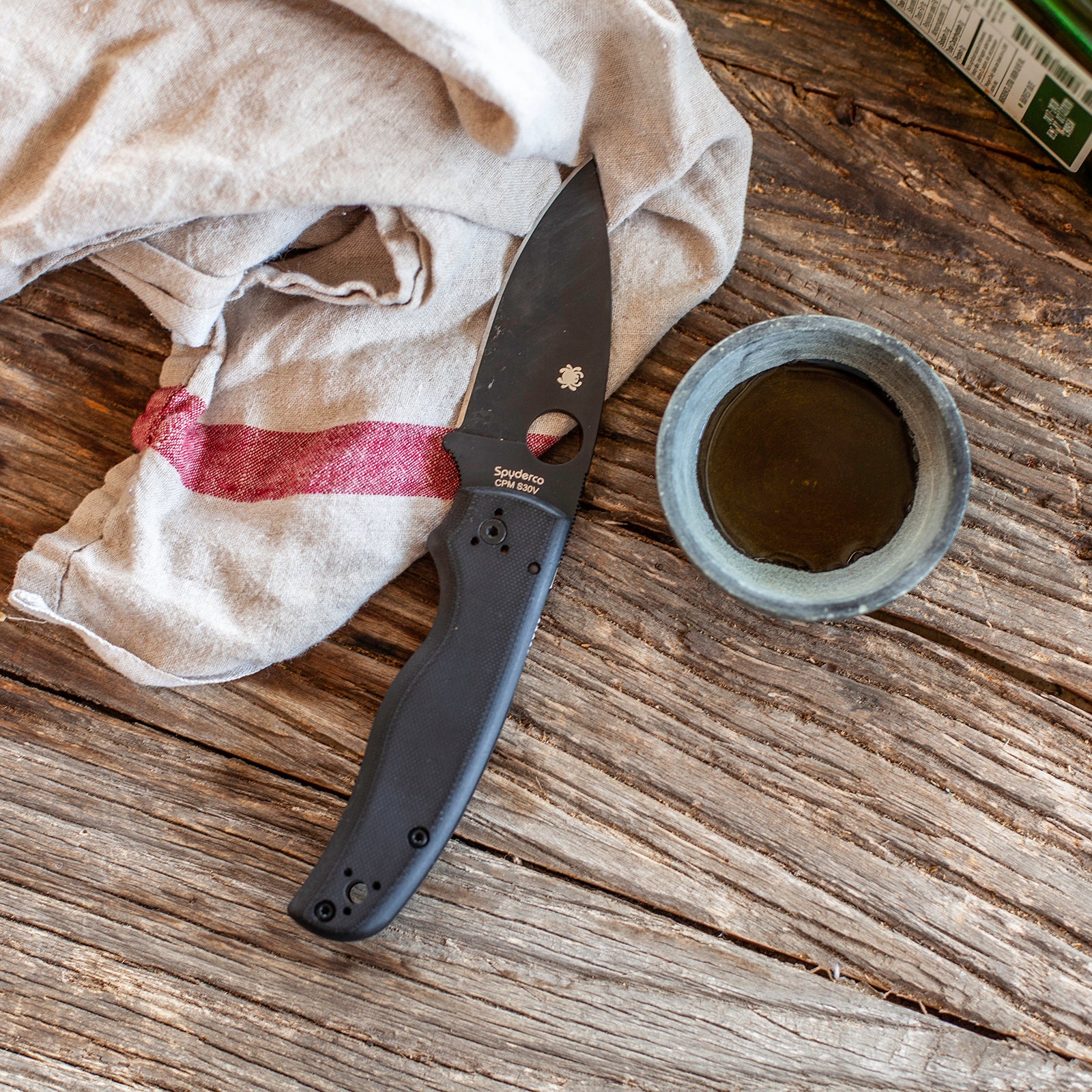 Heading out the door? Read this article on the new Outside+ app available now on iOS devices for members! Download the app.
While the specific model of everyday-carry knife that you choose will vary dramatically based on personal needs, taking care of any blade is fairly straightforward. As long as you keep it clean, dry, and sharp, a well-built everyday carry (EDC) can travel with you indefinitely. Or as Nick LeFort, the knife maker and tester I interviewed for this article, perfectly and succinctly says: "Take care of your knife, and your knife will take care of you." LeFort has been creating and testing knives for 18 years and is the knife-test category director at the Gear Institute. Here are his suggestions to extend the life of your EDC.
Don't Be Dull
"With a dull knife, you are actually breaking down the steel on a molecular level," LeFort says. This is especially egregious if you are working with carbon. "You start putting chips in it, which start making fractures, and next thing you know you've got something that, one, isn't effective, and two, can actually hurt you." The key is to keep it sharp in the first place.
You Don't Have to Be Fancy, Just Consistent
"There are 100 ways to sharpen a knife. I have put on Yanni, and I have sharpened all day. I have also used a five-dollar sharpener I got while waiting in line at Cabela's, and they do the same job," LeFort says. While stones are going to give you an amazing edge, they are also expensive and time-consuming. "A five-, ten-, or twenty-dollar sharpener will do the trick," he says. "It is all about consistency. You want to maintain the right angle, and you want to pull the right way."
Sharpen Based on Use
"My EDC is the one I use every day, so I sharpen it every two or three months," LeFort says. On top of the amount you use your knife, take into account what you're using it for and how much that activity breaks down a blade. If you're a climber who cuts through rope often, or a hunter slicing raw meat on the regular, you should sharpen your knife significantly more than someone who uses their EDC to cut the occasional apple.
Don't Go Crazy
"It doesn't have to be an in-depth sharpening, just five or six passes on each side" using a steel or a stone, whatever the manufacturer suggests, he says. "Keep it clean, and make sure you break that edge"—essentially building a little lip on the opposite edge of the knife. "You don't have to do 25 or 30 pulls. Do one or two and feel for it," LeFort says. Then repeat on the other side.
Read the Instructions
"Make sure to look and see the manufacturer's instructions about how to sharpen, or what to sharpen with, and if you should use an oil or water or not," LeFort says. "Some of those boutique steels in the blade make a knife go from $150 to $350, so that's an investment. Do your research, and take care of it." LeFort's favorite steels are significantly less expensive. "The better you take care of a blade, the more you can get with a cheaper steel," he says.
Clean Nightly
"Once you start moving dust, debris, dirt, and sweat into a knife, it can jam up a mechanism or put crud on your blade," LeFort says. While he admits that it sounds excessive, LeFort checks his blade and wipes it down with a T-shirt or rag every night when he gets ready for bed.
Be Diligent About Storage
"I never put away a wet blade or a dirty blade. I will go and run it under water and wipe it down and let it sit in the sun or air-dry. Water creeps into everything. That's going to create rust and build-up, and it also breaks down oils in ball-bearing systems," he says.
Avoid Heavy-Duty Cleaners 
"Let's say all you have is tub and tile cleaner with bleach in it—don't use that," LeFort says. "You aren't going to see it right off the bat, but it will mess with the molecules of the blade and could mess up the handle, too."
Use Olive Oil
"I will put a little olive oil or vegetable oil on there, because I want to be able to store it for a couple months, take it out, and cut an apple with it. There are plenty of great lubricants out there, but I just stick with the tried and true," he says.
Lead Photo: Sarah Jackson