Filming the Frying Pan
A nonprofit aims to publicize never-before-seen footage of marine life in its natural, undisturbed habitat. The goal? Develop the ultimate marine observation tool.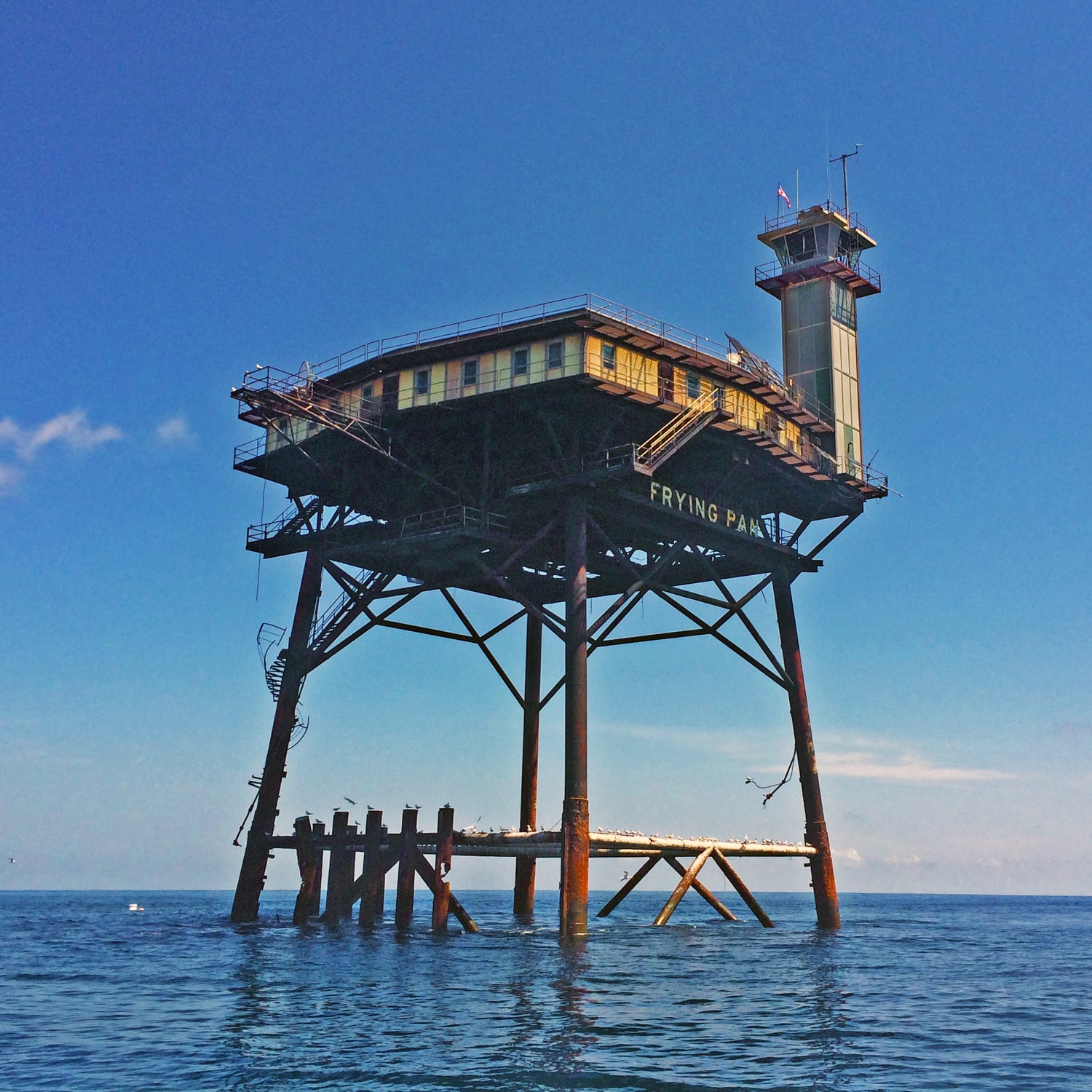 Courtesy of Explore.org(Photo)
Heading out the door? Read this article on the new Outside+ app available now on iOS devices for members! Download the app.
Fifteen-foot-long tiger sharks swim in clear, cobalt waters. Below them, the warm kiss of the Gulf Stream nourishes the shallow shoals that are home to castles of coral and forests of algae.
Thirty-four miles off the coast of North Carolina, there's a marine ecosystem that's a mix of artificial engineering and natural wonder. Welcome to Frying Pan Tower, a renovated Coast Guard light station straddling hurricane alley, the "graveyard of the Atlantic." This week, Annenberg-backed 501(c)3 Explore.org teamed up with Teens4Oceans to debut three cameras live-streaming from the Frying Pan.
The tower, which resembles an oil platform, was built in 1964 to help ships navigate. It was automated in 1979, but then the advent of GPS made it obsolete. In 2004, the Coast Guard abandoned the station, but because it's situated above a protected reef, the structure was never destroyed. Nearly five years ago, a software engineer bought the hunk of steel for $85,000 in a government auction.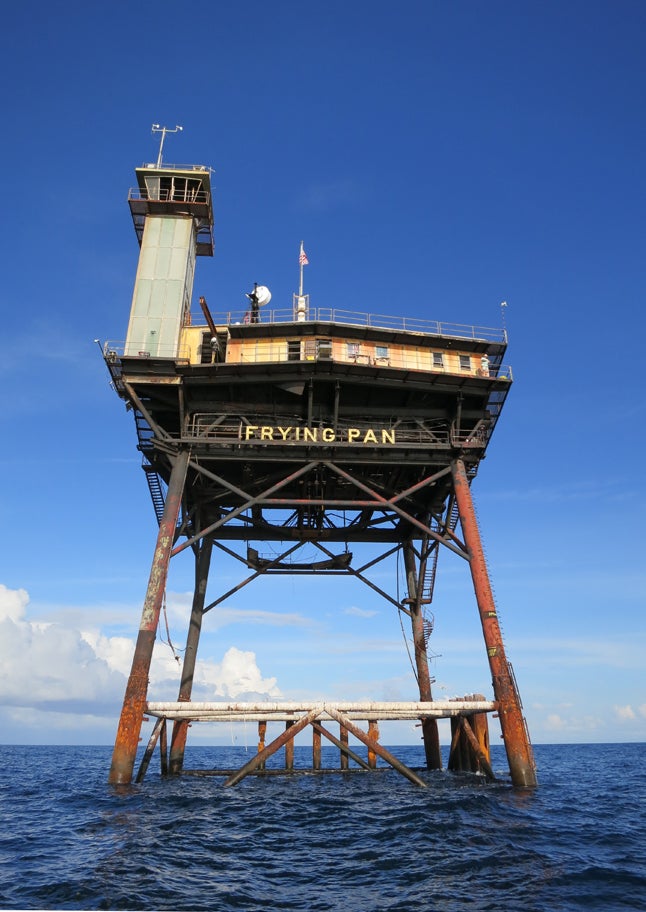 This year, Explore.org began the painstaking process of camera installation. It's a philanthropic endeavor—no ads or fundraising involved. Explore.org's founder, Charlie Annenberg Weingarten, wants viewers around the world to experience this place from the comfort of their screens.
"You're going to see something that's never been seen before," he says. "Seeing sharks in their natural environment, that's never been done, even with scuba or snorkeling, there's some human interaction. This is the first time it's completely pure."
Marine life here isn't distracted by human divers or boats with noisy engines. Result: scientists could get a whole new way to study sea life.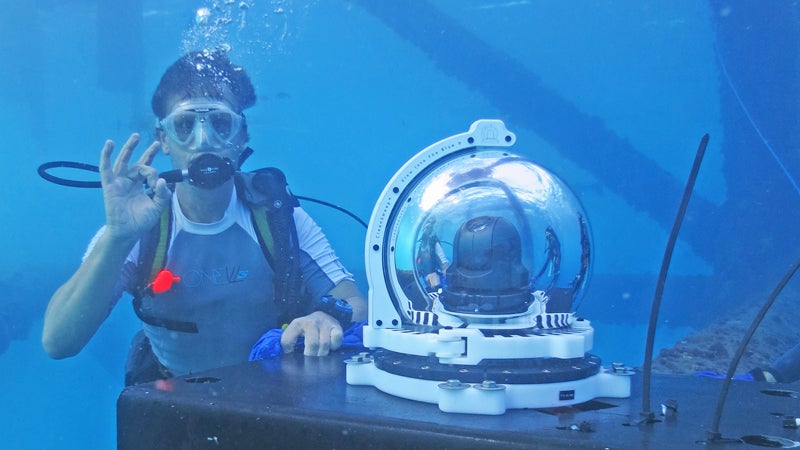 Weingarten's track record includes filmmaking from the Arctic and Africa. Millions have tuned in online, and through media partnerships with organizations like the BBC and National Geographic. The Frying Pan project is closer to Weingarten's home but it was no easy install.
Since underwater cameras often get covered by microbial organisms that obscure imagery, Explore.org used View Into The Blue's self-cleaning cameras. Magnetic arms employ an automated wiper to dislodge oceanic schmutz. In the Frying Pan stream, you can actually see the arms cleaning the camera casings every few hours.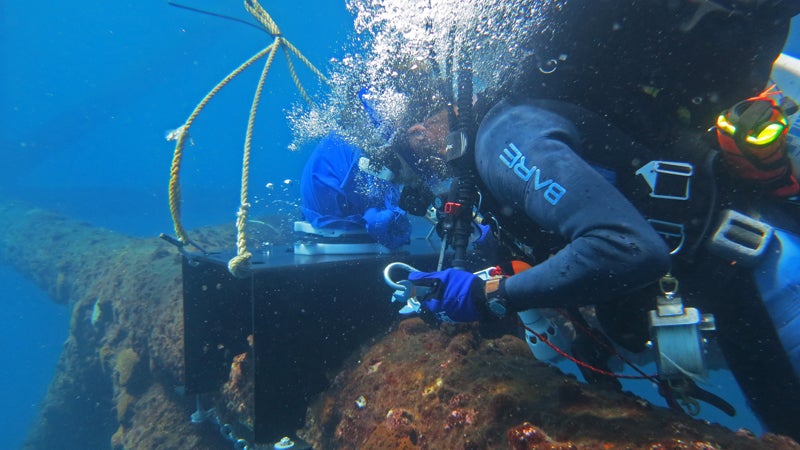 The second major hurdle required even more MacGyvering because it's impossible to transmit wireless signals underwater. Explore.org ran 250 feet of cables from the main deck of the Frying Pan Tower through the maintenance deck and down to cameras at depths of 15 feet and 50 feet.
But workers also needed a way to get the images to the mainland so they could broadcast them online in real-time. The tower network was hooked up to an autonomous battery system that operates on solar and wind power. Large high-frequency radios were installed to communicate 60 miles between a dish on the Frying Pan and an 1,800-foot tower in Winnebow, North Carolina.
A fourth camera was mounted on the tower in Winnebow and trained toward the Frying Pan. View Into the Blue then arranged for a 25-mile relay from Winnebow to a TV station in Wilmington. Signals were sent over Time Warner Cable servers and distributed to Explore.org. For the images broadcast on your computer to make the trip in milliseconds, they had to travel 90 miles from the tower to their broadcast location.
Weingarten admits that it was so much work, he's not sure if he would do it again. But now that it's done, he's excited about the potential. The end goals are to make this place a scientific research center, maybe feed live footage to aquariums, and possibly study how marine life deals with natural disasters like the hurricanes that plague North Carolina's coastal region every year.
"This is the ultimate marine observation tool," Weingarten says. "You could write your PhD based on these cameras."
Lead Photo: Courtesy of Explore.org