Gear Guy
Gear Hacks to Keep Your Kids Entertained at Home
Keeping things fresh is the name of the game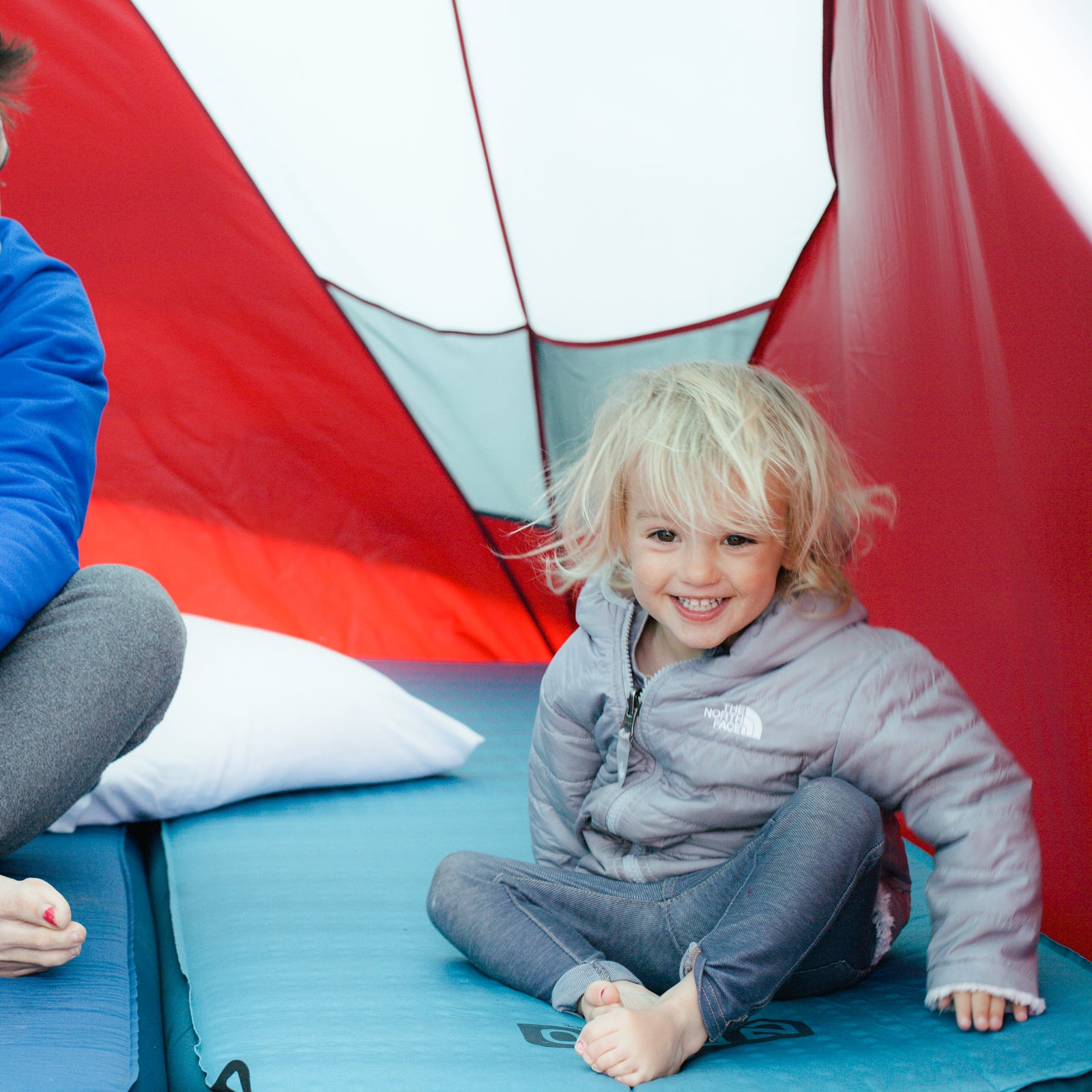 Sarah Jackson(Photo)
Heading out the door? Read this article on the new Outside+ app available now on iOS devices for members! Download the app.
Spending a great deal of time indoors with kids is a major stressor for a lot of us right now. But with a little ingenuity—and gear that you probably have in your closet—there are myriad ways to keep them amused. The tips below are intended to lighten the mood a little for your kiddos this stressful and uncertain situation. They have certainly helped in my house.
Set Up Camp
I set up the MSR Habitude 6 in my backyard last week, and it feels like the smartest move I've made since we started social distancing. It has been school, gymnastics, a rest house, and a restaurant for my daughter Jojo and me. We use the change of scenery as an opportunity to pretend like we're doing activities that used to be part of our routine. I've also used it as an office when I had work to do that could not be interrupted. While I'm lucky to have a yard and mondo car camping tent, I got the idea from a buddy who lives in a two-bedroom apartment with two children under three. He put up a tent on his balcony and brought his dad energy to make it a special place for his kids.
Home Gym, Home Gymnastics
My wife had a 90-minute conference call this morning that could not be interrupted. I used my Gaiam Balance Ball and two air mattresses to create a wild set of games based on toddler gymnastics classes my daughter and I used to frequent. She loved them, and they got her wiggles out in a fashion I haven't seen since we stopped interacting with other children at parks, school, or classes. The gear doesn't have to be fancy: a yoga mat can be a place to practice summersaults, or a jump rope can be a balance beam. I suggest adding some structure (cross the balance beam ten times!) to keep your kids' attention.
Fake a Campfire
A headlamp at the base of a full Nalgene delivers a nice ambient light that can be a pretty charming campfire substitute. While this might not work for older kids, my 2.5-year-old daughter will do just about anything for a marshmallow, so our indoor campfire with a fake mallow roast and camp seats is pretty fun. If you have any traditions from camping, bring them into your living room. This is a great opportunity for parents to forget that your living room is the place you've been stuck watching Disney+ for the past week.
Headlamp Hide-and-Seek
Hide-and-seek is a great game to pass time with your kids, but it can get old pretty quickly. Have you ever turned off the lights and given the "it" person a headlamp? It's ridiculous how much more fun this makes the game for kids. The extra amount of skill needed to operate a headlamp and the larger number of hiding spots in the darkness make it a significantly more dynamic game for toddlers.
Picnic Everywhere
This one can be as fancy or simple as you want. Use a picnic blanket, your camping silverware, and insulated tumblers, or just set a towel on the ground and make some sandwiches. Regardless of gear, commit to eating somewhere in your house, apartment, or yard that isn't at a table or in front of a TV. I've been setting up picnics in every room of our house except the office. This tip might be specific to younger children, but the break in routine makes meals more fun for my daughter and helps me feel less stir-crazy.
Lead Photo: Sarah Jackson
Trending on Outside Online