Outdoor Retailer 2005
The gear world's global Big Tent returns to Salt Lake, and things get dirty. The Gear Guy reports.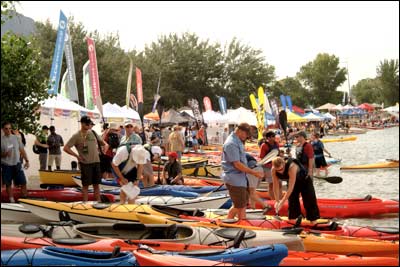 Heading out the door? Read this article on the new Outside+ app available now on iOS devices for members! Download the app.
Outdoor Retailer, the annual summer gearapalooza in Salt Lake City, is normally marked by an overall air of gearly bonhomie. Fierce competitors chat amicably or give one another big hugs, reflecting the fact the outdoor-gear world is still pretty tightly knit despite the huge scope of this ever-growing show (348,000 square feet of exhibit space—the equivalent of 7.25 football fields; 925 exhibitors; 19,000 attendees).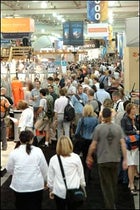 Walk This Way: the OR crowd navigates the cavernous Salt Palace Convention Center
But this year's show had a bit of a sinister undercurrent. The folks at Cascade Designs, makers of Therm-a-Rest pads and many other outdoor goodies, were a little startled to find a booth in the Pavilion—a huge outdoor tent where new exhibitors perform penance for a year or two before admission to the main exhibition areas—that sold exact knockoffs of Cascade Designs' popular Denali Classic snowshoes. "They were exactly the same," says Jeff Bowman, Cascade Designs' vice president for outdoor sales and product development. "Except for the patent number molded into the bottom on ours." The knockoffs were offered to retailers at $15 a pair wholesale, a fraction of what Cascade Designs can afford to sell them for.
The pirates were from a company called United Industrial, part of a consortium of Chinese gear suppliers, a growing contingent in recent years as more and more outdoor-gear manufacturing goes offshore. But as they are in software and DVDs, the Chinese have also shown a propensity for taking a few shortcuts. Several gear makers have noticed strangers in their booths, taking pictures and measuring gear.
In Cascade Designs' case, they'd heard rumors for a year or two that something was afoot, so were prepared for quick action. The company flew a staff attorney out from Seattle, who worked overnight with attorneys in Salt Lake City to draw up papers suing United Industrial. The next morning, Bowman, attorneys, and a city bailiff marched to the United Industrial booth. "It was kind of fun," Bowman says. "At the booth they acted like they couldn't speak English—but we learned later they speak flawless English. And a few booths away, another company saw what was going on and began to pack up their entire display!"
For now, United Industrial president Daniel Fang has agreed to quit selling his copycat snowshoes in North America.
Say "Open Sesame" to a World of Cheaper Gear
Outside Online's all-knowing Gear Guy pulls back the curtain on the cost of outdoor gear and maps your route to winning the savings game.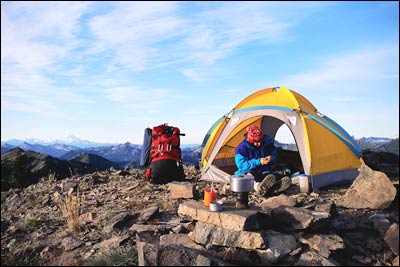 Ask the Gear Guy
Agonizing over the extra bucks on that 900-fillpower sleeping bag? Can't decide whether to grab the all-leather boots off the shelf or go boot sleuthing online? Visit Outside Online's daily GEAR GUY Q&A FORUM to put your question to our gear guru, as well as indulge your every gearhead need, from the latest in all-terrain bikes to the final word on the pros and cons of sleeping naked.

As a curmudgeonly outdoor veteran with years of gear abuse under my belt, I'd be the first to admit my days of new gear sticker-shock are thankfully few. Sometimes I see people in line at the Seattle REI, shopping cart piled high with boots, tents, sleeping bags, parkas, stoves, and all other manner of outdoor garb, and I think to myself: Whoa! There's $2,500 of shiny new gear in there!


Even if you're just buying a single piece of gear, the dollar signs can add up. Many tents sell for $400 to $500; some waterproof-breathable jackets approach that sum (and surpass it if you also buy pants); high-end boots are $250; even a basic down-filled 20-degree bag—the cast-iron skillet of the camping world—is $250 and up. Then there are the incidentals—$60 for a stove, $40 for a cookset, $25 for a multi-function tool, $30 for a first-aid kit, and on, and on, and on. I probably have $300 worth of hiking socks squirreled away here and there.


So, is gear over-priced? It isn't easy to say. Not long ago, for instance, a Gear Guy reader tried to lure me into a trash-the-gear-companies debate, citing as evidence a pair of Patagonia shorts that he felt were not worth their $45 price tag. My rebuttal consisted of two parts: One, Patagonia products are well-made and use top-quality materials, which combined with the brand's cachet, command top dollar, and not unreasonably so. Two, they have to make their clothing, then "sell" them to retailers, who in turn sell them to you. Expensive? For a pair of nylon shorts, perhaps. Over-priced? In the scheme of things, no. Nobody is getting rich off these shorts. Moreover, most outdoor-gear companies operate in fairly niche markets, selling maybe only 400 to 500 copies a year of some items. So it's difficult for them to achieve real economies of scale.


Still in the face of $45 shorts and $400 tents, what's a budget-minded outdoors enthusiast to do? Well, plenty. With a little prudent shopping, you can outfit yourself for literally pennies on the dollar. Or at least nickels. OK, dimes…



Eye on the Prize: 10 to Watch
Nos. 1-5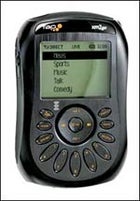 Tao XM2go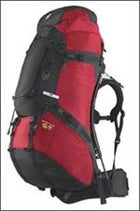 Mountain Hardwear Exodus
The United Industrial face-off was a nasty note in an otherwise upbeat show. Outdoor Retailer continues to grow—it's now so large that in two full days there I simply could not leg out every foot of aisle space. Which is to admit that I simply didn't see everything there. Not by a long shot. But I did do my best to spy the gear that's making its way to a store near you, mostly by spring '06, some earlier in time for your holiday gift-giving largesse. Here are ten things that caught my eye:
1. Tao XM2go Portable Satellite Radio: Not exactly new for 2006—the Tao XM2go unit is available now from retailers such as Crutchfield. But new now, and so very cool that the evening after I saw this I logged on to the Web via my Apple laptop and bought one. Tao is one of three companies licensed by XM to manufacture what are called "portable satellite radios"—compact devices that tune in signals from one of two satellite-radio providers, XM or Sirius. Tao's unit is the most outdoorsy of the three, with tough construction and compact size that can be clipped to a belt or placed inside a pack pocket. A rechargeable battery gives you five hours of listen time to XM's scores of stations. A $60 car kit add-on makes it easy to install in an auto, so you can listen to uninterrupted music or comedy en route to the trailhead or ski slopes. $300; www.taolife.com
2. Atlas Extreme Gloves: Good gear doesn't have to cost the world. Atlas Gloves—long popular with gardeners and construction workers—is introducing an outdoors-specific glove called the Extreme, with warm hollow-core fiber construction and Atlas' wonderful rubber-coated palms and fingers. They're not fully waterproof, but if they get wet you can wring them out and they'll dry in minutes. At $20, they're a must-have for cross-country skiers, snowshoers, hikers—anyone out in cool, damp conditions who needs to get a grip on things. www.lfsinc.com
3. Brunton Wind River Range Stove: Like to car camp? Hate to leave your Viking range home? Then the Wind River is for you. It's a stainless-steel, two-burner camp stove with commercial-style burners that put out a steak-searing 13,000 BTUs, or simmer low enough to melt chocolate for an after-dinner dessert fondue. Ruggedly built and easily cleaned. Plus, the Wind River will run off any size propane bottle. $440; www.brunton.com
4. Ecco Colima Sandals: It's true my feet and back both ached after a long day traipsing along the concrete walkways of the Salt Palace, Salt Lake City's sprawling convention center. So maybe I was biased when I tried on the super-cushioned, beautifully made Colimas. Still, I was sorely tempted just to keep walking and hope they didn't catch me. But Ecco shoes are comfortable all of the time, so for travelers or hikers, the Colimas will certainly play sweet music for da feet. $120; www.ecco.com
5. Mountain Hardwear Exodus Backpacks: Packs haven't evolved much in recent years—I'm perfectly happy schlepping gear in my 15-year-old Dana Design Terraplane. So after five years of development, Mountain Hardwear has tried to jumpstart that category with its new Exodus packs. They have easily the most über-engineered suspension on the planet, designed to keep big loads stable while offering rock-hopping mobility. Available in two frame styles and six bag sizes, from 3,300 cubic inches to 4,800 cubic inches. $330-$400; www.mountainhardwear.com