Power Travel
The new road-warrior electronics embrace the adventurer's creed: Do more with less. From a pocket cinema to an MP3 watch, these ten ultra-portable gadgets let you get lost in style.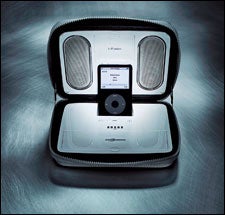 Mark Wiens
Heading out the door? Read this article on the new Outside+ app available now on iOS devices for members! Download the app.
The Entertainer // Apple ipod and Sonic Impact i-Fusion
Apple iPod & Sonic Impact i-Fusion

Apple iPod & Sonic Impact i-Fusion
You'll never get stuck staring at an airplane tray table again with Apple's fifth-generation iPod, a multimedia powerhouse that can serve up next-day prime-time shows like Lost and Desperate Housewives for $1.99 each, plus music videos and more offerings from NBC, USA, and the Sci-Fi Channel, among others. The unit can store up to 150 hours of video, 15,000 songs, or 25,000 photos, and the picture on the 2.5-inch, 65,000-color screen is crystal-clear. The new iPod does all this while somehow being flatter and sleeker than its predecessor. It also has a new stopwatch feature, a multi-time-zone clock, and enhanced voice recording. For the ultimate road-worthy entertainment center, pair it with Sonic Impact's i-Fusion ($150; www.si5.com), a travel-tough speaker system that also syncs, recharges, and stows your player. Reality Check Already got an iPod with lots of cool accessories that attach to access ports on top? Be prepared to eBay some of those add-ons, because this iPod's only top port is for headphones. Buy It If You want video and photo capacity in Apple's easy-to-use music workhorse. 60GB, $399; 30GB, $299; www.apple.com
The Camera, Cell Phone/GPS, & Watch
Nikon Coolpix P1, Motorola i605, & BMW Mp3 Watch

Nikon Coolpix P1, Motorola i605, & BMW Mp3 Watch
Photo Finisher // Nikon Coolpix P1
Leave your tangle of digital tethers at home. The P1 wirelessly transmits pictures from camera to computer, letting travelers manage vast numbers of photos as they click and go. The technology also creates a revolutionary party trick: You can start a slide show on your laptop, and the P1 will update it with new pictures as you take them. But the P1 isn't just about instant gratification. At eight megapixels, it offers the highest resolution you'll find in today's pocket cameras, and it benefits from Nikon's proven metering-and-exposure system, plus a quiver of digital filters and custom controls. Go ahead and enlarge that lion photo you scored on safari; you'll see no loss of color or detail. Reality Check The large 2.5-inch display screen leaves no space for an optical viewfinder. But It If You like to tinker with sexy technology and often travel with a laptop. $549; www.nikonusa.com
The Navigator // Motorola i605
It's a bit spooky—in a Big Brother way—when you activate the i605 and see an aerial photo of the house you're sitting in. But the satellite images—together with street and topo maps, all clearly visible on the 2.2-inch color screen—make for one of the only full-service GPS units to double as a phone. The Trimble Outdoors GPS software allows you to create and track routes, and even wirelessly download maps. Plus the GPS function works in or out of cell-phone range. The rubber-protected unit—which meets military standards for resistance to dust, shock, and extreme temperatures—won't win any sexy-phone awards, but it's made for banging around the world, not boardrooms. Reality Check The tiny keys make typing slow. But It If You like to stray far from the beaten path and want a phone that can lead the way home. $299; www.motorola.com
The Timely Singer // BMW Mp3 Watch
Tucked into this watch's brushed-aluminum casing is a smartly engineered MP3 player with voice recorder. The 512MB flash drive holds 60 songs, and when I first tuned in at a restaurant the music quality made it easy to ignore gawkers wondering why I had headphones plugged into my wrist (bummer: no wireless capability). The USB cable is subtly concealed, and the classic face belies the geek-worthy innards. A five-button control makes it easy to pause, skip a song, or pump the volume without even a glance at your wrist. Reality Check With most MP3 players holding songs in the thousands, can you bear choosing fewer than 100? But It If You wear a watch, not a gadget, and want music, too. $350; www.bmw-online.com
The MP3 Player, GPS, and PDA
Garmin Nüvi 350, iAudio X5, & HP iPaq 6515

Garmin Nüvi 350, iAudio X5, & HP iPaq 6515
Ultimate Travel Tool // Garmin Nüvi 350
This miraculous little gadget rides in your pocket, always knows where you are (thanks to GPS), and, with its alluring digital voice, can guide you to the British Museum while supplying ticket prices and hours and finding London's best fish and chips along the way. Add language software ($75) and the Nüvi translates text into nine languages and dialects—and even plays the words out loud to check pronunciation. With 700MB of memory plus an SD-memory-card slot, it also plays MP3s and audiobooks, and will convert currency, store images, and screen a slide show of the day's adventure. A North American database is included; optional travel guides cost $75–$160 per region. Reality Check It's pricey before added software. But It If You want to exchange a bag full of maps, guidebooks, and phrase books for a wallet-size assistant. $969; www.garmin.com
Sound Master // iAudio X5
Steve Jobs may rule Silicon Valley, but the iPod doesn't entirely own the MP3 universe. Here's an alternative made for audiophiles who will trade iPod cool for radio reception and superior sound control. The X5 offers precise fine-tuning, and the cigarette-pack-size unit crams in an FM receiver and a built-in recorder that's good for anything from keeping an audio journal to capturing sound direct from a TV. It even competes on the video front, with a razor-sharp 260,000-color screen on which you can watch movies converted to MPEG-4. Travel bonus: The built-in USB slot allows easy image transfer straight from your camera. Reality Check With all those features, the controls aren't as simple as the iPod's interface. But It If You want radio and recording, and don't like being restricted to Apple's proprietary file format. 20GB, $300; 60GB, $440; www.cowonamerica.com
The Swiss Army Knife // HP iPaq 6515
If more is good, is most best? HP thinks so, and the company loaded this souped-up PDA with phone, e-mail, Web browser, camera, GPS, MP3 player, and more. Take for granted that it's a full Windows Mobile 2003–based PDA, with QWERTY keyboard and all the standard functions. What puts this handheld over the top is the fully functioning GPS receiver, which, with added software (about $100), allows city/highway route-finding and customized topographic maps. The 1.3-megapixel camera is good enough to take adequate, albeit small, pictures, and SD and mini-SD memory slots let you build on the 50MB of internal memory for MP3 files or photos. And, of course, it has Bluetooth as well. Reality Check The camera feature is marginal; don't rely on it for recording an album's worth of trip photos. But It If You want an all-in-one gadget for work and travel. $599; www.hp.com
The Cell Phone & Blackberry
Nokia N90 & Blackberry 7100i

Nokia N90 & Blackberry 7100i
Spy Phone // Nokia N90
Unlike previous camera phones, which tried to sneak in optics without losing sleekness, this smart (if slightly clunky) unit can produce fairly high-quality pictures. The Transformer-like marvel twists and mutates from clamshell phone to handheld camcorder. With two megapixels, a 20x digital zoom, a Carl Zeiss lens, and manual exposure controls ranging from white balance to exposure value, the N90 takes sharper, brighter photos than most point-and-shoots in its range. The video recorder is also a marvel of clarity, and all the images you take, as well as movie files, are watchable on the two-inch color display. Oh, and Nokia throws in an MP3 player for good measure (31MB internal memory plus a 64MB MultiMediaCard sold separately). Reality Check The camera is great for trip snapshots, but two megapixels is the bare minimum for a camera today. But It If You're more Bill Gates than Ansel Adams. $399; www.ritzcamera.com
The Great Communicator // Blackberry 7100i
If you haven't become a BlackBerry addict yet, the 7100i may be your gateway gadget. The phone, e-mail, and Web access that have already hooked others are all here, plus you get a built-in GPS and slick aftermarket software like TeleNav ($10 per month) that enables the 7100i to deliver everything from turn-by-turn directions to restaurant recommendations—all streaming over the wireless connection. The boxy design allows space for a color screen that's both sharp and big enough for navigation. And while the SureType keyboard has to bunch two letters on most keys, it saves time by predicting which word you are typing. Reality Check For domestic travelers only. The navigation function relies on a strong cell signal to download maps in real time, and the network is only available in the U.S. But It If E-mail access frees you to travel, and you want a city guide in your pocket en route. $199 (with service plan); www.nextel.com
Gadgets+
Protect, improve, and power up with these accessories.
Before embarking on that float trip down the Amazon, safeguard electronics in a watertight case from Pelican (www.pelican.com).
Add GPS software from Trimble Outdoors (www.trimbleoutdoors.com) and Garmin (www.garmin.com) to run topo maps on PDAs and cell phones equipped with a GPS receiver.
Sync a wireless foldout keyboard (www.belkin.com) with most PDAs for virtual desktop typing.
Jettison that suitcase full of chargers and batteries. Get a single universal power adapter from iGo (www.mobilityelectronics.com) and a solar charger from Brunton (www.brunton.com).
Trending on Outside Online