Grilled Lamb Chops with Minted Tzatziki and Grilled Greek Salad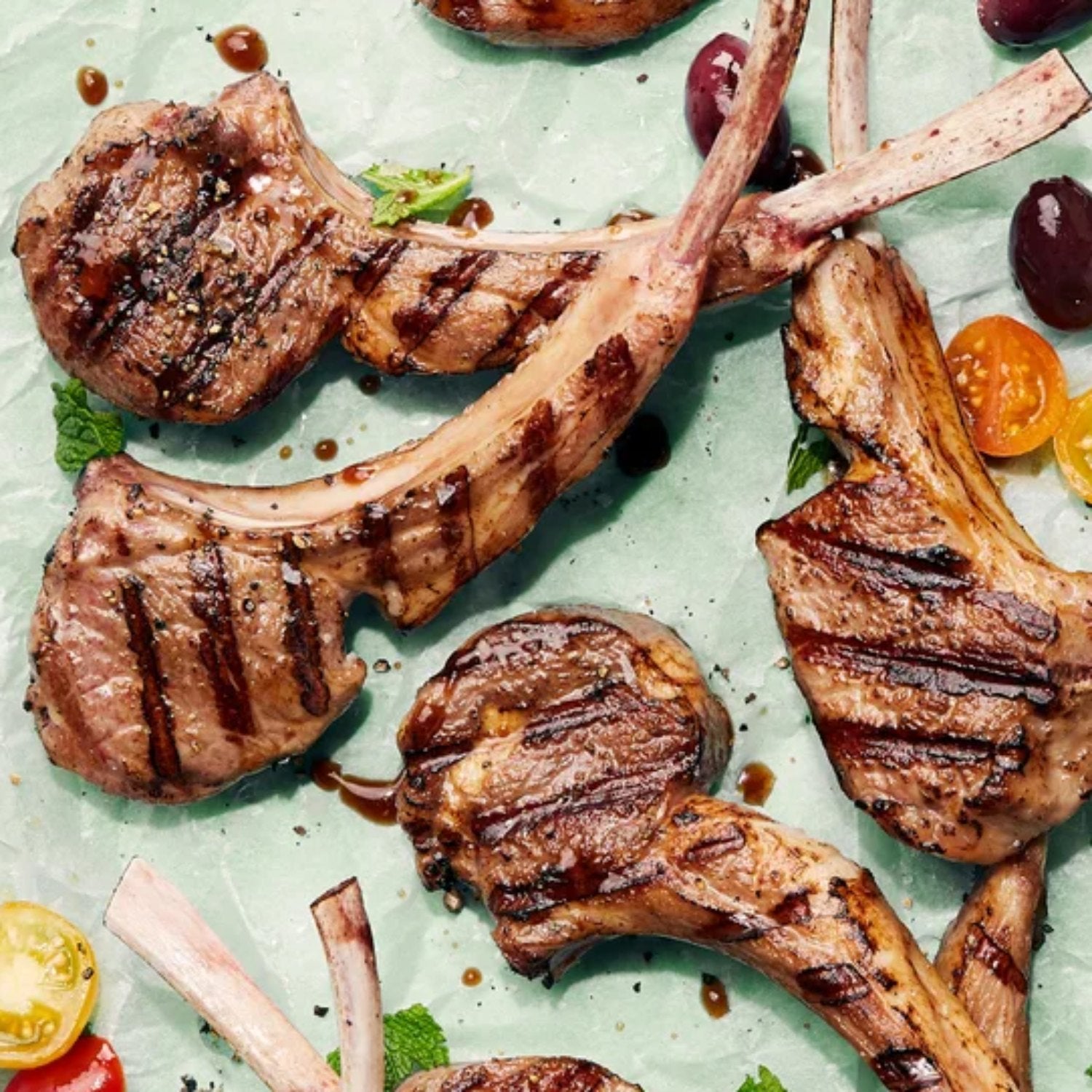 Suech & Beck
Heading out the door? Read this article on the new Outside+ app available now on iOS devices for members! Download the app.
This article was first published by Clean Eating Magazine.
Lamb is unique in that it is the richest source of conjugated linoleic acid (CLA), an omega-6 fatty acid found at its highest levels in grass-fed ruminant animals. It has been shown to lower the risk of heart disease and diabetes, and it may help reduce body fat.
Grilled Lamb Chops with Minted Tzatziki and Grilled Greek Salad
Ingredients
8 lamb rib chops (about 2½ lb total)
1/4 cup avocado oil, divided
2 cloves garlic, minced
½ small English cucumber, seeded and chopped finely, patted dry (1 cup)
1 cup plain full-fat Greek yogurt (TRY: Stonyfield Organic Whole Milk Greek Yogurt)
1 Tbsp. chopped fresh mint
½ tsp. raw honey
1 tsp. sea salt, divided
1 tsp. black pepper, divided
3 romaine hearts, halved lengthwise
1 cup halved cherry tomatoes
3 Tbsp. chopped Kalamata olives
Preparation
1. Pat lamb chops dry. Place on a plate and let come to room temperature.
2. Preheat a grill to high. Meanwhile, in a small unheated skillet, combine 1 tbsp oil and garlic; heat on medium-low. When mixture begins to sizzle, cook for 30 seconds then immediately transfer to a medium bowl. Let cool slightly. Fold in cucumber, yogurt, mint, honey and 1/4 tsp each salt and pepper. Cover and set aside in the refrigerator.
3. Rub lamb with 1 tbsp oil; sprinkle with ½ tsp each salt and pepper. Place on preheated grill and cook until seared on bottom, 3 to 4 minutes. Flip and cook 2 to 3 minutes more, or until nicely browned and cooked to desired doneness.
4. Meanwhile, rub romaine with 1 tbsp oil; sprinkle with remaining 1/4 tsp each salt and pepper. When lamb comes off grill, add romaine, cut sides down. Grill, turning often, until grill-marked and leaves loosen, about 3 minutes. Transfer to a cutting board; chop. Transfer to a bowl and toss with tomatoes and olives.
5. Divide lamb among 4 plates. Spoon some of the tzatziki onto each plate, then divide salad among plates. Drizzle salads with remaining 1 tbsp oil and serve with any remaining tzatziki on the side.
Lead Photo: Suech & Beck