Matcha Pancakes with Vegan Whipped Cream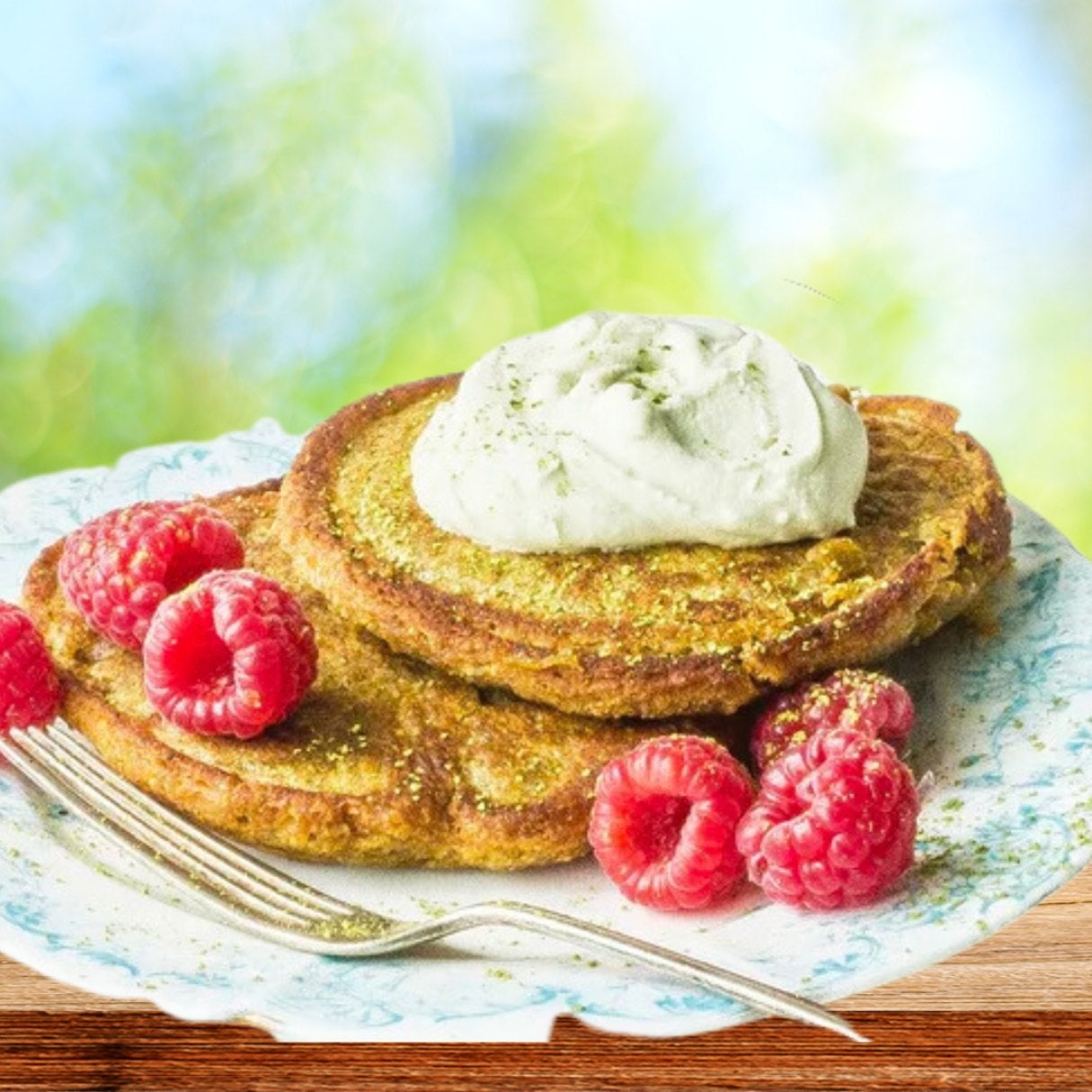 BEATA LUBAS
Heading out the door? Read this article on the new Outside+ app available now on iOS devices for members! Download the app.
Matcha lattes, once thought to be a fleeting trend (like Starbucks pink drinks – ugh) have officially taken permanent residency in cafes across the country. With the matcha market estimated to be valued at $5.5 billion by 2027, it's safe to say this powdered antioxidant filled tea isn't going anywhere.
The powdered green tea has been studied extensively for its content of epigallocatechin-3-gallate (EGCG), the most abundant plant compound in green tea. EGCG has been shown to improve metabolic health and decrease risk of cardiovascular disease. Matcha also contains cancer-fighting properties and may increase the success of chemotherapy. It might seem least important to add, but matcha is also deliciously earthy with a grassy, slightly bitter flavor. 
So why would we limit the reach of this superfood to just lattes? Why not, say, pancakes?
Researchers say that you should consume two servings (1-2 tsp per serving) a day to reap the tea's nutritional benefits. For that reason, we recommend you have a cup of matcha with these earthy, sweet, and fluffy hotcakes. The flavor is mild enough so that it's not overpowering, and the vegan whipped cream – made with coconut milk – cuts through the savory taste with a sweeter, light profile. 
Ceremonial vs. Culinary Grade Matcha
There are two grades of matcha: ceremonial and culinary. Ceremonial grade is the highest quality matcha, steeped from tea leaves that have high concentrations of chlorophyll. This recipe, however, calls for culinary grade, which is good for baking and cooking because of its grainy texture and subdued flavor. Plus, it's less expensive. 
Matcha Pancakes with Vegan Whipped Cream
This recipe was originally published on Clean Eating. 
Ingredients
Pancakes
3/4 cup whole wheat pastry flour or gluten-free all-purpose flour
¼ cup brown rice flour
2 tsp. culinary-grade matcha powder
2 tsp. baking powder
½ tsp. baking soda
¼ tsp. sea salt
3 Tbsp. coconut sugar
1 cup unsweetened coconut milk
2 Tbsp. melted coconut oil, plus extra for cooking
Whipped cream
1 can full-fat BPA-free canned coconut milk, refrigerated overnight
1/2 tsp. culinary grade matcha powder
Preparation
1. Prepare pancakes: In a medium bowl, mix together flours, 2 tsp matcha, baking powder, baking soda, salt and sugar.
2. In a large bowl, combine coconut beverage, oil and 2 Tbsp. water; vigorously whisk until frothy. Add dry mixture to wet, and stir until just combined; do not over-mix. Let batter stand at room temperature for 15 minutes.
3. Meanwhile, prepare Coconut Matcha Whipped Cream. Collect cream from coconut milk can by scooping out thick white portion that has risen to the top of the can into a bowl (you should have a little over 1/3 cup; discard the water). To bowl, add ½ tsp. matcha powder and whisk vigorously until matcha is fully incorporated and mixture is light and fluffy, resembling the texture of whipped cream (or use an electric hand mixer).
4. Lightly oil a nonstick skillet or griddle, and heat on medium. For each pancake, ladle 3 to 4 Tbsp. batter onto skillet. Cook for 2 minutes on each side, until golden brown. Serve with Coconut Matcha Whipped Cream (if using), coconut oil or maple syrup.
Lead Photo: BEATA LUBAS