Recipes and Deals For National Burrito Day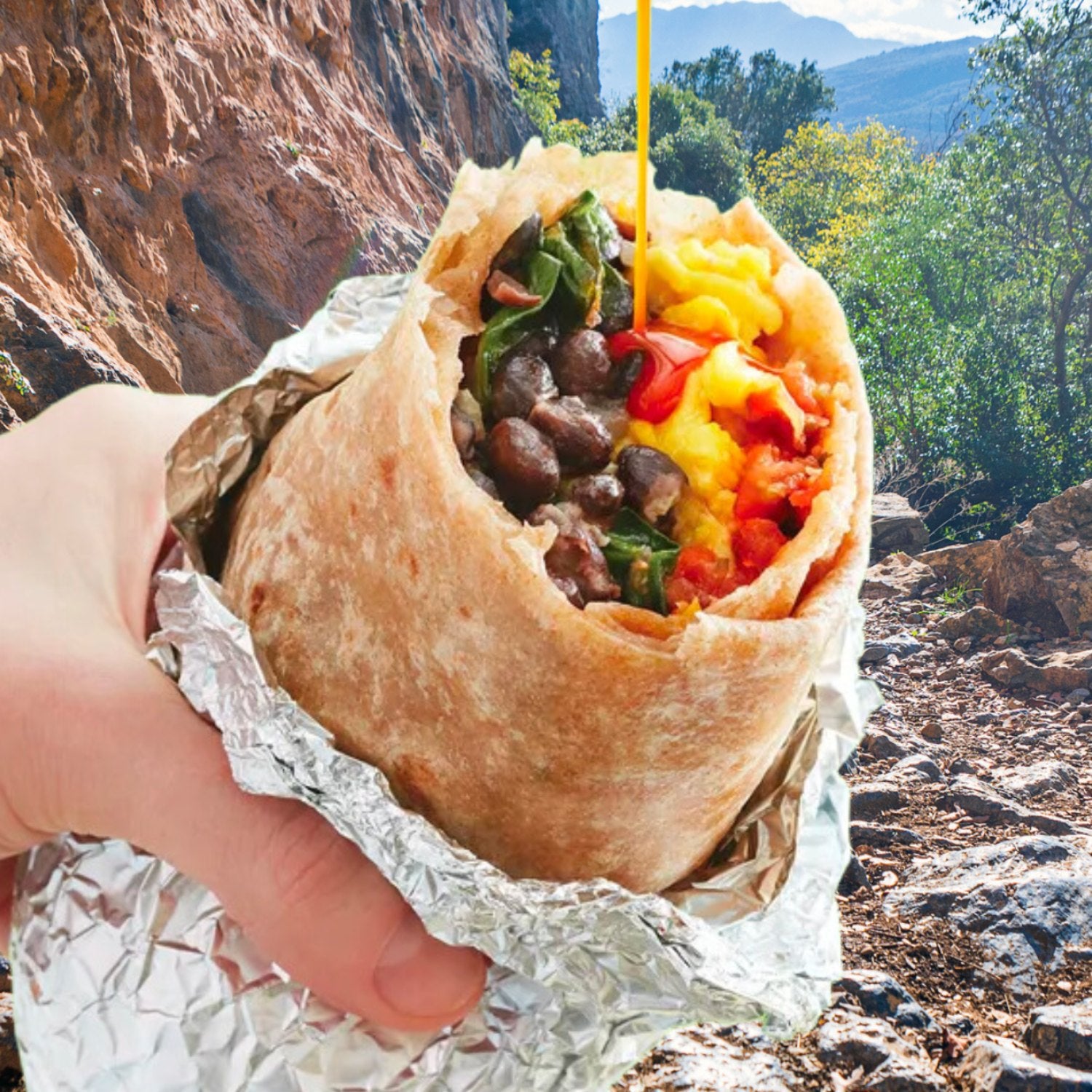 Darren Kemper
Heading out the door? Read this article on the new Outside+ app available now on iOS devices for members! Download the app.
Recipe originally published in Clean Eating Magazine. 
Burritos were practically made for outdoor adventures – they're deliciously compact, calorically dense, easy to whip up, and durable. In our opinion, you haven't quite lived until you've eaten a pocket burrito warmed by an hour of hiking.
Scott Jurek, the famously vegan American ultramarathoner, outdoorsman, and running icon, talks about his affinity for burritos in his autobiography Eat & Run. His ultramarathons almost always include a healthy menu of rice and bean burritos, ideal for quick, digestible fuel.
"Those bean burritos fueled me through that first Western States as well as two others," Jurek writes in Eat & Run.
And so, in the name of National Burrito Day – April – we're rounding up  spicy deals and discounts to celebrate the occasion. Plus a burrito recipe of our own. 
Chipotle
Chipotle is giving away 20,000 burritos on Grubhub, while supplies last. A free burrito will automatically be added to any Grubhub Chipotle order with a total of at least $20. Plus, all Chipotle burrito orders are delivered free with the promo code: DELIVER
Not on Grubhub? Chipotle is also doing a giveaway on Twitter. Throughout the day (April 6), @ChipotleTweets will be posting free burrito codes. Text the code to 888-222 for a chance to win a free burrito. 
Moe's Southwest Grill 
Moe's is celebrating National Burrito Day by offering a buy-one-get-one-half-off deal. This deal applies to online orders and in participating stores. 
Taco Bell
Taco Bell is doing National Burrito Week. From April 6 to 9, get a free grilled cheese burrito through the Taco Bell app with any order $20 or more. You can also get a free burrito with any $20 delivery order, whether it's through DoorDash, Uber Eats, Postmates, or Grubhub. 
Del Taco
Del Taco is giving burrito-lovers one free burrito with a purchase of $10 or more. Note: participants must be registered for Del Yeah! Rewards. 
Pokeworks
Not to be left out, Pokeworks is offering $3 off any poke burrito online or through the app with the code BURRITO3. 
Southwestern-Style Black Bean Burritos
Ingredients
2 Tbsp. olive oil, divided
1 small onion, chopped
1 15 oz. BPA-free can unsalted black or pinto beans, drained and rinsed
6 cups lightly packed baby spinach
¼ tsp. sea salt and ground black pepper, divided
8 large eggs, lightly beaten
4 large whole-grain tortillas
1 cup jarred all-natural salsa or pico de gallo
¾ cup shredded Monterey Jack or Mexican blend cheese
Preparation
Make a batch of these protein-packed burritos on Sunday and store them in your fridge or freezer for heat-and-eat hiking, skiing, or backpacking meals.
1. In a large nonstick skillet, heat 1 tablespoon oil on medium heat. Add onion and cook, stirring occasionally until softened, about 6 minutes
2. Add beans, spinach, and 1/8 tsp each salt and pepper and cook, stirring often, until spinach is wilted, 4 to 5 minutes. Transfer to a large bowl to cool.
3. In the same skillet, heat remaining 1 tablespoon oil on medium. Add eggs and remaining 1/8 tsp each salt and pepper; cook, stirring, until softly set, about 5 minutes. Transfer to a separate large bowl to cool.
4. Spoon one-quarter of bean mixture across center of 1 tortilla, leaving a 2-inch border uncovered on each edge. Top with one-quarter of each eggs, salsa, and cheese.
5. Fold left and right edges of tortilla in over the filling. Lift bottom edge of tortilla (edge closest to you) over filling; roll tightly upward. Mist a square of foil with cooking spray and wrap burrito tightly, oiled side facing burrito. Repeat with remaining tortillas and filling ingredients. (TIP: Refrigerate for up to 1 day or freeze for up to 1 month.)
6. To heat, preheat oven or toaster oven to 375°F. Arrange foil-wrapped burrito(s) on a baking sheet. Bake until heated through, 20 to 25 minutes. If frozen, bake 40 to 45 minutes. (Camping tip: Warm foil-wrapped burritos on a grate over indirect heat or by nestling them into hot coals. Turn periodically until toasty.)
Recipe written by Pamela Salzaman.
Nutrition Information
Serving Size

1 burrito

Calories

567

Carbohydrate Content

51 g

Fat Content

27 g

Fiber Content

13 g

Protein Content

32 g

Sugar Content

5.5 g
Lead Photo: Darren Kemper