Sweet and Spicy Chicken and Pineapple Skewers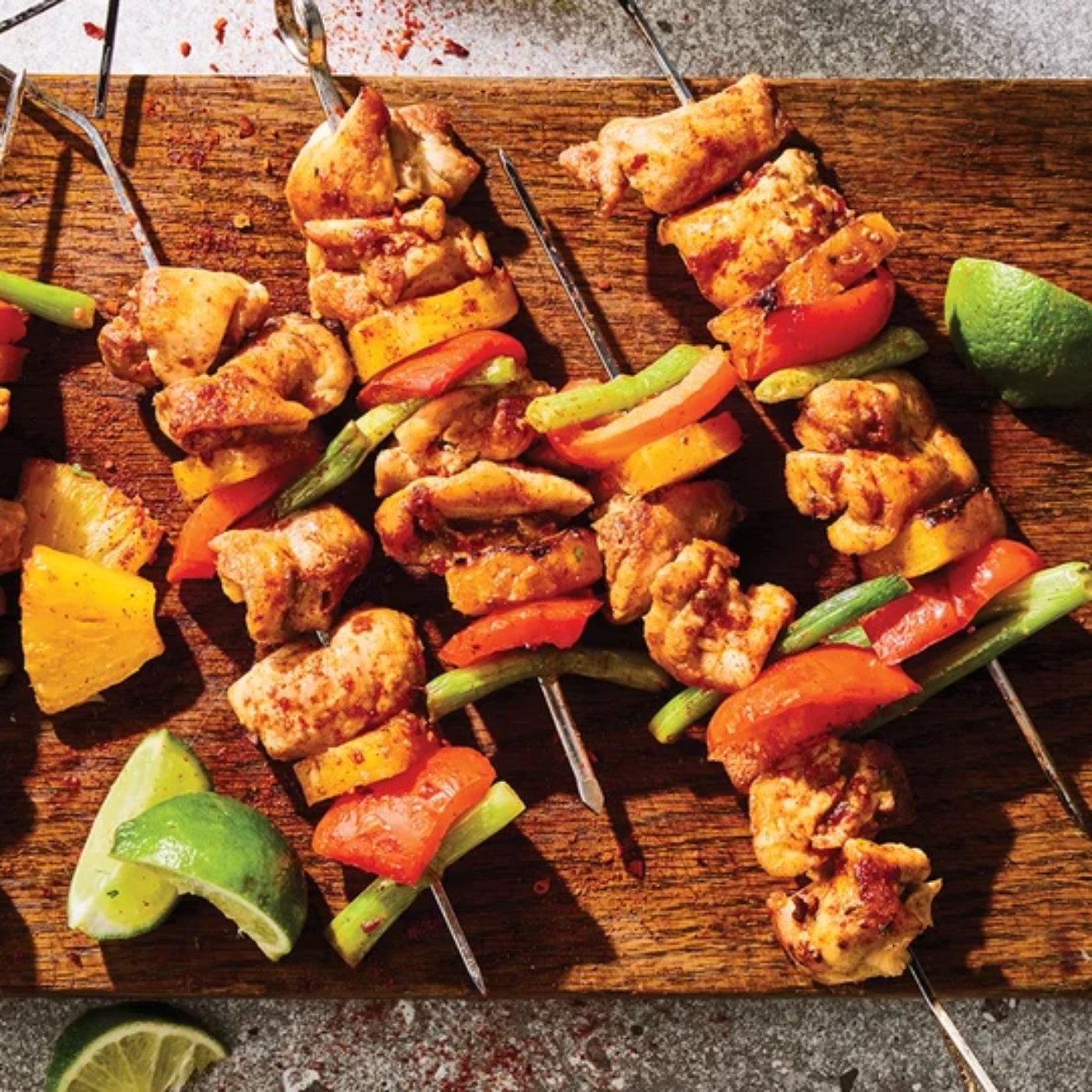 Heading out the door? Read this article on the new Outside+ app available now on iOS devices for members! Download the app.
This article was originally published on Clean Eating. 
Marinated chicken and pineapple are already a perfect match. But when you stick them on skewers with red bell pepper and green onion, they're suddenly an occasion. And these Sweet & Spicy Chicken and Pineapple Skewers will wow wherever they're made, whether that's at home on the grill or outdoors over a campfire.
Getting outside and enjoying a meal under the sun – or the nighttime stars – is what inspired this recipe. Chef and creator Sarah Sweeney says, "I didn't want to rely on the idea that everything tastes better outside. Instead, I wanted to nourish and replenish. I wanted to make real food in the forest."
Campfire Ready
Sliding all of your ingredients onto a set of lightweight skewers you can carry anywhere makes this recipe a total breeze to prepare over any campfire. But these Sweet & Spicy Chicken and Pineapple Skewers aren't just delicious when cooked over an open fire. They also provide you with some key vitamins and minerals in each bite.
Sweet and tart, pineapple is a great source of vitamin C, which promotes a healthy immune system and helps prevent colds, flus and other infections. Additionally, green onions have a combination of the benefits of onions and leafy greens like chard or spinach. And you can't overlook the protein in the chicken, either.
Note: If you're planning ahead, either at home or on the trail, make sure you keep the marinade in mind. The marinade time is approximately six hours.
Sweet and Spicy Chicken and Pineapple Skewers
Ingredients
1 Tbsp. extra-virgin olive oil
2 Tbsp. coconut aminos
1 lime, juiced
1 tsp. ancho chile powder
pinch cayenne ½ tsp kosher salt
1 lb. boneless skinless chicken thighs, cut into 1-inch pieces
2 cups pineapple, sliced into ¼-inch thick pieces
1 red pepper, cubed
1 bunch green onions, cut into 1 ½-inch pieces
Preparation
1. Whisk together oil, coconut aminos, lime juice, ancho chile powder, cayenne and salt. In a resealable container, add the chicken. Refrigerate for at least 6 hours or overnight. 
2. Thread 2 pieces of chicken followed by 1 piece of pineapple, red pepper and green onion onto metal or pre-soaked wooden skewers. Repeat until all skewers are assembled. 
3. Prepare campfire or grill for medium heat. Preheat barbecue grate over fire. Grill the skewers over medium-high heat for 4 to 5 minutes then flip and grill another 3 to 4 minutes or until the chicken is cooked through.
Lead Photo: MAYA VISNYEI