The 8 Best Healthy Lunches
Here's how world-class athletes do the trickiest meal of the day
Heading out the door? Read this article on the new Outside+ app available now on iOS devices for members! Download the app.
It's just lunch, right? Not so fast. What and when you eat can mean the difference between optimum fuel and food coma. In the second installment of our three-part series, eight athletes rethink the most difficult meal of the day.
Our lunch expert: Danielle LaFata is the director of performance nutrition at Exos, a Phoenix training facility that works with professional baseball players, triathletes, and weekend warriors. "I want food to fuel your body and your mind," she says. "Don't just think of it in terms of carbs, proteins, and fats, but as a complex entity that works together to help support performance and recovery." For LaFata's take on each recipe, see "Why it works". 
Pork Tacos
The Chef: Triathlete Ben Hoffman
Hoffman finished second at the 2014 Ironman World Championship in Kona, Hawaii, the best result for an American in half a decade. To get to the podium, his fuel strategy focused on convenience. "I train in Tucson, Arizona, and tacos are everywhere," he says. They're also easy to cook. "When you're training six to eight hours a day, you don't want to put a ton of effort into making food," he says of his pork and pinto bean tacos. "I can throw the meat in the Crock-Pot and then put these together quickly for the next few days." 
Why it works: Beans might be infamous for their gassy side effects, but they're great for endurance athletes. "Not only are they full of protein, but they also contain folate, which is important for producing the red blood cells that help carry oxygen around the body," says dietitian Danielle LaFata. Pork, cheese, and avocados pack fats and protein, and corn tortillas provide carbs; plenty to fuel Hoffman through an afternoon brick workout.
Make it: Hoffman doesn't measure his seasonings, and you shouldn't either—half the fun is mixing and matching spices. To roughly follow his lead, combine three to four pounds of boneless pork shoulder with lime juice, olive oil, honey, water, apple-cider vinegar, kosher salt, garlic, oregano, a bay leaf, and ancho chile in a slow cooker. Simmer on low for five hours or until meat is tender. Serve on corn tortillas with pinto beans, shredded cabbage, roughly chopped cilantro and red onion, guacamole, and queso fresco. 
---
Recovery Smoothie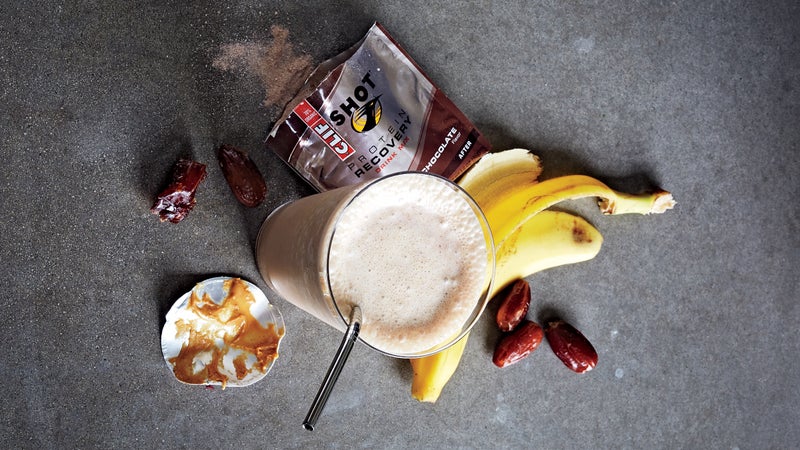 The Chef: Mountain biker Todd Wells
As a three-time Olympian, 11-time national champion, and two-time winner of the Leadville 100 mountain-bike race, Wells spends a lot of time overheated. "For lunch, I need something that's going to cool me off," he says. "That's why I make a smoothie." Though almost any fresh or frozen fruits and vegetables will blend nicely, Wells has honed his mix over ten years. It includes Clif's recovery powder, ice, almond milk, vanilla yogurt, banana, and dates. 
Why it works: Mountain biking is one of the more draining sports out there. "Average heart rate during a race is close to 90 percent max," says LaFata. "So mountain bikers need to pay attention to recovery as soon as they get off the bike." Dates and bananas contain potassium and calcium. "Replenishing these minerals and electrolytes post-ride helps him rehydrate," LaFata says. Yogurt is full of probiotics that "not only help keep your immune system strong but also prevent inflammation." 
Make it: In a blender, mix two scoops of chocolate Clif Shot Recovery, three ice cubes, 1.5 cups of unsweetened almond milk, a cup of lowfat vanilla yogurt, one banana, three pitted dates, and two tablespoons of peanut butter until smooth.
---
Bagel Sandwich
The Chef: Climber Kevin Jorgeson
When Jorgeson and Tommy Caldwell spent 19 days making the historic first free ascent of El Capitan's Dawn Wall in Yosemite National Park last January, a support team hauled food up to them. "But we're pretty bad at putting together menus," says Jorgeson. So they relied mostly on portable, calorie-dense energy bars and a go-to sandwich of cream cheese, cucumber, salami, bell pepper, and avocado on a whole-wheat bagel. "You can't put a price on morale," Jorgeson says. "That sandwich made us feel good. We weren't really thinking about dietary needs, but our bodies held up well, so it did the job." 
Why it Works: Jorgeson's lunch has the right balance of carbs, fats, and protein to fuel his muscles and keep him on the wall for several hours. Plus, cucumbers contain a secret ingredient: "Quercetin boosts the immune system, reduces the inflammatory response to exercise, and could act as a performance aid," LaFata says. Cucumbers are also 96 percent water, so they help keep you hydrated during long days in the sun. 
---
Oatmeal Pancakes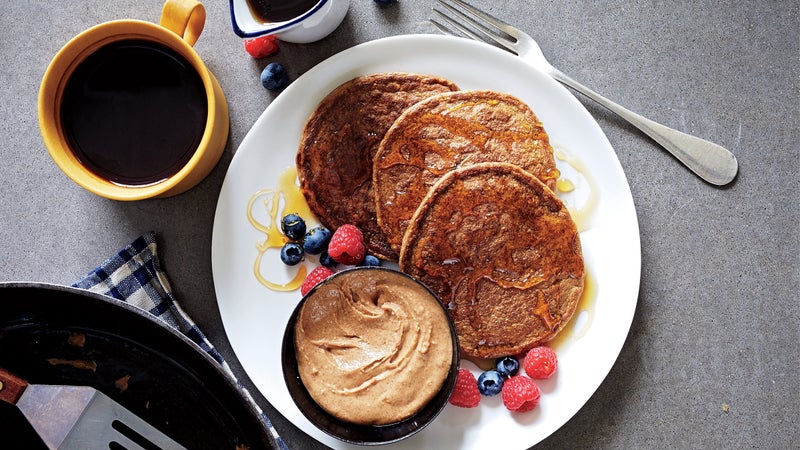 The Chef: Ultrarunner Sage Canaday
"I love breakfast and I love pancakes," says Canaday, a top American ultrarunner. "I believe you can eat them whenever you want." In 2014, Canaday's midday flapjacks helped him capture the North Face 50-Mile Championships and the Pikes Peak Ascent in Colorado. "I eat a really high-carb diet, and after a long morning run I need to restore my glycogen levels to get ready for my next workout," says the 29-year-old Boulder resident. Canaday makes his pancakes with oatmeal: "It's a great substitution for regular mix, because it gives them a richer taste and it has soluble fiber, which offers a more sustained energy burn."
Why it works: Pancakes for lunch might sound like a gut bomb, but LaFata is on board. "On his runs, he's burning anywhere between 2,000 and 5,000 calories," she says. "He needs to make sure his calorie intake is keeping up with his body's demands, or else he runs the risk of low bone density, stress fractures, and overtraining." Topping the pancakes with real maple syrup adds a dose of manganese and zinc, minerals that reduce cellular damage. 
Make it: In a blender, combine one banana, 3/4 cup of raw quick-cook oats, a teaspoon of cinnamon, a teaspoon of baking soda, 1/2 teaspoon of salt, a tablespoon of vegetable or almond oil, one egg, and 1/2 cup of almond milk. Blend until smooth. Pour about a half-cup at a time onto a hot, greased pan. Top finished pancakes liberally with almond butter and maple syrup.
---
Touring Lunch
The Chef: Backcountry snowboarder Jeremy Jones
Jones is the godfather of epic, human-powered, big-mountain snowboarding expeditions. He's bagged huge first descents in Alaska and the Himalayas, trekking on a splitboard for up to 14 hours, logging thousands of feet of vertical to reach a peak. For lunch he needs something that packs well and is easy to digest. "A sandwich won't work," says Jones. "It takes up too much space." Instead, he travels with beef jerky, salami, cheese, pistachios, dark chocolate, and Clif Shot Bloks—a mix of carbohydrates and caffeine mashed into a gummy. "It's high-calorie, low-volume food."
Why it works: Jones's lunch might sound skimpy for a big day in the mountains, but it's packed with power. Jerky, salami, and cheese provide a huge amount of protein, and Shot Bloks give bursts of energy. But LaFata mostly likes Jones's makeshift trail mix. "Pistachios are little fat pellets that contain protein, fiber, potassium, and magnesium, which is important for bones and muscles," she says. "Dark chocolate is full of flavonoids, which increase blood flow to the arteries and heart. With the amount of climbing, walking, and snowboarding Jones does, that sweet treat is important for cardiovascular strength." 
---
Chicken Soup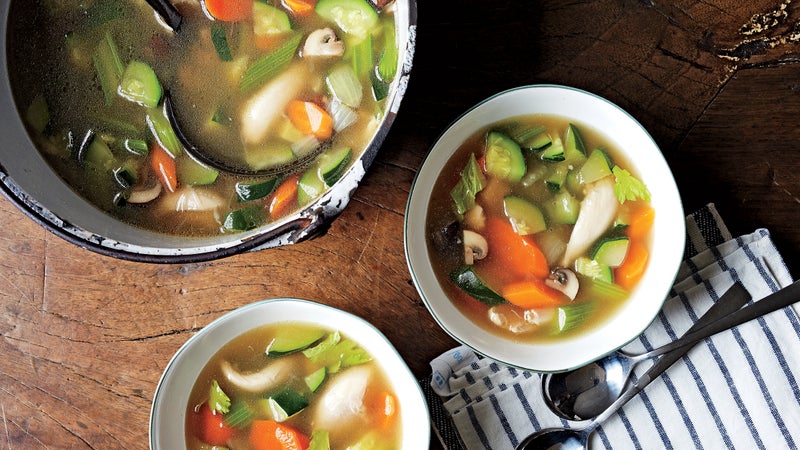 The Chef: Surfer Sally Fitzgibbons
Fitzgibbons, an Australian pro with multiple wins on the World Tour, spends much of the day in the water, so she craves a warm-up meal as soon as she gets out. "I love good homemade chicken soup with lots of veggies," she says. "I put some drumsticks in a pot of stock and slow-cook them with onion, chiles, carrots, mushrooms, and zucchini. The broth tastes amazing and provides a healthy option that is ready to go any time of the day between training sessions." 
Why it works: The collagen in chicken bones contains proline and glycine, which may support healthy connective tissues and ligaments—great for athletes. "Slow-cooking a chicken carcass releases calcium and phosphorus," says LaFata, "which support bone health."
Make it: Chop one large onion, two carrots, three mushrooms, three zucchini, and two celery stalks. In a large pot, combine six skinless chicken drumsticks, four to five cups of chicken stock, and the chopped vegetables. Bring to a low boil and cook for up to 24 hours, adding more stock as necessary. Salt to taste.
---
Chicken and Rice with Salad
The Chef: Kayaker Fabien Lefèvre 
For most Europeans, lunch is the biggest meal of the day. That holds true for Lefèvre, a Frenchman who's been one of the more dominant competitive kayakers since 2002, winning seven World Championships, along with silver and bronze at the 2008 and 2004 Olympics, respectively. "After two hours spent paddling, I must refill," he says. "And I always use organic ingredients." Lefèvre starts with a salad of baby spinach, arugula, cherry tomatoes, a few dried cranberries, pumpkin seeds, olive oil, balsamic vinegar, and a spoonful of cider vinegar, then moves on to sushi rice mixed with Himalayan salt, Parmesan, avocado, and two slices of grilled chicken with a bit of piment d'espelette (a spice from the Basque region of France). "I also love dessert," he says. "A slice of cake made with plain yogurt and pear is tasty."
Why it works: Sure, salad is healthy, but Lefèvre's secret is in the sauce. "Vinegar is believed to make the insulin receptor more sensitive," says LaFata. "That means blood sugar will be more easily used by cells for replenishment. Insulin gets a bad rap as the fat-storage hormone, but it's also the muscle-building hormone. Vinegar helps the body metabolize and break down the rice, turning it into energy more easily." 
---
Salad and Sushi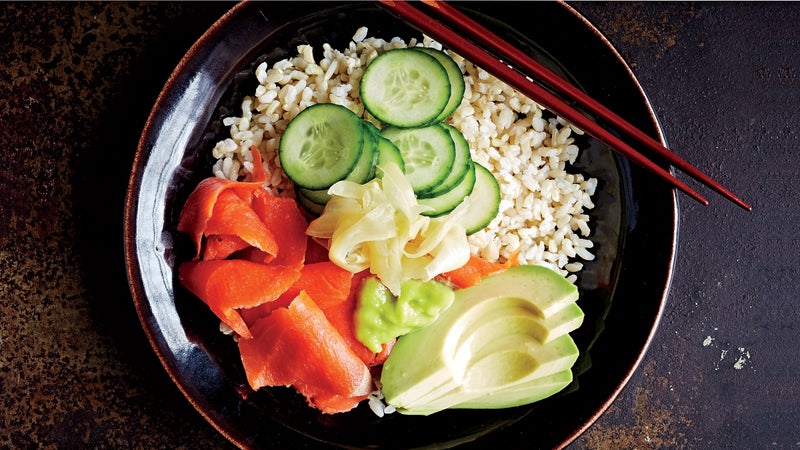 The Chef: Mountaineer Melissa Arnot
Technically, Arnot's lunch is her breakfast. That's because most days, the 31-year-old forgoes a morning meal and hikes 3,000 feet of vertical with a 50-pound backpack, then lifts weights at the gym, all on an empty stomach. "When I was trying to summit Makalu in 2011 without supplemental oxygen, I had to turn back," she explains. "It's hard to eat at altitude, and my body wasn't burning fuel properly. I had to condition myself to find sources of energy without food." When she does dig into her first meal, it's a salad of baby spinach with dried cranberries, walnuts, blue cheese, and balsamic vinaigrette, along with a sushi roll made with brown rice, smoked salmon, avocado, and cucumber. The morning fast has worked: the Sun Valley, Idaho, resident has summited Mount Everest five times, a record for an American woman. 
Why it works: A mountaineer's mind has to be sharp to avoid alpine disasters. The salmon in Arnot's meal contains the omega-3 DHA. "Research shows that DHA is crucial for brain health," says LaFata. "It protects the neurons and even guards against brain injury." So when Arnot finally does eat, she's packing in a good combination of carbs, protein, and nutrients to fuel her through dinner. 
Make it: At home, sushi is time consuming and complicated, so modify Arnot's meal into a quick and easy rice bowl. Mix a cup of cooked brown sushi rice, four ounces of smoked salmon, half a sliced cucumber, and half a sliced avocado. Season with two ounces of pickled ginger and wasabi and light soy sauce to taste. 
---
How to Avoid Food Coma, GI Distress, and Other Lunch-Related Woes 
When you work out plays an important role in what you should be eating for lunch. Why? Because the timing of your nutrient intake affects the way your body stores fat, builds muscle, and uses calories. Matt Fitzgerald, sports nutritionist and author of Racing Weight, offers these four suggestions for getting the most out of your midday meal.
—Meaghen Brown
Go Light: "If you work out first thing in the morning, then you'll want a hearty recovery breakfast immediately following. This also means your lunch should be lighter and more nutrient dense: a big salad with some lean protein." 
Carb Load: "When you exercise in the afternoon or early evening, lunch is your last chance to fuel up beforehand. Eat a meal with plenty of carbs—a sandwich on whole-grain bread with some vegetable soup and a piece of fruit."
Bulk Up: "If you're an evening exerciser, dinner will be light, so go for a heartier lunch. A burrito with meat or fish, veggies, and brown rice in a whole-grain wrap is a great option to get you through."
Stay Regular: "People often make the mistake of eating lunch whenever they can fit it in. But eating at a different time each day causes the body to hit a hormonal panic switch that slows down metabolism."
For eight perfect breakfasts, check out the first part of our fitness nutrition special.