10 Reasons We Can't Wait for Telluride Mountainfilm (and How We're Going to Make the Most of It)
The film-fest veterans of Outside share what they love about the event—and give their best tips so you can soak it all up, too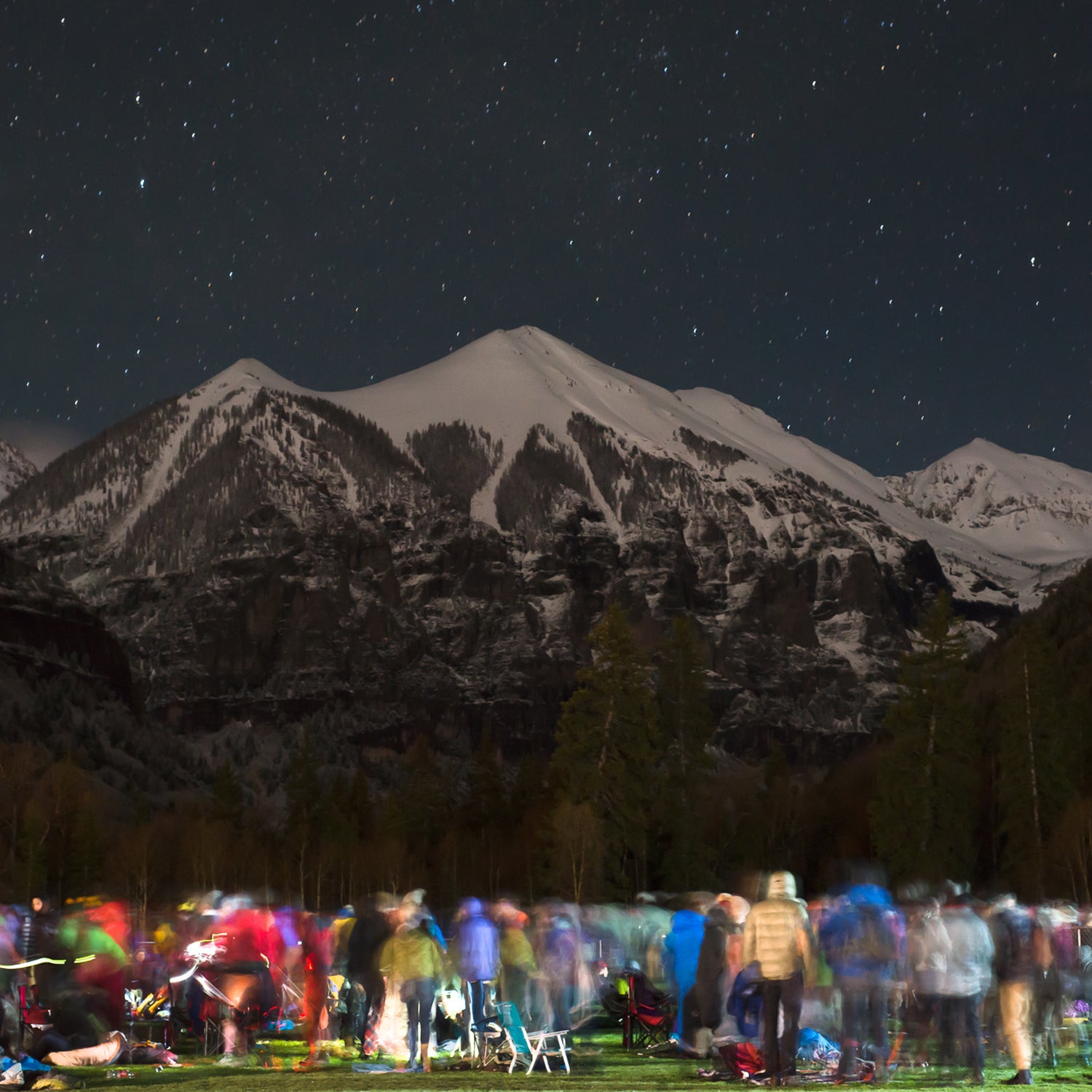 Gus Gusciora(Photo)
Heading out the door? Read this article on the new Outside+ app available now on iOS devices for members! Download the app.
Starting Wednesday, scores of trucker hat-loving creatives will fill the streets of Telluride to make merry and see some of the year's best films. We're excited about the film part, of course, but there's a lot more about Telluride Mountainfilm that keeps us coming year after year. Here are our top reasons you should spend the first long weekend of summer getting your mountain-town culture fix.
1. All Your Favorite Athletes Will Be There
To name a few: climber Conrad Anker, mountaineer Pasang Lhamu Sherpa Akita, explorer Sarah Marquis, climber and skier Mike Libecki, skier Sierra Quitiquit, snowboarder Travis Rice, and climber Cedar Wright. Catch them at presentations, and probably on the street (just try and be cool). 
2. You Can Meet Outside Editors
We'll be out there, somewhere. Just listen for the distant sound of clanking stainless-steel water bottles and the rustle of puffy jackets.
3. It's an Endurance Event Unto Itself
Take the advice of deputy editor and Mountainfilm veteran Mary Turner, and strategize the optimal schedule every day:
Don't sleep in. "You won't want to get up for the coffee talks, but they're all fascinating."
Don't leave your film-watching to chance. "Get in line early—even 30 minutes to an hour before. The good ones fill up fast."
Don't forget to explore. "It's easy to get sucked into the Mountainfilm vortex, but make time for adventure. There are a lot of really pretty two-hour loops nearby. [Ed. note: See #4.] Wander Main Street day and night. Everyone collects around the Steaming Bean and the Sheridan Bar."
Don't despair if you missed that film you were dying to see. "Check the theaters on Monday morning. They usually play the most popular films again."
Don't miss the closing picnic on Monday. "It's a fun local scene. Everyone's all together finally, after the whole weekend, for this great barbecue picnic in the park."
4. Breakfast Is Way More Fun
"I'm looking forward to sweet potato breakfast burritos at The Butcher and the Baker, and a Bridal Veil Falls run if the snow isn't too deep."
—Meaghen Brown, contributing writer
5. The Mountainfilm Drinking Game
Someone says: Get outside your comfort zone. Drink.
Or: It's the journey, not the destination. Drink.
Odesza in the soundtrack. Drink.
Forget your zero waste coffee cup for the third straight year. Keg stand followed by eating a banana split out of your Patagonia trucker hat at the ice cream social.
You realize the documentary you're watching is actually branded content. Tequila suicides.
—Grayson Schaffer, editor at large
6. You'll Have the Best Gondola Ride of Your Life
At least one Outside story has been born out of gondola conversations. At the very least, according to associate editor Greg Thomas, "You get sweeping views of Telluride, and it runs til sundown. Bring your sweetheart."
7. You'll Be Inspired to Hyperbole. 
"Mountainfilm is the epicenter of the Outside world—to be in the thick of it will be incredibly exciting."
—Scott Rosenfield, Outside Online editor
8. Somebody Will Probably Jump Out of a Plane
The late, great Dean Potter buzzed the ice cream social two years ago. Rumor has it that something like it could happen again this year.
9. Did We Mention the Food?
"What's the name of that sushi place? [Ed. note: We suspect he's referring to Pescado.] That place is good."
—Bryan Rogala, video editor
10. It'll Be the Best of Times (and the Worst of Times)
"The cool thing about Telluride is that it's entirely possible to go there and enjoy the festival without having a pass to see the films. Everyone's at the same bars and restaurants, everyone gets coffee at the same place. I'd been having coffee with someone I'd just met—we got to talking about movies and figured out we were heading to the same film. We walked in, and they said, 'This next film is by Lucy Walker.' And she walked up! You don't go for the films, you go to meet people. 
The worst thing about Telluride is how terrible you feel about your life. Everyone you meet is doing an amazing thing or has a grant to go to this amazing place. Every time I leave, I feel like I don't have my shit together."
—Jonah Ogles, senior editor
Lead Photo: Gus Gusciora