The Best Alcohol to Pair with Every Adventure
Because settling for whatever is at the nearest gas station is so unsatisfactory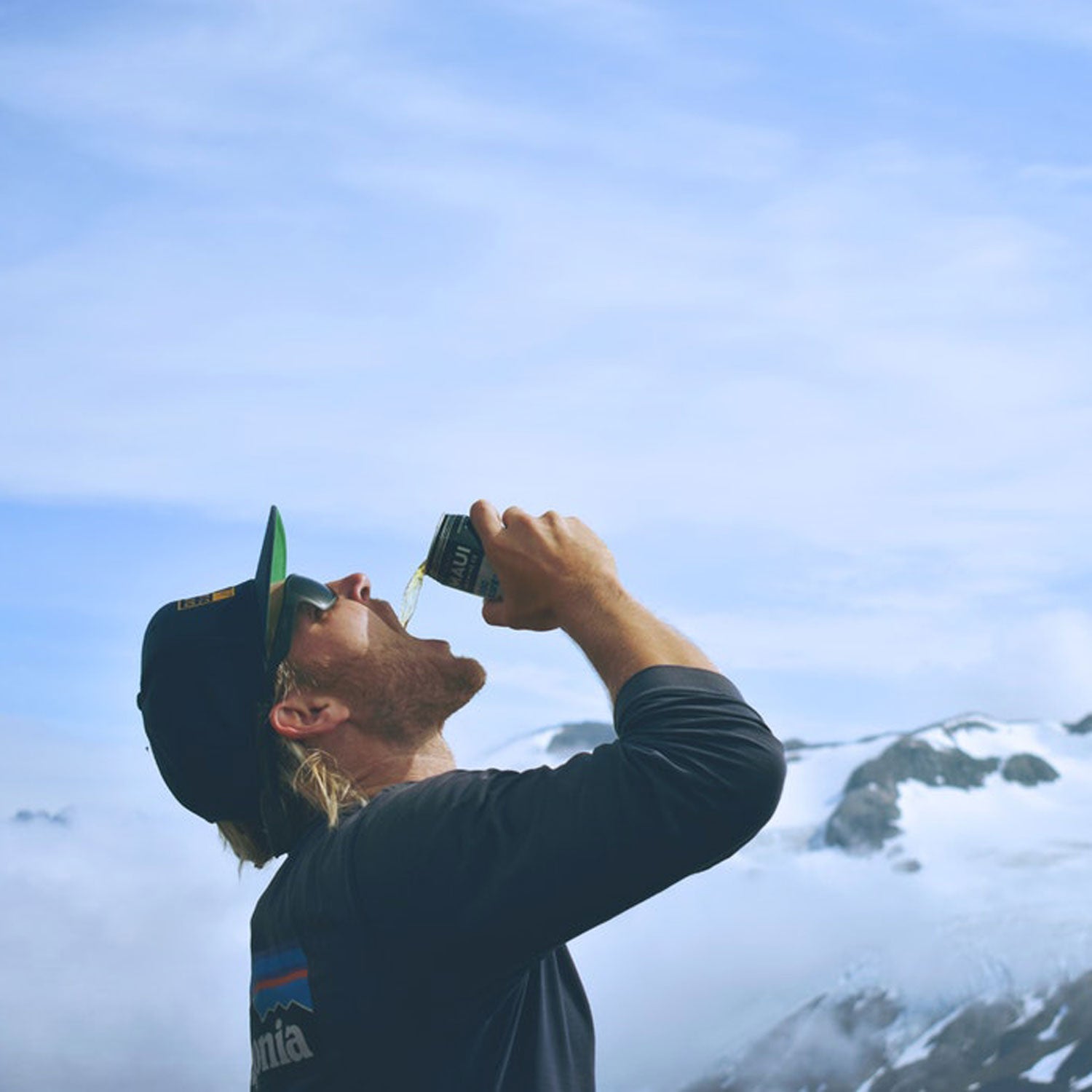 Drew Farwell/Unsplash(Photo)
Heading out the door? Read this article on the new Outside+ app available now on iOS devices for members! Download the app.
When you're tired, carbohydrate-depleted, and in need of a celebratory toast, there is no wrong answer to "what do you want to drink?" But some beverages just seem perfectly suited to certain activities. Here's our totally unscientific but carefully curated guide to finding the perfect sip.
Just Bagged a Fourteener
The Drink: Imperial stout
You just ticked off a big accomplishment. This is a time for celebration, not light beer and regret. You need calories, and sweet high-ABV beers like imperial stouts are more than happy to deliver. Just make sure someone else is driving you home.
Our Pick: Oskar Blues Ten Fidy Imperial Stout. Super dark, super malty and full of chocolate, caramel and coffee notes, with a 10.5 percent ABV. Prepare yourself for a hangover, but it will be so worth it. 
All-Day Singletrack
The Drink: Canned rosé
Just because you're an animal on your bike doesn't mean you can't spend your evening enjoying something civilized like chilled, blush-colored wine. If you're not drinking canned wine yet, you're missing out. We're especially infatuated with the rosés showing up in cans. They manage to be dry and fruity at the same time—ideal for thirsty bikers who want refreshment without sickly sweetness—and, of course, they're easier to take with you to the trails.
Our Pick: West and Wilder Rosé, which uses a blend of California-grown pinot noir, Carignane, and zinfandel.
Float Trip
The Drink: Kölsch, kölsch, and more kölsch
Oh, you let nature drag your weight down a river today? That sounds fun—but not like the kind of activity that earns you an imperial stout. Since you've been baking in the sun all day, you want something crisp and quenching.
Our Pick: Sufferfest's new Repeat Kölsch, a low-calorie but totally legit kölsch. It's brewed with bee pollen, which will help you recover from all that strenuous floating.
Six Hours of Gravel Grinding
The Drink: Alcoholic seltzer
When you need to rinse hours of dust out of your mouth, refreshing spiked seltzer is the way to go. Just don't forget that this stuff is loaded with booze.
Our Pick: Spiked Seltzer's Indian River Grapefruit. Shotgun it cold from the can or mix it with the herbal aperitif Aperol for a twist on the now-ubiquitous Aperol spritz.
The Perfect Day of Bouldering
The Drink: Canned sake
No one would fault you for drinking beer in this situation, but cans of cold, unpasteurized sake feel more like a treat. And one tiny can goes a lot further—a bonus if you're packing it in.
Our Pick: Funaguchi Kikusui Ichiban Shibori. Unpasturized, this golden puck of goodness is more floral than sweet and perfect for slow sipping. Canned sake isn't widely available in the United States just yet, but you can find this one online by the can or in a canned sake sampler set. Oregon-based Saké One also sells some of its products canned.
Campfire Happy Hour
The Drink: Whiskey cocktails
Around a campfire, it's all about having something you can sip intermittently as you swap stories. Beer takes too much tending and will end up flat and warm if you don't drink quickly. Wine is fine, but it's hard to feel rugged with a glass of pinot noir in your hand. Whiskey? That's where it's at.
Our Pick: Hochstadter's 84-proof Rock and Rye whiskey in a can. It's excellent whiskey mixed with just a touch of honey and navel orange juice to form a cocktail that's near perfect.
Hiking with the Kids
The Drink: Kombucha
Less blood-sugar spiking than soda and way less fraught than explaining to the little ones why you get beer and they're stuck drinking the dregs at the bottom of the Nalgene.
Our Pick: Brew Dr. Mint Lemonade Kombucha. Brew Dr. puts its 'booch through a special distillation process that removes the alcohol. Aside from a small amount of caffeine, it's safe to share with children.
Lead Photo: Drew Farwell/Unsplash