A Head-to-Toe Guide to Dressing for Winter Trail Runs
From wind-resistant undies to traction devices, build a kit to brave the cold this season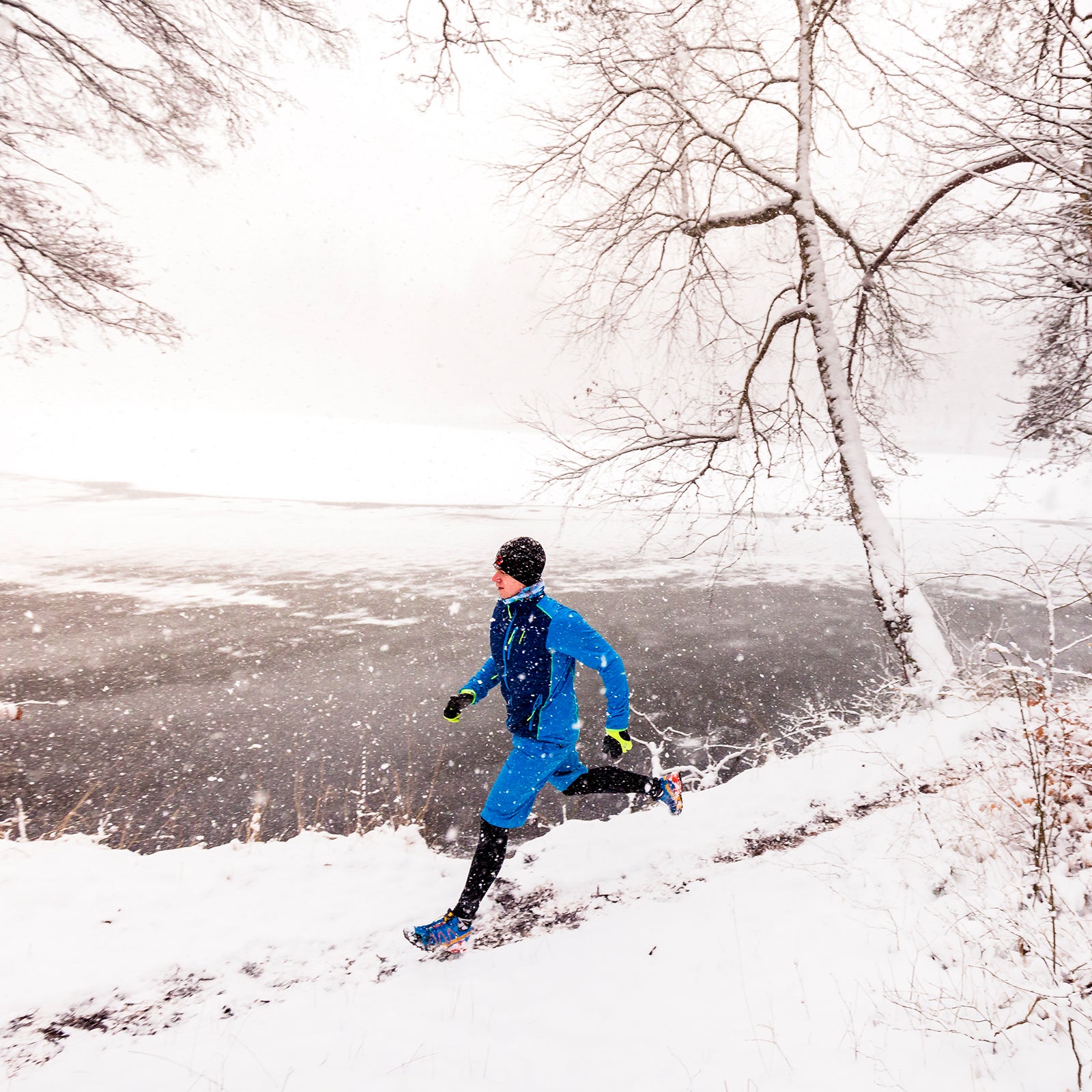 Axel Brunst/Tandem(Photo)
Heading out the door? Read this article on the new Outside+ app available now on iOS devices for members! Download the app.
Icy trails, freezing temperatures, and fewer hours of daylight are all valid reasons to skip out on winter trail runs. But with a couple extra layers and a little advance planning, you can leave the excuses and the treadmill behind this winter.
The chilly air hasn't stopped professional mountain runner Sage Canaday from training for New Zealand's Tarawera 100K this winter. The athlete, who is based in Boulder, Colorado, stuffs his CamelBak Ultra Pro 34-ounce vest ($120) with everything he needs for a day in fluctuating conditions—because it's better to have it and not need it than to need it and not have it.
"We have snow and ice and temperatures that get down into the single digits," Canaday says. "It's important to have a full spectrum of gear for all conditions, because through the course of a long run, the weather can change."
Depending on where you live, winter conditions can range from balmy to blizzardy, and whether you're jogging on a gravel trail near your house or ascending a steep mountain, comfort and safety are key. We asked Canaday for tips on what gear to have in your trail-running kit this season.
Apparel
Because body temperature varies from person to person, layering philosophies do, too. Canaday opts for shorts and Compressport R2V2 calf sleeves ($39) when it's dry and sunny but chilly, but he prefers moisture-wicking tights for colder, wet conditions, like Patagonia's Peak Mission ($119) (a comparable version for women is the Endless Run, $99). In sleet and snow, he suggests waterproof bottoms, like Outdoor Research's Helium pants ($119). For men, when temperatures drop below about 25 degrees and you're planning a run an hour or more, Canaday also recommends wind-resistant underwear, like Craft's Active Extreme 2.0 Windstopper boxers ($65).
Just like during shoulder season, you'll want to keep your core warm with base, mid-, and outer layers. "I always carry an extra base layer or jacket in my vest, just in case I need more layers or if something gets wet and I have to switch out gear," he says.
Canaday advocates for a next-to-skin synthetic or wool layer to keep you dry and stink-free. We like Icebreaker's 150 Zone Short Sleeve Crew men's shirt ($85) or Tracksmith's Harrier Long Sleeve women's shirt ($78). For women, we recommend a wool sports bra, like the Ortovox 185 Merino Rock'N'Wool ($70), which is supportive and doesn't leave you cold when wet. An insulating midlayer adds much needed warmth, says Canaday. Patagonia's Capilene Thermal Weight Zip-Neck top (men's and women's both $99) is our favorite. And finally, he suggests a breathable shell to resist wind and weather. We like the Daehlie Winter Run jacket (women's, $150) or the North Face Resolve 2 Hooded jacket (men's, $90). He says that vests, like the Smartwool Merino Sport Ultra Light ($100), are good for warming your core and blocking wind without restricting movement or overheating your arms.
Head and Extremities
If your ears and fingers are freezing, you're more likely to cut your run short. That's why gloves and a sweat-wicking beanie are some of the most important pieces in Canaday's winter kit.
He recommends a lightweight glove and, depending on how cold your hands get, a thicker pair of mittens or a few hand warmers, like L.L.Bean's Wicked Good hand warmers ($30). Bonus: when your nose starts to run, gloves make convenient snot rags.
Any fleece or wool beanie will do, or try a headband under a brimmed hat to keep the sun off your face. The Headsweats Thermal Reversible beanie ($22) or the Turtle Fur Polartec 200 ear band ($19) will both stave off numbness.
"If it's below 20 degrees Fahrenheit, you want to protect your airways," Canaday says. "It's good to have something to cover your neck that stretches up over your nose. It keeps the moisture of your breath in and the area warm. Some people, on really extreme days, will even wear a face mask." A neck warmer—like the Buff Original ($20) or Skida Tour ($22)—can prevent icy air from drying out your mouth, throat, and lungs. Other runners will smother their faces in Dermatone ($9) or Vaseline ($7) to prevent windburn and frostbite in frigid conditions.
To protect his eyes, Canaday wears polarized sunglasses, like Roka's Semi Rim ($150). "In Colorado, we'll have days where there's a lot of snow on the ground but it's really sunny. The sun reflecting on the snow can hurt your eyes," he says. "I wear visor-style cycling glasses to protect the area around my cheekbones and forehead."
Footwear
To safely traverse ice patches and snowfields, you need two things: trail shoes and traction devices. Canaday swears by Kahtoola Microspikes ($70). "They're little metal triangles that dig in," he says. "On my trail run last week, I didn't know what the trail conditions were, but I had them in my vest in case I encountered some really gnarly sections. They pack down pretty well."
He slips the Microspikes over his Hoka One One Torrent ($120) or Speedgoat 4 ($145) trail shoes, available for men and women. Both have outsole traction and multidirectional lugs for added grip. Most of the time, Canaday wears his namesake Drymax Sage Extra Protection Running Mini Crew socks ($30). In wetter, snowier conditions, he covers his ankles with Drymax's thick, high-cut Cold Weather Running Crew socks ($54).
Water, Food, and Other Essentials
Prevent breaking a tooth on a stroopwafel or having to suck on ice by storing your hydration and nutrition closer to your body, along with your cell phone, watch, or other electronics to preserve the battery. Canaday keeps an insulated bladder, like CamelBak's Stoaway 2L ($50), in his running vest. For shorter runs, an insulated bottle like Nathan's SpeedShot Plus Insulated Handheld 12-ounce flask ($32) gets the job done.
To replenish calories, Canaday consumes Spring Energy Electroride gel ($20 for a pack of ten), which doesn't freeze and still tastes good when chilled. "When it gets super cold, some brands' gels turn into something really sick that's hard to slurp down," he says.
Lead Photo: Axel Brunst/Tandem