The 16 Best Places to Live in the U.S.: 2015
A river- and mountain-loving town took home the top prize (again) in our 2015 contest.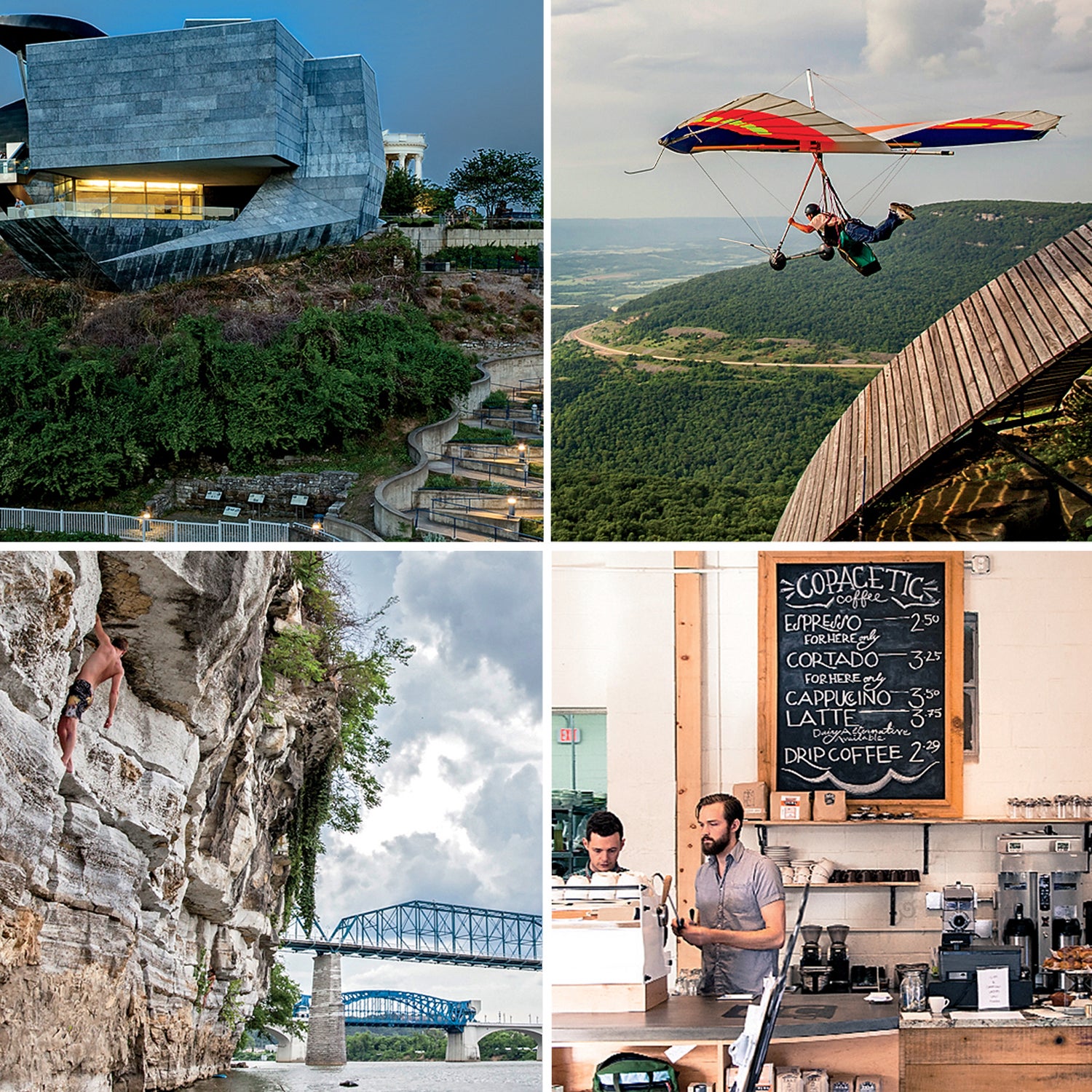 Heading out the door? Read this article on the new Outside+ app available now on iOS devices for members! Download the app.
We began our 2015 Best Towns competition with a bracket of 64 favorites, then let you vote until one dream burg emerged. Here, we present the 16 finalists—the places you say are the top spots in the country to work, run, eat, sail, paddle, drink, ride, and climb. The winner? A southern gem that surprised us once again.
Planning a trip to one of these towns? Better make sure you know the outfitters locals like best. We found one for all 16 destinations.
---
16. Lake Placid, New York 
Site of the 1932 and 1980 Winter Games, Lake Placid still feels like an Olympic village. It's tiny—population 2,500—but it's an amazing place for all kinds of athletes to call home. Just ask 29-year-old U.S. Ski Team member and two-time Olympian Andrew Weibrecht, a Lake Placid native. He walked us through his favorite spots. —Megan Michelson 
Morning: My day starts with coffee and breakfast at the Olympic Training Center, then a workout. I train in the basement of the former Olympic ice rink, which has everything I need, from free weights to physio balls. If I've got a day off, I get eggs Benedict at the Breakfast Club on Main Street.
Midday: On Saturdays, I'll go out on my mountain bike. I can put together a two-hour ride on Logger's Loop right in town, or I'll head to Whiteface Mountain for something longer. For lunch I'll grab a Buffalo chicken sandwich from Saranac Sourdough.
Afternoon: I like to spend the day on my boat, fishing for bass or pike on Saranac Lake. You're never that far from town, but you feel like you're deep in the wilderness. 
Evening: In the summer, I'll hit up the free concerts on the bandstand on Main Street. I'll end the day at the Cottage, a lakeside restaurant that's part of the Mirror Lake Inn, which my parents have owned since the 1970s. I'll sit on the deck with tacos and a beer while the sun sets over the Adirondacks' Great Range.
---
15. Bar Harbor, Maine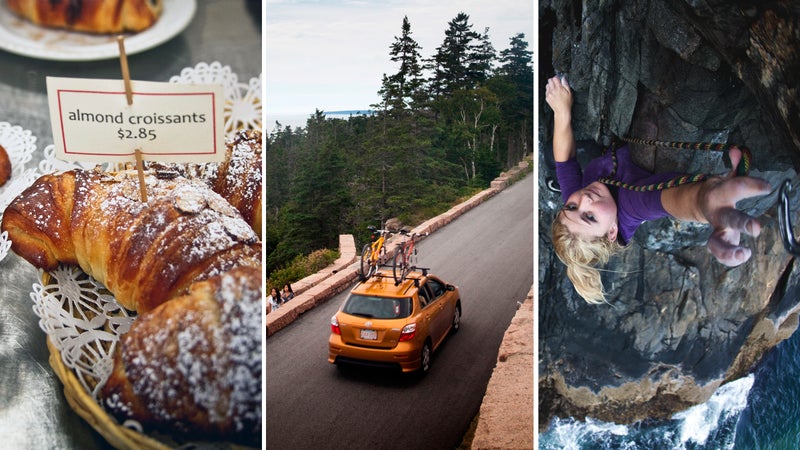 From June to August, Bar Harbor's population swells, with docked cruise ships on the water, some two million visitors pouring into Acadia National Park, and second-home owners summering in beachside cottages. But come January, the only folks eating fried pickles and clam chowder at the Thirsty Whale Tavern are the 2,600 hardy year-round locals, who wouldn't want to be anyplace else. Perched on Mount Desert Island, the town is right next door to Acadia's 127 miles of hiking trails and 1,530-foot Cadillac Mountain, the highest peak on the Atlantic seaboard. The summit offers an ocean panorama of lighthouses and humpback whales. Get onto the water in a sailboat or kayak and you'll be joined by seals, porpoises, and osprey.
Bar Harbor's vacation status does have its downsides. Home prices are about 70 percent higher than elsewhere in Maine—$292,000, with plenty of listings cracking seven figures—and many of the jobs are seasonal, like working on lobster boats or for the National Park Service. Local Eli Simon, who owns Bar Harbor's Atlantic Climbing School, says sticking it out full-time is worth it. He starts his day at Morning Glory Bakery, and in a matter of minutes he's in Acadia, climbing cliffs hanging over the ocean. For Simon's 31st birthday, he planned a multi-sport expedition that involved loading bikes onto a canoe, paddling down a creek, then biking to a three-pitch climb. After lunch on a clifftop, he continued with a trail run and an ocean paddle, ending eight hours later at a potluck dinner with friends. "Few places on the planet offer as many activities in such a small area," he says. "The people who live here year-round know it's a gift." —M.M. 
---
14. Rochester, Minnesota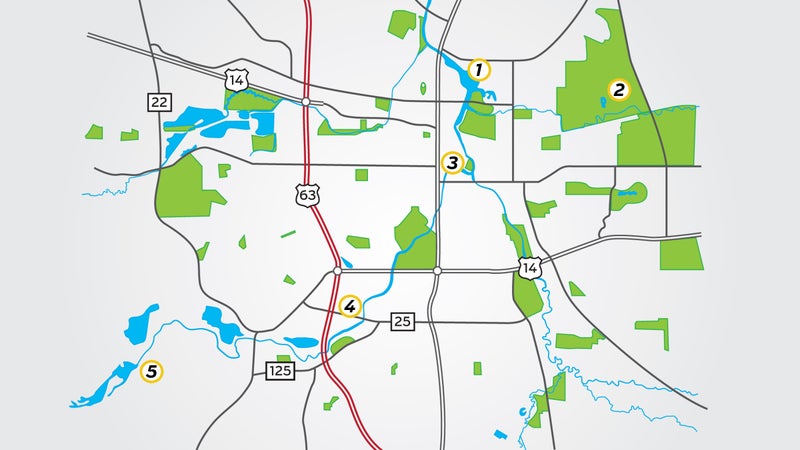 In 1978, six inches of rain in six hours produced a flood that decimated this southern Minnesota town of 111,000. But the resulting flood-control project, which took nearly 20 years to complete and created a series of channels through downtown, yielded ten miles of bike and pedestrian trails. Those trails are now the epicenter of an 85-mile paved system that radiates out from the world-renowned Mayo Clinic downtown to lakes, green spaces, concert venues, restaurants, and bars. Here are the spots to hit in the spiderweb-like network. —Stephanie Pearson
1. Silver Lake: Home to the Rochester Rowing Club—and thousands of Canada geese.
2. Quarry Hill Nature Center: A 320-acre preserve with five miles of hiking trails through woods and meadows.
3. Mayo Civic Center: Bands play all summer long in the green space along the Zumbro River out back.
4. Mayowood Mansion: The former home of a Mayo Clinic cofounder is open for tours four days a week.
5. Zzest Café and Bar: A neighborhood bistro with a patio on the Zumbro River.
---
13. Annapolis, Maryland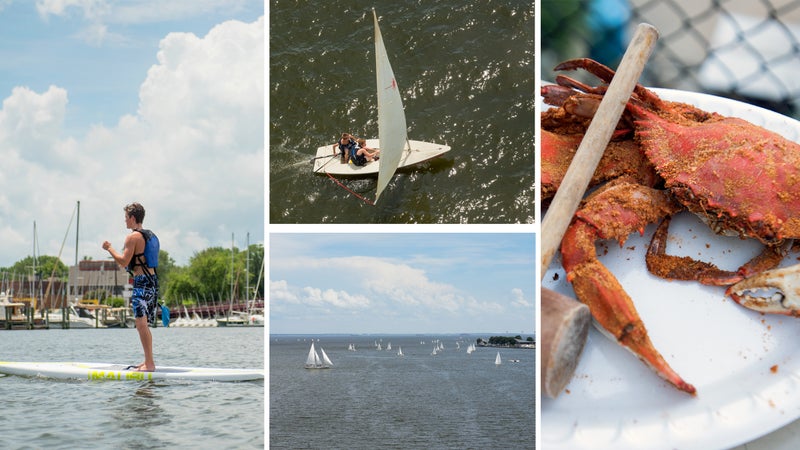 To see Annapolis shine, come on a Wednesday evening in the summer, when the weekly sailboat race draws more than 100 boats to the harbor. After the race, the locals party like, well, sailors. You'll find crews talking smack over the night's race footage at the Boatyard Bar and Grill. But you don't have to sail to get on the water: in the spring, kayakers and paddleboarders float Spa Creek. On land, runners tackle the three-mile trail to the old Navy radio transmission towers on Greenbury Point. With some 39,000 residents, Annapolis is a manageable city. Downtown, you'll run into midshipmen from the U.S. Naval Academy and students from St. John's College discussing Kant at City Dock Coffee.
While it's not cheap, you can buy a home with bay views for under $400,000, and jobs—many in tourism and the military—are plentiful. It can get touristy on peak weekends, but locals know to head for Wild Country Seafood, in an alley behind a maritime museum. They'll share picnic tables and tuck into platters of Maryland blue crab, freshly caught that morning by the father-son duo who run the joint. —M.M.
---
12. Spearfish, South Dakota
The Black Hills around this town of 11,000 are the exception in pancake-flat South Dakota—there are cliff walls for cragging and streams teeming with fat browns just down the road. In town there's an Old West vibe, but bikes are the preferred steeds. Locals can roll to the Cycle Farm for vegetables, partake in the bar-hopping Poker Ride, or saddle up for one of these three awesome annual events. —S.P.
September 6, 2015: Dakota Five-O
A 48-mile, mostly singletrack jaunt that starts downtown on the Sunday of Labor Day weekend. Look for the bacon and PBR station around mile 35.  
March 19, 2016: 28 Below Fat Bike Race
Each March, come rain, snow, or mud, this 28-mile lollypop loop climbs 2,700 feet toward the Cement Ridge Fire Lookout on a groomed snowmobile trail. 
June 11, 2016: Gold Rush Gravel Grinder
What's better than a long ride through the Black Hills? An even longer one. Organizers say the 210-mile option takes you "deeper into the darkness." 
---
11. Middlebury, Vermont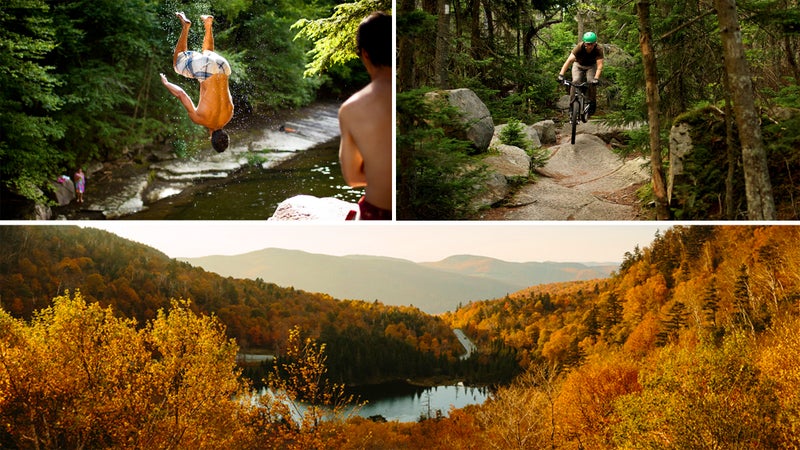 In Middlebury, you're either a townie or a Middkid—one of the 2,500 students who attend Middlebury College, the liberal-arts school that makes this town of 8,500 a crunchy utopia. The nerds are the ones speaking Chinese and Arabic or turning cow manure into natural gas, but the locals live an equally charmed existence. They're busy with the 37-mile Tour de Farms bike ride, which includes pit stops at 18 agricultural spreads for donuts and apple cider, or sending the 15-foot waterfall downtown in a kayak.
You can get a three-bedroom house, complete with a chicken coop out back, for under $300,000, and jobs are relatively abundant. Woodchuck Hard Cider, for example, recently opened a new $30 million headquarters. Yet it remains very much a rural town—the closest city, Burlington, is an hour to the north—which means you're never farther than a couple of blocks from your next adventure. So pluck trout from the New Haven River, or take a road ride over Middlebury Gap, a legs-shredding mountain pass that gains 1,800 feet right out of downtown. In the summer, row Lake Dunmore or run the Trail Around Middlebury, 16 miles of singletrack that loop the town. In the winter, catch the bus to the college-owned Middlebury Snow Bowl to race in Friday afternoon's Ski Bum League.
The college kids graduate and move away, but a surprising number of them boomerang. "When I graduated, I never expected to come back," says Garrott Kuzzy, a 32-year-old grad and 2010 Olympian in nordic skiing. "But where else can you go log rolling, play pond hockey in the back of a maple farm, and then hear the Dalai Lama speak?" —M.M.
---
10. Boone, North Carolina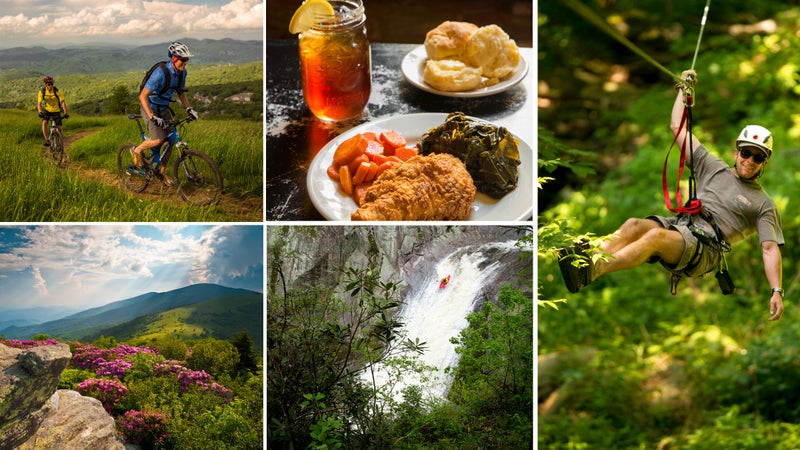 "There's a saying around here, 'Our life is your vacation,'" says Mike Thomas, a local trail builder. That sounds awful smug, but visit and it's easy to see his point. Tucked into the southern Appalachians, this college town has an embarrassment of outdoor riches. Down the road, you can find Class V boating on Wilson's Creek, and 45 minutes outside town is Linville Gorge, one of the most dramatic canyons east of the Rocky Mountains, with more than 11,000 acres of wilderness backpacking and endless walls for trad climbing. Nearby Beech Mountain offers some of the only lift-served mountain biking in the South. A choice section of the Appalachian Trail runs across a series of above-tree-line peaks just 40 minutes from downtown. And you can't beat the cycling on the Blue Ridge Parkway. Roadies salivate over the closest section, which travels the Linn Cove Viaduct, a quarter-mile bridge that winds around the rocky slopes of Grandfather Mountain.
The challenge is piecing together a sustainable life here: high-paying jobs are scarce. (The largest employer is Appalachian State University.) Meanwhile, the popularity of vacation homes drives the median house price up to $281,000. This is probably one reason Boone trends so young, with a median age of just 22. The population is dominated by students and other young people making the most of the lifestyle. "People here are getting into something rad every single day," Thomas says. Afterward, many of them opt for a Long Leaf IPA at Appalachian Mountain Brewery, one of the fastest-growing breweries in the South. —Graham Averill
---
9. Pagosa Springs, Colorado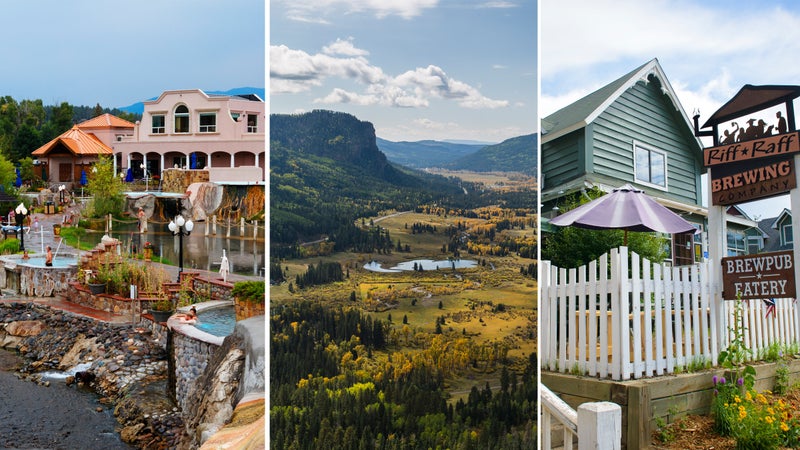 In the shadow of the San Juan Mountains, tiny Pagosa Springs is a microcosm of authentic Colorado. In the downtown district, historic storefronts house a brewery, restaurants, and an old movie theater supported by a crowdfunding campaign.
The namesake springs—the deepest in the world—attract 500,000 annual visitors to this remote corner of the state. The springs aren't just for soaking: hot water runs beneath sidewalks, melting snow in the winter. Most residents live outside town, which has a population of just 1,700. (The county is home to 12,000.) "You have to be OK with that low-key rural aspect," says Sandy Kobrock, owner of the Pass Creek Yurt and Wolf Creek Avalanche School. "Don't come here if you want nightlife."
Jobs are concentrated in tourism, but home prices are reasonable, with a median of $227,000, and the recreation opportunities are unparalleled. You can backpack, hike, and fish in the 500,000-acre Weminuche Wilderness, kayak on the San Juan River, or ski at nearby powder destination Wolf Creek, all with the confidence that you'll never have to battle crowds. —K.S.
---
8. Beaufort, South Carolina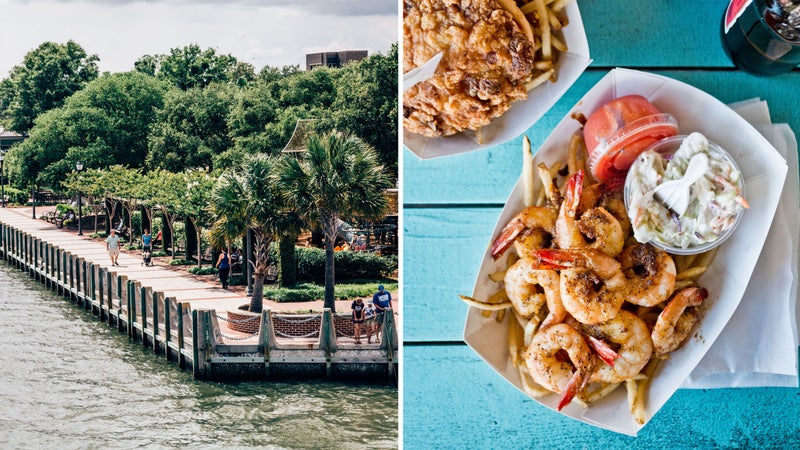 Half the county surrounding Beaufort is water. Which means anglers and paddlers have the better part of a million acres to explore, from brackish inland rivers to Jurassic Park–looking salt marshes that separate the mainland from the barrier islands. That's not counting the Atlantic Ocean, where sea kayakers can play with dolphins before beaching on the white sands of Hunting Island State Park.
As for the city itself, think of a coastal Gone with the Wind. Giant live oaks, thick with Spanish moss, surround antebellum homes. Consider it a smaller, less expensive Charleston, with the same historic charm but a tenth of the population and slightly more affordable digs. (The median home value in Beaufort is $253,000.) Locals and visitors alike eat plenty of seafood, either fresh catch from markets like the Gay Fish Company or in the form of a shrimp burger from the Shrimp Shack. The oyster industry is picking up, too; get some of the super-briny gems from Lady's Island Oyster Company. —G.A.  
---
7. Flagstaff, Arizona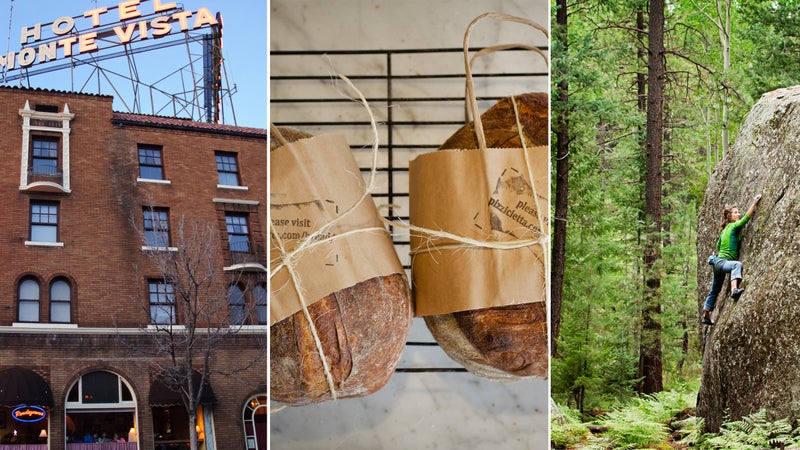 Don't go to Flagstaff expecting scorching heat and snowbirds. This railroad town of 69,000 is flanked by 12,000-foot mountains and the largest contiguous ponderosa pine forest in the world, defying all the state's stereotypes. "People think of Arizona as a hot desert, but we're at 7,000 feet," says Caleb Schiff, owner of Pizzicletta, a beloved local pizzeria. "Flagstaff is an oasis." 
The high desert is prized by athletes, including marathoners Ryan and Sara Hall and ultrarunner Rob Krar, who come for the combination of sunny but cool weather, elevation, and a strong community of professional coaches. "At any given time in Buffalo Park"—a scenic mesa with a two-mile running loop—"super tall skinny people are blowing by you at a million miles a minute," says Allie Stender, a program manager for the county public-health district. The climate also benefits the fat-tire set, which has built an impressive array of trails. "We have the best mountain biking imaginable," says Robert Hamilton, inventory manager for Absolute Bikes, "and you can access dirt in ten minutes from anywhere in town." Trails range from the mellow, flowing singletrack of the Schultz Creek Trail to the technical rock gardens on Secret and Upper Moto. There's skiing outside town, and the Grand Canyon is just 90 miles away.
The median home price is reasonable— $266,000—and there are plenty of jobs in tourism, higher education, and manufacturing. Nestlé Purina PetCare has a plant here, and W. L. Gore has major offices. And it's not like you have to be an elite athlete to enjoy cool, sunny days, as everyone from weathered Grand Canyon guides to fresh-faced Northern Arizona University students will tell you. —K.S.
---
6. Athens, Georgia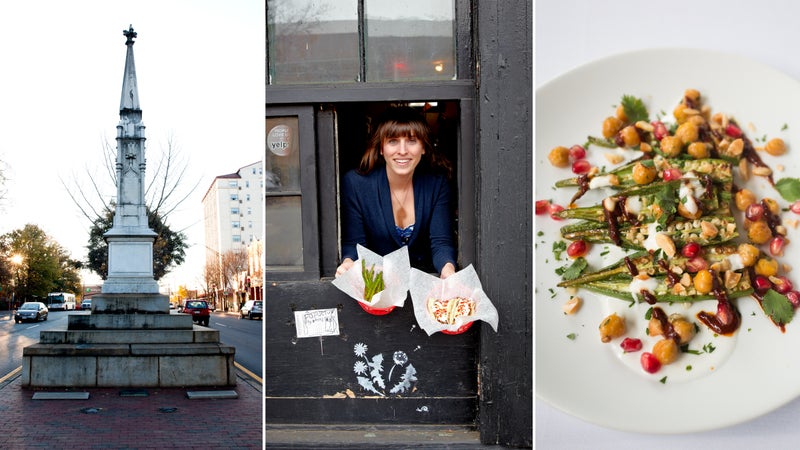 Athens is known for its SEC football, robust party scene, and cycling on endless farm roads. But the city of 121,000 has also become an outpost of world-class eateries that combine the best of the South with an adventurous, farm-fresh ethos. White Tiger Gourmet, a barbecue joint where vegetarian dishes get equal billing with pulled pork, is a good example of that. We asked chef-owner Ken Manring to walk us through his perfect day chowing down. —G.A.  
Breakfast: Down a fluffy, buttery biscuit from the Bread Basket, hidden in a gas station off Boulevard. This may be the world's best hangover cure.
Lunch: Cali-N-Tito's is a Peruvian joint with an infusion of Caribbean flair. Bring your own beer and order the arroz chaufa, stir-fried rice with plantains and hot sauce. 
Happy hour: Local brewery Creature Comforts offers a huge range of beers in an airy space downtown. Try an Athena, a Berliner Weisse that's slightly sour and incredibly refreshing.
Dinner: You can find a grown-up meal at the the National. It's Mediterranean-inspired cuisine with lots of tapas and a great steak. 
Cocktails: The Old Pal has a bunch of signature drinks, but I love a simple Bulleit bourbon with Blenheim's ginger ale. Bourbon and ginger is kind of a thing in Athens. 
Late night: The Hi-Lo Lounge has great late-night food. Get the salchipapas—French fries with sliced fried hot dogs, topped with salsa. 
---
5. Glenwood Springs, Colorado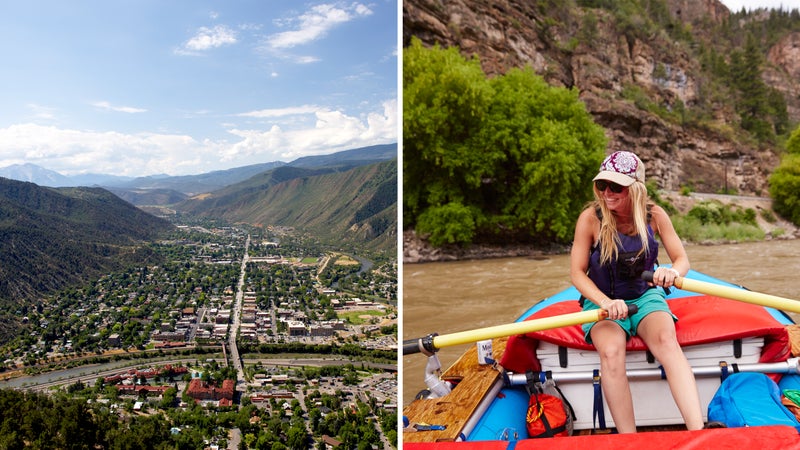 Subarus topped with kayaks. Trailers stacked with rafts. Teenagers toting inner tubes. The streets of Glenwood Springs are a dead giveaway: this is a river town. The Colorado and the Roaring Fork meet here, and on any given evening in the spring and summer, locals gather with coolers of beer at put-ins like Grizzly Creek and Shoshone to raft Class III rapids and mellow flatwater through a 1,700-foot canyon. Paddleboarders and kayakers hit the whitewater park, and anglers cast for trout on the Roaring Fork in town and on smaller creeks up in the mountains. 
A laid-back outpost of 10,000 some 160 miles west of Denver along I-70, downvalley from pricier burgs Aspen and Carbondale, Glenwood's claim to fame has always been water: its hot springs have attracted visitors for over a century. But it has the chops of any Colorado adventure capital. Trails for running and biking lead to Glenwood Canyon and up Lookout Mountain, and in winter, skiers choose from five resorts, including Aspen and Snowmass. A downside to the tourist economy is that rents are on the high side—as much as $1,000 for a one-bedroom apartment. But the median home price of $396,000 is much gentler than Aspen's half a million. 
The upside to the strong tourism: new restaurants keep popping up in the historic downtown, which boasts a thriving patio scene. And there's a notable lack of jadedness and hostility toward newcomers that can plague other outdoor meccas. "People become a part of the community right away." says Annie Rector, a property manager. "There is truly no attitude here." —K.S. 
*A previous version of this article showed someone walking across the log at Hanging Lake. That's against the rules—don't do it!
---
4. Eau Claire, Wisconsin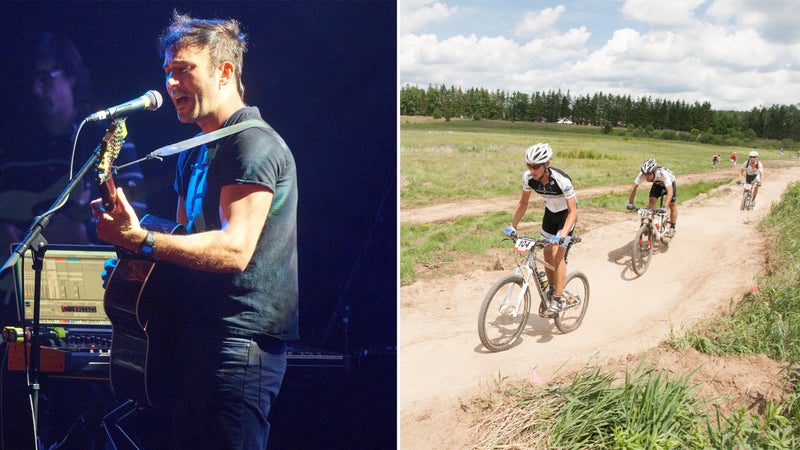 Stop at this riverside city of 68,000 on a summer Saturday and you'll see families lazily tubing and cyclists tackling the 30-mile rail-trail system. But what sets Eau Claire apart is its music scene, which was going strong long before native son Justin Vernon's group Bon Iver won a Best New Artist Grammy in 2012. Things got louder this July, when Vernon debuted his Eaux Claires Festival, with acts like Sufjan Stevens and the National joining his band. We checked in with Vernon to find out what makes Eau Claire so special. —S.P.
OUTSIDE: What's your favorite local activity? 
VERNON: Canoeing the Flambeau River and jumping in the lakes up by New Auburn. No question. 
Did the town play a role in your musical education, or are you just a talented guy who happened to grow up there? 
The public-education system in our great state was really and truly unmatched when I was in high school. I honestly feel as if I was receiving master's-level music education. 
Is the festival your way of giving back? 
It isn't just me. It's the whole squad, from the sheriff's department to town hall to the security guards keeping us safe. It's a gift, but everyone's giving it to each other. 
I read that you moved to North Carolina for a while but returned to Eau Claire. How come?
The way the water tastes. The way the spring thaws and smells. The fact that it gets so cold in the winter. I was homesick.
---
3. Iowa City, Iowa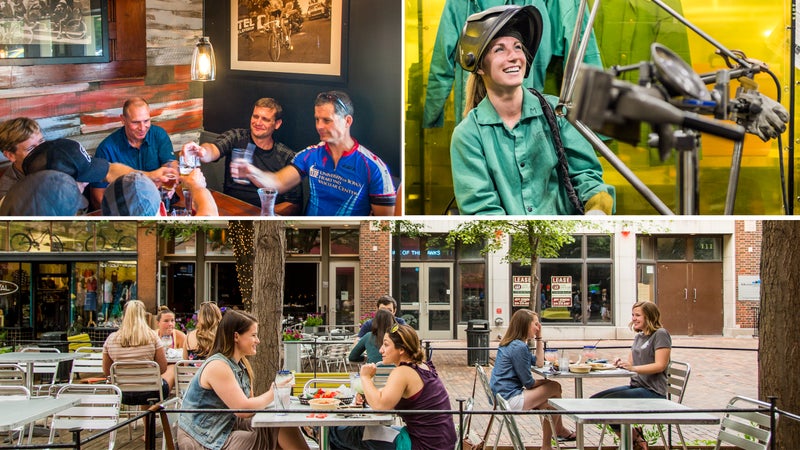 "It's like Boulder with an Iowa-nice twist," is how one 20-year resident of Iowa City describes this bucolic river town of 72,000. No, there aren't any mountains. No legal pot, either. But the city does have a pedestrian mall to rival Pearl Street, a university with more than 30,000 students, and a bike-crazy culture. Unlike Boulder, it's affordable. The median home price of $178,000 will get you a midcentury bungalow. Yet the local economy is extremely healthy, with an unemployment rate of just 2.3 percent, thanks to the University of Iowa and corporate employers like Oral-B Labs and Procter and Gamble. 
With no mountain climbs, cyclists here have turned to the state's tens of thousands of miles of unpaved roads. "Iowa is ground zero for gravel riding," says Steve McGuire, the director of the university's School of Art and Art History, who's been riding here for 34 years. Since there's almost no traffic once you leave the tarmac, the only real obstacle is the occasional farm dog. But don't be fooled into thinking it's flat. The original grinder, the Trans Iowa, climbs 10,000 feet over 320 miles. "It makes the Dirty Kanza"—a notorious Kansas gravel ride—"look like a pussycat," says McGuire. To support the obsession, the city has six bike shops, including a bicycle "library" that fixes old clunkers, and a bar called Ride, which has a dish named after Gary Fisher on the breakfast menu (scrambled eggs with ham and sausage, topped with gravy). For competitive types, there's even a gravel time-trial state championship. Being that this is Iowa, there's also a friendly ride every Thursday night. —Stephanie Pearson
---
2. Port Angeles, Washington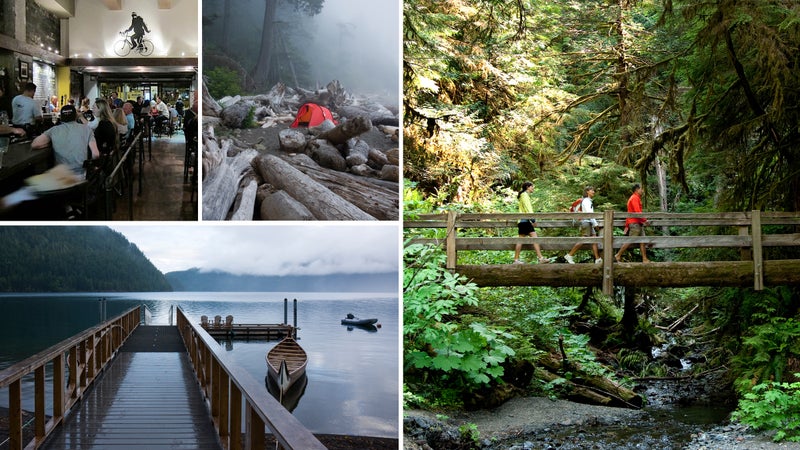 In the final throes of this year's contest, Port Angeles (population 19,000) staged an impressive fight. Homeowners put placards in their yards reminding passersby to vote, businesses made pleas on sandwich boards, and locals stood on street corners with signs. The town ended up coming in second to Chattanooga—which has almost ten times the population—by just 2 percent of the vote.
The message was clear. "We love this town, and this community can really pull together," says Jacob Oppelt, owner of Next Door Gastropub. 
Situated on the northern shore of Washington's Olympic Peninsula, Port Angeles is a gateway to Olympic National Park. Because of the dramatic relief—the peaks rise to over 5,000 feet within a few miles of the coast—the area hosts diverse ecosystems, including alpine environments studded with lakes, ultragreen old-growth forests threaded with whitewater rivers, and bays that harbor orcas and steelhead. "I call it the holy land," says John Gussman, a local photographer. "We don't have smog or traffic, and we have this beautiful million-acre wilderness in the backyard." 
Not surprisingly, the local culture is built on an appreciation of the outdoors, and the economy is boosted by adventure travelers. It's not uncommon to see surfers toting boards through town or cars stuffed with gear for forays into the park. More recently, mountain bikers have arrived to ride the burly downhill trails in the 600,000-acre national forest.
But Port Angeles isn't your typical bro experience. There's a healthy population of retirees—the town's average age is 42—and a strong blue-collar flavor. The town lumberyard sits near the sea-kayak put-in, there's an active boat-building industry, and commercial fishing for halibut and Dungeness crab is a mainstay. These industries infuse the town with a grittier feel than artsy neighbor Port Townsend and sleepy nearby retirement community Sequim. But they also help keep home prices reasonable—the median is $201,000—and engender a live-and-let-live ethos. Longtime residents and progressive newcomers manage not only to get along, but also to come together. Take the recent Elwha River restoration: the largest dam removal in the country's history took place just upstream from town and gained strong local support. Now, for the first time in 100 years, trout and salmon are migrating past old dam sites, and greenery is sprouting in empty reservoirs. 
Port Angeles isn't big, but as this year's Best Towns showing demonstrates, it can compete with just about anyplace. "In high school, I couldn't get away from here fast enough," says fifth-generation resident Sara Gagnon, owner of Harbinger Winery. "But once I got out and saw the world, I couldn't wait to get back." —Kate Siber
---
1. Chattanooga, Tennessee 
When I was growing up an hour south of Chattanooga in the eighties and nineties, the city was best known for MoonPies, those sinfully delicious chocolate, graham cracker, and marshmallow hockey pucks. Fast-forward a couple of decades and I'm standing in a juice bar on the edge of downtown, wondering what happened to the corny place I once knew. Now it's all nitro cold brew and tech startups, like the love child of Nashville and Silicon Valley, but with more singletrack.
The city of 173,000, built in the belly of the rocky Tennessee River Gorge, always had the potential to be a great adventure town. Climbers have been sending routes on the nearby sandstone cliffs for more than 30 years. A decade ago, the local mountain-bike club set out to build 100 miles of singletrack within ten miles of the city. They're up to 120 miles, and there's a midweek enduro series where you can rip dirt after work and be home in time for dinner. Competition is fierce, and the winner takes a growler of home brew.
So Chattanooga's outdoor cred isn't really news. The quantity and quality of adventure playgrounds—including the Tennessee River, which wraps around the city, and a bevy of Class IV–V rapids on the nearby Ocoee—helped it win our Best Towns contest four years ago. But now the city itself has caught up with the surrounding action. Neighborhoods are filling up with record stores, coffeehouses, and restaurants, and breweries are opening that offer the perfect nightcaps to days spent on the trails, creeks, and crags.
Here's your 48-hour plan to get the perfect taste of Chattanooga.
Locals tell me that the transformation started in 2010, when Chattanooga got the Gig—one-gigabit-per-second fiber-optic Internet service that's tax-payer owned and available to every home and business at affordable rates. That's around 50 times faster than most of the rest of the Western Hemisphere. (A feature-length movie downloads in about 30 seconds.) But it's not just for surfing. "The Gig showed that Chattanooga was committed to developing business," says Joda Thongnopnua, communications director of Lamp Post, a venture fund that invests in local startups. He estimates that some $50 million has been pumped into new businesses over the past five years, funding companies like Roots Rated, which developed an app that recommends adventures. 
It might be too early to start calling it Silicon Gorge, but people are relocating to Chattanooga because it has something that many other recreation meccas don't: opportunity. Take brothers Kelsey and Conner Scott, who moved down from Nashville two years ago to climb and to grow Granola, their small backpack company. "There's a huge startup scene and a great outdoor community," Kelsey says. Add to the mix reasonably priced homes—the median price is $138,000—and you get a uniquely diverse adventure hub where you can have a rising career and a comfortable, balanced life. "We were already driving down here every weekend to climb," says Kelsey. "Moving to Chattanooga just made sense." —G.A.