Top 10 Hideaways
Our word-of-mouth report: adventure lodges that belong on your radar screen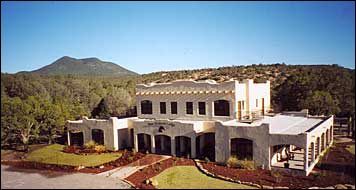 Heading out the door? Read this article on the new Outside+ app available now on iOS devices for members! Download the app.
Silver City, New Mexico
Bear Mountain Lodge
Back in the early 1930s, Silver City residents would ride horseback three miles to this hacienda to dance the night away in the Great Room. Today, guests arrive in SUVs and are more low-key, cozying up on leather love seats in front of one of two grand stone fireplaces and perusing field guides and natural history books in the library. Owned by The Nature Conservancy since 1999 and renamed Bear Mountain Lodge, the inn sits at 6,250 feet on 178 acres of southwestern New Mexico high desert. And with nearby Gila National Forest, almost the size of Connecticut, the possibilities for hiking, biking, horseback riding, and birding are seemingly endless.
ROOM & BOARD: The 11 rooms, accented with hand-hewn oak beams, contain beds draped with denim comforters, and handcrafted Mission-style furniture. Amble to the dining room to fuel up with a breakfast tortilla española—a sliced baked potato with sautéed onions and eggs, topped with a red-pepper almond sauce—while a pack of drooling javelinas lurks beyond the eastern porch.
OUT THE BACK DOOR: Take a left out of the driveway, bike 3.5 miles on a dirt road to the Continental Divide Trail in the Gila, and from there you can conceivably ride all the way to Canada. If you prefer skinny tires, follow a leg of the difficult Tour of the Gila—a winding, steep 45 miles from Silver City's Gough Park to the prehistoric cliff dwellings once occupied by Mogollon Indians.


Bob Marshall Wilderness Range, MT
Access & Resources
Bob Marshall Wilderness Ranch
$100 per person per day, including all meals. A five- or ten-day pack trip costs $255 per person per day. 406-745-4466,
www.wildernessranch.com
adventure lodges

Casting into the wilderness surrounding the Bob Marshall Ranch
Seeley Lake, Montana
Bob Marshall Wilderness Ranch
This northwest Montana ranch borrowed its moniker from a famous neighbor: the one- million-acre Bob Marshall Wilderness, which honors the man who created the Wilderness Society. Larger than Rhode Island, "The Bob" is embroidered with blue-ribbon rivers of wild cutthroat and rainbow trout, jam-packed with rugged 7,000-foot mountains, and populated by more than 350 wildlife species, including grizzly bears, wolves, elk, and bighorn sheep.
ROOM & BOARD: Masculine icons—elk trophies, a huge bearskin hanging on the living room wall, and a coatrack made of horseshoes where guests leave their city duds for the week—fill the simple three-story log lodge with four cathedral-windowed bedrooms. Sip a hot chocolate and peppermint schnapps on the deck overlooking the Swan Valley, or elbow up to a polished Douglas fir table for family-style meals of grilled steaks and handpicked-huckleberry pie.
OUT THE BACK DOOR: The best excursion here goes beyond a day trip. For the past 30 years, owners Virgil and Barbara Burns have arranged five- and ten-day deluxe horsepacking trips into The Bob, part of the 2.5-million-acre Flathead National Forest, where you'll get 360-degree wilderness views that make Albert Bierstadt look like a realist. Even the remotest campsite feels plush, with heated wall tents, padded cots, and homemade fare including roast turkey and sourdough rolls.


Moose Mountain Lodge, NH
Access & Resources
Moose Mountain Lodge
Doubles cost $200, including breakfast and dinner. 603-643-3529,
www.moosemountainlodge.com
Etna, New Hampshire
Moose Mountain Lodge
Though students from neighboring Dartmouth College don't careen down the meadows of Moose Mountain on rickety wooden skis like they used to, Moose Mountain Lodge—with its corduroy-cushioned sofas, stone fireplaces, and spruce-log beds—still retains the flavor of a 1930s ski cabin. The rope tow has been dismantled, but trails threading through 350 acres of mixed hardwood-and-pine forest are paradise for hikers, mountain bikers, and cross-country skiers. After a daylong excursion, veteran innkeepers Kay and Peter Shumway welcome tuckered guests to their cabin on the hill, where sunsets flood the hundred-mile view of the Upper Connecticut River Valley and Vermont's Green Mountains beyond.
ROOM & BOARD: The lodge has a comfortable, family feel: Bathrooms are shared, and guests in the 12 rustic rooms sit down to Kay's robust meals—handmade spinach pasta with straight-from-the-garden pesto sauce, fresh-baked bread, and organic salad greens—at a 22-foot red oak table in the dining room.
OUT THE BACK DOOR: Hop on your road bike for a 25-mile loop along the lush and meandering Connecticut River, north to Lyme and back. Or hike south 6.5 miles along Moose Mountain's Ridge Trail to rocky overlooks where you might see all the way to 6,288-foot Mount Washington. For water play, drive eight miles down the mountain to the river and rent a canoe or kayak from Dartmouth's Ledyard Canoe Club.

Retreads with Cred
The North Face Mantel & Reebok Vanta Stripe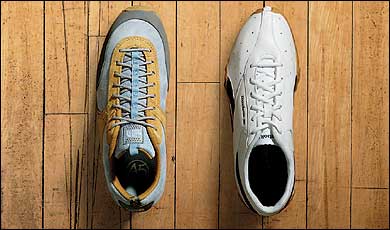 From left to right

THE NORTH FACE's MANTEL combines a climbing shoe with an old-school runner. $70; 800-447-2333, www.thenorthface.com

REEBOK returns to its white-leather roots with the VANTA STRIPE. $80; 800-843-4444, www.reebok.com

Hotel de Larache, Chile
Access & Resources
Explora in Atacama
Three-, four-, and seven-day all-inclusive packages, priced from $1,296 to $2,441 per person, include meals, drinks, gear, activities, and airport transfers. 011-56-2-395-2533,
www.explora.com
San Pedro de Atacama, Chile
Explora in Atacama—Hotel de Larache
Wealthy South American businessman Pedro Ibañez built this lodge in 1998, offering guests refined luxury in the middle of the rugged-adventure land the Inca once called home. Set in a 700-mile-long desert amid six soaring volcanoes, the mile-and-a-half-high town of San Pedro de Atacama is close to the driest place on earth—in some parts of the Atacama Desert, it hasn't rained in more than a century. But there are oases: Guests can take guided excursions to hot springs and boiling geysers, or to the buoyant turquoise waters found at the nearby salt flats.
ROOM & BOARD: The sleek white lines of the hotel blend well with the local adobe architecture. The 50 guest rooms are brightly decorated with yellow, blue, and green wicker furniture, alpaca blankets, and fine linens imported from Spain. Four lap pools and four saunas await you, as does a new relaxation center, Casa del Agua, offering herbal oil massage and herbal baths. In the minimalist dining room, sample French chef Lorenzo Pascualetto's fire-roasted Patagonian lamb and to-die-for Chilean wines.
OUT THE BACK DOOR: Explora's bilingual guides offer guests five to seven excursion options per day, including hiking, horseback riding, mountain biking, and visits to archaeological sites. To watch the world's best sunset, catch a 15-minute ride to Valle de la Luna, then hike an hour and a half through miniature sand mountains. Or if you really want to earn your pisco sour (a favorite Chilean cocktail), top 19,455-foot Volcán Licancábur. Rumor has it, there's a magical surprise in the crater lake at the summit.

Casa Cerro Sagrado, Mexico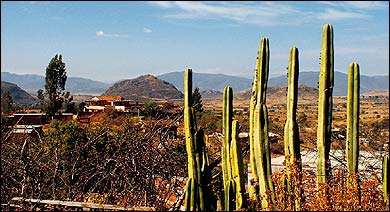 Acess & Resources
Casa Cerro Sagrado
Doubles with private bath and breakfast start at $65 per night, with a two-night minimum. Yoga and cooking classes cost extra. 011-52-951-516-4275,
www.casacerrosagrado.com
Teotitlán del Valle Oaxaca, Mexico
Casa Cerro Sagrado
Perched on a five-acre hillside above Teotitlán del Valle—a Zapotec Indian village 16 miles east of the city of Oaxaca that's world-famous for its weavers—this recently opened guest house sits in the striking shadow of conical Guia Betz, a sacred 6,900-foot mountain. The tremendous views from your room's terrace are especially enjoyable at sunset, with a clay tasting cup of locally produced Del Maguey mescal in hand. If you time it right, you'll catch one of the village's frequent fiestas erupting with fireworks.
ROOM & BOARD: Started in 2002 by artist Arnulfo Mendoza and his wife, gallery owner Mary Jane Mendoza, Casa Cerro Sagrado (House on the Sacred Hill) celebrates Oaxacan art, culture, and cuisine in the best possible way—the 12 handsome guest rooms are accented with hand-loomed rugs and rich, intricate wall tapestries. Reyna Mendoza, Arnulfo's cousin and the resident chef, produces regional specialties like tamales stuffed with wild mushrooms, and teaches cooking classes on-site throughout the year.
OUT THE BACK DOOR: After limbering up in a private hatha yoga class with Mary Jane, head downhill toward the village, link up with ancient cattle paths along El Río Grande, and head either to the top of Guia Betz or southeast 15 miles to 2,600-year-old Zapotec and Mixtec ruins. End the day with a purifying and relaxing herbal steam bath in the property's adobe temescal (a native sweat lodge).

Rifugio Tissi, Italy
Access & Resources
Rifugio Tissi

The rifugio is open from mid-June to mid-September. A bunk costs $19 per night; dinner costs $12 additional. 011-39-0437-721-644

Alleghe, Italy
Rifugio Tissi

Forget sipping overpriced cappuccinos in Venice's Piazza San Marco. The real dolce vita is watching the sun set on the longest rock face in the Dolomites from the balcony of Rifugio Tissi, about a four-hour hike from the village of Alleghe. As day turns to dusk, 10,712-foot Monte Civetta—known as "the climbers' university"—glows a rosy hue. With its cut-above-the-usual-hut amenities, Rifugio Tissi is the perfect base camp for both rock climbers and hikers.
ROOM & BOARD: The above-treeline chalet, built in 1963, sleeps 64, with bunks for four to eight guests per room. Head to the bar in the main dining room for a frosty pint of Löwenbräu or a German chocolate bar. Dinner—classic Italian fare like pasta al ragu and polenta with wild mushroom sauce—is served on wooden tables in front of a picture window facing Civetta.
OUT THE BACK DOOR: Moderate three- to six-hour hikes, falling and rising 2,000 feet through lunar landscapes and alpine meadows, lead to the villages of Listolade and Agordo, and to other huts. If hiking seems too sedate, climbing in the backyard of renowned alpinist Reinhold Messner won't. Scale Civetta's northwest face—Messner made the first ascent in 1967—or explore routes on nearby 7,667-foot Torre Venezia and 8,064-foot Torre Trieste.

The Kuna Lodge, Panama
Access & Resources
The Kuna Lodge
Huts cost $90 per person per day, based on double occupancy, including all meals, nonalcoholic drinks, and two guided excursions a day. 011-507-225-8819,
www.sapibenega.com
Sapibenega, Panama
The Kuna Lodge
From 5,000 feet, the 360-plus islands of Panama's Archipiélago San Blas glint like diamonds scattered over the deep-blue Caribbean. Operated by the native Kuna Indians, the lodge and 13 bamboo huts dot the perimeter of Sapibenega, a private island no bigger than a soccer field. The Kuna Lodge is a hideaway camp where extranjeros can indulge their castaway fantasies and still have a thatch roof over their heads and three Kuna-inspired meals a day.
ROOM & BOARD: From any vantage point on Sapibenega, there are surreal 360-degree views of more than a dozen neighboring coconut-choked islands. The Kuna huts sleep up to four and, though sandswept and remote, are relatively luxurious, with solar electricity, composting toilets, and showers. In the main lodge, head chef Onesimo prepares grilled lobster, crab, and tulemasi, a coconut-broth soup with local fish and plantains, and lets the local rum, known as inna in the Kuna language, flow freely.
OUT THE BACK DOOR: From the lodge's beach, catch a cayuco (a motorized dugout) to nearby uninhabited islands or to snorkeler-friendly coral reefs teeming with aquarium fish—and even toothier specimens, such as great barracuda and dolphin fish. Or head to the mainland for a guided trek to the 15-foot-high Diwar Dumad waterfall and a swim in its freshwater lagoon.

Spring House Farm, NC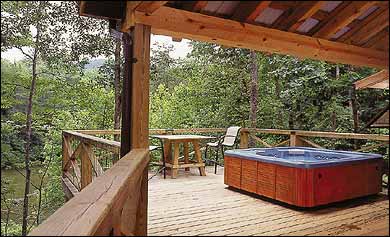 Access & Resources
Spring House Farm
Cottages cost $220 and up per night, including breakfast and snacks; weekly rates start at $1,254. 877-738-9798,
www.springhousefarm.com
Marion, North Carolina
The Cottages at Spring House Farm
When Arthur and Zee Anne Campbell and their 13-year-old son, Cailein, restored the historic Albertus Ledbetter House and built cottages nearby in 1999, their top priority was to preserve the 180-year-old pre–Civil War farmhouse and the 92 acres of surrounding hardwood forest. The five secluded guest cottages share the quiet solitude of these hemlock woods with only the resident turkeys and deer. Explore the mountainous hiking trails of western North Carolina, borrow a canoe and paddle two ponds, and end with a soak in a private hot tub, studying the starry night sky.
ROOM & BOARD: Each of the two-person cottages has a wood-burning fireplace, hot tub, private deck, queen- or king-size bed with a down comforter, gas grill, and kitchen stocked with eggs, bread, jams, and other necessities for a country breakfast. For dinner, cook from your own stash or buy what the lodge keeps in stock, including chicken, pork chops, pizza, baked potatoes, and salad fixings. Flying Bridge cottage has a four-person hot tub overlooking the trout pond. The best cottage for wildlife watching is the Bimini Twist, totally surrounded by forest.
OUT THE BACK DOOR: Hit the farm's five-mile trail system, kept a comfortable temperature by the canopy overhead, or drive 20 minutes southeast to the 1,000-plus acres of Chimney Rock Park and hike the Skyline-Cliff Trail to the top of 404-foot Hickory Nut Falls, a mile and a half round-trip. If you want to paddle something bigger than the farm's ponds, go to Lake Lure, near the park, and rent a kayak, canoe, or paddleboat.

Ultima Thule Lodge, AK
Access & Resources
Ultima Thule Lodge
The all-inclusive rate (with meals, drinks, air transportation from Chitina, all sporting activities, and gear) is $5,400 per person per week. 907-688-1200,
www.ultimathulelodge.com
Chitina, Alaska
Ultima Thule Lodge
The moment the bush plane brushes the gravel runway at Ultima Thule Lodge, you are officially 100 miles from nowhere. Bounded to the north by the salmon-thick Chitina River and backed by the turquoise glaciers of the Wrangell Mountains, which top out at 16,000 feet, the family-run lodge is all-inclusive in a uniquely Alaskan way. At your disposal: planes, whitewater rafts, kayaks, hearty meals, warm beds, and the 13 million acres of Wrangell–St. Elias National Park and Preserve that surround the lodge.
ROOM & BOARD: The dozen log cabins and lodge, furnished with downy beds and glass-front wood stoves, are clustered along the riverbank. Paths lead to a bathhouse with a wood-fired wet sauna and the dining hall, where a 20-foot pine table showcases steaming plates of local salmon, organic greens harvested from the garden, and microbrews flown in from Anchorage.
OUT THE BACK DOOR: With Alaskan summer days as long as 20 hours, an Ultima Thule "day" trip could mean an expedition to 16,390-foot Mount Blackburn, a walk along the iceberg-calving Gulf of Alaska, or a dogsled ride across the glaciers that embellish the national park—all with the assistance of the lodge's guides and experienced bush pilot.