Outside Business Journal
Collabs: If You're Not Doing Them, You're Crazy
The most coveted collab in the history of collabs isn't even one you can pitch. You have to wait for it to come to you. But don't worry, there are proven and profitable ways to partner with like-minded brands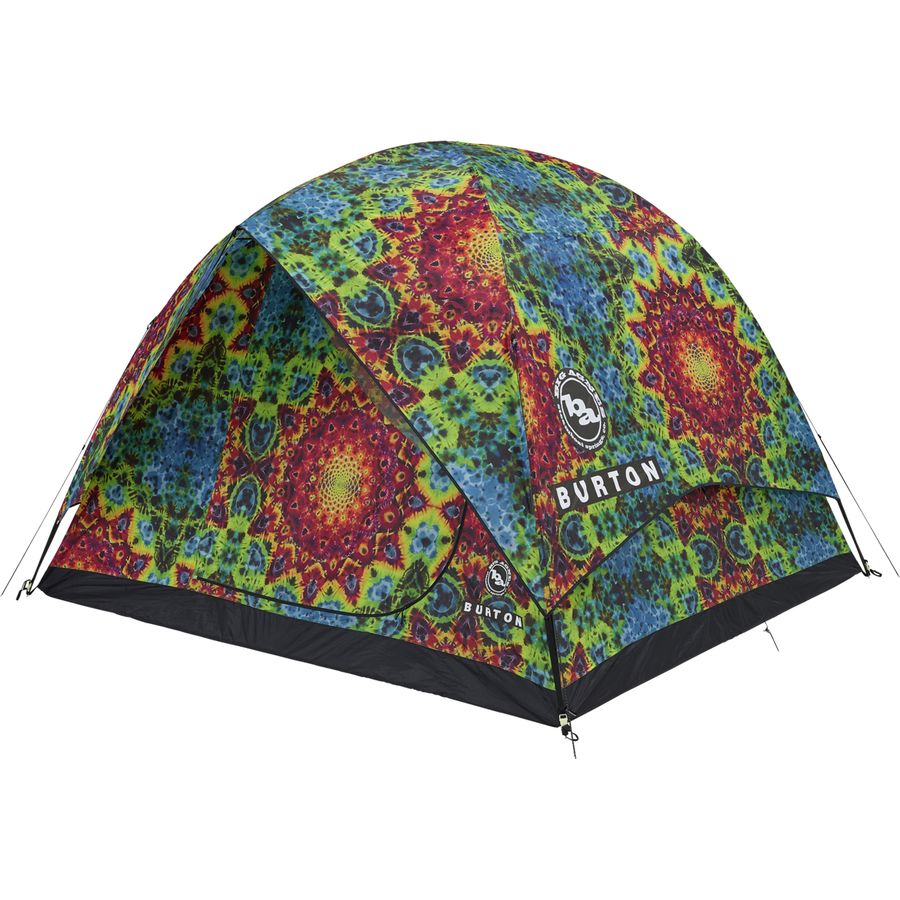 Heading out the door? Read this article on the new Outside+ app available now on iOS devices for members! Download the app.
To put it bluntly, Supreme is the cool kid on the block. The one whose lack of effort seems unattainably chill, whose attention you're dying to grab but can't ever seem to figure out how to get.
Even if you think you don't know them, you've almost certainly seen riffs on their block-lettered logo. Supreme started out as a clothing brand for skaters, and along the way, it became the ultimate hype brand. Millions of followers around the world eagerly await Supreme's regular "drops," their co-branded collaborations with clothing, outdoor, lifestyle, and home goods brands across the board.
Part of what makes Supreme work is its scarcity model: there are always more fans than there is product available. Drops sell out in seconds worldwide, in spite of mass quantities available, which makes nabbing a collab with Supreme a slam dunk. Karl Fritzsche, category manager for SealLine, told us that the See Pouch they produced for a Supreme drop early this year accounted for more than ten times the amount they typically sell in a full year.
"People are buying it because it says 'Supreme,' that's the crazy thing," he said. For the most part, they don't even need a drybag. "It's super mind-boggling."
That's essentially Supreme's whole model: find cool stuff, slap their name on it, sell it en masse.
If you scroll through their recent drops, you'll find a lot of normal stuff like clothing—a fair amount of it produced in collaboration with The North Face—a lot of outdoor gear, and a heck of a lot of stuff that's just plain weird. (Who needs an anatomically correct model of the human body with Supreme's logo on the base?)
But while a fair bit of it ends up on eBay, selling for many times the original asking price (Fritzsche's seen SealLine See Pouches go for about $300, compared to the MSRP of about $50), there's another unintended consequence, too: urbanites from major cities across the world who might not otherwise care to go kayaking or camping pack up their new gear and head for nature.
"Supreme comes up with some really funny things, and I think they're very calculated in what they're doing," said Ryan Pugh, a product designer for Advanced Elements, which produced untold thousands of inflatable kayaks (he's not allowed to say exactly how many) for a Supreme drop in July.
The kayaks sold out in seconds—we're not exaggerating—and Advanced Elements had expected that they'd mostly stay in their boxes, serving as collectors' items. But to their surprise, they've seen scores of YouTube videos and Instagram posts of people kayaking for the first time thanks to Supreme. "They've figured out that, with millennials, being outdoors is catching on," Pugh said. "They understand that their clientele is at least thinking about getting outside, doing things outdoors, and engaging in that realm."
To be sure, collaborating with Supreme can seriously boost your brand's clout and recognition. So how do you get a deal? That's the tough part—you can't. Supreme is very much a "don't call us, we'll call you" kind of company (case in point: they didn't respond to multiple requests for comment on this story). Even SealLine didn't work directly with Supreme on the See Pouch collab; they went through a third party agency hired by the company.
So, outdoor brands shouldn't hold their breath and wait for Supreme to come knocking. But collaborating with other companies—both within the industry and beyond—is still good for business.
Here Are 5 Types of Collabs That Your Brand Should Consider.
1. The Co-designed Collab
By designing products together that wouldn't exist if not for brand collaboration, you can achieve some serious brand awareness. Take, for example, their Topo Designs x Chaco collection. Chaco made sandals and dog leashes and collars with Topo-inspired patterns. And Topo made packs featuring the same designs. Products like these, and similar projects like the sleeping pad collab between Poler Stuff and Therm-a-Rest, or the tent, sleeping pad, and table collabs between Big Agnes, Helinox, and Burton, play up both brands' assets and appeal to both of their audiences. Brands like Power Practical, Rumpl, and Ravean take it a step further when they innovate by building on one another's technology. In 2016, the three brands worked together to create the Rumpl Puffe-, a rechargeable electric puffy blanket.
Check Out These Succesful Co-designed Collabs
Burton and Big Agnes Tent Collab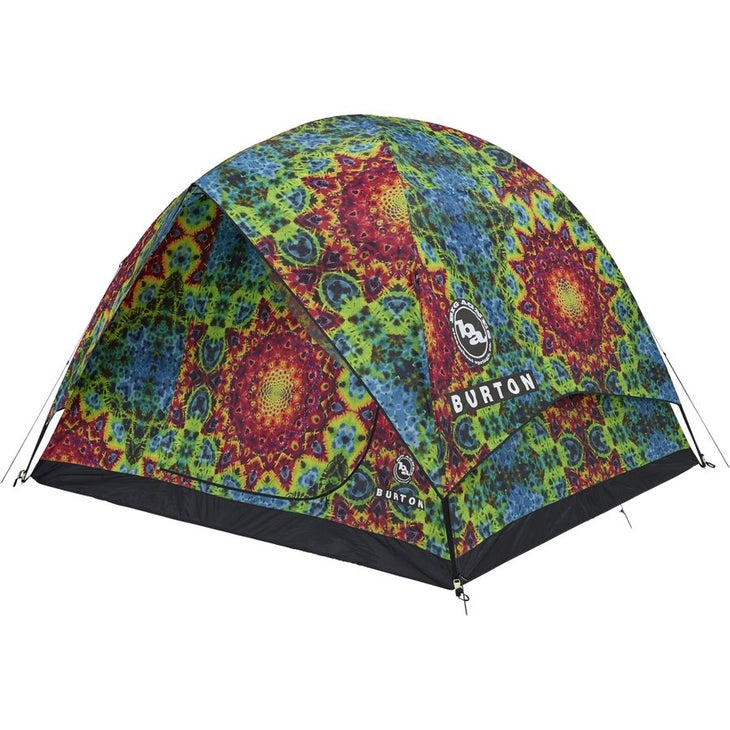 Nomadix and Wylder Goods Towel Collab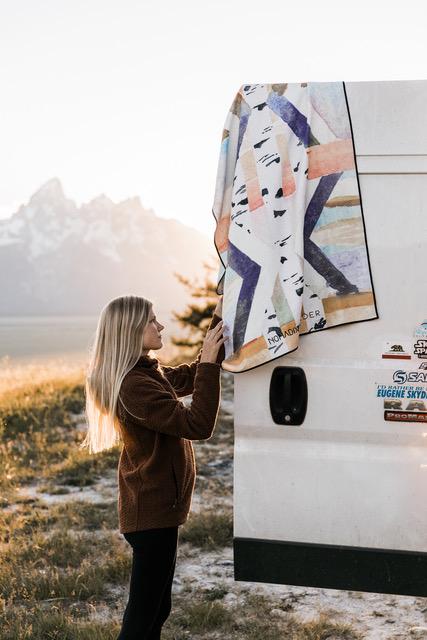 Chaco and Topo Designs Sandal Collab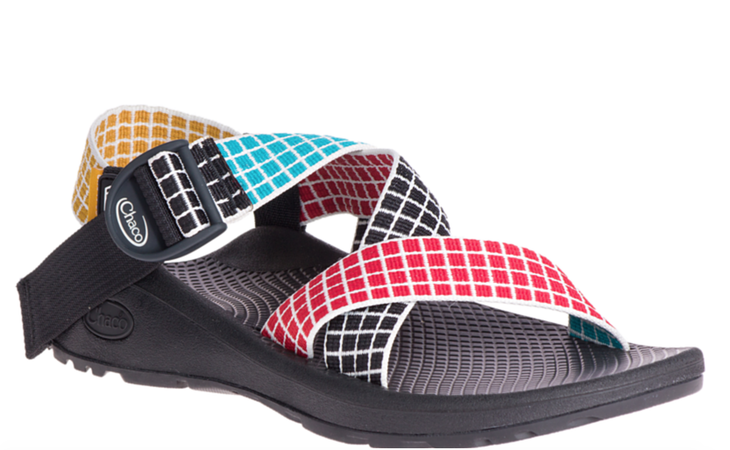 Therm-a-Rest and Poler Sleeping Pad Collab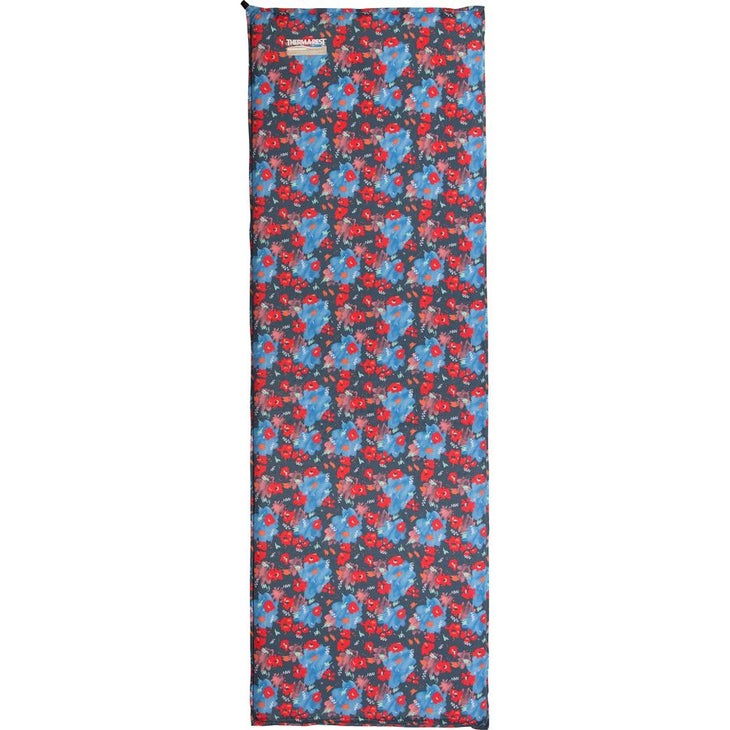 Power Practical, Rumpl, and Ravean Blanket Collab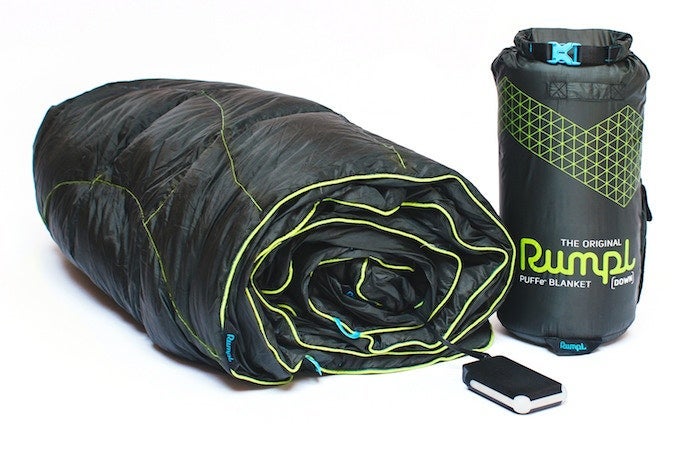 2. The Co-branded or White-Labeled Collab
This type of collaboration is fairly run-of-the-mill. You make backpacks, for example, and you want water bottles with the company name on them, or vice-versa. If the brand you want to work with has a following you want to tap, it may be beneficial to keep both companies' logos on the product. But if you want to have full "ownership" over the product, you can white-label it. Sock companies like Nester Hosiery the parent company of Farm to Feet, for example, produce socks on behalf of other companies without ever mentioning their involvement.
3. The Social Collab
Perhaps the easiest type of collaboration to secure is one in which you work with some like-minded brands to tap each others' audiences. Maybe you put together a sweet prize package, and to enter, Instagram users have to follow all the brands involved, like the post, and comment by tagging a friend who may be interested. Or, maybe consumers enter online with their email address, and then you end up with 10,000 new newsletter subscribers. Emails are great leads to new customers, says Yoon Kim, who runs Blogs for Brands and frequently executes social and giveaway collaborations between brands.
Social Media Collabs That Work!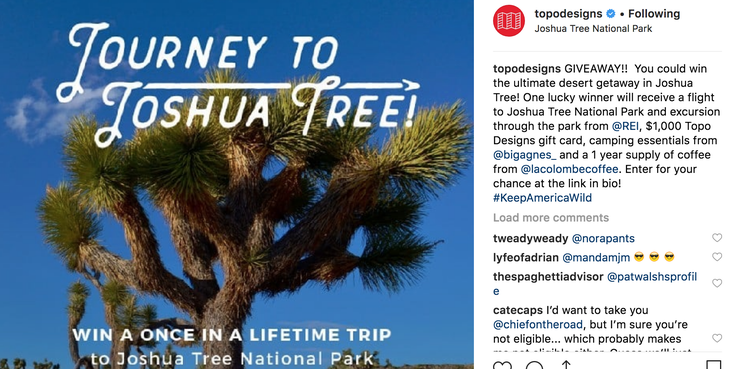 Topo Designs, Big Agnes, REI, and others collaborated on this trip giveaway.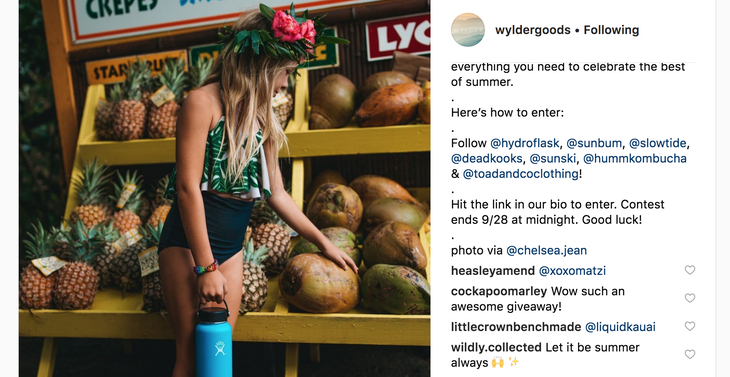 Wylder Goods collaborated with Hydro Flask, Sun Bum, Toad&Co, and others for this summer gear giveaway.
Retailer Feral Mountain Co. partnered with several local groups for a spring giveaway.
4. The Press Trip Collab
If you work with an external PR agency, it might be easy for you to organize a press trip where costs are shared with another gear company (or maybe several gear companies). If not, look around you—there may be other gear companies in your city that you can approach on your own. If co-hosting a trip is out of the question, you can also try to support an existing trip by offering up product to pass out to writers for potential review.
5. The Out-Of-Industry Collab
Just because you can't hunt down a Supreme collab doesn't mean you're out of luck for increasing your brand recognition beyond core outdoor users. Just look to Woolrich, for example, which made a co-branded "Pennsylvania Tuxedo" beer a few years ago with Dogfish Head Brewing. It was a pale ale brewed with spruce tips from Pennsylvania and Delaware forests. Stormy Kromer has worked with a tattoo shop in Michigan to do "Hats for Tats." Major fans could trade a free lifetime supply of Stormy Kromer hats in exchange for tattooing a hat somewhere on their body. And if you're tight on budget for your upcoming catalog but want to go somewhere exotic for killer photos, you can seek partnerships with destination tourism boards, too, who may be able to help lower your costs.