Adventure Altruism All-Stars
Attention, all cynics: You can change the world. But don't take our word for it. Here are people combining big ideas and bold adventures, including our first-ever Reader of the Year.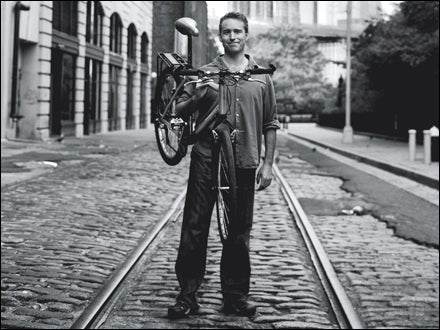 Heading out the door? Read this article on the new Outside+ app available now on iOS devices for members! Download the app.
Dan Austin
Plastics Jesus
What can you do with about 12,500 plastic water bottles? Build a boat.
David de Rothschild
tells you how and why.
Age: 36

Organization: 88bikes.org


The original idea was straightforward enough. While planning a bike ride through the Cambodian countryside in 2006, Austin, an author and documentary filmmaker, and his brother, Jared, a pedia­trician, decided they wanted to donate their bikes to a local orphanage. Then they found out the orphanage housed 88 kids. "It was like this lightning bolt," says Austin. In just five days, the brothers, with the help of Web-savvy friend Nick Arauz, founded a nonprofit, launched a Web site, and linked it up to PayPal. "Being able to accept donations online easily and securely was a tremendous help," says Austin. Each bike costs $88, and by the time they got to Cambodia, they had all the money they needed to buy bikes for every orphan. "When you buy a bike, we give your picture to the child," says Austin, "and then we take a picture of the child with the bike holding your picture and give it back to you." It's a winning strategy: Over the past three years, 88bikes has given away several hundred bikes to children in Uganda and Peru and has projects under way in India, Nepal, Vietnam, and Ghana. One of the main keys to 88bikes' success is understanding the limitations of social media. "We've got a blog, a Facebook page, a Twitter page—all that stuff," says Austin. "But you've still got to take time to chat with people and forge one-to-one connections."
Tim DeChristopher
Tim DeChristopher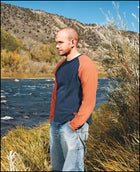 Age: 28

Organization: Peaceful Uprising


DeChristopher is facing two federal felonies, ten years in prison, and $750,000 in fines. Last December, he bid on, and won, close to $1.8 million worth of oil-and-gas rights near Utah's Arches National Park. The crime: He couldn't pay. He'd bid in protest of any drilling. "We didn't get the Civil Rights Act because the last bigot in Mississippi stopped being racist," says DeChristopher, an economics student at the University of Utah and climate-change activist. "It was because people stood up and were willing to go to jail." In February, Secretary of the Interior Ken Salazar shelved about 80 percent of the land parcels DeChristopher bid on, and DeChristopher has since founded the nonprofit Peaceful Uprising to promote nonviolent protest. In the coming months, he and pro bono lawyer Pat Shea, the BLM director under President Clinton, will make the precedent-setting argument that DeChristopher's action was designed to slow climate change and therefore falls under the lesser-of-two-evils defense. If DeChristopher wins, climate-change protestors have a legal shield. Despite the gravity of his situation, DeChristopher recommends acting for climate change in any way possible. "It's terrifying," he says, "but sometimes you jump off the cliff, then build your wings."
Reza Baluchi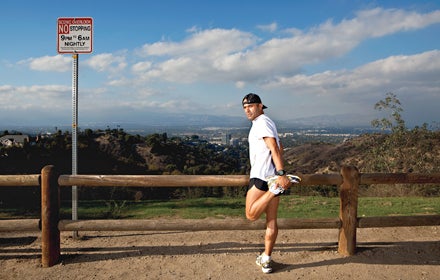 Age: 36


Organization: Run with Reza


Baluchi's advice for those looking for a way to help? Get moving. "When you run, you have a lot of time for thinking. Think of what you can do to make the world a better place. For me, if I help people, it makes me happy." Baluchi's stats prove it:

43: Number of days it took the former pro cyclist and peripatetic Iranian-American this summer to run across the United States—3,300 miles from L.A. to New York, more than 76 miles per day—raising money for UNICEF.

14: Number of New Balance shoes he wore out during his cross-country run.

15,000: Number of calories he burned per day.

38: His resting heart rate.

11,720: Number of miles he ran around the perimeter of the U.S. in 2007, raising money for a Denver children's hospital.

49,000: Miles clocked on a goodwill bike ride through 55 countries that ended at New York's Ground Zero in 2003.

85,000: Miles he plans to cover, on foot and in a specialized paddleboat, on his five-year, human-powered journey to all the world's countries. Along the way he hopes to become an ambassador for peace—meeting with world leaders, helping schools and local organizations, and inspiring others.
Brad Ludden
Brad Ludden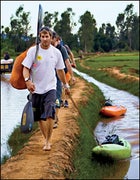 Age: 28

Organization: First Descents


While Ludden may be photographed with his shirt off more than Matthew McCon­aughey—Ludden was on Outside's cover in 2000, and a few years later Cosmo named him Bachelor of the Year—he's not just a pretty torso. The pro kayaker's idea: Build a cancer patient's confidence by teaching him or her to kayak. After his aunt was diagnosed with breast cancer, Ludden founded First Descents in 2000 to provide what doctors call the other half of recovery—the emotional cure—to young cancer patients. Ludden has now taken 600 of them, ages 18 to 39, down rivers. "A week on the water reminds them that they're not fragile," he says. Past participants tell him that kayaking restored their courage, allowing them to bridge the gap between treatment and daily life. Though he's still kayaking intense water—Ludden recently filmed the documentary The River Ward in Madagascar—he's changing focus. "More and more, I find fulfillment in teaching people," he says. So what'd he do with the $10,000 Cosmo gave him for the bachelor title? Promptly donated it to First Descents. "Share your passion with somebody in need," he says. "It'll make both your lives better."
Geoff Tabin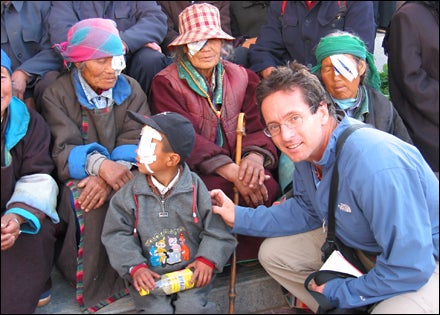 Age: 53

Organization: Himalayan Cataract Project


Tabin's life was transformed when he saw a team of Dutch physicians in Nepal cut into a local blind woman's eye. "At that time in Nepal, it was accepted that their eyes turned white from cataracts and then they waited to die," says Tabin, who was there to climb Mount Everest. "Seeing this woman restored to sight was incredible." In 1995, Tabin, along with Nepalese doctor Sanduk Ruit, started the Himalayan Cataract Project (HCP) in Kathmandu. In addition to facilitating the mass production of inexpensive lenses used in cataract surgery—the same procedure that costs thousands in the U.S. can be done by HCP for $20 in Nepal—Tabin and Ruit have trained more than 100 local surgeons. Now, after 15 years and hundreds of thousands of eye surgeries, Tabin is looking to bring the same high-quality, low-cost treatments to sub-Saharan Africa. His goal: to eliminate preventable blindness, a condition that afflicts some 45 million people worldwide. "I still receive great satisfaction from standing on top of a mountain, but it's pretty minimal compared with watching a patient regain their sight," he says. "I can't think of anything I'd rather do."
Eric Greitens
Calling All Heroes
Greitens was nominated by friend and fellow subscriber Adam Flath. Know someone who deserves to be our next Reader of the Year? Let us know.
Eric Greitens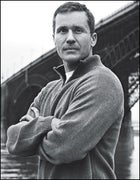 Age: 35
Organization: The Mission Continues
Greitens's résumé is hard to believe. Twelve-time marathoner with a 2:58 best. Champion boxer. Aspiring mountaineer. Rhodes scholar. Oxford graduate. Author and photographer (his humanitarian work in Rwanda, Bosnia, and Gaza, among other places, was published as a book of essays and photographs). College professor. Navy SEAL. Four tours (in Iraq, Afghanistan, Southeast Asia, and Africa). A Purple Heart and a Bronze Star. A White House Fellows program. But the reason we chose him out of more than 600 nominees as Reader of the Year? His work since his tours. After a suicide truck bomb hit his platoon in Fallujah, Iraq, in 2007, Greitens visited his wounded teammates and other marines in military hospitals. They all said that when they recovered, they wanted to continue to serve, in uniform or out. The St. Louis based Greitens then partnered with a few veteran friends and used his own combat pay to start The Mission Continues, an organization that trains wounded vets for leadership roles in their communities. He's since put 31 vets through the program. Greitens, an Outside reader for years, still finds time for six workouts a week, and he's writing a book about service. "I think people end up benefiting from serving as much as those they aim to serve," he says. Here's more, in his own words.
One of the most influential people in my life was my first boxing coach, Earl Blair. He taught me that every single person is capable of tremendous courage if they're given the right circumstances, the right training, and the right encouragement. When you challenge someone, you let them know you believe in them.
In SEAL training, I learned it's actually easier to be a leader. When you're leading a team, your thoughts are always on them. No matter how much I was hurting, no matter how tortured I had been, there was someone hurting worse than me. You don't have time for your own self-pity.
I take time every single morning to exercise. It's really important for me to get my head and spirit right before I start the day's work. I work very long hours, but when I go home, I'm home. When I'm on the mountain, I'm on the mountain. I do not constantly BlackBerry.
My two favorite marathons were the New Jersey Marathon, where I broke three hours, and the Shamrock Marathon, which we ran in Fallujah, Iraq. It was the first marathon where they start the race with a briefing about what to do in the event of incoming artillery fire.
I want every single wounded or disabled vet to be welcomed home and seen as an asset. This year, we want to have 100 wounded or disabled vets as Mission Continues fellows. At some point, if we're tremendously successful, the organization will grow larger than me.
Clare Lockhart
Clare Lockhart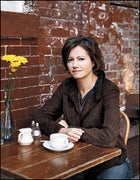 Age: 36
Organization: The Institute for State Effectiveness
Lockhart's inspiration came in 2002, when the guns had fallen silent–briefly—around Kabul and she was standing amid the rubble. "There was no guidebook on how to rebuild a country," says Lockhart, who was part of a team setting up the new Afghanistan government. So the New York-based London native wrote one. First she co-founded the nonprofit Institute for State Effectiveness, in 2005; three years later, she published Fixing Failed States, which outlines how citizens from war-torn countries can organize their societies, economics, and politics. "I wanted to enable the people to empower themselves," she says. By the time she was 30, Lockhart had visited as many countries, earned a history degree from Oxford and a master's from Harvard's Kennedy School, and practiced law in London. Now she's provided more than $800 million in grants to 23,000 villages in Afghanistan through her National Solidarity Program, and she spent the better half of the past three years traveling on foot, horse, jeep, or helicopter to many provinces in Afghan­i­stan. "The people are rebuilding schools, medical clinics, and government facilities in their vision of the country," she says. Lockhart emphasizes that you don't have to work abroad to create positive change. "Volunteer locally," she says. "The closeness of that interaction makes the feedback immediate."
Ben Horton
Ben Horton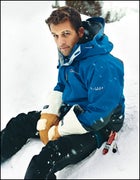 Age: 26

Organization: International League of Conservation Photographers


Horton is many things: adventurer, photographer, activist. Just don't call him a photojournalist. "Photojournalism is about presenting a story straight, without personal input," he says. "For me, I want to influence the story. I want to create change." To that end, Horton has traveled to the world's wildest and most endangered landscapes—including the Arctic in spring 2008 as part of Will Steger's Global Warming 101 expedition—to document those environments with his camera. He then publishes and exhibits the images to persuade the public, politicians, and big-time philanthropists like Richard Branson to protect them. "If you present scientific data to a group of people, not many are going to get it," he says. "But if you put a picture of a landscape in front of them, all of a sudden they have a personal experience with it, and they'll become inspired to save it." Says Horton: "Everybody has their own medium, whether it's writing, music, computers, or artwork. Use it to create change."
David Rastovich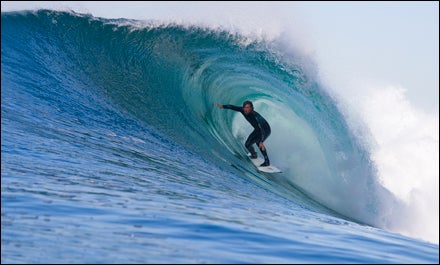 A Guide to Contributing
Feeling inspired? Check out our
charity index
for an overview of our philanthropists' causes and ways you can get involved.
Age: 29

Organization: Surfers for Cetaceans


You wouldn't peg Rastovich to star in a thriller. The man's a freesurfer, which means he gets paid to surf exotic waves for promotional films. Not exactly a high-stress gig. And yet there he is at the climactic moment of the year's most talked-about documentary, The Cove, paddling out to cause a ruckus in a sea of dolphin blood. In the scene, Rastovich leads a crew of five wetsuit-clad activists—including movie stars Isabel Lucas and Hayden Panettiere—into a clandestine Japanese dolphin slaughter, disrupting the killing with a board circle. "The fishermen flashed the propeller at us and hit the girls in the legs with the boat hook," says Rastovich, who was born in New Zealand and lives in Australia (and now has arrest warrants out for him in Japan). "Rasta" became interested in marine conservation after giving up contest surfing at age 20. Four years later, he started the nonprofit Surfers for Cetaceans to mobilize an athletic community not exactly known for monkeywrenching. Two days after the group formed, Rastovich was surfing at a local break when a shark bore down on him and a dolphin nosedived in, butting the shark away. "That was all the confirmation I needed that I was on the right path," he says. Next up? Kayaking down the Australian coast, from Byron Bay to Sydney, alongside the humpback whale migration. The goal: Pressure the Australian government to enforce whale-sanctuary laws in the Antarctic waters where Japanese whalers hunt. "The government made a promise to help out and hasn't delivered," says Rastovich. "We're going to make them honor their word."
Trending on Outside Online