A Cheese-Filled S'More That Doesn't Suck
We love chocolate and marshmallow s'mores, but these cheese-filled options are delicious and gooey, too.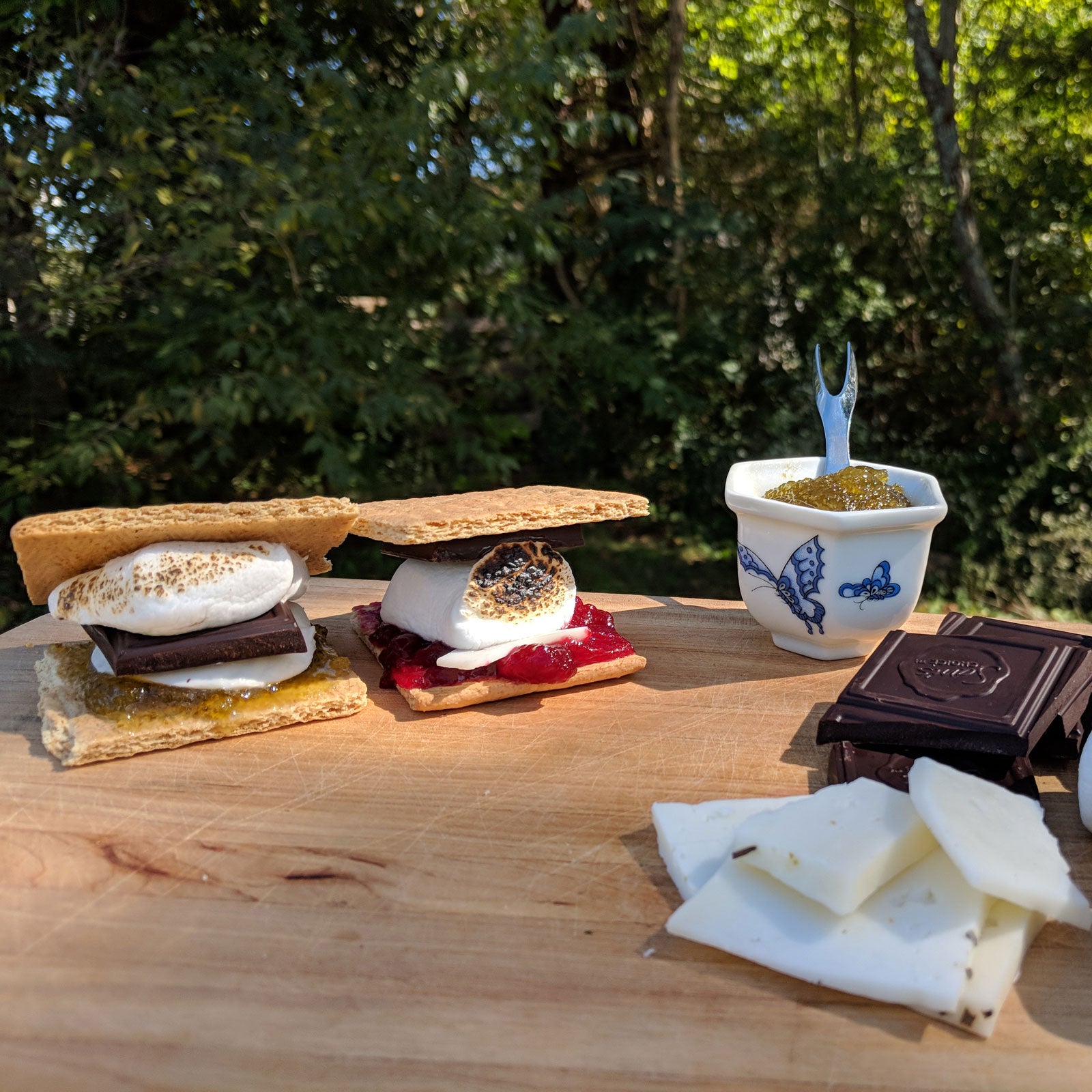 AC Shilton(Photo)
Heading out the door? Read this article on the new Outside+ app available now on iOS devices for members! Download the app.
When Backpacker tried to convince us that sticking cheddar cheese and chocolate between two graham crackers was going to be the next big thing, we told them to slow their s'more roll. Cheese and chocolate can be an odd combo, and if you remove the marshmallow from the equation—which Backpacker's recipe did—is it even a s'more? After an extremely scientific in-office taste test, the majority of our staffers voted Backpacker's recipe a no-go.
Which got us wondering: What would make cheese, chocolate, marshmallows, and graham crackers taste good?
We tried three different cheeses (Gouda, goat, and Parmesan) on straightforward, original-recipe s'mores. All were duds, and the one made with goat cheese even induced a bit of gagging. Cheddar, no matter how much we wanted to make it work, never tasted good in a s'more either. The problem, we realized, was that in order to harmoniously marry sweet and savory flavors, we needed to add a sour taste. So we whipped up some jam. Meanwhile, milk chocolate conflicted with the cheese's gamey undertones—using dark chocolate turned out to be crucial. 
We found two combos that we really liked: one with Parmesan and another with mozzarella. Feel free to redirect your article here, Backpacker.
Cranberry Jam, Dark Chocolate, and Parmesan S'more
Makes One S'more
1 cup fresh or frozen cranberries
1/8 cup brown sugar
1 teaspoon orange zest
1/3 cup water
1 graham cracker
1/8 ounce Parmesan cheese (a sliver about the size of guitar pick)
1 square of dark chocolate (We used 72 percent cocoa.)
1 marshmallow
Make the Jam
In a small saucepan, combine the cranberries, brown sugar, orange zest, and water. Boil for five minutes or until all the cranberries have burst. Set aside and let cool. (Note: This cranberry jam is intentionally tart to counteract the sweetness of the marshmallow.)
Assemble Your S'more
Smear a bit of jam on one half of the graham cracker. On the other half, place the Parmesan and dark chocolate. Roast marshmallow over a fire, then add it to the pile. Squish cracker halves together and eat immediately.
Hot Pepper Jelly and Mozzarella S'more
Makes One S'more
1 graham cracker
1 teaspoon hot pepper jelly (Make your own or buy it here.)
1/8 ounce fresh mozzarella, cut into a thin slice (about the size and width of a poker chip)
1 square of dark chocolate
1 marshmallow
Assemble Your S'more
Spread one half of the graham cracker with jelly. Add the mozzarella. Top with chocolate and a hot roasted marshmallow. Squish cracker halves together and eat.
Lead Photo: AC Shilton
Trending on Outside Online