The Definitive Foodie Tour of Colorado Springs
America's best mountain runner, Joe Gray, is also obsessed with food and knows the best spots for pigging out in this Colorado city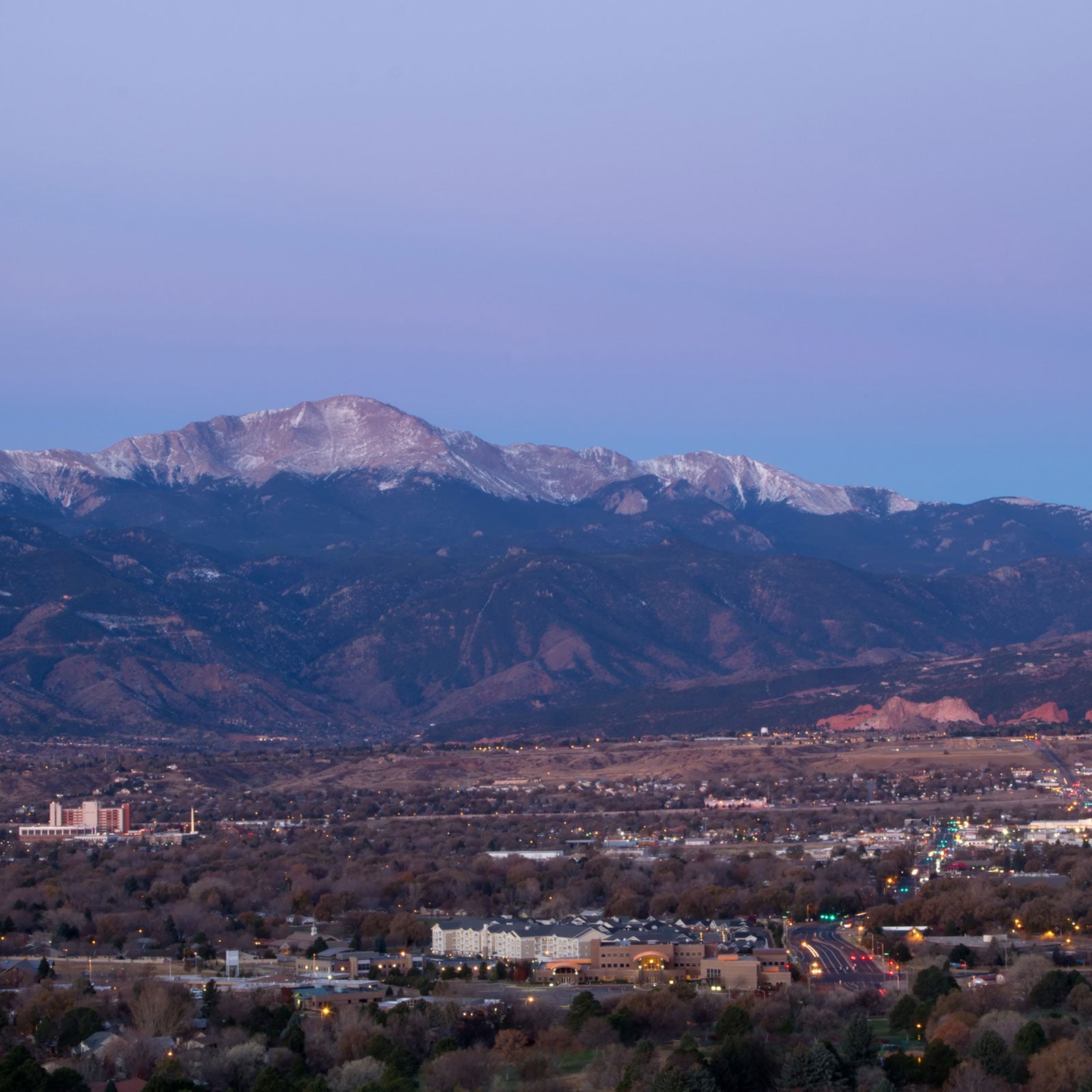 RondaKimbrow/iStock(Photo)
Heading out the door? Read this article on the new Outside+ app available now on iOS devices for members! Download the app.
There's a little-known addendum to Newton's law of gravity: what goes up, must come down and eat a lot of calories. And Joe Gray, the six-time world-champion trail runner, does exactly that when he gets off the mountain.
Gray has lived in Colorado Springs, Colorado, home of the Olympic Training Center and the nearby Manitou Springs Incline (where he holds the fastest known time), since 2014. It's a perfect fit for him. He grew up a self-proclaimed military brat, and several military bases and the U.S. Air Force Academy are located here, which he says makes it feel like home. Plus, there are plenty of nearby peaks to bag and, thanks to its status as the city attracting the most millennials, it's suddenly rife with breweries, artisanal bakeries, and places to get exceptional doughnuts.
He's very much here for all of that—and some pizza and maybe a burrito, too. "I can eat a lot of pizza," he says, adding that he's put away two large ones in a sitting after a particularly hard workout. Which is why we trust Gray's food recommendations for Colorado Springs. While some athletes will point you toward a stash of stale energy bars when you ask what they like to eat, Gray isn't shy about his love for calorie-saturated fare.
Even better, he loves to cook and has eaten his way around the world both as a military brat and a professional athlete. "I feel like people who are picky don't get the best experience," he says about noshing on the road. His philosophy is simple: in Norway you have to try the lutefisk, and if you're in Scotland, you're missing out if you don't sample the haggis.
There's no lutefisk or haggis on this list. But Gray did give us a bunch of great options for breakfast, lunch, and dinner in Colorado Springs. Consider your next trip planned.
Start Your Day with Some Sweat
There's a lot to do outside here. Gray's pick is Barr Trail, the pathway up to Pike's Peak. You can do as much or as little of the out-and-back as you like, but the trail is about 10.5 miles each way, and the last miles of the ascent are very rugged. Gray describes it as "not that bad," but keep in mind the source and plan accordingly. (It is not recommended that mortals attempt the whole thing in one day, FYI.)
Next Stop: Burritos
Gray likes hitting Barr Trail because it's close to Viva El Taco. "It's kind of a dive, but they have amazing breakfast burritos," he says. His go-to filling is the pollo asado. He loads up his roll of goodness with hot sauce, salsa, and hot peppers. "I love hot stuff. They probably hate it when I come, because I clean out their pepper bar."
Coffee—If You Need It
Gray isn't a coffee drinker, so he didn't have a recommendation. His go-to is the chai his Kenyan teammates sometimes bring to workouts. Since you may not have that option, our recommendation is Switchback Roasters. The café is next to a site where it does all its own roasting, using beans from small, sustainable farms.
This Is Olympic City USA
When Gray has guests, touring the 35-acre Olympic Training Center is always on his list of things to do. You can walk through the Hall of Fame rotunda, see the weight-lifting and aquatic centers, and basically bask in the glow of America's Olympians. The tour runs every hour on the hour.  
Win the Eating Olympics
As we alluded to before, Gray has quite an appetite. His two lunch spots? First: Crave Real Burgers, a local chain where the patties are made from Colorado beef, then topped with all kinds of gluttonous things. Gray's order is the Luther, a cardiologist's worst nightmare, with bacon, cheddar, an egg, and a patty stacked between two glazed donuts.
"If I've had a total bonkfest, I head to Billy's Old World Pizza," a Chicago-style joint. Gray feels that Chicago-style pizza is the best pizza. While we won't confirm or deny that statement, we will admit that cheese, sauce, and bread in any combo is good in our book. Gray says he'll eat literally anything his friends order on his pizza, though he has a particular fondness for the Hawaiian.
Doughnuts on Pikes Peak
If you're not in a food coma, there's a doughnut shop at the summit of Pike's Peak. Because they're being made at 14,000 feet, these doughnuts have a slightly different, coarser texture than a typical doughnut. "It's not the best doughnut, but when I'm running, if I'm doing Pikes Peak, I always carry money with me, because it's hard to smell them and not get one," he says. And: they're famous. You basically have to try them.
Hit the Old Colorado City Farmers' Market
If you're in town on a summer weekend, strolling the booths is a fun way to pass a morning. Gray says that if you're especially lucky, you may hit the market during green-chile season. "Everyone thinks of New Mexico as being the place for green chiles, but they're a big deal here, too," he says. Watch vendors roasting them and selling them by the bushel, then look out for someone hawking enchiladas topped with green-chile sauce or stuffed roasted chiles.
Head Toward Dinner
If you can handle any more food at this point, Gray suggests Edelweiss. He spent a significant part of his childhood living in Germany, and this restaurant holds up to his memories of what a proper German restaurant should be. He always orders jägerschnitzel. "It's a pork cutlet with rich mushroom sauce, served with spätzle, which is like a fresh noodle," he explains.
End Your Day
Gray prefers to sip whiskey at home at the end of a long day, but since he can't invite all of our readers over, we're sending you out to a couple of Colorado Springs' best watering holes. The first is the Axe and the Oak Whiskey House, a distillery with a very hip bar attached to it. Its spirit options are expansive, and the cocktails are worth the splurge, at $10 each. Beer lovers should pop over to Lost Friend Brewing Company, a recently opened brewery and taproom. The space, which was founded by a couple of long-distance runners and outdoors lovers, is friendly to pups and runners, so it's perfect for the Outside crew. 
Lead Photo: RondaKimbrow/iStock
Trending on Outside Online