5 Ultimate Girl Scout Cookie and Liquor Pairings
The seasonal confections help get girls into the great outdoors, so stock up.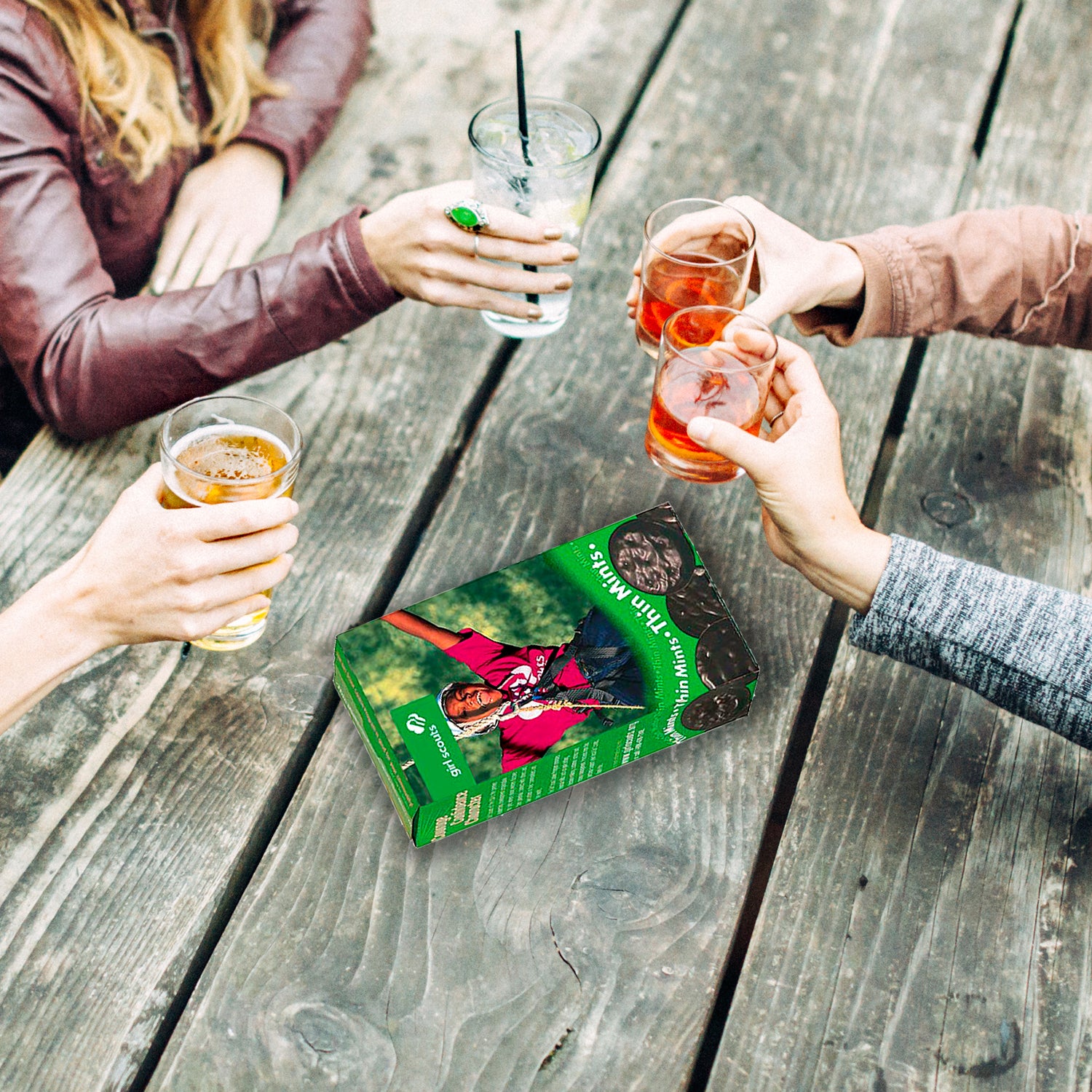 Heading out the door? Read this article on the new Outside+ app available now on iOS devices for members! Download the app.
Despite what your scale says, those 16 boxes of Thin Mints you bought don't make you a self-control-challenged glutton, destined for an eternity of elastic-waist pants. No, instead, they make you an ardent advocate for the next generation of outdoor-loving women.
Last year the Girl Scouts compiled a report on the effect the outdoors had on its members. What the group found was that 97 percent of the gals polled had done some sort of outdoor activity with their troop, with half indicating that they would not have been able to engage in the outdoor activities without their involvement in Girl Scouts. Hispanic girls and girls without much previous exposure to the outdoors most enjoyed their troop's outdoor adventures. And perhaps best of all, compared to their non-scout peers, Girl Scouts were twice as likely to say they actively took steps to protect the environment and to rate environmental stewardship as important to them. 
Now that you know all this, eating a dozen Do-Si-Dos practically seems like an act of altruism. An act that should be rewarded. 
Pairing Girl Scout cookies with spirits isn't as strange as it may sound. "With liquor you're dealing with really high octane stuff—you get a bit of cutting action versus the sweet" of the cookie, says Mike Henderson, a Denver-based mixologist and president of the Colorado Chapter of the United States Bartender's Guild. And, if you've ever chaperoned a Girl Scout troop on a weekend camping trip, you get why you might want something just a bit stronger than wine at the end of the weekend. 
Here's how to pair your favorite cookies with the hard stuff:
Tagalongs & Spiced Rum
Sweet, nutty and just a touch salty, Tagolongs (aka Chocolate Peanut Butter Patties) pair well with a spiced, aged rum, according to renowned mixologist Tony Abou-Ganim. "It's one of the most overlooked drink pairing categories but they're just gorgeous," he says. He recommends Zacapa 23, a Guatemalan rum that's meant for sipping. "I would eat a plate of cookies and drink several snifters if it were up to me," says Abou-Ganim. 
Thin Mints & Fernet
Ask for a shot of fernet to go with your Thin Mints. The spirit is wildly popular in Argentina, but hasn't gotten as much traction here in the states. It is "dark, bitter and herbaceous" and has mint notes, Henderson says, "but it's not like peppermint-y." 
If dark, bitter and herbaceous isn't your thing, Abou-Ganim says you can't go wrong with pairing Thin Mints with a traditionally made Irish coffee. He likes his made with Tullamore Dew, coffee, and two sugar cubes, which is the way it's traditionally been made at San Francisco's Buena Vista Café.
Samoas & Whiskey
This coconut-crusted, caramel-chocolate cookie (aka Caramel deLite) goes wonderfully with whiskey, says Abou-Ganim. "The caramel notes of Irish whiskey would be perfect," he says, adding that even a Japanese or certain American whiskeys might work. "Stay away from Tennessee or rye though," he says. Ideally go for a wheat whiskey that's been aged in a way that will bring out caramel and vanilla notes. His pick for buying domestic would be Maker's Mark or, if you want to go Irish, try Green Spot. 
Lemonades & Gin
Topped with lemon icing, this shortbread cookie goes great with a big, juniper-y gin; a London dry variety would be especially nice, says Henderson. (If you're a scout leader just back from a weekend camping trip, Henderson says to go ahead and opt for the 100-proof  "Navy strength" gins like Plymouth's Navy Strength.) Or, mix up a Corps Reviver #2, which has equal parts gin, lemon juice, Cointreau, and Lillet, and is finished with just a dash of Absinthe. 
Trefoils & Scotch
"I naturally think of Scotch when I think of shortbreads," says Abou-Ganim. "It's probably because the Bobby Burns, a Scotch-based drink, is traditionally served with a shortbread cookie." Abou-Ganim suggests either making a Bobby Burns (which has Scotch, sweet vermouth and Benedictine) or just pouring a glass of Monkey Shoulder, a blended malt Scotch whiskey. "Go with a vatted malt whisky if you can, which has no grain whisky in it," says Abou-Ganim. "It really is lovely for cocktails or sipping." 
Lead Photo: Ryan J Lane/iStock