5 Gorp Recipes That Are Unbelievably Good
Looking for a vegan gorp recipe? We've got you covered. Classic gorp recipe? We've got a delicious version of that, too. These DIY trail-mix recipes will supercharge your next hike.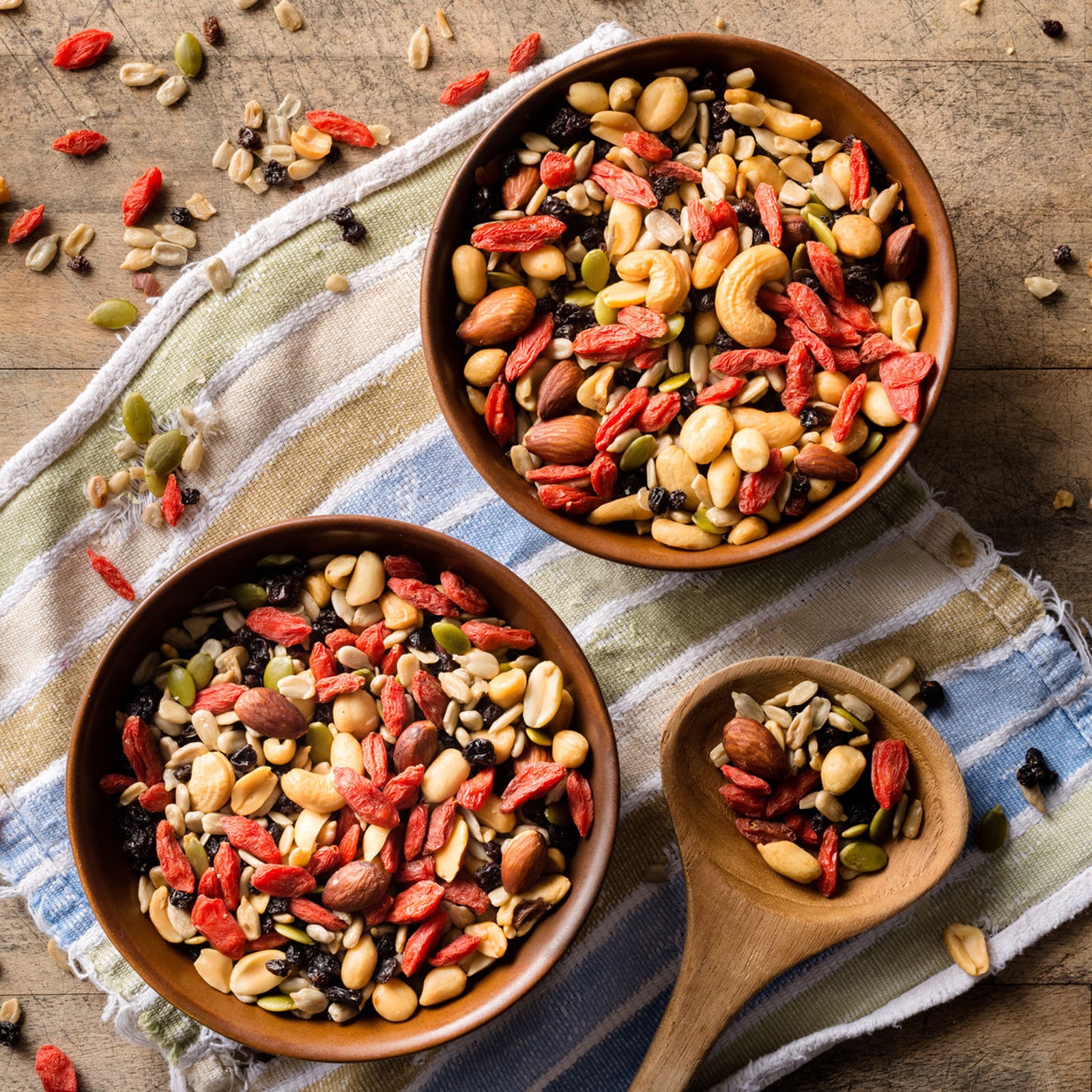 Jeff Wasserman/Stocksy(Photo)
Heading out the door? Read this article on the new Outside+ app available now on iOS devices for members! Download the app.
We all pick around the raisins. But the other reason to make your own mix is because no one likes limp nuts.
"The thing I don't like about store-bought mixes is that the dried fruit makes the nuts really soggy, and it all ends up the same texture," says Laura Scheck, who runs the Brooklyn-based cooking school Teaching Table. She avoids this in her homemade mixes by toasting the nuts, which—bonus—also makes them way more flavorful. Every few months, Scheck makes something that she calls "pantry-clean-up snack mix." "I look at all the almost empty bags of nuts, dried fruits, oats, and whatever oil I have on hand or need to use up," she says. And then she gets to work.
Scheck's go-to mix is usually based on oats, with tons of other nuts and seeds mixed in. "People are afraid of oats because they have carbs, but they're really good for you," she says. Even better: oats are cheap and stretch out those high-dollar ingredients, like organic macadamia nuts and dried goji berries.
Meanwhile, the best thing about homemade trail mix is that it can take whatever form you like. There are no rules. If you want to mix sliced Slim Jims with Jujubes, you have our blessing. The only real rule is to mix up your ingredients every now and then, because change is a good thing. Just ask Megan McDuffie, half of the team at Fresh Off the Grid, a website devoted to adventure-friendly eating. She packed one type of bar and one type of trail mix for the entire 211-mile John Muir Trail. "I couldn't look at either of them at the end," she says. Her partner, Michael van Vliet, adds, "She was traumatized." (He wasn't on the trail with her, but he's heard the horror stories.)
To avoid this fate, mix early and often. And use this recipe inspiration from some of our favorite outdoorsy chefs and foodie friends.
Pantry-Clean-Up Granola Snack Mix
Scheck says it's fine to adjust the ratios and amounts of dry ingredients to suit your tastes. "The amounts are relative, which is why it is great as a pantry-clean-out method," she says. Below is the basic formula, which yields about four cups. Scheck likes her mix with oats, quinoa, sesame seeds, ground cardamom and ginger, coconut oil, honey, California apricots, golden raisins, cashews, almonds, and pistachios.
Ingredients
2 to 3 cups rolled oats (not instant or steel-cut)
½ to 1 cup whole grains, such as quinoa and amaranth
2 to 4 tablespoons seeds, such as sesame, chia, and flax
1 to 2 teaspoons ground spices, such as ginger, cinnamon, or cardamom, or powders like cocoa and matcha tea
½ to 1 cup chopped nuts, such as almonds, hazelnuts, walnuts, cashews, or pistachios
½ cup melted coconut oil (or canola, hazelnut, pistachio, grape-seed, or olive oil)
⅓ cup sweetener, such as honey, agave, or maple syrup
½ cup dried fruit, such as raisins, sultanas, tart cherries, apricots, and figs, diced into ¼-inch pieces
Directions
Preheat oven to 300 degrees. In a large bowl, stir together the oats, whole grains, seeds, spices, and nuts. Add the oil and sweetener. (Tip: use the same measuring cup to measure the oil first, then the sweetener. It will slide right out.) Stir to combine. Spread in a single layer in a large roasting pan. Bake about 20 to 30 minutes, stirring occasionally. It should reach a light golden-brown color. Remove from oven and cool five minutes. Add dried fruit to the oven-baked mixture. Stir to combine. Cool completely before transferring to a glass jar with a tight-fitting lid. Will keep up to one month in a dry, cool place.
Chocolate-Coconut-Pistachio Gorp
RT Lodge in Maryville, Tennessee, is just down the road from Great Smoky Mountains National Park. Trevor Stockton, the lodge's executive chef, is always sending out hikers with this homemade trail mix. Toasting the nuts in coconut oil is what makes the difference, so don't you dare skip that step. This recipe makes enough to feed a small army—about 12 cups.
Ingredients
½ cup shredded coconut
1 cup pistachios
1 tablespoon coconut oil
Sea salt
1 cup pretzels
½ cup dried cherries
½ cup Craisins
½ cup dark-chocolate chips
Directions
Spread coconut on a sheet tray and toast in a 300-degree oven until golden brown (approximately six to eight minutes). Toss pistachios with the tablespoon of coconut oil and a large pinch of sea salt. Spread pistachios on a sheet tray and roast for ten minutes. Cool to room temperature. Combine all ingredients.
Triple Creek Ranch Gorp
Ranch work is hard, and hard work requires snacks. OK, so, the Triple Creek Ranch is a luxury ranch, which means you probably won't be called on to spend all day moving cattle. Still: it's best to be prepared. This mix of oats, cranberries, nuts, and chocolate is made daily by chef Jacob Leatherman and handed out to hungry guests during hikes and rides.
Ingredients
1 ½ cups old-fashioned oats
1 cup sliced almonds
1 cup pepitas, walnuts, or pecans
1 cup hazelnuts or peanuts
1 teaspoon cinnamon
1 cup sweetened coconut
⅓ cup brown sugar
1 cup maple syrup
½ cup canola oil
1 cup raisins
1 cup golden raisins
1 cup dried cranberries
1 cup M&M's
Directions
Toss oats, nuts, cinnamon, coconut, and brown sugar together. Combine syrup and oil. Pour wet ingredients over dry ingredients, and toss until mixture is coated evenly. Spread mixture onto greased sheet pans. Toast in a 350-degree oven, turning frequently about every five minutes, until browned evenly. Remove from oven and cool, stirring frequently. Mix in raisins, golden raisins, dried cranberries, and M&M's. Store in an airtight container.
Sweet and Spicy Sriracha Trail Mix
Spicy trail mix? How could we not love this? This recipe comes courtesy of the team behind Fresh Off the Grid. You can make it gluten-free by adding gluten-free pretzels and using liquid aminos instead of soy sauce.
Ingredients
2 tablespoons sriracha
2 tablespoons honey
1 tablespoon neutral oil (canola or vegetable is fine)
1 teaspoon liquid aminos or soy sauce
1 cup corn Chex cereal
1 cup pretzels
½ cup cashews
½ cup peanuts
Pinch of salt
Preheat oven to 300 degrees. In a medium bowl, mix the sriracha, honey, oil, and liquid aminos or soy sauce. Whisk to combine. Add the Chex, pretzels, cashews, and peanuts to the bowl, and mix well to completely coat with the sriracha-honey sauce. Spread mix onto a parchment paper–lined baking sheet, and sprinkle with salt. Bake for about 18 minutes (check after 15 to make sure the mix isn't burning—ovens may vary), then remove from oven to cool. Once cool, portion into zip-top bags.
Cured's Sweet and Salty Gorp
Former Tour de France cyclist Will Frischkorn is always making interesting trail mixes from ingredients he stocks at Cured, the specialty grocery store in Boulder, Colorado, that he co-owns. This no-cooking-required option is very basic—just nuts and fruit—but the combination of flavors is different enough to make it interesting. If you don't want chocolate or other distractions in your mix, this recipe is for you.
Ingredients
10 grams salted Virginia peanuts
2.5 grams honey-roasted peanuts
5.5 grams dried apricots, diced into small chunks
5 grams golden raisins
5 grams salted Marcona almonds
Directions
Add everything together, mix, eat, repeat.
Lead Photo: Jeff Wasserman/Stocksy
Trending on Outside Online