Get Ready for Mushrooms to Take Over the World
Fungi farmers are banking on their crops going big as mushrooms appear in everything from superdrinks to pest controls to miracle cures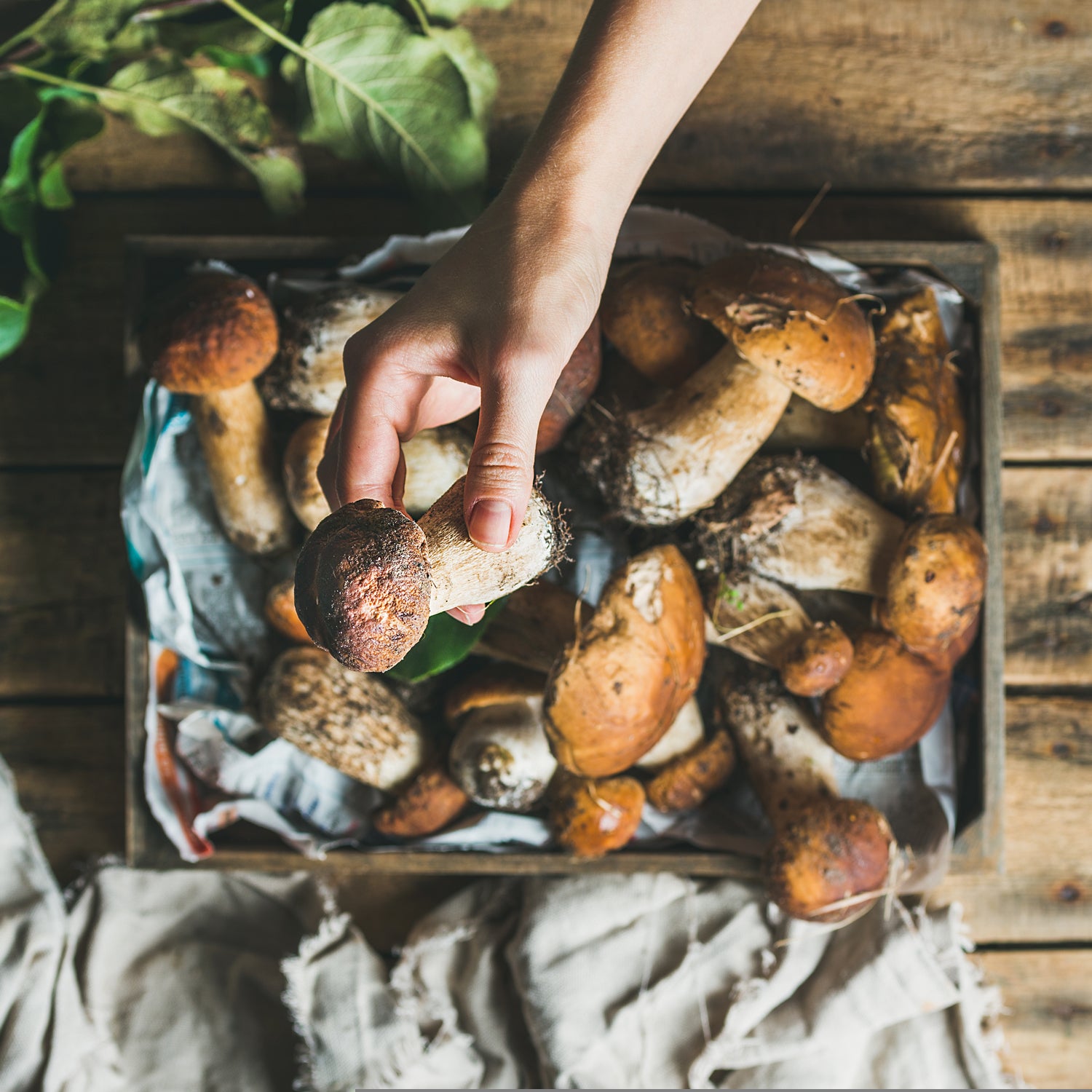 Heading out the door? Read this article on the new Outside+ app available now on iOS devices for members! Download the app.
Mushrooms are having a bit of a moment. In November, Whole Foods Market added "functional mushrooms" to its list of food trends for 2018, citing unique varieties that have proven health benefits among its hottest sellers. The grocer is getting that intel in part from Asia, where mushroom coffee—coffee blended with dried and powdered fungi—is the popular new "superdrink."
But the industry group Mushroom Council didn't need Whole Foods to tell it that interest in portobellos and shiitakes was on the rise. Sales have grown about 5 percent year over year, and would possibly be higher if it weren't for tight supplies, says Eric Davis, a spokesperson for the Mushroom Council. High-end mushrooms—like creminis and oysters—are having an especially good year. In data released in November, specialty mushroom sales had climbed more than 25 percent over the previous month.
The USDA's agricultural marketing service, an initiative that helps small farmers grow their businesses, is encouraging producers to get in on the specialty mushroom game. "Small-scale mushroom production represents an opportunity for farmers interested in an additional enterprise and is a specialty option for farmers without much land," according to the Agricultural Marketing Resource Center. Since mushrooms can grow on waste products like soiled straw or old logs, startup costs are low, and market prices are beginning to climb.
Davis thinks one thing driving industry growth is that chefs are becoming obsessed with fungi. The James Beard Foundation is even hosting the Blended Burger Project, where chefs create "burgers" using at least 25 percent chopped mushrooms as part of their patties. Over the past two summers, 500-plus restaurants have participated, says Davis.
The chef obsession is driven by taste, of course. But growers and industry insiders think the coming mushroom obsession is about more than just flavor. To them, the coming fungus revolution will also be about health.
"There are peer-reviewed studies [in mice] that show that mushrooms may help with tumor suppression, virus suppression, blood sugar regulation, and cholesterol lowering," says Tradd Cotter, a microbiologist turned mushroom farmer. Cotter, along with partner Olga Katic, owns Mushroom Mountain, a farm that grows mushrooms for food and research. He first became interested in mushrooms when someone offered him a job on a mushroom farm. While working that first gig, the more he learned about the crop, the more he became obsessed with the idea of a sustainable future made possible by fungi.
With a microbiology degree from Clemson, Cotter and Katic built their first mushroom-growing operation in a tiny apartment in Florida. Eventually, they got their own piece of land in South Carolina—a place they picked because it could grow both tropical and nontropical fungi. Now that he has his own space, he's hard at work using mushrooms in ways most of us could never dream of. One of those ways is ingesting mushrooms for their health benefits, though even that requires a bit of scientific know-how. You only get the great nutritional qualities from mushrooms if you cook them. "The cell walls have chitin in them, and your stomach can't break that down. It's like eating rocks—your system will work on it for a while, but it can't actually do anything with it," says Cotter. Heat, however, softens those cell walls. Steeping mushroom powder in a hot liquid (like coffee) increases your body's ability to utilize the bioactive compounds.
While Cotter is excited about the health benefits of his crop, it's just one area of focus for his rapidly growing farm. He also hopes he can use mushrooms to grow new types of antibiotics.
That's because fungi is incredibly adept at adapting to the environment. "They can shift their genetics and activate genes almost immediately," Cotter says. If exposed to a new pathogen, the mushroom sees the pathogen as a possible competitor and works to overcome it, often producing a natural antibiotic in the process. Cotter envisions a day when mushrooms are an "antibiotic vending machine," where he can introduce a person's specific virus to a fungus and have a tailored cure a day later.
That same adaptability could also be used to fight environmental calamities. In 2012, Cotter and Katic were photographing some wild specimens in the woods near their farm when a tiny, almost glass-like shard caught Cotter's eye—a mummified carpenter ant connected to a mushroom. Some fungi can develop the ability to kill the insects that try to prey on it. Cotter knew that carpenter ants are closely related to fire ants, an invasive pest in the South, so he brought a sample of the fungus back to the lab, cloned it, and started working on a variety that would target fire ants. A few years ago, he tested the new strain on his own land. "It vaccinated our land for four years. We didn't have a single fire ant for four years," he says.
Most of Cotters ideas will take time, of course. Fungal pest control must be vetted by the EPA, and antibiotics made by mushrooms will have to be rigorously tested in clinical trials. But if the future plays out the way Cotter sees it, mushrooms may play a larger role in our lives than most of us have ever imagined.
Lead Photo: Getty Images/iStockphoto