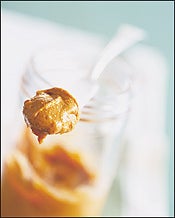 Heading out the door? Read this article on the new Outside+ app available now on iOS devices for members! Download the app.
Though we admire the ease of energy-replenishing snacks like Gu and PowerBars, man can't live on them alone. So we asked top athletes, from marathoners to pole-vaulters, to cough up their best recipes—after all, if the fuel in their tanks isn't effective, they're out of work. They offered a variety of well-balanced ideas which—according to Monique Ryan, (author of the 2002 book Sports Nutrition for Endurance Athletes), who evaluated the recipes—meet athletes' nutritional requirements: plenty of carbs, a good dose of protein, and some healthy fat. Not only will these recipes fuel your muscles for any run, ride, or climb you want to take on, they only require around 10 minutes of preparation time—a little more than what it takes to unwrap a PowerBar, we realize, but well worth the wait.
fitness, nutrition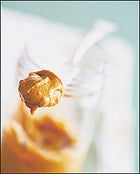 Best Breakfast

"'Oatmeal makes a hard day's work easier,' my grandpa always told me," says Michael Barry, a USPS cyclist married to Dede Demet-Barry, who rides for T-Mobile, "It's true; this power-packed, hearty dish of oats carries Dede and I up the mountains in Boulder even on the coldest spring day." The two, who compete on the US Pro Cycling Tour, add eggs to up the protein content. "You can also just use egg whites if you're concerned about fat, which is harder to digest before a race."


Grandpa Lapp's Porridge



2 cups oats
1/3 cup millet
6 cups water, soy milk or milk.
1/4 cup of raisins or currants.
4 eggs
Pinch of salt


Put all ingredients, except the eggs, in a pan and bring to a boil. Add eggs. Turn down the head to simmer. Stir with a wooden spoon vigorously for about 5 minutes, or until the oats have absorbed the liquid. If you like, add any of the following: honey, apples, bananas, pumpkin or sunflower seeds, maple syrup, or a splash of cold milk or soymilk.


Best Power Lunch

"I keep this in my fridge all week long and eat it before I run," says Jenny Adams, an Olympic-hopeful hurdler, who likes to add fresh herbs from her garden to the salad. To keep it light, Adams prefers to top whole wheat crackers with the salad; for people going out for at least an hour, Ryan recommends making a sandwich on multi-grain bread with it, and eating it two to three hours before a workout.


Chicken Salad



1 cup cooked, chopped chicken
1/2 cup of plain, non-fat yogurt
1 apple, diced
1 celery stick, diced
1/2 c of red grapes, cut in half
fresh chives
salt and pepper to taste
Add any other fresh herbs you like: parsley, cilantro, etc.


Mix ingredients together, chill and serve.


Best Training Dinner

While this Thai chicken recipe, a favorite of Olympic high jumper Amy Acuff, takes a little longer than ten minutes to prepare, it's time well spent: the well-balanced meal is prepared according to the healthy, healing tenets of traditional Chinese medicine. "The cool water chestnuts and bean sprouts neutralize the warming chili oil and balsamic vinegar," says Acuff, currently studying the discipline. If you're going to use this as a pre-race dinner, be sure the spices don't upset your stomach, warns Ryan.


Quick Thai Chicken



1 cup basmati rice
1/4 cup sesame oil
1/4 cup soy sauce
1 teaspoon chili oil
1/4 cup balsamic vinegar
3 chicken breasts, chopped into small pieces
2 tablespoons grated ginger
2 cloves chopped garlic
1 bunch cilantro, chopped
1 can water chestnuts
1 cup bean sprouts
1 cup smooth peanut butter


Boil the rice. In another pan, heat the oil, soy sauce, chile oil and vinegar, then add the chicken. Cook for five minutes, or until thoroughly cooked. Add the ginger, garlic, water chestnuts, and sprouts and cook until the water chestnuts and sprouts soften—about 2-3 minutes. Remove the pan from the heat and add the peanut butter and rice. Mix thoroughly, top with the chopped cilantro, and serve.
Best Mega-Power Drink

"This may seem like a massive gut bomb," says Paul Romero, an elite adventure racer who competes on Team Epinephrine, "But my teammates and I rate protein drinks on their ability to both fuel long workouts and stay down during them. This one is excellent on both counts." While Ryan applauds the creative carbs in marshmallows, she cautions this isn't for everybody. "It's a lot of protein," she says, "It's best for people who are going long distances at a low intensity."


Epi Goop



1 Extreme Chocolate METRX protein drink packet
2 tablespoons chunky peanut butter
15 small marshmallows (or 5 large ones)
1 egg
2 cups water
1 cup Silk
2 cups ice Put all ingredients in a blender and blend for 30 seconds.

Best Mid-Day Snack

"I like to cook, but rarely have the time to make anything extravagant," admits Darcy Piceu, an ultrarunner who placed fifth in the 2002 Leadville 100. She relies on staples like cereal, sliced banana and soy milk for breakfast, and swears by her low-maintenance burrito, which, because of high-protein peanut butter and high-carb tortilla, honey, and apple, works nicely as an at-work snack or pre-race fuel.


Simple Burrito



tortilla
2 tablespoons natural peanut butter
1/2 green apple, thinly sliced
Squirt of honey Spread the peanut butter on the tortilla, top with apple slices and drizzle with honey, then roll.


Best During-Workout Snack

Xterra athlete Jamie Whitmore takes an even simpler burrito on long mountain bike rides with her. "It's the only thing that isn't too messy to eat," she admits. If you're out longer than 75 minutes, you need to have a refueling strategy, says Ryan. If you're tired of using gels or sports drinks to get the 30-60 grams of carbs you need every hour, here's another option.


Simpler Burrito



Tortilla
1-2 tablespoons natural peanut butter
Sonic Strawberry Clif Shot or 1 tablespoon fruit spread Spread peanut butter, then Clif Shot or fruit spread on the tortilla. Roll and cut into easily-consumable, bite-size pieces.
Best Grab-on-your-way-to-the-shower Treat

"We eat these all the time!," exclaims Karen Lundgren, an adventure racer on Team Epinephrine, "For breakfast, pre-workout, post-workout, before bed. Anytime, really, until they run out, and then we make more." The high carbs help your muscles replace the glycogen they've burned during a workout, says Ryan. Think of this sweet snack as a vital part of the recovery process.


Peanut Butter Cookies



1 cup butter, softened
1 cup white sugar
1 cup packed brown sugar
2 eggs
1 egg yolk
2 teaspoons vanilla extract
18 ounces peanut butter
2 cups all-purpose flour
1 teaspoon baking soda
1/2 teaspoon salt
1 cup chopped peanuts


In a large bowl, cream butter, and white and brown sugars until smooth. Add eggs, yolk and vanilla; mix until fluffy. Stir in peanut butter. Sift together the flour, baking soda, and salt, and stir into peanut butter mixture. Stir in peanuts. Refrigerate the dough for at least 2 hours. Preheat oven to 350. Lightly grease cookie sheet. Roll dough into walnut-sized balls. Place on cookie sheet and slightly flatten with fork. Bake for 12-15 minutes; when done, cookies should look dry on top.


Best Recovery Meal

"Black beans are high in protein and carbs, which makes them a great choice for refueling after a tough effort," says Deena Kastor, who holds the marathon record for American women, "With just one bowl, you restore glycogen and repair damaged muscle tissue." In addition, she adds, black beans are an excellent source of iron and magnesium, both of which assist in oxygen delivery to your muscles.


Black Bean Soup



1Tbsp. olive oil
1 yellow onion, diced
4 cans of black beans, rinsed and drained
1/2 tsp each cumin, oregano
1tsp red wine vinegar
1 bottle of favorite beer
water or chicken broth to desired consistency
cayenne pepper, salt & pepper to taste


In a pot, saute onions in olive oil until browned. Add all other ingredients and let them come to a rapid boil. ("I usually jump in the shower then," Deena says.) Pour all the contents into a blender, and purée. Top with freshly chopped cilantro, tomatoes, and/or avocado. Eat with tortillas.


Best Smoothie

Jamie Whitmore, who finished second at the 2002 and 2003 Xterra World Championships, often swigs down a smoothie after a long training ride or run. The banana and orange juice provides a good dose of potassium, which you lose copiously during long exercise sessions and may contribute to muscle cramps. "It also helps to rehydrate," adds Ryan.


Orange Protein Shake



1/2 cup orange juice
1/2 cup vanilla soy milk
1 1/2 frozen or fresh banana
1-2 scoops orange sorbet
1 scoop protein powder
1 handful of mixed berries
ice


Put all ingredients in a blender; blend and serve.