2 Vegan Sushi Recipes So Good, You Won't Miss Fish
There is nothing fishy about it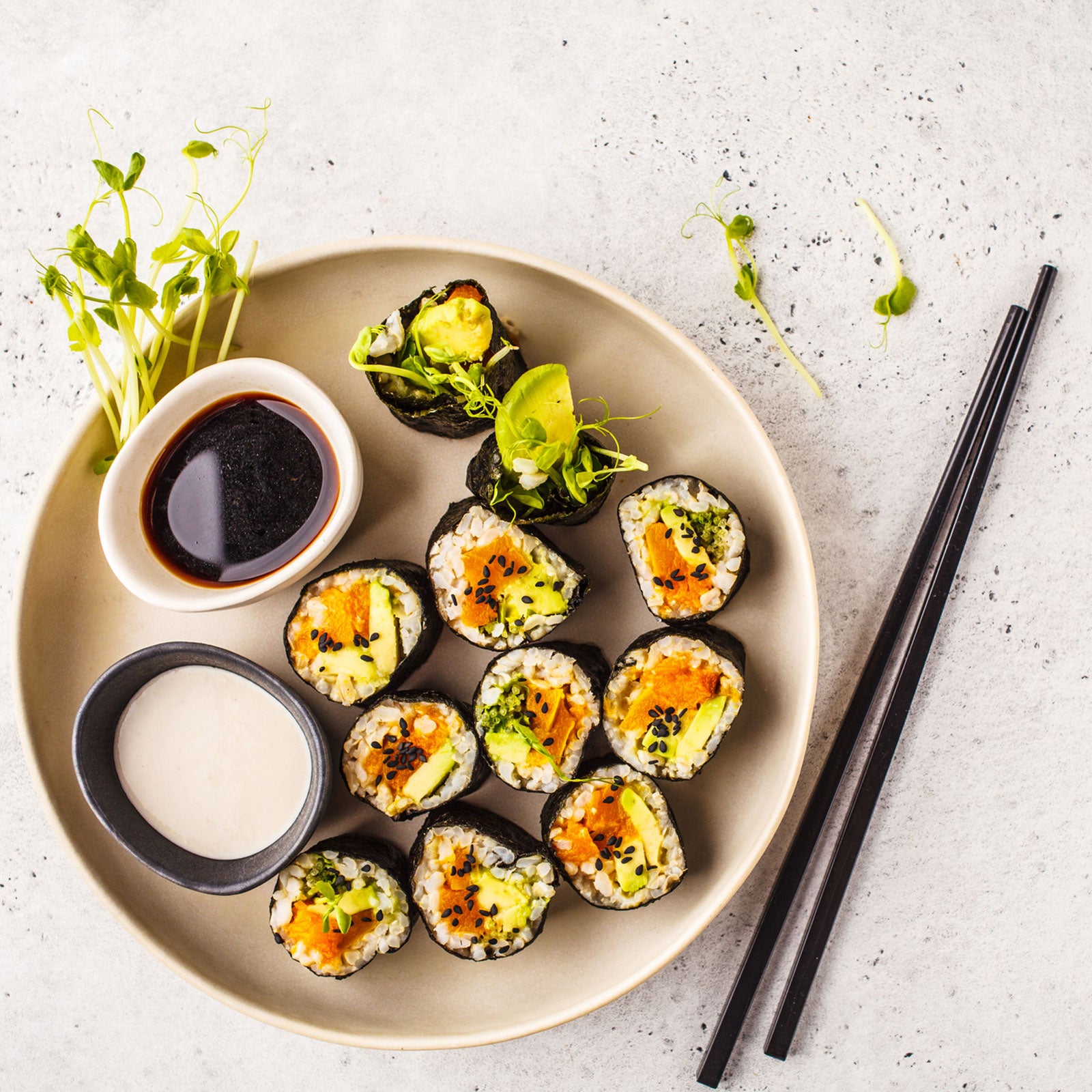 vaaseenaa/iStock(Photo)
Heading out the door? Read this article on the new Outside+ app available now on iOS devices for members! Download the app.
We know that the fish is usually the point when it comes to traditional nigiri, sashimi, and maki. But here's a counterpoint: if we keep consuming spicy tuna rolls without regard for our dwindling supplies, someday there may not actually be other fish in the sea.
The Food and Agricultural Organization of the United Nation's 2018 State of the World Fisheries and Aquaculture report leads with this jarring quote: "Since 1961 the annual global growth in fish consumption has been twice as high as population growth." As of 2018, 33 percent of our fish populations were at "biologically unsustainable levels"—meaning they were critically overfished. We are basically at risk of eating our oceans bare.
Ryan Bigelow, Seafood Watch senior program manager at the Monterey Bay Aquarium, says tracking sustainability can be difficult because sushi restaurants carry so many species of fish, and many of the most popular ones, like bluefin and eel, have significant environmental issues. Shifting the focus to sustainability is a slow process. 
Add the fact that your fish was likely flown in on ice and you've got a hefty carbon footprint, too.
Plant-based sushi eliminates these woes, especially when made with local ingredients. And there's more to vegetarian rolls than the singular obligatory cucumber offering. In fact, Planta, a restaurant in Miami's South Beach, serves an entire menu of vegan sushi. Think mushroom and celeriac nigiri and spicy rolls made with dehydrated watermelon in place of tuna.
Of course, it's a bit more work to make vegan rolls than your more traditional options. "You can buy the right piece of tuna and do nothing to it and put it on sushi rice and away you go. Plant-based sushi is more difficult, but it's also definitely more sustainable," says David Lee, Planta's executive chef. He's found success in dehydrating vegetables, which creates a texture similar to that of raw fish and concentrates its flavor.
Making sushi at home can be intimidating, but vegan sushi is easy, just as tasty, and may change your mind. Here are a few pointers to remember as you get started. 
First: good rice. You can't hide bad rice in plant-based sushi, Lee says. (Here's a good primer on how to make proper sushi rice.) If you're not confident about your rolling abilities, don't stress. Both of these can be made chirashi style. Chirashi just means "scattered," says Shaun Motoda, the sushi chef at Denver's Sushi-Rama. Instead of rolling everything up, you'll just make a rice bowl with all the goodies piled on top. But if you want to roll yourself a fat one, well, we won't stand in your way. Next: think about texture. Try to build something with a bit of crunch and a bit of chew. Finally: add punches of flavor. Lee does that with zingy shaved ginger slices and a citrus-infused soy sauce.
Not sure where to start? Here are two recipes for delicious vegan sushi.  
Vegan Spider Roll
This recipe is courtesy of Hope Bailey, the executive chef at Los Angeles–based catering company Pink Salt Cuisine.
For the Roll
4 sheets of nori
3 cups prepared sushi rice
6 ounces enoki or shimeji mushrooms, trimmed
8 blanched asparagus spears
1 avocado, sliced
2 Persian cucumbers, peeled, seeded, and cut into quarters lengthwise
1 package of kaiware daikon radish sprouts, trimmed (If you can't find daikon sprouts, another type of sprout will work.)
1/4 cup toasted sesame seeds
Vegetable oil for deep-frying
Vegan tempura batter (recipe below)
Vegan spicy mayo (recipe below)
Vegan eel sauce (recipe below)
Vegan Tempura Batter
1/2 cup all-purpose flour
1/2 cup cornstarch
1 cup club soda, chilled
Pinch of salt
Combine all ingredients in a bowl and whisk together.
Vegan Spicy Mayo
1/2 cup vegan mayo
2 tablespoons sriracha
1 teaspoon soy sauce
1 teaspoon sesame oil
Combine all ingredients in a bowl and whisk together.
Vegan Eel Sauce
1/2 cup soy sauce
1/3 cup mirin
1/4 cup sake
1/4 cup raw sugar
Combine all ingredients in a small saucepan. Simmer on medium heat until thickened.
Method
Preheat oil to 350 degrees Fahrenheit. Coat the mushrooms in tempura batter and fry until golden brown and crispy. Drain on paper towel.
Lay one sheet of nori on a sushi mat, shiny side down. Spread one quarter of the rice on the bottom three quarters of the nori. Lay one quarter of the mushrooms, two asparagus spears, two slices avocado, one cucumber strip, one quarter of the radish sprouts, and one tablespoon of sesame seeds across the bottom of the sheet. Dampen the top of the sheet with water and roll up the sushi with the mat. Slice into eight pieces with a sharp knife. Repeat with the remaining ingredients. Drizzle with spicy mayo and eel sauce. Serves two.
Pumpkin Dragon Roll
This recipe is courtesy of Chef Motoda. Note: The tsukodani sauce takes 24 hours to fully develop its flavor—and quite a bit more time to get it to the right texture, so start that a day ahead.
For the Roll
1 kabocha squash
1 cucumber
2 cups sushi rice
A pinch of toasted white sesame seeds
1/4 of an avocado
Tsukodani sauce (recipe below)
Honey tamari (recipe below)
Tsukodani Sauce
1 package kombu (dried sea kelp)
1 cup low-sodium soy sauce
1/2 cup mirin
1 cup sugar
1/4 cup sesame oil
1 ounce toasted white sesame seeds
Boil the kombu in water for ten minutes. Turn the heat off and let it steep for ten more minutes. Drain the kombu and julienne it into strips about the width of a linguini noodle.
In a bowl, combine all the other ingredients and whisk until the sugar dissolves. Add the julienned kombu and let marinate for 24 hours.
The next day, preheat your oven to 300 degrees Fahrenheit. Add the kombu, along with liquid, into a baking dish. Cover with plastic wrap, then with foil. Bake the mixture for about 90 minutes or until tender. It should be just slightly chewier than al dente pasta. Strain the kombu and move the reserved liquid to a small saucepan. Simmer until the liquid is reduced to the point that it coats the back of a spoon. Add the kombu back to reduced liquid, then store it in an air-tight container and refrigerate.
Honey Tamari
1 cup tamari
1 1/4 cups honey
Combine both ingredients in a bowl and whisk until incorporated. You'll have way more than you need for this recipe; store the leftovers in the fridge in an air-tight container.
Method
Now you're ready to make the roll. Start by peeling and seeding the kabocha squash. Cut it into 1/8-inch strips—they should look like little crescent moons. Next, peel and seed the cucumber and cut it into 1/4-inch matchsticks that are 3 3/4 inches long. Finally, slice the avocado into really thin slices.
Batter and fry the kabocha squash, using the tempura batter from the previous recipe or the directions on prepackaged tempura batter.
Cook the sushi rice according to package directions.
Assemble the roll by pressing about two cups of sushi rice into a thin layer on a piece of nori. Then sprinkle with sesame seeds and cover with avocado slices. Place a sushi mat lined with plastic wrap on top of the avocado, then flip the whole thing so the mat is on the bottom and the other side of the nori is facing up.
Now fill the roll with two pieces of cucumber, two ounces of tempura kabocha (a couple strips), and about 1/4 ounce of tsukodani sauce. Roll up, then drizzle honey tamari sauce over the top.
Lead Photo: vaaseenaa/iStock
Trending on Outside Online