Our Favorite Women-Made Whiskeys
The spirits business has never had more women entrepreneurs. That's a good thing for whiskey lovers.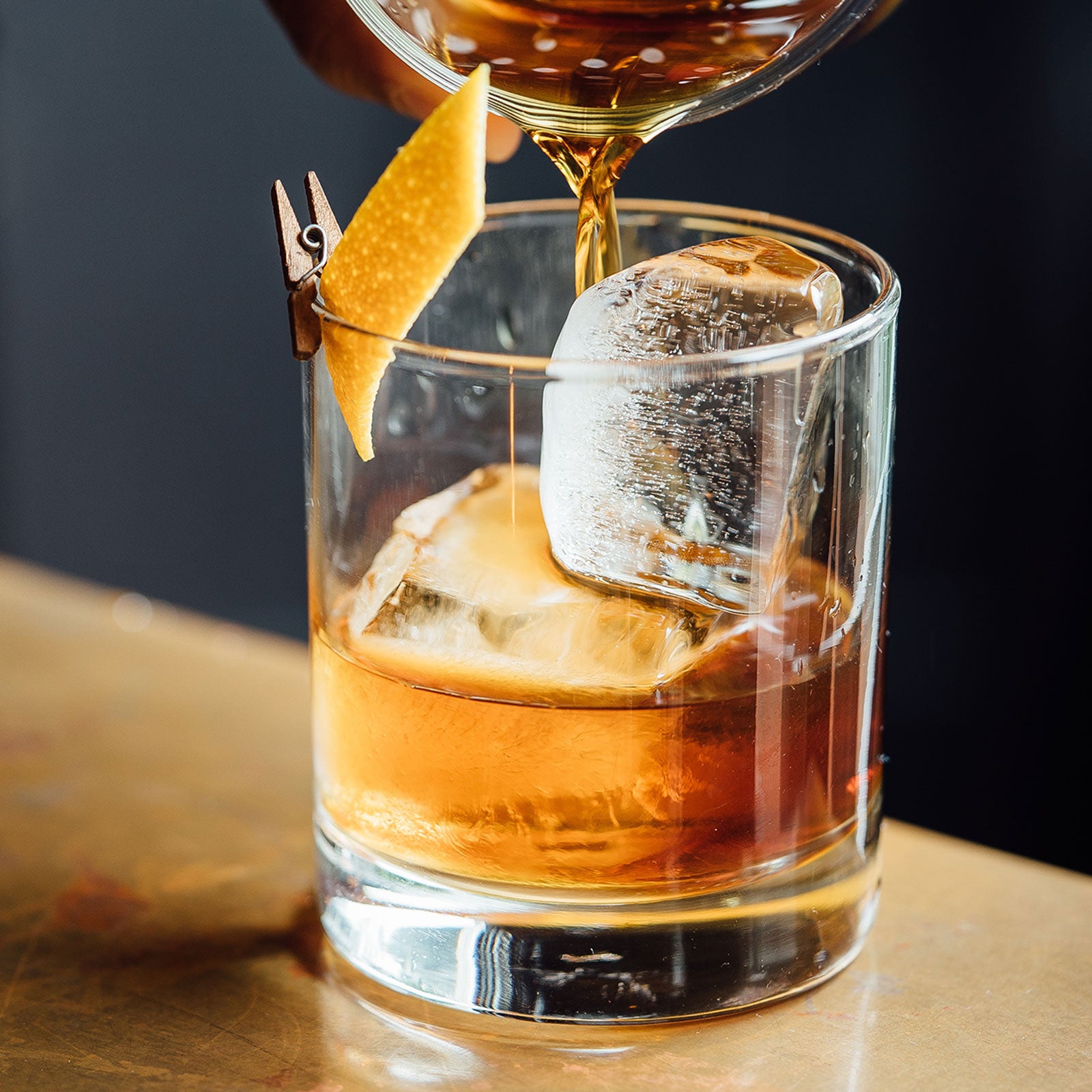 Heading out the door? Read this article on the new Outside+ app available now on iOS devices for members! Download the app.
When Allison Parc launched her French-whiskey company, Brenne, in 2012, she says she was regularly mistaken as a promotional model, not the founder of the business. "Some people would ask me if I really liked drinking whiskey, even after listening to the steps it took for me to create the whiskey in their glass," she recalls.
It's not always easy to be a woman in the whiskey business. "Fewer than 1 percent of distilleries are owned by women," says Karen Locke, who owns High Proof, an agency that helps distilleries with marketing and branding. Before starting her agency, she spent 11 years as a spirits writer, and she says she is seeing more and more women make their way into leadership roles. That's a good thing, because women are damn good whiskey makers.
"Women are beginning to make their mark in all aspects," says Rhonda Kallman, founder of Boston Harbor Distillery. Kallman started her career in the spirits industry as cofounder of the Boston Beer Company, which makes Sam Adams. Recently, she was a panelist during the fifth annual Woman of the Vine and Spirits Global Symposium, in Napa, California. "There were 700 women in the industry that attended," Kallman says. "To me that was a remarkable sight, as it shows that things are starting to change."
These women-made whiskies are innovative and delicious.
Brenne French Single Malt
What, you've never heard of French whiskey? We hadn't either until Brenne entered our lives. "So, funny thing—France has been the largest consumer of Scotch per capita, but when Brenne launched in 2012, there were very few people distilling French whiskey," even in France, says Parc. After a career as a dancer with the Joffrey Ballet, Parc decided to enter the spirits business and became obsessed with French whiskey, which, like most French foods, centers on terroir. Aged in France in cognac casks, this single malt has fruity notes and undertones of that top brittle on a crème brûlée. We especially love that when Parc was first starting out, she couldn't secure a distributor in New York City, so she distributed it herself—by bike. The company will release fewer than 300 cases of Brenne 10, which has aged ten years, this year. $59.99; available here 
Catskill Provisions New York Honey Rye
Using honey produced on her 32-acre farm in Long Eddy, New York, Catskill Provisions' CEO and founder, Claire Marin, has been blending rye whiskey on-site for three years and is now taking the plunge and beginning her own distilling operation. "I just finished building a distillery, and I made my first mash bill last week," Marin says, referring to the mix of grains that are fermented into booze. She'll also make a batch with rye wheat grown on the farm this spring. Between running a farm, a small specialty-foods company, tending 300 honeybee hives over three different counties, and now distilling whiskey, Marin has her hands full. But she's managed to blend a perfect, slightly sweet rye. (She sells about 1,000 bottles a month.) She drinks hers with a dash of amaro and a twist of orange at the end of a long day. $43.59; available here
Skrewball Peanut Butter
Peanut-butter whiskey? Hear us out. The best things about whiskey are its toasty, fruity notes. Both toast and fruit go perfectly with peanut butter. So Skrewball's Peanut Butter Whiskey is not that weird when you stop to think about it. Skrewball was founded by husband and wife duo Brittany Merrill Yeng and Steven Yeng. Brittany put her biochemistry degree to work figuring out how to get peanut butter to meld with alcohol. The result is a shot that's peanutty but definitely not sticky or chunky. "Peanut butter was one of the first foods my husband had in America after arriving as a refugee from Cambodia," she says (she left her job at a high-powered law firm to start Skrewball). "To him, peanut butter is the taste of America." Steven had a lot of experience bartending, so he tends to do customer-facing duties. Really, even if you're a skeptic, this bottle is worth a try. It's definitely more whiskey than nut butter. The peanut taste is subtle. But don't just trust us: the New York World Wine and Spirits Competition just gave Skrewball a gold medal in the flavored-whiskey category. $21.99; available throughout Southern California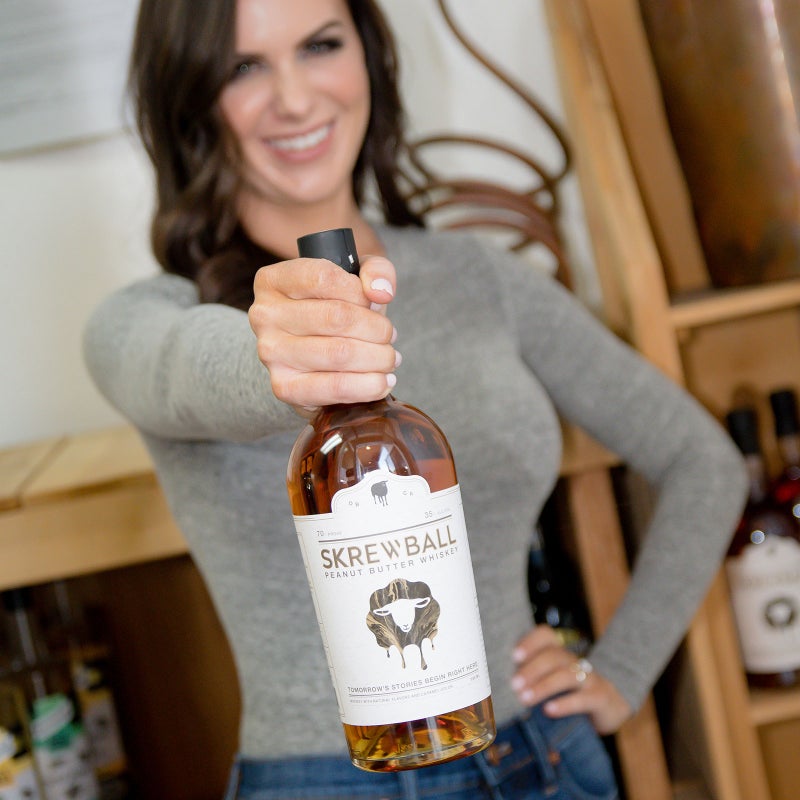 Old Dominick Distillery Huling Station
The first craft distillery of Memphis, Tennessee, which plans to produce 132,000 bottles of booze this year, isn't owned by a woman. But it hired a woman as the company's master distiller, and in doing so, Alex Castle, 32, became the state's first female distiller. She's a graduate of the University of Kentucky, where she studied chemical engineering. "I definitely get a lot of surprised looks when people find out what I do for a living, and I think it's a combination of being a woman and also being young," she says. Castle has been shepherding the first three of the company's whiskeys through the distilling and aging process, and it's going to be a few more years until they're ready for sale, she says. In the meantime, she's earning loyal fans with the brand's Huling Station, a four-year-old bourbon that was distilled before Old Dominick even had its own equipment. It has plenty of spice, a few dark fruit notes, plus caramel and vanilla on the nose. $32; available here 
Republic Restoratives Rodham Rye 
Yup, it's named after that Rodham. "We wanted to create a brand to commemorate what we thought would be a historic inauguration," says Pia Carusone, founder of the Washington, D.C.–based Republic Restoratives. "It turned out to be historic but for different reasons than we thought." After the election, it put the whiskey on hold for a few weeks but then came back to it. "We realized there might be an even more important reason to create a whiskey inspired by women," Carusone says. Rodham has a lower mash bill than most ryes, so it isn't quite as piquant. If you don't think you like rye whiskey, this is the one to try. Carusone loves it in a Sazerac, but it's also lovely sipped neat. $79; available here
Boston Harbor Putnam New England Single Malt 
Rhonda Kallman is finally working on her first true love: whiskey. "I love everything about alcoholic beverages—ingredients, complexity of flavors, the conviviality associated with it, and how it makes you feel," she says, adding that spirits in particular are fun because they get better with age, and that adds a whole new level of interest to the equation. Even though Kallman was one of the pioneers of craft brew and knows firsthand how hard it is to nab shelf space when big brands dominate the landscape, she says that being small in the spirits business has been surprisingly hard. Still, Kallman is forging ahead with a single malt aged in new American oak barrels and bottled at 100 proof. Her favorite thing about her job is tasting each day as the whiskey progresses. And, yes, she drinks her whiskey neat. $74.99; the company can ship through Bottles Fine Wine, in Rhode Island
Oliverlane 
Co-owner Ashley Pham started working on this cucumber-and-mint-infused whiskey in her Manhattan apartment. "The first batch was a passion project," she says. "Our hunch was that blending fresh ingredients in whiskey could make it smoother and mellow out the typical fiery finish." It turned out to be more complicated than she thought. The first few iterations were a hot mess. Finally, she hired a master blender to help. "He instantly understood the vision and agreed to work on the recipe," Pham says. For a year, she tested the blender's concoctions. None of them were what she wanted, and she was about to give up when the perfect sample arrived. The final product was Oliverlane. Pham, who has a master's in computer engineering, still holds a day job at a tech firm. But as Oliverlane grows, that may change. Pham says it plans to produce thousands of bottles this year. OK, cucumber-and-mint-infused whiskey sounds like spa water spiked with alcohol, right? It's not. The cucumber and mint are subtle. It mostly tastes like whiskey but doesn't burn with the same ferocity. If you like your whiskey neat, you'll be happy with Oliverlane neat. If you go for cocktails, try it topped with a hit of club soda. $44.99; available here 
Kikori 
Rice whiskeys are having a moment, and this one should absolutely be on your list. More delicate than wheat- or corn-based spirits, it's the kind of drink you could sip every day and never grow tired of. Company founder Ann Soh Woods, who came to the industry from a business and marketing past, is overseeing the distilling, aging, and bottling process in Japan before the spirit makes its way to the U.S. "I created Kikori as an outlet for two seemingly unrelated passions: a love of Japanese culture and traditions, and a fondness for great cocktails," she says. She's perfectly managed to do both. Kikori is great straight from a glass, but it also blends effortlessly into a blood orange sour or Kikori mule. $49.99; available here 
Kikori Blood Orange Sour
1.5 ounces Kikori Whiskey
1 ounce fresh blood orange juice
0.5 ounce honey syrup (equal parts water and honey, stir until dissolved)
0.5 ounce fresh lemon juice
1 egg white
Dash of Angostura bitters
Add all ingredients to a shaker and dry-shake. Then add ice, shake again, and double-strain into a glass. Garnish with a blood orange wheel.
Backwards Distilling Company American
This distillery, based in Casper, Wyoming, is run by siblings Amber and Chad Pollock. Amber, who entered the spirits industry after working as a school music teacher, handles the business side of the operations (she still teaches private violin lessons in her free time), while Chad does the distilling. Their parents help out, too. Besides bringing their gin, vodka, rum, and now whiskey—which they plan to produce 3,000 bottles of this year—to market, Amber has also been working hard to help elevate Casper's cocktail culture. Tia Troy, who works on behalf of Visit Casper, describes her as "a force." When she's not writing cocktail recipes for her own tasting room, she's helping other bars with their menus and Casper to become a craft-cocktail destination. Last summer she was appointed by Wyoming's governor to an economic diversity council, and while she's still relatively new to the industry, she's already made her way onto the board of the American Craft Spirits Association. Amber drinks her Backwards American Whiskey neat, in a Manhattan, or in her newest creation: a Granny Smith whiskey sour. $45; available at liquor stores throughout Wyoming
Granny Smith Whiskey Sour
2 ounces Backwards American Whiskey
0.5 ounce fresh lemon juice
0.75 ounce simple syrup
0.75 ounce Granny Smith apple juice
1 egg white
Shake all ingredients together with ice, strain back into shaker and shake vigorously again without ice, pour into a rocks glass, and spritz with a lemon peel for garnish.
Lead Photo: Adam Jaime/Unsplash