Yellowstone Goes Gourmet
National park concessions are moving toward more sustainable foods, and that means tastier, greener meals for you.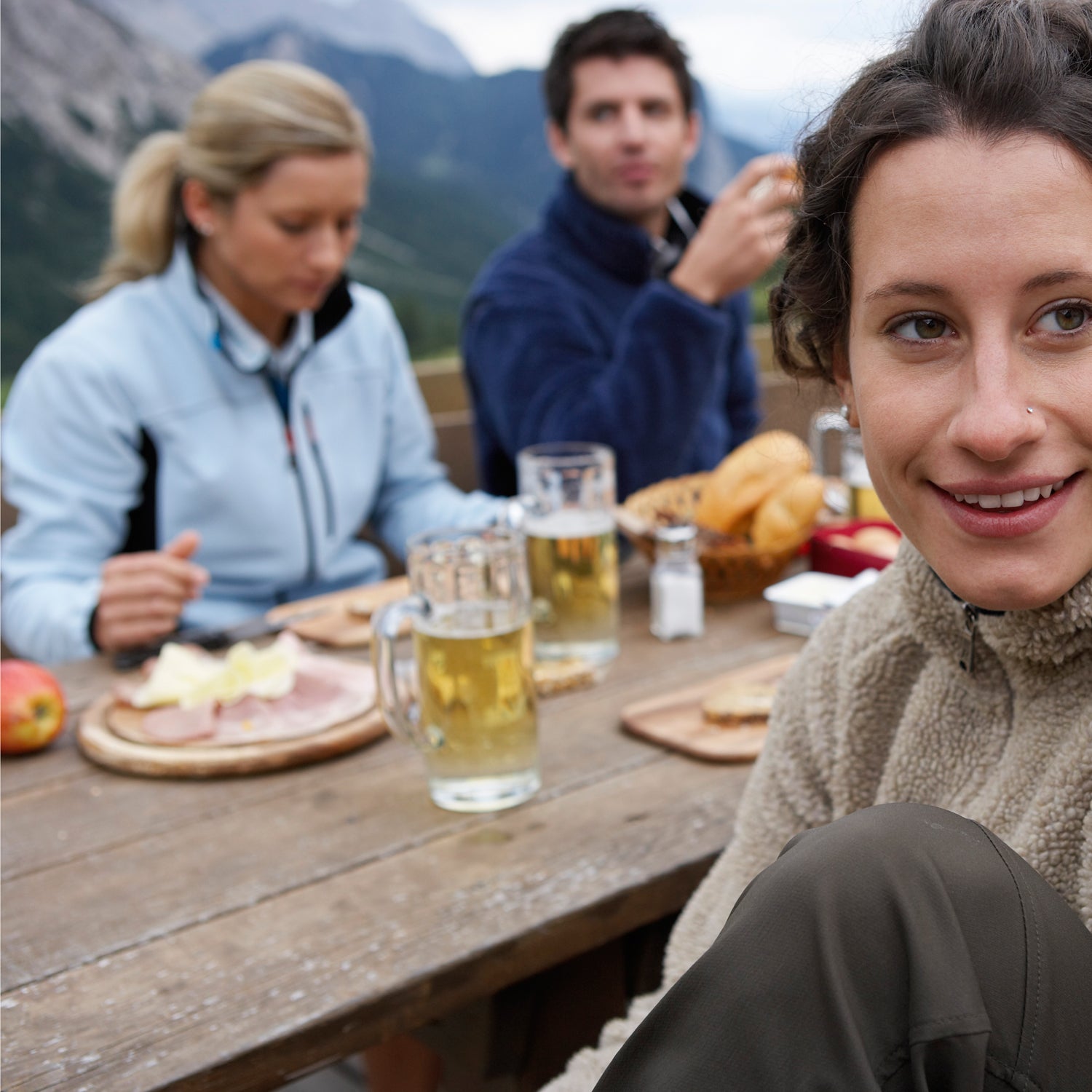 Heading out the door? Read this article on the new Outside+ app available now on iOS devices for members! Download the app.
There used to be three things you could always count on at Yellowstone National Park:
• Old Faithful.
• Seeing tourists trying (unsuccessfully) to pet a bison.
• Mediocre, pre-fab park food.
But that third point may be changing soon. Xanterra, the company that provides concession services for Yellowstone and several other "crown jewel" parks, has committed to sourcing 50 percent of its food from either local or sustainable vendors by the year 2016.
"We've come a really long way in just the past five years," says Lu Harlow, Yellowstone's food and beverage manager. Last year, 34.1 percent of the park's food purchases were sustainable or local. That's a big improvement over a decade ago when almost everything in the park came from a Sysco truck.
Take dairy: In 2003, Yellowstone purchased just $225 worth of local goat cheese. Last year it bought $29,000 of the creamy goodness.
"Local food is the right thing to do for our park and for our neighbors," says Harlow. "Wildlife in the park depends on the land around Yellowstone for their winter range, and supporting local ranchers preserves these lands from overgrazing and development." 
But she worries about filling in the last 15.9 percent before 2016—the date stipulated in Xanterra's contract with the National Park Service. Offering locally sourced items is a constant balancing act for Harlow.
On one side she has the Park Service's mandate that Xanterra's prices be inline with those of other area restaurants. Squeezing her from the other side are Xanterra's corporate profit goals. If she buys racks of local lamb that cost significantly more than their factory-farmed counterparts, she can only push up the menu prices so far before the Park Service starts yelping. 
And if she doesn't raise menu prices, it won't be long before one of her bosses notices that Xanterra is eating the cost. So she has to choose her local and sustainable products carefully.
"There are things I have to constantly weigh—like availability and cost," says Harlow. "I do still have to use some commodity beef every now and then and I hate it. And there have been battles over cost."
While Xanterra's green initiatives are commendable, the company is, at its core, a profit-driven entity. George Helfrich, Yellowstone National Park's chief of concessions, says that last year, Xanterra's gross receipts for both beverage and lodging sales totaled $94.5 million—that's big business. And Xanterra is owned by Philip Anschutz, a multi-billionaire oil man. 
No matter the reasons behind the switch, the local-first policies have helped buoy small farms in the area—and they've improved the quality of the food in the park. Sue Brown, who owns Montana-based Amaltheia Organic Dairy with her family and supplies the park with chèvre, whole-milk ricotta, and feta, says Xanterra's support has made her small operation thrive.
"They've been faithful to us for many years—they really treat us wonderfully," she says, adding, "I know it's a big corporation and maybe it's a marketing strategy, but they really support us."
Going local in Montana and Wyoming isn't without its challenges. In the winter, it's hard to get much of anything from nearby farmers. And there are certain products American tourists want (say, bananas) that are never going to be sourced in the mountains.
But whether Harlow and her team hit their 2016 goal or not, there's already been one unintended consequence from the park's shift. Many of the ranchers Harlow calls "conventional" ranchers (the ones who refer to organic certifications as "hippy-dippy, bunny hugger nonsense") are getting involved. "Word has gotten out that if you get [organic] certified, we'll support you," Harlow says. "There's been a real ripple effect of people getting certified."
And that's good news for small family ranches, the greater Yellowstone ecosystem, and any outdoor gourmands who plan to visit the park system. So while the national parks may have been America's best idea, going local may just be Xanterra's.