3 Healthy Recipes for the Time-Crunched Athlete
To stay properly fueled match your carb intake to your activity level, focus on quality, and consider what time of day you eat certain meals.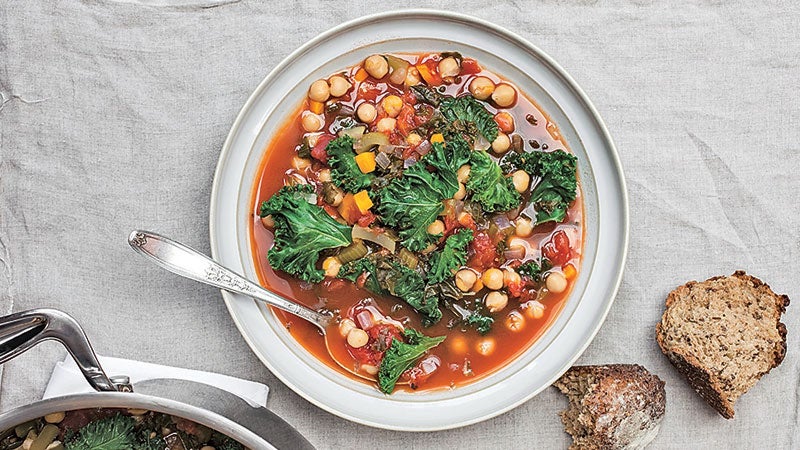 Peter Bagi
Heading out the door? Read this article on the new Outside+ app available now on iOS devices for members! Download the app.
Smart nutrition isn't about eating restrictively. It's knowing how to fit high-quality meals into a hectic lifestyle—by shopping for the right ingredients, having go-to recipes, and making sure you eat right when your body needs a boost.
Unlike protein and fat, carbohydrates are used by the body almost exclusively to supply energy for activity. The more active you are, the more carbs your diet should include. If you do just a few short workouts per week, aim for 1.8 grams per pound of body weight per day, or about 325 grams for a 180-pound man. (A cup of oatmeal is 28 grams.) If you train like an elite athlete, you may need as much as 4.5 grams per pound. If you're racing, aim for 4.5 grams starting a day or two before an event lasting longer than 90 minutes, which will help boost your glycogen stores—sugar stored in your muscles and liver that serves as your body's primary fuel source.
The nutritional needs of athletes vary over the course of a day. In the morning your body requires more carbs, to replenish liver glycogen stores depleted as the body fuels itself during sleep, and to provide high-octane fuel for the day's workouts. In the evening the body switches into repair mode, so dinner should be higher in protein, the raw material for recovery. Eat a meal—or at least a snack—containing both carbs and protein within an hour of completing your workout. Research shows that doing so will help you not only perform better in the next workout, but also build more muscle, shed more fat, and improve your aerobic fitness faster.
Try these recipes:
Pumpkin and Maple-Nut Oatmeal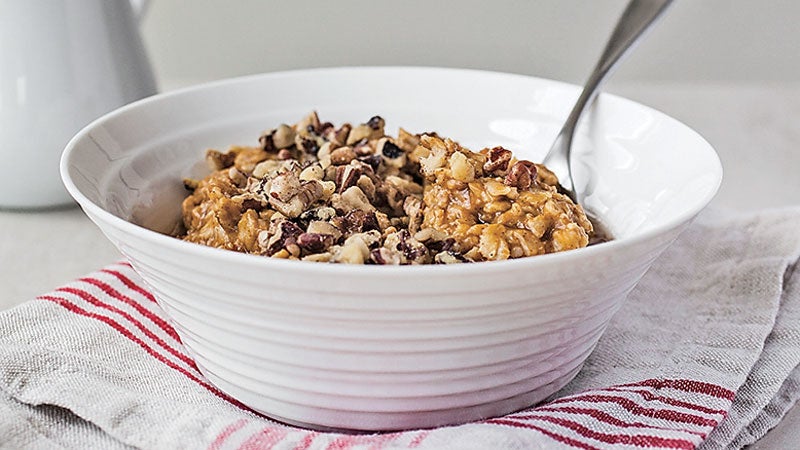 Ingredients:
3/4 cup canned pumpkin
1.2 teaspoon salt
1 1/2 cups rolled oats (also called old-fashioned oats)
1 tablespoon pumpkin-pie spice
2 tablespoons pecans, chopped
2 tablespoons maple syrup 
Directions:
Combine pumpkin and salt with three cups of water in a small saucepan and bring to a boil.
Add oats and pumpkin-pie spice. When mixture starts to bubble, reduce heat to low. Stir occasionally until oats are cooked and thickened, about eight minutes.
Top with pecans and maple syrup. 
Nutrition per serving:
362 calories
9 grams fat
63 grams carbohydrates
11 grams dietary fiber
10 grams protein
Garden Minestrone Soup with Kale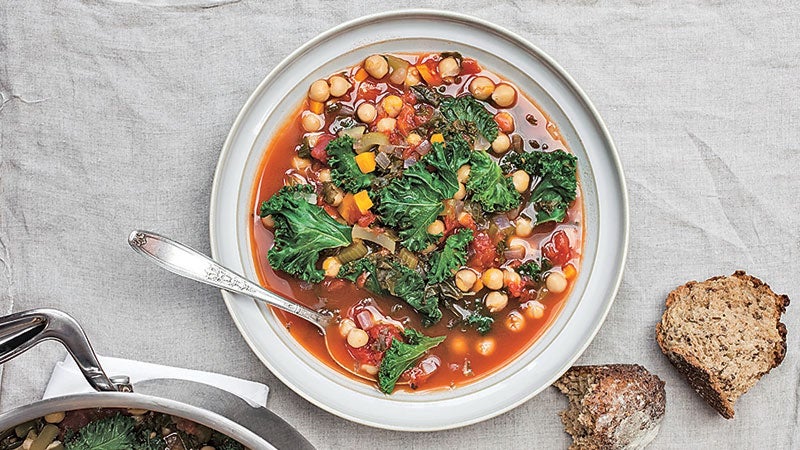 Ingredients:
14 1/2 ounces canned diced tomatoes with juice
15 ounces canned garbanzo beans, rinsed and drained
4 cups low-sodium vegetable broth 
1 large carrot, chopped
3 celery ribs, chopped
1/2 sweet onion, chopped
3 garlic cloves, crushed
2 cups baby kale, loosely packed
Salt and black pepper to taste
1 handful fresh shredded basil (optional)
Directions:
Combine all ingredients except the kale, salt, and pepper in a large soup pot and bring to a boil. Reduce heat and simmer, covered, for 40 minutes.
Add kale and cook for ten more minutes. Season with salt, pepper, and basil.
Nutrition per serving:

282 calories
5 grams fat
55 grams carbohydrates
17 grams dietary fiber
16 grams protein 
One-Pot Chicken, Quinoa, and Veggies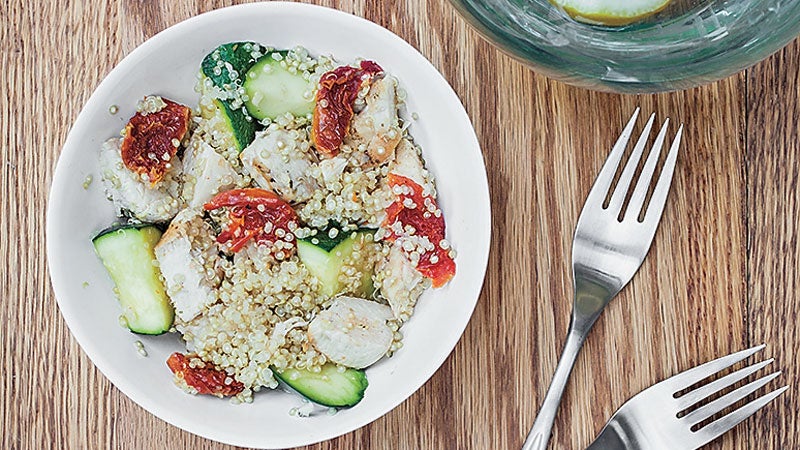 Ingredients:
1 cup quinoa, rinsed
2 teaspoons organic chicken bouillon
2 garlic cloves, crushed
2 1/2 cups cooked chicken breast, chopped
2 zucchinis, chopped
1/2 cup sun-dried -tomatoes, chopped
1/2 teaspoon dried basil
Directions:
Add quinoa, bouillon, and garlic to 2.5 cups of water and bring to a boil. Cover, reduce heat to low, and set timer for 20 minutes.
After ten minutes, stir in chicken, zucchini, tomatoes, and basil and cover again.
With two minutes left, remove lid and stir. Leave uncovered and let remaining water evaporate.
Nutrition per serving:

351 calorie
7 grams fat
39 grams carbohydrates
5 grams dietary fiber
35 grams protein
Focus on Quality
What you eat falls into ten basic categories according to quality. Try to eat from the first five categories most often, with occasional dips into the second five. In descending order, they are:
Refined grains like white-flour pasta
Fatty meats like bacon
Trending on Outside Online