The Best Protein Powders
Your simple guide to using the supplement the right way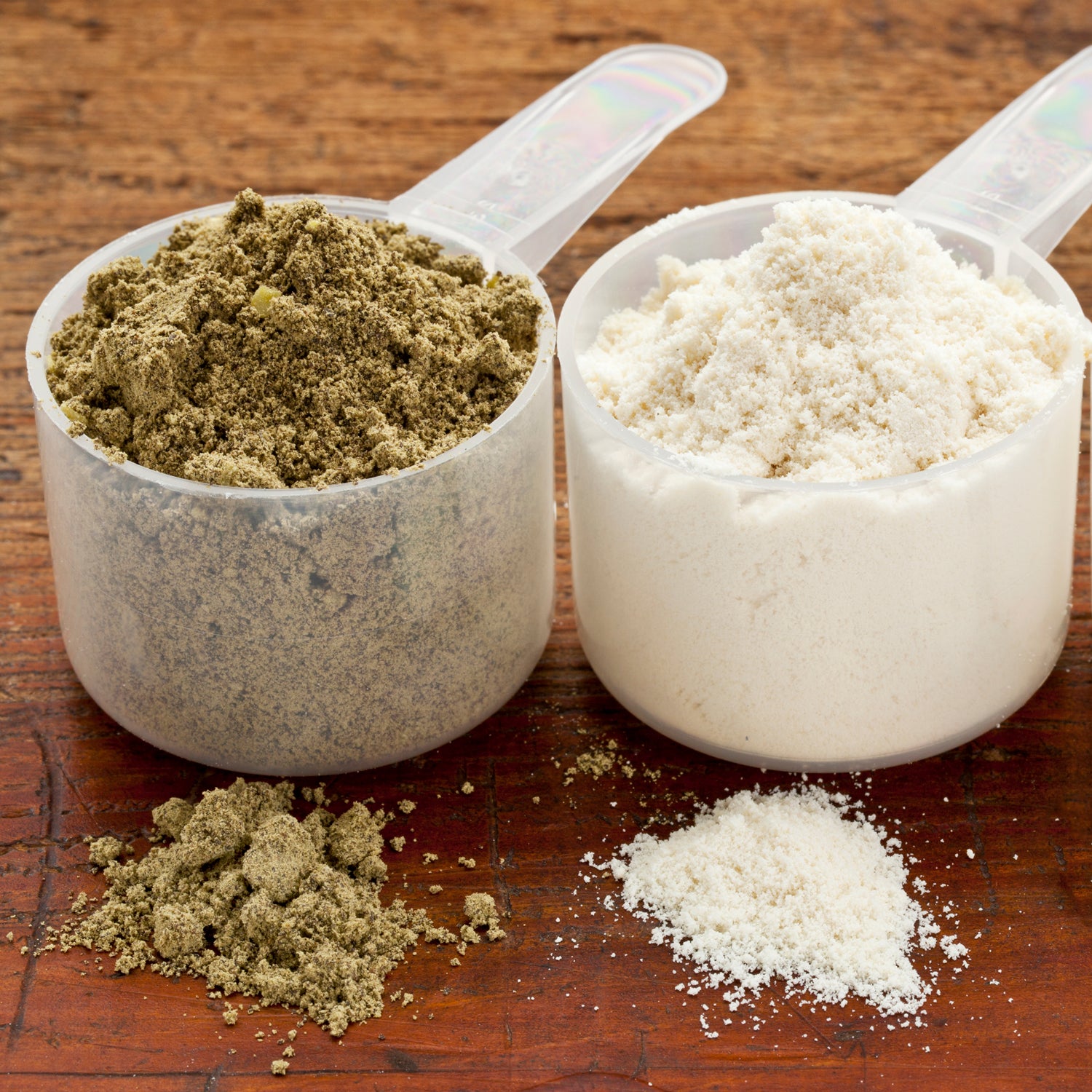 Getty Images/iStockphoto(Photo)
Heading out the door? Read this article on the new Outside+ app available now on iOS devices for members! Download the app.
It's easy to scorn protein powder. The shelves of your nutrition store are lined with a dozen different jugs donning labels that claim to spur muscle growth, increase performance, reduce body fat, and otherwise change your life. But they all smell sort of gross and list lots of strange-sounding ingredients on the labels—and they're expensive.
We're here to help. Because despite your experience with protein powder thus far, it's an incredibly useful tool to help you meet your fitness goals for training and recovery. The Journal of the International Society of Sports Nutrition recommends that you eat as much as one gram of protein per pound of body weight. That's typically somewhere between 30 and 35 percent of your calories from protein, a number that "virtually none of the population approaches."
That's where protein powders come in. Compared to other protein sources like meat and dairy, powders are generally quicker to prepare (just add water or dump it into a shake), more convenient (you can store a tub of powder in your office desk for more than a year, no fridge required), and often cheaper (one of our favorite protein powder picks costs 50 cents per serving, compared to 75 cents to $1 for an equivalent amount of chicken breast or almost $2 for a cup of Greek yogurt).
Many obscure varieties are available, but Trevor Kashey, an Ohio-based nutritionist, recommends you stick to whey, casein, and vegetable-blend powders. To choose which of these to buy, first make sure the protein sits well in your stomach. Whey and casein powders are made from milk, and while most of the lactose is removed when the powder is processed, it can still be hard to digest. Next, judge the taste. Some powders taste like chalk. If you don't like how a protein powder tastes, you won't eat it, which means you'll fall short of your protein number and waste money. Finally, consider cost. Some brands jack up the price and sell you hard on why their powder is best. The truth is that most protein powders are more or less nutritionally equivalent, says Kashey. One might have a couple more grams of protein or carbs or a better amino acid profile, but that won't have a noticeable impact on your diet as a whole.
We tested nearly 30 different protein powders and ranked each based on factors ranging from taste and cost to how easily they mixed in a shaker cup or a morning smoothie. When the dust settled, we had a winner in each category.
---
Whey
Whey protein is the most popular type of protein powder and, barring dietary restrictions, the one you're most likely to buy. There's a huge market for it, which means manufacturers are racing to make their version taste better, mix better, cost less, and sit easier in the stomach.
Grams of Protein: 27
Calories: 140
Cost Per Serving: $0.52
This powder mixed to a nice consistency in cold water and with frozen fruit for a smoothie—it's not too thin, unlike many whey powders we tested. The chocolate flavor is reminiscent of Cocoa Puffs (in a good way) and doesn't have any funky aftertaste. You're getting a blend of whey concentrate and isolate, so it's generally stomach friendly. It's also a bargain.
---
Casein
The benefit of casein is that it's noticeably thicker than whey. "That makes it more likely to keep you fuller for longer," says Kashey. That also makes it ideal for people who like thicker frozen-fruit smoothies or who want to beef up their yogurt parfaits or morning oatmeal.
Grams of Protein: 24
Calories: 120
Cost Per Serving: $0.93
This protein scored well for its taste—a mellow chocolate—and for how it created a smooth, thick shake. It's also one of the better-priced caseins on the market.
---
Vegetable Protein Powder
Vegetable protein powders are perfect for vegans, vegetarians, and people with sensitive stomachs. "You're better off getting a vegetable blend rather than a single vegetable powder, like pea powder or hemp powder," says Kashey. Individual vegetable powders don't have a full amino acid profile. Blend a few different vegetable powders together, and that profile becomes more complete. Vegetable powders are also great to use in cooking, because they're not as heat-sensitive as dairy proteins.
Grams of Protein: 30
Calories: 170
Cost Per Serving: $2.31
This was the overall favorite in our tests (and the most expensive). It mixed smoothly into frozen-fruit shakes and with water, and the cocoa flavor is subtle and not too sweet. It's made from a mix of organic pea, bean, and cranberry proteins and contains a recovery blend of apple, tart cherry, turmeric, blueberry, and goji berry. The jury's still out on that blend specifically aiding recovery, but they're all good ingredients to put into your body on their own. We think this powder is worth the splurge for its taste and as an easy addition to baked goods and brunch dishes like pancakes and waffles.
Lead Photo: Getty Images/iStockphoto
Trending on Outside Online