Peanut Butter and Jelly Should Fuel Your Next Adventure
It's basically the best performance food on the planet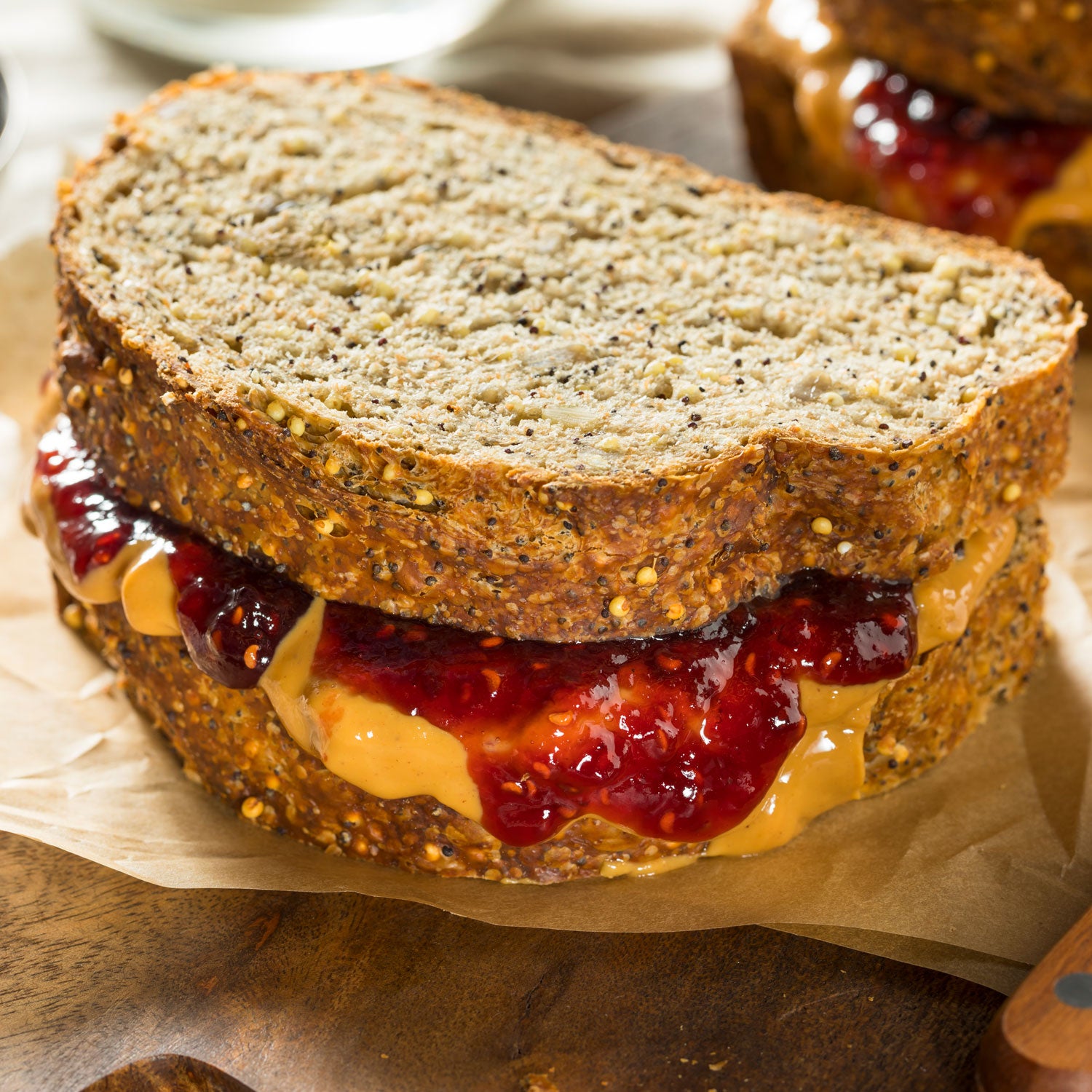 Heading out the door? Read this article on the new Outside+ app available now on iOS devices for members! Download the app.
In 1901, food writer Julia David Chandler announced a new recipe in the Boston Cooking School Magazine of Culinary Science and Domestic Economics: "Try making sandwiches…of three very thin layers of bread and two of filling, one of peanut paste, whatever brand you prefer, and currant or crab-apple jelly for the other. The combination is delicious."
Chandler was on to something. But it wasn't until World War II that the peanut butter and jelly sandwich became an American classic. All three ingredients were adopted by the U.S. military; soldier rations included bread, Welch's Concord grape jelly, and canned peanut butter. If the PB&J is nutritious and energy-filled enough to power these soldiers, the same logic should apply your next run, workout, or hike, right? Right. Despite a rep among many as just a childhood treat, this sandwich is a legit power food.
Let's start with the taste. "Sandwich" is almost a misnomer. The PB&J borders on dessert: Pillowy, grainy bread cushions gooey, honeyed jelly and rich, salted-caramely peanut butter, rendering a sugar/salt/fat combo that's both comforting and nostalgic. Age-old favorites like crunchy peanut butter or slightly toasted bread add an additional taste bud–triggering crunch.
The food tastes far too indulgent to be performance-promoting, but that really means nothing. A basic PB&J—sliced white bread, Jif, and grape jelly—contains 350 calories and 16, 45, and 11 grams of fat, carbs, and protein, respectively. That's roughly equivalent to a Peanut Butter ProBar—a favorite among endurance athletes—with its 380 calories, 20 grams of fat, 43 grams of carbohydrates, and 11 grams of protein. Consider the "tastes too good" dilemma debunked.
Then there's the sensory experience of the PB&J, which, I can attest, is only heightened when you're in the depths of an exercise binge. These sandwiches are what recently pushed me through a 24-hour unsupported endurance event.
An exercise physiologist estimated I'd burn 15,000 calories over the effort. Trying to fill even a fraction of that gap with energy bars sounded nearly as grueling as the competition itself. Enter the PB&J—but not the basic variety. I went to a discount grocer and bought a loaf of seedy bread, classic peanut butter, fruit-heavy jam, and thin-sliced mozzarella to pump up the protein. The result was a lineup of hulking 700-calorie, 30-gram protein sandwiches that clocked in at roughly 25 cents each. Compare that to the average energy bar, which runs at somewhere between six to 15 times more expensive per calorie.
While my fellow competitors choked down their expensive performance fuels—made from brown rice syrup, oats, soy isolate, and other odds and ends mechanically pressed into small bricks—I enjoyed a childhood staple. I ate my final sandwich at the end of the event, my body so in need of calories that the experience felt almost transcendent.
The average energy bar is anywhere from six to 15 times more expensive per calorie.
The sandwich's other unique selling point? It's a blank canvas that's just as delicious with the most inexpensive ingredients as it is with the most gourmet. Need carbs? Add more jelly or fruit, or use thicker bread. More fat? Add extra peanut butter. Protein? Stick a slice of ham, bland cheese, or crispy turkey bacon between your layers. Just need more calories? Hell, double down on every ingredient. And if classic flavors aren't your jam, you're in luck. There are now more nut butters than Kardashian dramas, plus Nutella, pumpkin butter, sunflower butter, and and more. Acceptable swaps for sliced bread include tortillas, banana breads, waffles, and bagels. Adding crunch with potato chips or pickles is considered (almost) normal.
Before higher-intensity efforts, go with something easy to digest—white bread, sugary jelly or honey, and creamy peanut butter—to prevent stomach issues. For more relaxed efforts or for a healthy snack, try seedier breads, natural nut butters, and sliced banana, or added-sugar-free jam instead.
Once you've settled on that perfect combo, make a loaf's worth at once and individually wrap and freeze them. Grab one as you leave the house to hit the trail. Frozen or otherwise, a PB&J can keep for days. We promise you won't regret it.
Lead Photo: bhofack2/iStock