Toning Clothes: Not a Perfect Fit
In a desperate measure to burn surfeit calories, men and women have rushed to stuff their jiggly bits into resistance pants. But can clothing really make a workout any better?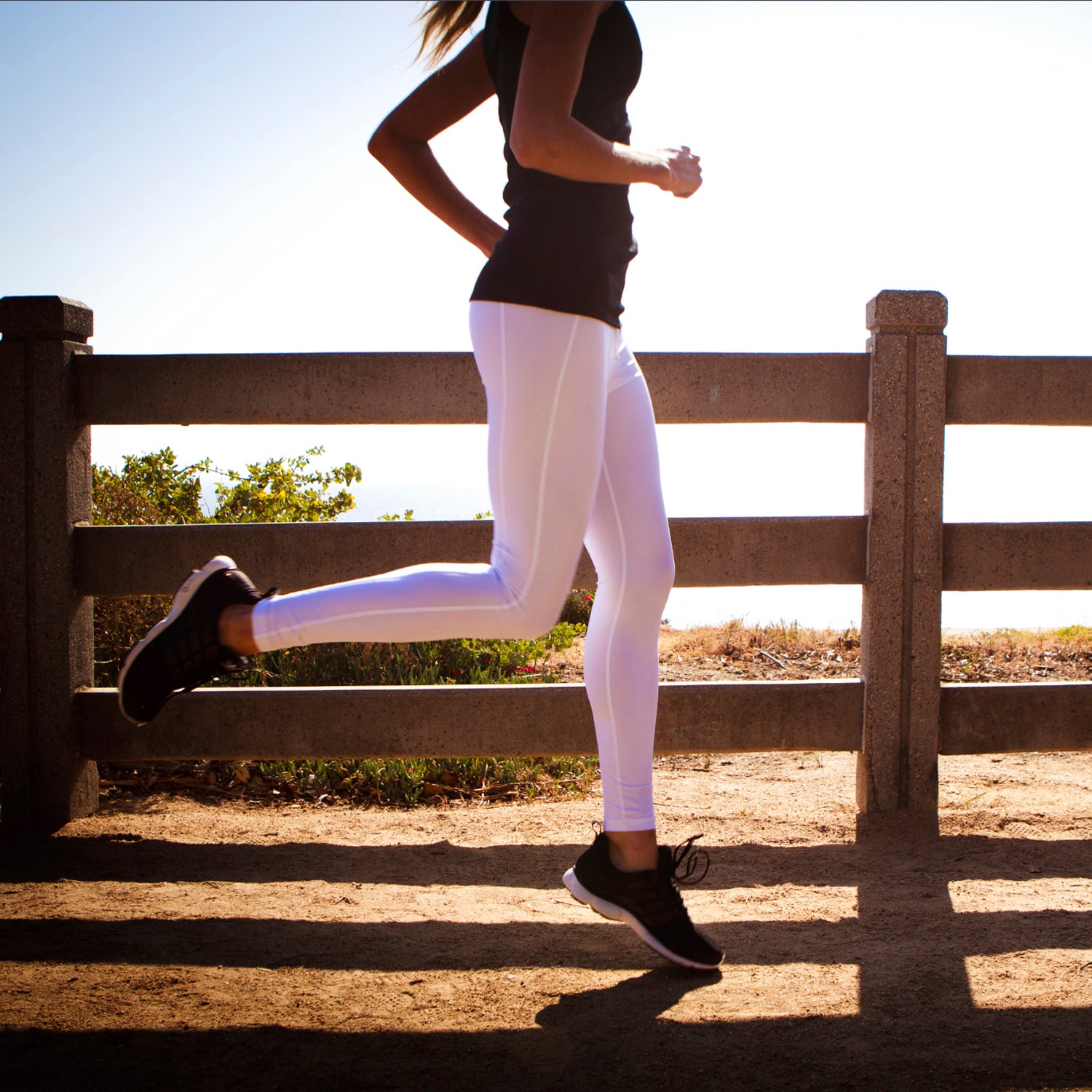 Heading out the door? Read this article on the new Outside+ app available now on iOS devices for members! Download the app.
In April, New York University medical students won $75,000 in an entrepreneurship competition at New York University's Stern School of Business. The startup judges deemed worthy of the investment: a clothing company called Skinesiology, which "offers functional fitness apparel that resists movement to help people tone muscle and burn extra calories during everyday activities."
The 75G check was made out on 4/25/14, making it clear that this is neither an April Fool's joke, nor 2010. Which brings us to a segment Seth Meyers and Amy Poehler first popularized on Saturday Night Live: Really!?
Really!? In 2010, Reebok's EasyTone shoes were killing it. According to DailyFinance, the company generated an estimated $1 billion in revenue from global sales of sneakers the company claimed would work women's glutes 28 percent more, and their hamstrings and calves 11 percent more than wearing regular shoes.
Other sports brands put out their own "toning" kicks as well. Fila had Sculpt and Tone sneakers. Skechers made Shape Ups. The world was crazy for gear that made doin' your thang i.e. walking to the store, standing in a meeting, etc. a calorie-incinerating workout.
"Body toning apparel is a natural progression of the recent successes in the toning footwear market," said Jon Epstein, President of Fila USA in a press release from October 2010. That's when Fila announced the creation of its Body Toning System, or BTS clothes. The company was careful not to make any quantifiable claims, stating simply that "BTS apparel is designed to increase muscle exercise which improves the efficiency as well as recovery of an existing workout."
Reebok launched a line of EasyTone clothes around the same time. Then researchers started looking into the toning clothes' effectiveness.
The American Council on Exercise funded a study looking into Fila's fluffy promise that a woman could "achieve amazing results in half the time" with Fila's new $50 Toning Resistance Tight Capri. Researchers threw 16 women between the ages of 18 and 24 on a treadmill and had them walk for five minutes at different speeds while wearing the pants, and again with regular pants. The result? Here's what ACE Fitness reported:
Although the research showed a slight increase in calorie burn while wearing Fila's toning capris, in a real-world scenario that boost would be negligible… 

In response to the claims of a 50-percent increase in muscle workouts, the researchers reported that the Fila capris didn't deliver there either… 

"In order to provide enough resistance to be beneficial, the pants would have to be so restrictive that you wouldn't be able to easily move. To achieve a 50-percent increase in muscle activation, you'd have to be wearing something akin to a straight jacket." 
That last quote is from researcher John Porcari. On the up-side, Porcari's fellow researcher Alexa Kleingartner told ACE, "I wouldn't recommend buying them to make a difference in the effectiveness of your workout, but the extra compression and tightness may give you a butt lift and a better shape." If looking good makes you feel like working out, that's a plus. The pants, in other words, were like Spanx you could show off; they'd make you look skinnier, but they wouldn't actually make you skinnier.
(Another study found that toning pants increased calories burned while walking up a 5 to 10-percent grade because the clothing resisted hip flexion. But that study was partially funded by a toning clothes company, making it difficult to take seriously.)
Meanwhile, ladies started stuffing their jiggly bits in to resistance pants hoping the clothes would be the miracle companies promised.
Then came the bombshell lawsuit. The Federal Trade Commission fined Reebok $25 million for making false claims about its toning shoes and apparel. The settlement barred Reebok from "making any health or fitness-related efficacy claims for toning shoes and other toning apparel unless the claims are true and backed by scientific evidence."
Reebok discontinued their EasyTone clothes. Fila doesn't appear to sell their toning line of clothes anymore either. The closest thing they currently stock is a $35 Chiseled Capri that says it'll give a "body sculpting boost."
So really!? NYU medical school students? In Skinesiology's promo video, the students claim they've invented "clothes that work you out!" by naturally resisting the body's mechanics, "kind of like moving in water which burns up to 50% more calories." Fifty percent more than what? Sitting on your bum all day?
The video then goes on to state that the "average woman walks 1.5 hours per day, burning 280 calories." Maybe in New York City? If that were true, nobody would need toning clothes—we'd be infinitely healthier already. According to the CDC, only 21 to 34 percent of US adults walk for 30 minutes five times a week.
But for argument's sake, let's say that yes, women walk 1.5 hours per day. That's how long you'd have to walk, according to Skinesiology, to reap an extra 100-calorie benefit from wearing their tights. So if you're already walking around a lot, maybe these pants can provide a small benefit. But if they're as uncomfortable as researcher John Porcari thought they'd have to be to give you a workout, who'd keep them on all day to find out?
Live Science explains that Skinesiology's claims come from the students' own lab testing. It'll be interesting to see what objective researchers find. Have these students stumbled upon a radical new resistance band design that neither Reebok nor Fila's R&D teams could create?
I hate to lay into entrepreneurial youngsters, but it does seem like you're repeating the errors of those who have gone before. Please prove me wrong. 
Lead Photo: Getty Images/iStockphoto