Why Running Brands Are Betting on Mindfulness
Can mindful running make you faster—or at least happier?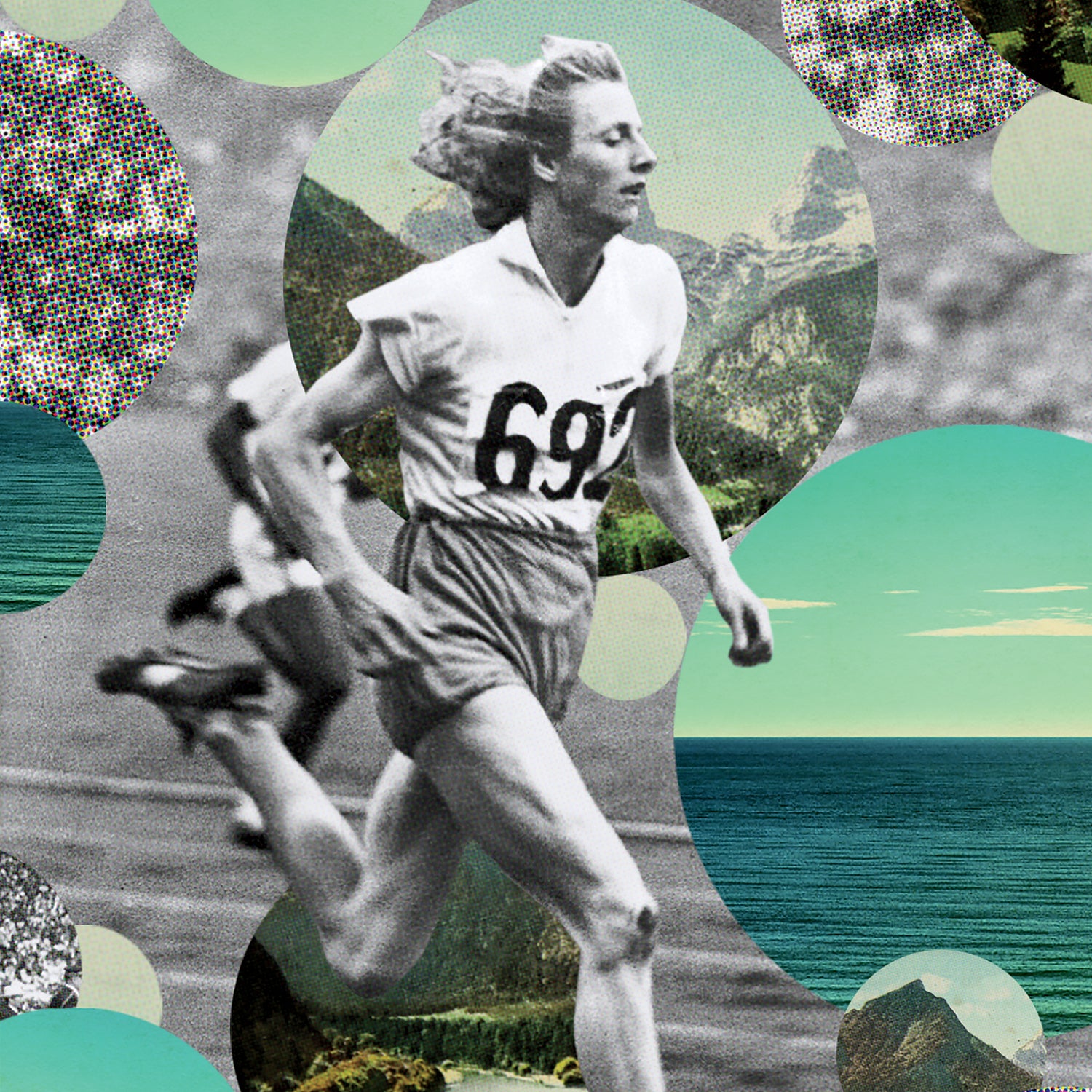 Heading out the door? Read this article on the new Outside+ app available now on iOS devices for members! Download the app.
Last October, a half-dozen runners were cruising along tan dirt trails in California's Joshua Tree National Park. As they ran, some of them focused on the cool morning breeze blowing against their eyelids. Others noticed the interplay between the rhythm of their feet on the ground and the rate of their breathing. The miles passed like this, quiet and thoughtful, during the hourlong exercise. It was all part of the Center for Inner Peace, a roving running retreat created by sunglasses and apparel maker District Vision. Afterward, the participants may have bantered about The Tibetan Book of the Dead or Beyond Jogging, a seminal book published in the 1970s. Perhaps there was skinny-dipping, or a workshop on holistic nutrition.
The Center for Inner Peace is just one of many recent initiatives exploring the intersection of mindfulness, meditation, and running, to help professional and everyday athletes alike improve their quality of life and maybe even run a little faster. Mindfulness is loosely defined as focusing on the current moment—and accepting it without judgment. Meditation is a tool to achieve that state, helping practitioners bring their awareness back to the present. There's a long tradition of moving meditation: qigong and tai chi blend mindfulness with motion, and the Buddha included walking as one of the foundations of a mindful posture.
Now the running industry is peddling mindful movement to the masses. In 2018, Nike partnered with the meditation company Headspace to produce guided runs for the Nike Run Club app. In early 2020, the ASICS Studio app added mindfulness classes. Later that year, Altra released a series of videos dedicated to mental health, including one focused on mindfulness, and On Running posted "The Sound of Unstoppable," a visualization video for marathoners, to its website, along with a meditation guide.
"The running community is increasingly open to this," says Max Vallot, a cofounder of District Vision. "For many, being physically fit is deeply embedded in their lifestyles. And because of the pandemic, we have people curious about mindfulness and meditation." Without racing, sponsored group runs, and team sports, athletic companies are emphasizing the mental, rather than just the physical or social, aspect of the sport.
Mindfulness is a cornerstone of the District Vision brand, and the company is at the forefront in that regard. In 2016, it began hosting prerace meditation for New York City Marathon participants, which led to its Mindful Athlete online course. Its running exercises are similar to guided meditation practiced while seated: a calm voice prompts users to focus on certain sensations, like the rhythm of the feet or the rise and fall of their chest.
The mindful options in Nike's Run Club app use a slightly different approach. Headspace cofounder Andy Puddicombe reminds users to focus on corporeal details, while Nike running coach Chris Bennett chimes in on goals and positive thinking.
Running coach and meditation teacher Kriste Peoples thinks the benefit has to do with acceptance of discomfort. "In mindfulness, we're taught to turn toward what's difficult," she says.
Research suggests that mindfulness and running are a good match. Both meditation and exercise have been shown to improve executive functions such as planning, problem-solving, and self-control. In 2016, researchers at Rutgers University published a study indicating that meditation followed by aerobic exercise can reduce symptoms of depression by nearly 40 percent. And there's some evidence that incorporating mindfulness into your fitness routine can make you a better runner. A 2011 study found that doing so was associated with improvements in runners' one-mile PR, and a 2020 study of college-age athletes in Taiwan showed that endurance levels and cognitive abilities improved after five weeks of mindfulness training. Runners who completed such training increased their time to exhaustion by almost a minute while running at maximum effort on a treadmill.
One explanation for these gains could be that the subjects improved their posture or breathing techniques. But Kriste Peoples, a running coach and meditation teacher in Denver, thinks that it has more to do with acceptance of discomfort. "In mindfulness, we're taught to turn toward what's difficult," Peoples says. Trying to distract oneself from the pain of a long run, as most runners tend to do, could be counterproductive. "What you resist persists," she says. There's some evidence to support this idea: a 2015 study published in the Journal of Neuroscience showed that meditation helped reduce pain sensitivity in a lab setting.
Most athletes who practice mindfulness insist that the true benefit is mental rather than physical. This makes sense, considering that both meditation and running have been shown to relieve stress. A 2018 study suggested that mindfulness can help elite athletes achieve a flow state, the zone where body and mind are in sync and engrossed in the action being performed. Additionally, a 2009 study of recreational runners found that mindfulness training may help reduce sports-related anxiety.
Therein lies the real promise of running meditation. It's not about going faster or farther. "We think of our retreats as an incubator for meditation and mindfulness," says District Vision's Vallot. "Running can be as much about mental training and exploring the mind as it is about the body."
Trending on Outside Online