In Stride
Why We Race for Charity
Our drive to raise billions annually is a crazy effective performance enhancer.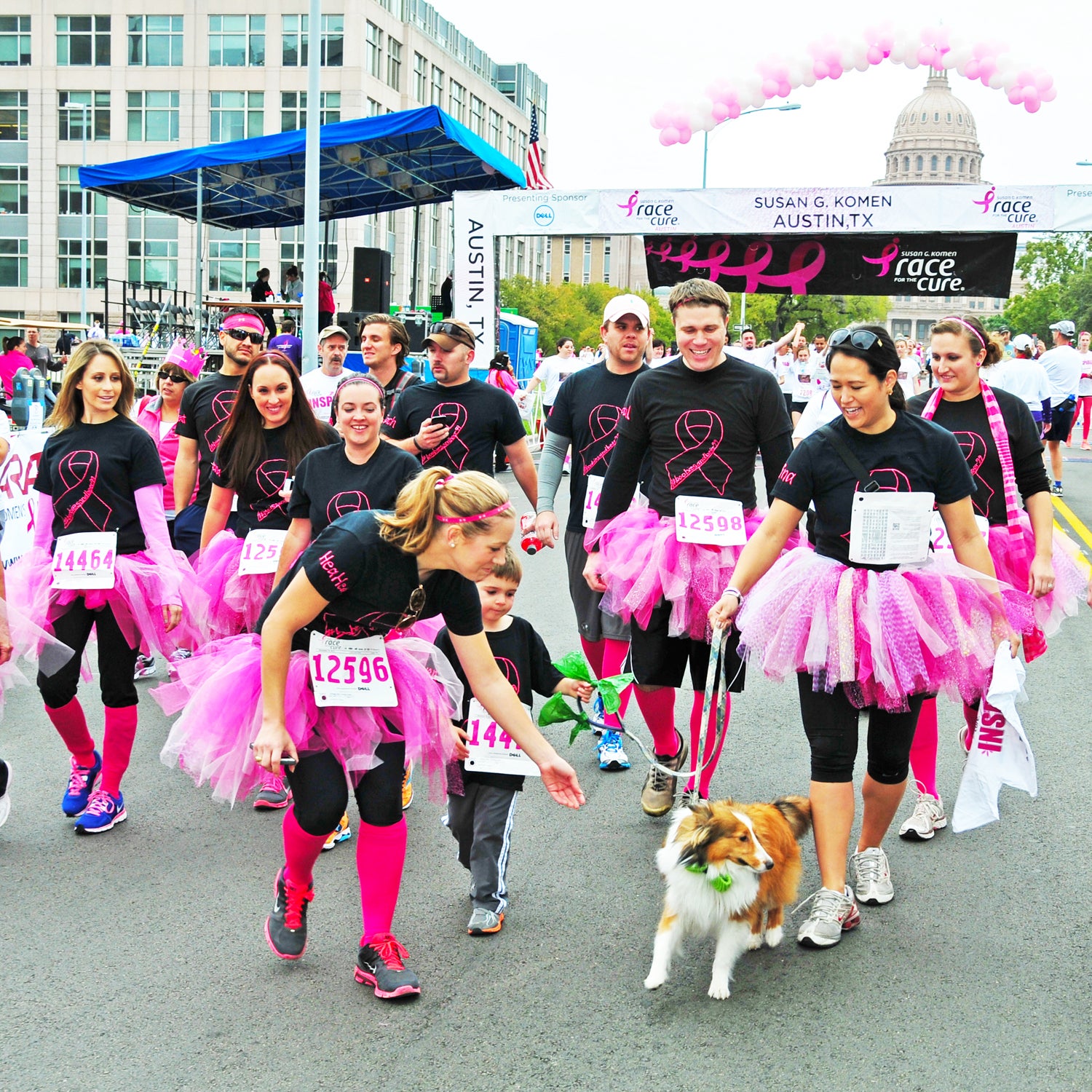 Heading out the door? Read this article on the new Outside+ app available now on iOS devices for members! Download the app.
Americans are addicted to racing for a cause. It started in 1970, when approximately 1,000 people participated in the March of Dimes' WalkAmerica, raising $75,000 for perinatal health issues. By 2006, runners and walkers were raising more than $700 million annually for charities. In 2013, that number had grown to $1.2 billion, spread over 43,000 events and 9.6 million fundraising participants.
Why do we spend so much time raising money to compete in charity events? The answer lies in one of sport's greatest paradoxes: running for others is one of the most self-serving things an athlete can do.
"Purpose is a meta-goal," says Dr. Vic Strecher, a world-renowned behavioral scientist at the University of Michigan. Purpose, he says, explains the popularity of running for a cause and its powerful effect on an athlete's motivation. "It's something bigger than 'I want to quit smoking' or 'I want to sleep better.' It provides a North Star to shoot for, and when people have [a purpose], they demonstrate better focus and motivation," Strecher says. "This, in turn, can result in increased adherence to challenging behaviors—like quitting smoking or exercising more regularly."
Perhaps that's nothing groundbreaking. We see countless examples of pro athletes attributing victories to people and causes other than themselves. Triathlete Craig Alexander, for example, credited his family for his three Ironman World Championship titles. "I've gotten a lot of my motivation from my family and what they've sacrificed for me," he told Gear Patrol, "and so I can push through those [tough] moments."
But in a strange twist, doing things for others—the very definition of being unselfish—can have very self-serving effects. At age 38, when many said it was physically impossible, Alexander broke the Ironman World Championship record, a boon to his career. On a smaller athletic stage, there are countless stories of middle-aged, overweight people who have hardly run a step joining Team in Training to raise money for blood cancers. Six months later, they complete a marathon, an ostensibly self-centered goal.
"Individuals with self-transcending purposes are more likely to take calculated risks, overcome fears, and expose themselves to failure," Strecher says. Whereas years of research have shown that ego-driven goals create pressure, tension, and anxiety about performance, having a self-transcending purpose inherently moves us beyond our ego. Or, as Strecher says, it helps us "break down our castle walls and become open to new ideas and possibilities. It turns out that thinking less about yourself is actually one of the best ways to grow and expand yourself. When we release from focusing so much on our self, that is when we rise to great heights."
In an effort to guide athletes' self-improvement, countless sports psychologists have recommended that we train our minds to eliminate negative thoughts about ourselves ("What if I don't execute my workout properly? or "I'm scared I am going to lose this race!") in favor of positive ones ("Every workout I do I'm getting faster." and "I am fearless as I race to win."). Perhaps the best advice is not to think about ourselves at all, but rather to direct our attention at something greater than ourselves—like a charity event.
Lead Photo: Komen Austin/Flickr