10 Timeless Fitness Laws
In an age of whiz-bang techno-training, it's way too easy to lose track of what made us fit in the first place: quality movement, good food, and high-intensity common sense.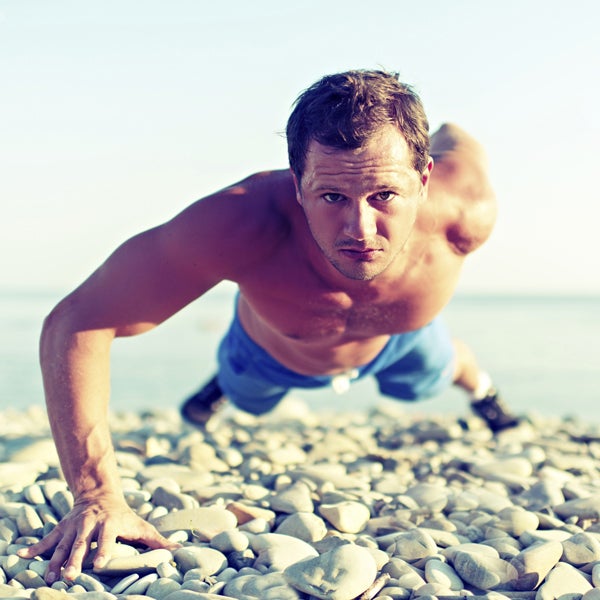 evgenyatamanenko/Getty Images(Photo)
Heading out the door? Read this article on the new Outside+ app available now on iOS devices for members! Download the app.
In the not-so-distant past, your food grew on a farm. Meals were home-cooked (on an actual fire, in an actual stove). The outdoors was your gym. Watches? They tracked time, not activity. Blue light, texting neck, and the masses getting supersized by McDonald's were issues for a future generation.
Yet somewhere along the way, conventional wisdom got muddled with modern mechanisms. And the results weren't pretty. We became much more sedentary and got fatter. And slower. And weaker (seriously). At the table, our food began to look less and less like it ever came from the ground.
"Western society is the most overfed but malnourished, sick society due to the imbalance of physical activity and real nourishment, says Stacy Sims, MSc, Ph.D., co-founder of Osmo Nutrition. "The body is designed to move all the time and use food that supports health, not quick hits of 'feel good' sugar and fat."
So how do we go back? By homing in on the fundamentals and returning to the principles that have stood the test of time. Here, 10 laws of fitness your grandfather would approve of.
#1: Perfect the Pushup
When Charles Atlas promised the men of America that he'd transform them from weaklings into masses of muscle, the fitness industry was forever changed. But "Dynamic Tension"—for all its faults—also had its strengths. It was a program based on the basics: bodyweight. As the legend goes, Atlas studied lions, noticing that animals had no exercise equipment. They had no gyms. Instead, they pitted one muscle against another. And dropping down and giving 10—or 20 or 50—should still have its place in your routine. "With proper form, your pushups and pull-ups are still the best exercises you can do. They engage your core with a functional push-pull action," says Sims.
#2: Do It Right—or Stop Doing It
Focus on form. If your technique is all wrong, you might be doing more harm than good. Why? Misalignment means the biomechanics of movement are out of whack.  The result: increased stress in different joints and potential muscle imbalances—the perfect setup for overuse, chronic pain, and injury, Sims says.
But mastering the "how to" isn't all about taking preventative measures. "The other aspect of proper form is that you end up using the smaller, stabilizing muscles giving you core stability for daily movement," Sims explains. And if you're engaging your muscles all day—with good posture (yes, you really should pull your shoulders back), or by perfecting a pushup—you're building core strength without realizing it. Slouched over, resting on your elbows, back twisted? It should be no surprise that you make grandpa noises when getting up from your chair.
#3: Drink, Baby, Drink
Athletes have been around far longer than Gatorade and the new class of beverages strewn across supermarket shelves (ones that promise to replenish, hydrate, and boost performance). And when a run was no more than a run, athletes didn't swear by high-concentration sugary liquids.
When a workout isn't long enough or intense enough to result in severe fatigue, plain old water works, says Matt Fitzgerald, sports nutritionist, and author of the book Diet Cults. "In fact, it's not necessary to drink anything in most workouts lasting less than an hour," he adds. That's not to say that drink scientists aren't onto something: "You need a small amount of sodium to actually pull water into the body," says Sims. That's why low-concentration approaches (Nuun, SOS, and Sims' OSMO) have become popular.
#4: Eat a Quality Breakfast
Rising with the sun means more hours to move and more hours to eat well. "One of the overlooked benefits of eating breakfast is that it provides an early and additional opportunity to make progress toward meeting daily quotas for high-quality food types such as vegetables and fruit," says Fitzgerald.
It's not hard to start knocking out nutritional requirements before your day begins either—one serving of vegetables or fresh berries added to whole-grain cereal—can make all the difference, says Fitzgerald.
Just remember composition, says Sims. A croissant and a coffee won't cut it: "You wake up with high levels of cortisol (the belly fat hormone), and adding sugar and caffeine will perpetuate cortisol's actions," she says.
#5: Repeat After Us (One More Time): I Will Eat Real Food
You won't find the recipe for a healthy diet on the back of a package. Change the way a food naturally exists, and you change the way your body absorbs it. "There is a disconnect between the marketing claims of pre-packaged food and real food made from scratch. And food can't just be reduced to single compounds," says says Allen Lim, Ph.D., founder of Skratch Labs.
To that extent, Fitzgerald has spent time analyzing world-class endurance athletes—a group as fit and healthy as any population on earth—finding a simple trend: "what I call 'agnostic healthy eating,'" he says. What that means: eating in culturally normal ways, but not avoiding food groups entirely; filling meals with vegetables, fruit, nuts and seeds, fish and high-quality meat, whole grains, and dairy; and only sparingly eating low-quality refined grains, processed meat, and sweets. "If this formula is good enough for athletes who place tremendous demands on their bodies, it's good enough for us," he says.
#6: Feel Your Way to Faster
The most sophisticated and reliable fitness monitoring device that exists—or will ever exist—isn't a device at all: it's your brain, says Fitzgerald. "If your body needs rest, your brain will communicate that to your conscious awareness in the form of feelings of fatigue and low motivation," he explains. The symptom: a greater perceived effort: "If the body is fatigued or if its performance capacity is compromised, the brain will have to work harder to get the same level of output, and the greater the effort the exerciser will perceive."
On the other hand? If your body is responding well to your training and is ready for more hard work, your brain will let you know that too in no uncertain terms, Fitzgerald says.
#7: Lighten Up and Have Some Fun
"The more you enjoy your training, the more you'll put into it," says Fitzgerald. "And the more you put into it, the more you'll get out of it." The research agrees: Your best efforts will likely come when you're having the most fun, a 2012 study by Alan St. Clair Gibson of the University of Worcester found. Find something you like and the addiction will come naturally: "Research indicates that the association of 'fun' with things you do perpetuates stress release, making you want to go back for more," says Sims.
#8: Recover. No, Really: RECOVER.
One of the problems with the evolution of cross-training is that you can go hard every day. The problem: That's not what your body needs. The key is finding an easy-hard cycle you can give into, says Michael Joyner, M.D., and physiologist and anesthesiologist at the Mayo Clinic. "People have forgotten to make the hard days harder and the easy days easier." Think in terms of "active rest"—a 3- or 4-mile run for a distance runner, calisthenics, jumping rope, or classic conditioning drills, Joyner says. "That's really important."
#9: It's Not All About the Bike, the Shoes, or the Compression Underwear
Aerodynamics, biomechanics, breathability—they're words that get a lot of ink (on labels, in magazines, and in the scripts of gear salespeople across the world). And yeah, tech has its perks. Breathable fabrics make long and hot hikes more bearable. But will your gear always make the difference?
A recent University of North Carolina-Chapel Hill study found only 14 percent of runners who laced up in lightweight kicks reported injury in a year's time; almost half of runners in traditional sneakers did. So plus one for minimalism? Not so fast. The same University of North Carolina research revealed that people who chose traditional shoes landed differently from those who donned the minimalist shoes (on their heel or mid-foot versus on their forefoot).
The point: Everyone is different. And gear that works is subjective. "Good gear makes things more enjoyable, and most importantly prevents injury," says Sims. So don't skimp on no-brainers: proper bike fit, shoes, and protective items—but don't become slaves to them.
#10: Never Stop Moving
Take this in the most expansive and philosophical way: Build movement into all aspects of your life—work, home, play—and throughout your life. You name the disease and exercise is the cure. "It's proven to reduce the likelihood of weight gain, diabetes, heart disease, stroke, liver disease, cancer, Alzheimer's, osteoporosis, sexual dysfunction, and a host of infectious diseases," says Fitzgerald. Work out, and not only will you be healthier, but happier, more confident, and (bonus!) smarter, Fitzgerald adds.
Lead Photo: evgenyatamanenko/Getty Images