Bringing It All Back Home
If you lived here, you'd be fit now! Our three high-style gyms will take you there.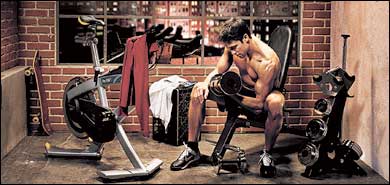 Art Streiber
Heading out the door? Read this article on the new Outside+ app available now on iOS devices for members! Download the app.
TIME FLIES WHETHER YOU'RE HAVING FUN or not, and one of the first things yanked on a busy day is your workout. But you can reverse that effect with an intelligent invention called the home gym, which lets you skip the minute-munching trips to and from the local sweat lodge and rack up time for fun instead. Just ask Karen Merrill, an Oahu-based personal trainer and formerly time-starved triathlete, who built a personal fitness sanctum for the superefficiency and sweet convenience. "At home," she says, "no one bothers me. It's guaranteed I'll get my workout in."
Home Rules
Once you've got the perfect gym setup, get the goods on a weekly guide to maximum fitness. And for those sans the green to get that perfect weight-training system we offer an overview of no-tech workout options.


Merrill's got company: The number of homemade athletes is at 9.3 million, up 3 million in the past decade. Join this exclusive club via our simple guide to building your choice of three style-specific gyms, then try the smart workouts designed for these fresh environs by Merrill and yoga guru Steve Ilg. You'll soon be wringing the most out of every day.
The Spartan Loft
Hone the core essentials of ample strength and a high aerobic threshold in this no-fuss space saver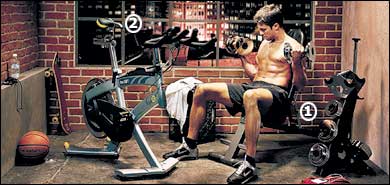 1. The quick-change plates on HOIST FITNESS's ROCKETLOK DUMBBELL AND BARBELL ENSEMBLE ($370) save precious room, and HOIST's collapsible five-position bench ($200) breaks down nicely. 800-548-5438, www.hoistfitness.com

2. The CYCLEOPS PRO 300PT INDOOR CYCLE's PowerTap system measures output in watts; used in conjunction with the built-in heart-rate monitor, it'll chart your fitness improvements over time. $1,700; 800-783-7257, www.cycleops.com

ON HIM: Nylon PRO-VENT DRI-FIT WORKOUT SHORT ($35) and leather SECUTOR II athletic shoes ($100) by NIKE (800-806-6453, www.nike.com); merino-wool ADRENALIN socks ($15) by SMARTWOOL (800-550-9665, www.smartwool.com); on floor, polyester-and-spandex PRO-VENT DRI-FIT long-sleeved T-shirt ($45) by NIKE
The Performance Lab
Discover a new level of total fitness in this choice cross-training environment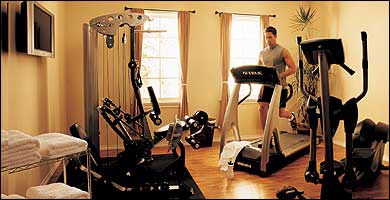 1. Put on a heart-rate-monitor strap, then plug a target rate into the TRUE 550ZTX CI TREADMILL before your workout. It'll automatically adjust the speed and grade of the belt to keep your heart pumping the same beats per minute from start to finish. $5,775; 800-426-6570, www.truefitness.com

2. The Cadillac of all-in-one weight-lifting machines is HOIST's V5, which incorporates every feature you expect in a multistation home gym—chest press, lat pulldown, leg curl, and leg press—plus one you don't: a chest-high cable that allows for myriad core-conditioning drills. $3,260; 800-548-5438, www.hoistfitness.com

3. The footbeds on STAIRMASTER's CLUBSTRIDE 5100 ELLIPTICAL TRAINER articulate with every step to keep more of your foot in contact with a firm surface; controls embedded in the unit's handles let you change your workout on the fly. $5,649; 800-864-1270, www.nautilus.com

4. Let's face it: 45 minutes on a treadmill can get pretty old—after the first five. Take your mind off the work at hand with SHARP's 30-inch AQUOS LCD television. Its slim profile means you can mount it on the wall, leaving more space for all that fancy new equipment. $3,500; 800-237-4277, www.sharpusa.com

ON HIM: Sleeveless polyester '74 singlet ($26) by HIND (800-952-4463, www.hind.com); nylon INFINITY SHORT with breathable seamless liner ($38) and seamless-mesh VISIQ running shoes ($90) by PEARL IZUMI (800-328-8488, www.pearlizumi.com); cotton PERFORMANCE socks ($6) by NEW BALANCE (800-253-7463, www.newbalance.com)
The Zen Studio
Meditate on flexibility, strength, and a strong heart in this relaxing, eastern-influenced haven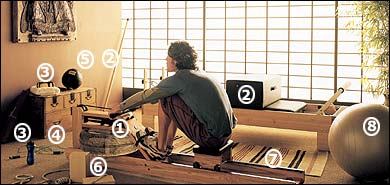 1. The submerged paddle wheel and hardwood construction of the WATERROWER ROWING MACHINE provide a full-body experience that'll make you think you're pulling oars on a river. $995; 800-852-2210, www.waterrower.com

2. With BALANCED BODY's spring-loaded rock maple STUDIO REFORMER ($2,995), you can do about 300 Pilates exercises, converting resistance into strength and flexibility. The matching GONDOLA POLE ($29) can help you stay balanced during tricky standing moves. 800-745-2837, www.pilates.com

3. The ergonomic BROOKS WATERBOY HANDHELD WATER BOTTLE holds 21 ounces of liquid with effortless aplomb. $17; 800-227-6657, www.brooksrunning.com

4. Swivel bearings on the AERO SPEED JUMP ROPE make for smooth, superfast spinning, and the adjustable length fits the rope to your height. $35; 800-953-5867, www.buddyleejumpropes.com

5. Use EVERLAST's nine-pound leather MEDICINE BALL for more intense stomach crunches. $45; 800-777-0313, www.everlastboxing.com

6. Strike any yoga pose with CUSTOM YOGA PROPS' nylon WALL ROPES ($65 each). Its hollow Baltic birch BLOCKS ($18 each) are perfect for the workout detailed on page 44. 888-870-2600, www.customyogaprops.com

7. Put something natural underfoot with BAREFOOT YOGA's cotton, moisture-absorbent MYSORE YOGA RUG. $42; 877-227-3366, www.barefootyoga.com

8. FITTERFIRST's CLASSIC EXERCISE BALL is a staple for any core-strength routine. $23–$35, depending on size; 800-348-8371, www.fitter1.com

On Him: Cotton MANTIS knickers ($50) by PRANA (800-557-7262, www.prana.com); merino-wool VERSAWEIGHT CREW ($75) and fitted MICROWEIGHT TEE ($50) by SMARTWOOL (800-550-9665, www.smartwool.com); VAPOR TRAINER shoes ($110) by NIKE (800-806-6453, www.nike.com)
…And Look Good Doing It
Gym Style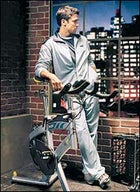 Once you've picked the spot and put down the cash for a high-end fitness room in your palace, it's time to say goodbye to cheapo sweats and get the proper garb. Working out at home doesn't mean it's OK to look like a slob. Always wear comfortable, quality lightweight fabrics that'll work with you—not against you—when you're focused on staying healthy and honing your physique.

» Polyester 7CM POLY tracksuit ($93) and cotton 7CM JERSEY ($28) by PUMA (888-565-7862, www.puma.com); seamless-mesh VISIQ running shoes ($90) by PEARL IZUMI (800-328-8488, www.pearlizumi.com)