Which Fitness Trends Actually Help Outdoor Athletes?
Fancy workout studios and alternative fitness methods are having a moment. We determined which ones will truly bring you closer to your goals as an outdoor athlete.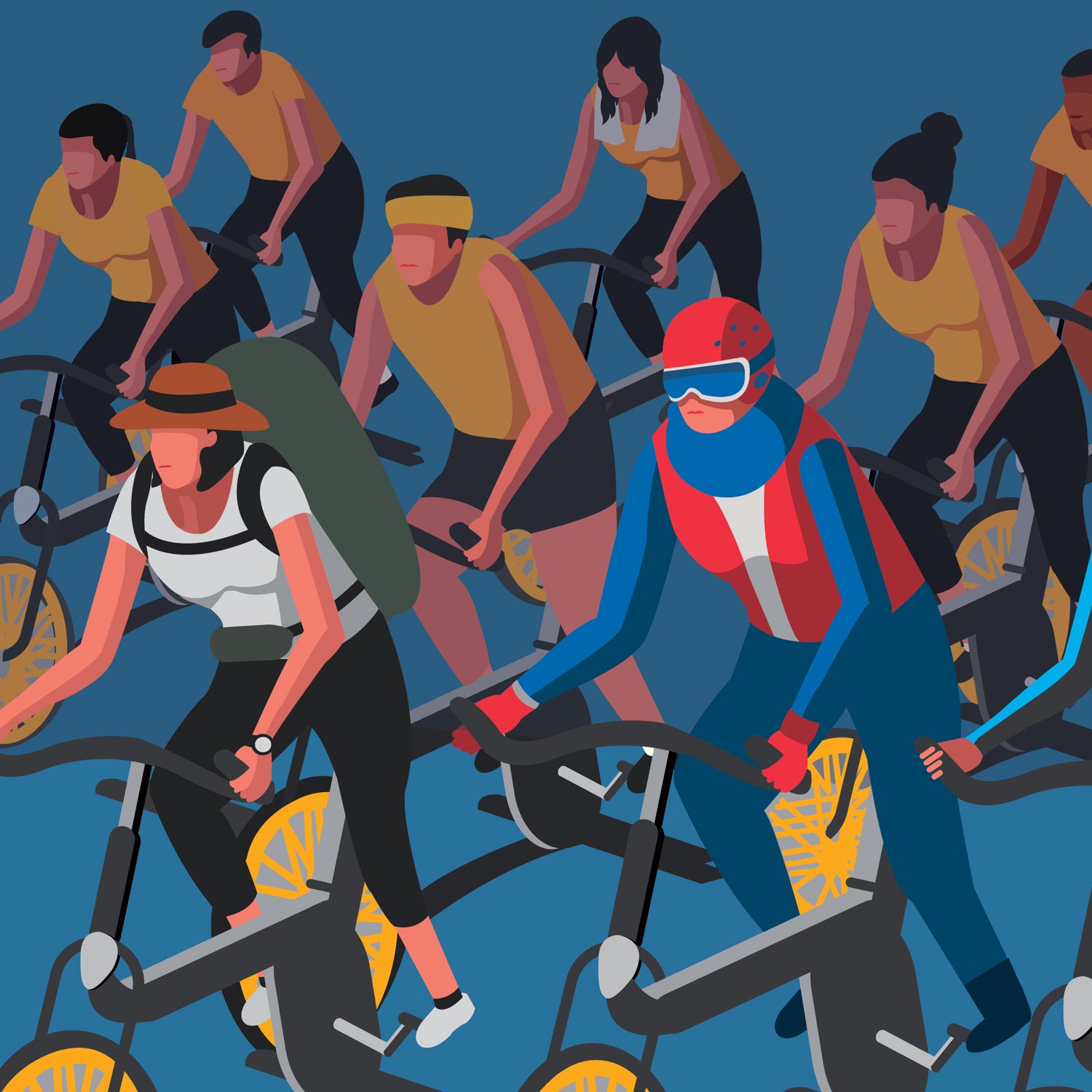 Heading out the door? Read this article on the new Outside+ app available now on iOS devices for members! Download the app.
If the only way you train for cycling is by riding your bike, you're not going to be your best. The same is true of any sport. Studies show that cross-training can improve your endurance and injury resilience, as well as stave off routine fatigue. The problem: doing calf-raises and crunches at the gym gets boring fast. That's why a growing number of outdoor athletes have turned to fitness classes to supplement their training. But when choosing which of these you want to try, there's more to think about than just fitness alone—some of these programs can be pricey, tough to find in your town, or simply have a culture that you don't quite vibe with, leading to a lesser workout. 
So, which popular fitness movements will make you a better runner, rider, climber, backpacker, or mountaineer? To help us decide, we called in Doug Kechijian, doctor of physical therapy and co-owner of Resilient PT Performance in New York City, and Jim Ferris, a Philadelphia-based trainer who's been working with pro athletes for nearly two decades. Together, we analyzed seven of the most talked-about fitness trends of the past decade and ranked them from worst—least helpful to the outdoor athlete—to best—the most helpful—based on a holistic evaluation of cost, accessibility, whether the method improves your outdoor game, what it'll do to your body, and who you'll meet doing it.
#7. Pilates
Goal: Build strength, flexibility, and control by performing exercises on the floor or on an apparatus called a reformer.
Cost: $30 to $150 per hour
Accessibility: You can find a Pilates studio in most midsized towns. Although you can replicate some floor moves on your own, an instructor will help you get the most out of the programming. If you plan on going regularly, the cost will add up.
How It Helps: The method's 500 exercises are meant to strengthen your core and hips. This strength will allow you to hike, paddle, run, ride, and climb faster and be safer while you do it, thanks to a stronger core to stabilize your back and limbs.
Who You'll See: Fortysomething WASPs who love athleisure and want Michelle Obama's arms.
#6. SoulCycle
Goal: To pedal your ass off and actually have fun doing it—basically a strenuous spin class in a club-like atmosphere.
Cost: $34 a pop; a 30-class punch pass goes for $850. That doesn't include the clip-on shoes (yes, required) or a water bottle.
Accessibility: There are about 80 SoulCycle studios across the country, mostly located in major cities like New York City, Los Angeles, Chicago, and the Bay Area. But given the popularity of the concept, you can find similar classes in most local gyms.
How It Helps: SoulCycle is great for—wait for it—cyclists. The high-energy vibe tends to push you to go harder so you'll push your cardio capacity. When done as directed, classes pack a lot of calorie burn into the hour, but there's nothing beyond self-discipline to ensure that you're turning up the bike's resistance high enough on hills and climbs. The end result: you'll get thin without much muscle tone, which isn't going to help you on the trail.
Who You'll See: Lululemon-clad millennial urbanites looking to post their workouts on Instagram.
#5. Zumba
Goal: To lose weight through high-energy and fun Brazilian dance.
Cost: Zumba DVDs are as cheap as $10; an in-person class costs $5 to $20, but it's sometimes included in a gym or rec center membership.
Accessibility: Zumba reports that 15,000,000 people worldwide have danced for their workout at least once at one of the 200,000 Zumba studios around the world.
How It Helps: It gets some laughs from hardcore outdoorswomen, but Zumba is actually a nice way to actively recover from an intense workout. The dance moves are low-impact and put you into an ideal aerobic recovery zone. They may even fill some gaps you have as an endurance athlete. You'll do a lot of side-to-side movement—outdoor sports typically only require you to move straight forward—as well as dance moves that can improve your hip and shoulder mobility, two injury-prone areas.
Who You'll See: A lot of moms getting into their workout groove.
#4. Hot Yoga
Goal: To improve flexibility through yoga flows completed in a room heated to 100-plus degrees and burn a ton of calories while doing it.
Cost: $8 to $25 per class, or around $100 to $150 per month for unlimited classes.
Accessibility: You need a scorching room, so this isn't something that's easily practiced at home. The good news is that there are approximately 100 Bikram studios across the world and many more general yoga studios that offer the "more approachable" sub-105-degree variety.
How It Helps: With more and more people sitting at a desk all day, a solid movement practice like Bikram may help you avoid imbalances and on-trail injuries. What's more, training in the heat can also improve your heat tolerance, according to a study in the International Journal of Sports Medicine. That makes hot yoga an ideal occasional workout for summer runners and cyclists. Just don't rely on it for all your fitness—think of it as a supplement to your cardio and strength.
Who You'll See: The same people who are always in line at Whole Foods holding armfuls of kombucha.
#3. Bodybuilding
Goal: To sculpt a body like a Greek god by lifting progressively heavier weights.
Cost: Bodybuilding requires a lot of equipment. Much of it can be found at any gym, which may set you back as little as $10 a month.
Accessibility: The workouts seem standard, but form and exercise choice are key to safety. While a machine will do in a pinch, lifts with free weights are preferable for avoiding muscle imbalances. Hire a trainer when you start to watch your form.
How It Helps: It's great to build foundational strength and protect you from injury. Just don't bulk up. Outdoor sports are all about efficiently covering ground; extra weight, even in the form of excess muscle, is likely to slow you down.
Who You'll See: Guys wearing sleeveless shirts and white bandanas and grunting loudly.
#2. P90X
Goal: To get you ripped in 90 days by having you do intense, minimal-equipment workouts in your living room.
Cost: $140 for a 12-DVD set. You can also stream the workouts online starting as low as $100 per year.
Accessibility: P90X sold 4.2 million units. At its peak, the program had three things going for it: It was intense, so users really felt like they were getting a good workout. It was on DVD, so you could do the program from your living room. It worked, so word spread quickly. The downside is that, in general, the more intense a program is, the more likely it is to hurt you. Going from not exercising into P90X may increase your risk of injury.
How It Helps: The hardcore intervals in P90X will surely increase your strength and endurance. The weights used aren't heavy enough to help you gain super strength, but you'll become much stronger for your body weight. That said, when done right, it's demanding enough that you may not have enough time, energy, or desire to hit the outdoors afterward.
Who You'll See: Technically, no one, because you do it in your living room.
#1. CrossFit
Goal: To become the fittest person in the world by performing basic exercises at a psychotic pace.
Cost: A monthly membership to a CrossFit box, their word for gym, runs around $150. Although more expensive than your local chain gym, a coach guides you through each workout.
Accessibility: You'll find a box in just about every city in the country and in many globally. Despite CrossFit's hardcore reputation, anyone can do it with the help of the "on-ramp" program, offered at boxes to teach new members the fundamentals. Once you have the basics down, you can hop in on the daily Workout of the Day, or WOD. If you're not comfortable with the prescribed workout, a scaled-back version is always offered.
How It Helps: CrossFit trains all the basic human movement patterns—running, jumping, squatting, lunging, pressing, pulling—at a high intensity. It can quickly transform you into a well-rounded outdoor athlete. The one thing CrossFit WODs tend to lack is low-intensity endurance. But assuming this is just a small part of your regimen, it could help you train up to your peak.
Who You'll See: Paleo-eating über-fit athletes wearing Reebok Nanos and knee-high socks and espousing their logic on why CrossFit is the best fitness method ever invented.
---
Illustration by Gastón Mendieta