How (and Why) to Flex Your Hips
The only fix to tight hips is a good lunge and twist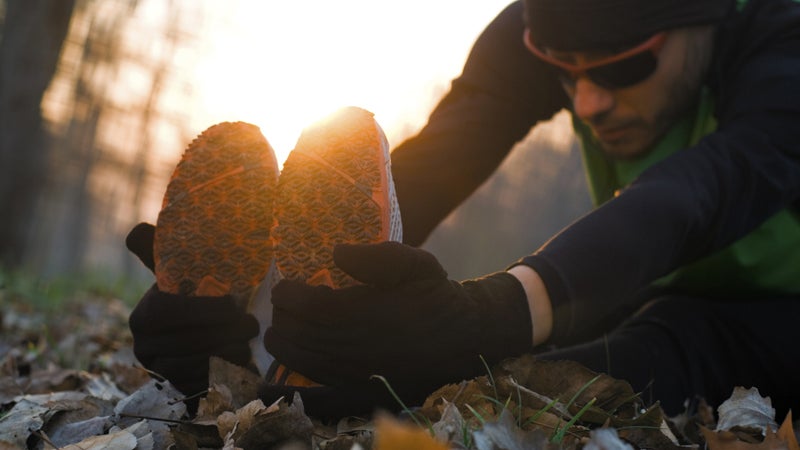 Getty Images/iStockphoto/m-gucci(Photo)
Heading out the door? Read this article on the new Outside+ app available now on iOS devices for members! Download the app.
Your running regimen isn't going to make up for your workday nine-to-five. All that sitting causes serious problems with hip mobility, which are only exacerbated by the repetitive movements of endurance training.
"Running and cycling combine to make some of the tightest, shortest hips on the planet," explains Kelly Starrett of MobilityWod.com. And it's not poor form that's causing the problems. The repetitive movements of endurance training—coupled with the sedentary lifestyle most athletes lead outside of their sport—restrict range of motion.
Forget about posture: This is bad news for any athlete hoping to maximize efficiency and avoid injury, Starrett says.
For runners, tight hip flexors prevent full rear extension of the leg. To compensate, stiff runners achieve extension by arching their back and tilting their pelvis forward; this shifts the foot strike forward, in front of the runner's center of mass, and creates an inefficient braking force, as well as a heavy foot strike that takes its toll on ankle, hip, and knee joints, explains USA Triathlon performance adviser Bobby McGee.
The upside? If you get away from compensating, great things will happen.
"At times, I've been able to run better than my fitness level should allow, simply because I have great stability in my hips and glutes and can keep up good form even as I start to get tired," says 2013 U.S. ultramarathon champ Matt Flaherty.
Here's how to follow in Flaherty's footsteps:
Warm Up for Efficiency
An active warm-up is essential to achieve good form and maximum efficiency, especially if you train in the evening, advises Jason Fitzgerald, founder of StrengthRunning.com. A series of dynamic, prerun movements will lubricate the joints, improve your active range of motion, and wake up muscles that have been dormant all day, helping you to stay upright and extend out the back. For this, try Gary Gray's celebrated lunge matrix.
Cool Down to Prevent Stiffness
A post-run stretch, followed by soft-tissue work with a foam roller, will help further loosen the hip flexors. This is especially important if you exercise before work, says Fitzgerald, because scar tissue and muscle adhesions form quickest when exercised muscles are suddenly held in a compressed position (i.e., your office chair). Walking breaks throughout the day will also help prevent these adhesions.
Make Time for a Couch Stretch
If you can set aside time apart from your workouts, try Starrett's couch stretch: In front of a couch or wall, sit on all fours. Place the shin of one leg parallel against the wall or couch, then bring one leg up into a kneeling position with your knee above your foot. Straighten your torso and fire your glute, as if to slide your two legs together. Hold for two minutes per side, contracting and releasing as you wish.
"If people did the couch stretch, their lives would change," says Starrett.
Lead Photo: Getty Images/iStockphoto/m-gucci
Trending on Outside Online