How Elite Athletes Do Winter
First, they don't just tolerate it—they love it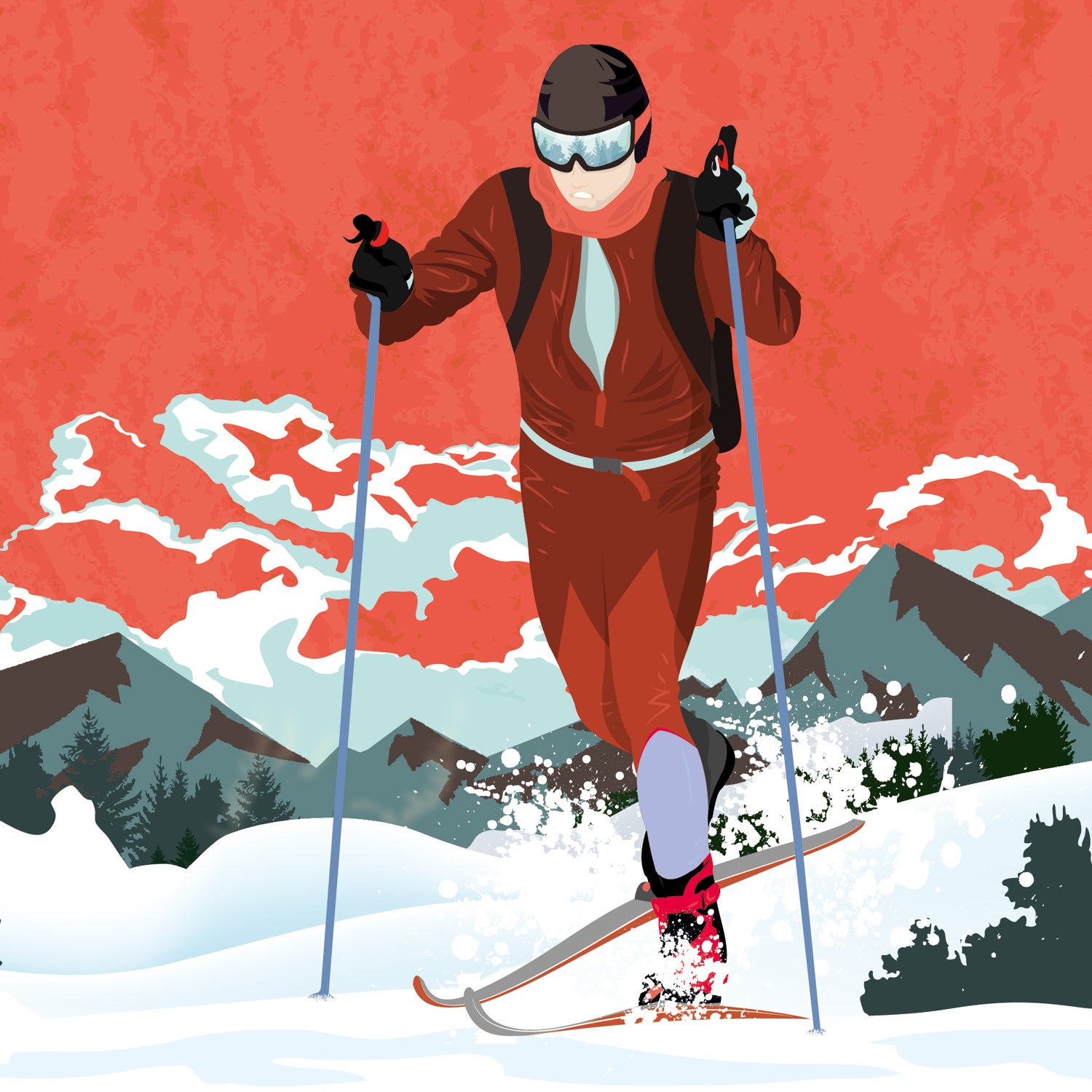 Sebastian Melchor(Photo)
Heading out the door? Read this article on the new Outside+ app available now on iOS devices for members! Download the app.
For some athletes, winter means treadmills and indoor cycling. It's the cold, dark offseason and it can't end soon enough. For others, however, winter is truly a wonderland—a chance to set out on countless adventures and compete, putting all of the cross-training completed during the summer to work.
We asked a handful of elite athletes across a wide range of sports to tell us what winter means to them.
Make Winter the Big Show
John Gaston, Aspen, Colorado; Team USA Ski Mountaineering
I thrive in winter. I'm a cold-blooded creature best suited to snowy alpine environments. I excel in survival mode, when Mother Nature starts knocking out the rest of the competition. And while I've always been impressed with cyclists who can pound out hours riding an indoor bike for months on end, or runners who bury themselves on the treadmill, none of this makes sense to me, especially in a place like Colorado. Why anyone would choose to spin pedals in their living room when they could hike up their local mountain and shred back down is beyond me.
Be Smart
Matt Pelletier, Oneco, Connecticut; Olympic Marathon Trials Qualifier
Toughing it out in extreme winter weather depends on the type of workout and conditions. If I need to hit specific paces in a challenging workout, I often opt for the indoor track or treadmill. If it's just easy mileage, I'll run outside since pace doesn't matter.  But when the roads are slippery, I run inside. A day on the treadmill beats two weeks off with an injury.
Make the Most of It
Doug Maclean, Ithaca, New York; Professional Triathlete and Coach with QT2 Systems
You've got to accept that it's winter and work with it. One of my favorite things to do is run in deep snow.  It's a great strength workout and it's mentally refreshing. Another option is cross-country skiing, which can build aerobic capacity that is transferrable to the summer racing season.
Adding a social element to training helps a lot, too. Join as many group workouts as you can, like runs from the local shop, and small, informal races. Not only does this get you out of the house and keep you accountable, but you meet new friends along the way. The pressure to nail specific workout paces is much lower in the winter than in the heart of racing season. Take advantage of that flexibility and freedom to try new things and meet new people.
Finally, *DO NOT* compare your winter training numbers to those from when you were in peak shape the summer before. If you do, you'll be discouraged. Instead, stay present in the moment, maintain a positive mindset, and focus on improving a little bit each day.
A Positive Change of Pace
Rob Krar, Flagstaff, Arizona; Team North Face Ultrarunner
It can be challenging to maintain focus and stay positive during the winter—bitter cold and short days can mess with motivation. Finding an alternative to the norm, something new and different from the rigor and demands of the running season, is key. Ski mountaineering has become integral to my success and longevity in ultrarunning. Grinding up the mountain and floating back down is a welcome contrast, both physically and mentally, to pounding out countless miles during the running season. Skimo takes me out of my comfort zone and challenges me in different ways that end up benefiting my running. I enter the running season near the top of my fitness, rejuvenated, and motivated for the season ahead.
Pay Your Dues…Then Go Somewhere Warm
Larry Warbasse, Traverse City, Michigan; Professional Cyclist for IAM Cycling
Back when I was a junior and living in Northern Michigan, I had a training partner who was one of the toughest guys I've encountered in all of my years cycling. He had me buy cycling "boots"—yes, they exist—as well as rechargeable heated insoles. We would go out and ride our cyclocross bikes for four or five hours on snowy roads in frigid temperatures. You could only drink from your bottle in the first thirty minutes of the ride, since it would freeze so quickly.  Those rides really helped to toughen me up.
In college, at the University of Michigan in Ann Arbor, I learned about the magic of the trainer. You can accomplish a lot of work in a short period of time riding indoors, which was especially helpful during school when I had a hectic schedule. While riding in your living room protects you from the cold, it can also get really hot. I'd open all the windows and my roommate would have to sit in our dorm in his down jacket, gloves, and a hat simply to study. We still laugh about that.
Nowadays, I am fortunate to have the ability to go almost anywhere I want to train in the winter, so I often flee to warmer climates. I've spent a bit of time in Kona, Tucson, Santa Barbara, and all over Europe. I want to be in a place where I look forward to getting out and spending hours on my bike every day—warmth helps with that. If I were still stuck in the snow, I'd turn to one of the new options that make indoor training easier, my favorite being Zwift. It's like Xbox live for your bike: you ride and race other people in real-time. I've only tried it once, but I didn't want to get off.
Toughen Up
Des Linden, Rochester, Michigan. Marathon Runner; 2012 Olympian, 2016 Olympic Marathon Trials Qualifier
Dress for the weather, start a little bit later in the day, and run in a group (misery loves company). If you have the resources, it's also not a bad idea to schedule a training vacation to a warmer climate. But remember, running in the cold and snow definitely toughens you up.
Leave Your Comfort Zone
AJ Baucco, Cleveland, Ohio and Boulder, Colorado; Professional Triathlete.
Winter is the perfect time to work on your limiters. Most triathletes tend to focus on their favorite sport during this time, which is also their strongest sport. I use each winter as an opportunity to focus on my weaknesses.  For me, this means working on my cycling. I am racing cyclocross and mountain biking, and finding myself way out of my comfort zone. Hopefully this will pay dividends during the summer season when my cycling is no longer a limiter.
Race!
Andrew Newell, Shaftsbury, Vermont; Team USA Cross Country Skier
Winter is like waking up from a six month dream and suddenly feeling alive. It's when all the hard work that I put in during the summer pays off in exciting races.  Racing hurts like hell no matter what, but the thrill overpowers the pain.
I spend five consecutive months on the road living out of the same suitcase traveling to different World Cups races. I've gotten to experience a lot of amazing places and unique cultures. But wherever I go, it's the love for skiing, the outdoors, and a healthy lifestyle that makes me tick. That's what I love most.
Lead Photo: Sebastian Melchor