How to Prepare for a High-Altitude Race
What you can do beforehand, at sea level and once you hit the mountains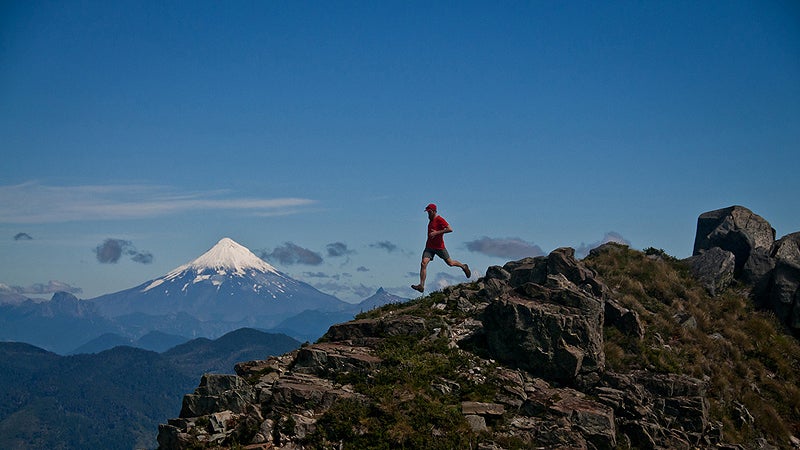 Heading out the door? Read this article on the new Outside+ app available now on iOS devices for members! Download the app.
We know the feeling (Outside's headquarters are at 7,000 feet). Doing any sort of activity at high elevation, even just a simple walk, leaves you feeling like all your past months of training didn't even happen—and that you've been smoking a pack a day instead.
So what are you supposed to do if you live at sea level and want to travel for a race that is at altitude? Surprisingly, you don't have to feel like you're dying the whole time—if you flow the rules of high-altitude racing.
Your Body on Altitude
No matter how good of shape you are in, it doesn't matter when you head up to the mountains, at least for the first few days while you are acclimating. That's because your body is experiencing hypoxia, where your blood carries a lower level of oxygen than normal. The wheezing and shortness of breath you experience is your body trying to compensate for these lower oxygen levels.
"Your heart rate goes up to try to get more oxygen into your lungs—it is trying to increase the  pumping of your heart to deliver and transport more oxygen to your tissues," says Robert S. Mazzeo with the Department of Integrative Physiology at the University of Colorado. Altitude also causes hormonal changes to occur—like the pumping of adrenaline to help with oxygen transportation and delivery. This all happens when anyone is exposed high altitude, but if your body doesn't acclimate well, you can get acute mountain sickness, which unfortunately feels a lot like a bad race anyway—headache, nausea, and vomiting.
Arrive Early and Lower Your Intensity
So how do you complete a high-altitude race when you train at sea level? Since we don't recommend blood doping, and a hyperbaric chamber will set you back a few thousand dollars, aim to get to the race location a week in advance and stay active—which accelerates the acclimation process. Don't, however, workout at your full intensity and volume. Instead, reduce your intensity by 10 percent and volume by 10 to 20 percent, over your taper, too, says Lance C. Dalleck, an assistant professor of Exercise and Sport Science at Western State Colorado University and researcher for the High Altitude Performance Lab. Take the first day or two off, and if you aren't experiencing symptoms of acute mountain sickness, start training, but slightly less.
But be sure to prepare mentally, as your race pace will be slower and dehydration sets in quicker. Rather than trying to maintain your typical pace, consciously slow yourself down to avoid blowing up.
Timing Is Key
If you can't arrive a week in advance and get your body acclimated, schedule your arrival time as close as possible to race day, says Dalleck. Avoid racing between 24 to 72 hours at altitude and instead head up the night or morning before. "That is when you are suffering the most and are most prone to mountain sickness, when you are really starting to acclimate," Dalleck says of the one-to-three day period. "Before 24 hours, you haven't really started acclimating… If you race right away, you will beat all of that happening. Your performance on day one at altitude will be better than on day two, three, or four."
You can also try to get to a somewhat higher altitude at home, if possible, since preexposure to altitude can start that acclimatization. Aim to spend four or more hours at 5,000 plus feet a few times in the month leading up to the race.
If you still end up feeling like crap the whole race, don't sweat it. It's not you—it's genetics. "We see a lot of variability in athletes at altitude," says Dalleck. "Some individuals don't seem to be as impacted by the altitude.  Others at sea level might be world class athletes and at altitude, they are just anybody else."
Lead Photo: Ryan Smith/Flickr