Injured? Fear Is Your Biggest Enemy.
So conquer it with these six tips from cycling's comeback queen, Alison Tetrick.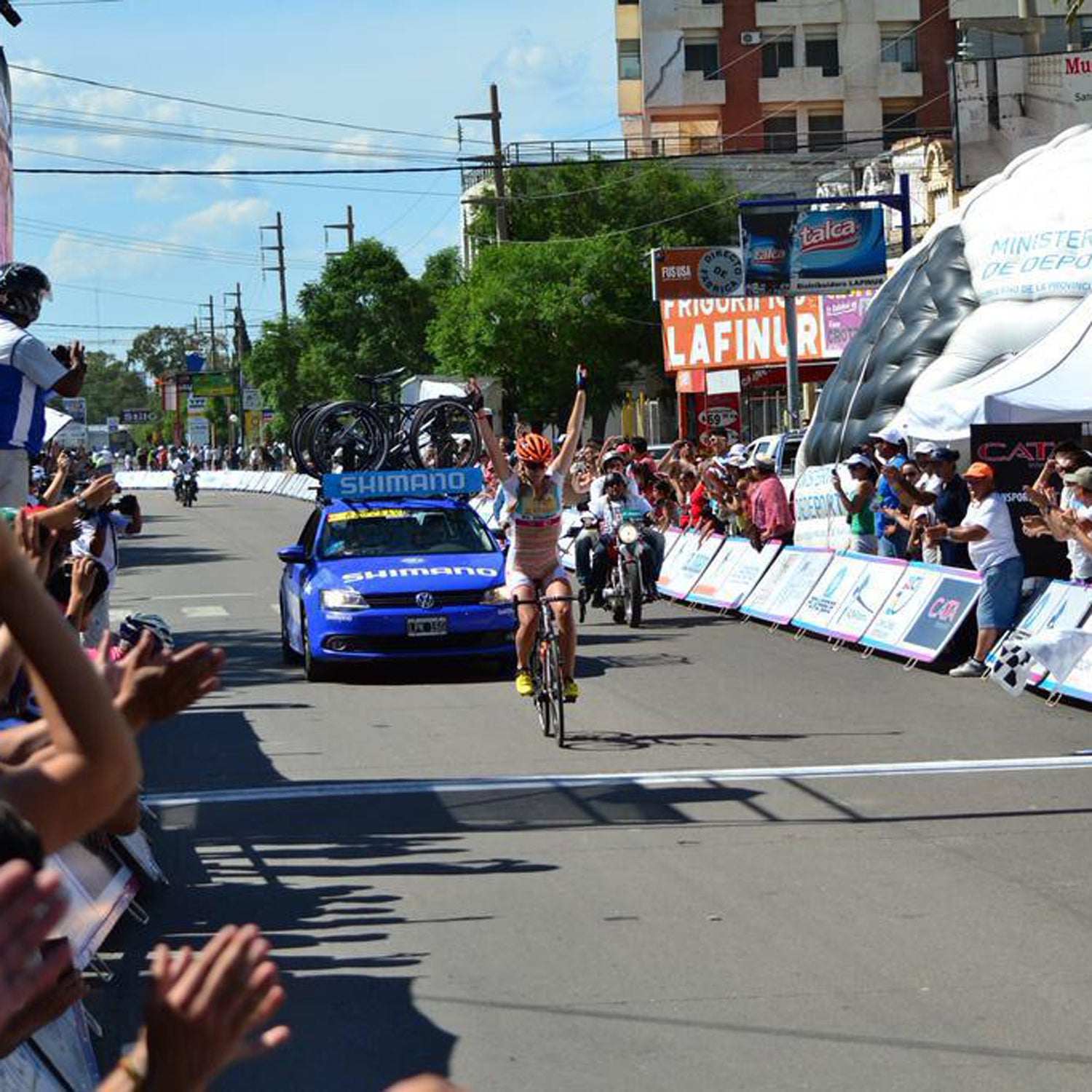 Heading out the door? Read this article on the new Outside+ app available now on iOS devices for members! Download the app.
When Alison Tetrick entered the Cascade Classic Time Trial in 2010, she was at the top of her game as a professional cyclist. Despite being relatively new to competitive racing, she was racking up podium spots. That season alone she had already taken first place in the Nature Valley Grand Prix Time Trial. The previous year she had won second place in the Cascade Classic, and now she was gunning for first.
That all changed as she was barreling down a descent during the race. One cyclist near her crashed, creating a ricochet effect in a group already riding in tight formation. Another racer took out Tetrick's front wheel, and Tetrick went down. Hard.
"When it first happened, I was going in and out," Tetrick said. "I was thinking, I can still race again today." With adrenaline pumping, she threw one leg over her bike and tried to get back on, but passed out again. She ultimately had to be airlifted off the course.
Tetrick was out cold for the next 24 hours, her body racked with seizures. First she was diagnosed with a broken pelvis, and later came the diagnosis of a traumatic brain injury. She didn't realize how serious her condition was until she woke up in the hospital and saw the look on her dad's face. That's when she knew her season was over, and that she would face a long, painful recovery. What she didn't expect, however, was the mental recovery would be harder than the physical.
"I was scared to death," she says, of getting back on the bike. "I was terrified I was going to crash again."
The next year she went back and won the women's division of the time trial for the Sea Otter Classic, and she's been back on the bike ever since.
Fear, researchers are finding, plays an enormous role in an athlete's recovery. In fact, it can determine whether or not an athlete ever makes a full recovery—and that fact is often overlooked, says Dr. Aaron Gray, a physician for athletes at the University of Missouri. Some athletes, he says, "almost have post-traumatic stress back to" the moment they got injured.
Addressing the fear, alongside the physical injuries, is critical for recovery, a recent study published in the American Journal of Sports Medicine found.
The study's authors looked at a set of patients recovering from ACL reconstruction. Over the course of the patients' recovery, the intensity of their knee pain was measured, along with the strength of the muscles around the knee, the knee's functional range of movement, and the patient's level of physical activity. Researchers also measured levels of kinesiophobia—pain-related fear of movement. Among the study participants, the most common reason for not having a full recovery was fear of getting hurt again. These athletes didn't have higher levels of pain than other people in the study; they were just scared.
"Our results indicate physical impairments may contribute to initial functional deficits, whereas psychological factors may contribute to longer term functional deficits in patients who report fear of reinjury or lack of confidence as a barrier to sports participation," wrote the study's authors.
Tetrick's fear was still alive and well at her first her big comeback race: the 2012 Sea Otter Classic in Monterrey, California. Nevertheless, she jumped onto her saddle and rode. She didn't place, but she knew it was a huge accomplishment to have recovered enough to be racing competitively again. The next year she went back and won the women's division of the time trial for the Sea Otter Classic, and she's been back on the bike ever since.
How did she crush her fear? One thing that helped: She decided to take ownership of the risks she faces while racing. Each time she races, "she's 100 percent in." She also took the extra time she had post-injury to focus on areas of her life outside of cycling. Now she's a graduate student in neuropsychology—with a particular interest in brain injuries. She's also volunteering with Breakaway from Cancer, a cancer awareness group. "I needed to separate my identity from the sport," Tetrick says. "I'm so much more than a cyclist."
If you're struggling with fear and a lack of confidence post-injury, Tetrick and Dr. Gray have some tips to help you bounce back. 
Take It Slow
Work with a trained physical therapist or sports physician to develop a gradual return-to-sport plan. This will let your body heal and helps your mind, too. Each day you do a little more, and gradually you'll start to build the confidence to get back out there.
If You're Feeling Blue, Get Help
For Tetrick, getting back meant working with a psychologist. It's normal to feel blue when you can't maintain your usual activity levels, but don't be afraid to ask for help to deal with it. "People need to be aware of the potential tendency to feel down in the dumps as you're recovering because you're not able to exercise and release those endorphins that you usually do," Dr. Gray says.
Track Your Recovery
Sometimes, even though you're improving, it's hard to see those gains because you're so focused on performing at your pre-injury levels. Tetrick kept a Microsoft Excel spreadsheet to track the activities she did and her mood levels each day. "If you keep track of your recovery you can see, 'Hey, I could only walk up half the stairs last week, but this week I did all the stairs,'" she says.
Practice Positive Visualization
We usually hear about positive visualization as a useful tool for uninjured athletes. To perform well at the race, the ski racer imagines herself floating down it elegantly and winning. The same technique can be applied to athletes coming back from an injury. If you're afraid of running after an ACL tear, for example, imagine yourself running fluidly with perfect form before you lace up your shoes and head out.
Get Your Movement Analyzed
Make sure you have good form to avoid reinjury. If you're a skier, take a private lesson and have your technique analyzed by the instructor. If you're a runner, get your gait assessed. If there's a deficit in your technique, you can correct it, and if there isn't, you can get out there with the confidence that you have perfect form.
Embrace Relaxation Exercises
When Tetrick is stressed before a race, she'll do deep breathing exercises to calm herself down. She also comes up with little mantras to keep herself psyched. If you're thinking a negative thought, try turning it around into a positive. "I'll be thinking during the race, I feel awful!" she says. "And then I'll think to myself, no, I feel awesome!"