Pat Gallant-Charette Won't Stop Breaking Records
The oldest woman to swim the English Channel wants to continue knocking off marathon swims into her 80s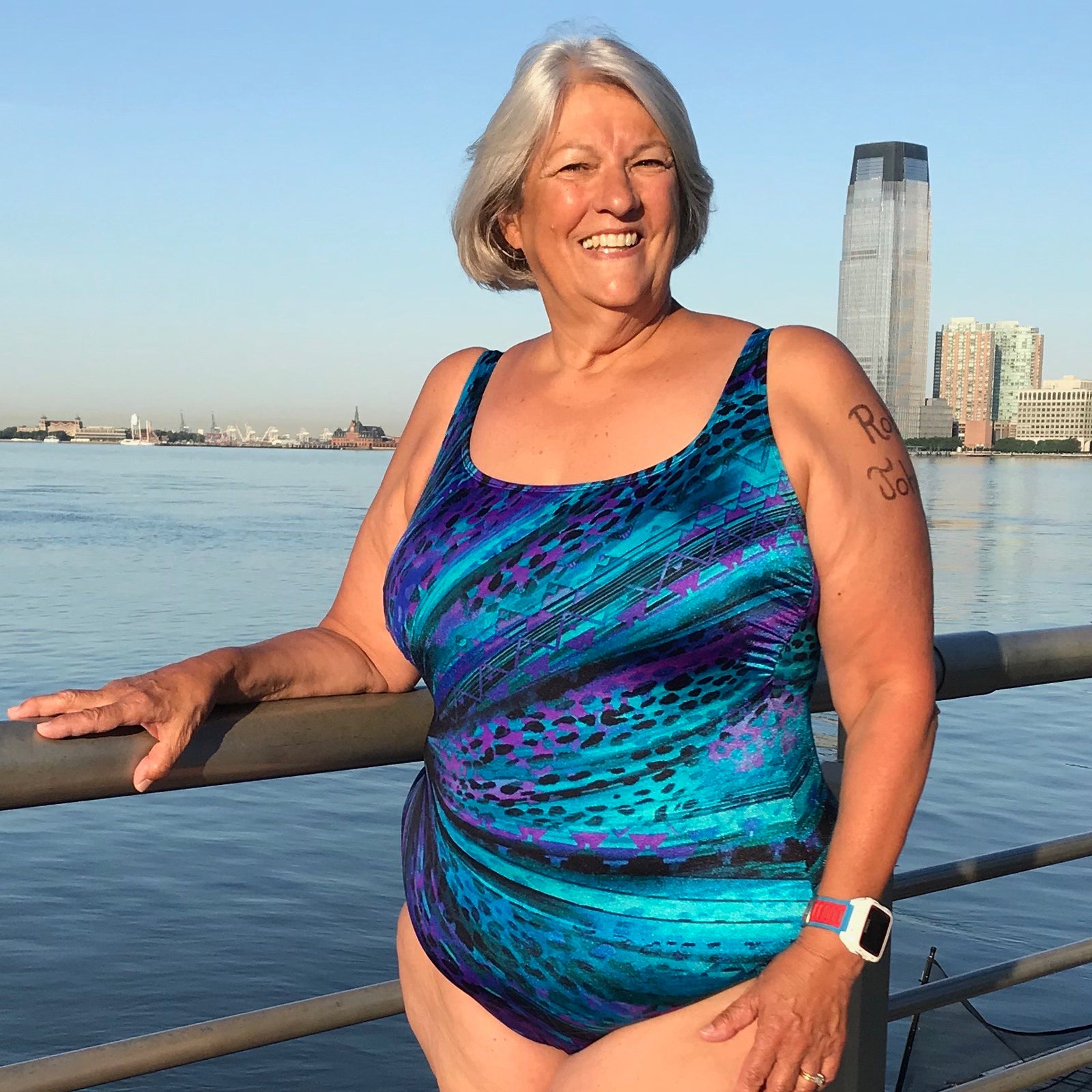 Courtesy Pat Gallant-Charette(Photo)
Heading out the door? Read this article on the new Outside+ app available now on iOS devices for members! Download the app.
Pat Gallant-Charette is tougher than your average grandma. She's probably tougher than you. The 68-year-old Maine native has completed the majority of the Oceans Seven, a marathon swimming challenge that has athletes tackling seven of the toughest open-water swims in the world. She has systematically subjected herself to near-freezing water temperatures, strong currents, shark attacks, and blooms of jellyfish during swims that have her in the water for up to 24 hours.
But the really crazy part? Gallant-Charette didn't get serious about swimming until she was 58. And she was terrified of the ocean for years, after she had what she thought was a close encounter with a shark (it was really a curious seal) when she was 13. "I wouldn't get in the water above my knees for years," says Gallant-Charette in her strong New England accent.
But after her two brothers, Johnny and Robby, each died unexpectedly (and 25 years apart), the then-full-time nurse reassessed her life. In remembrance of Robby, an accomplished open-water swimmer himself, Gallant-Charette decided to swim the Peaks to Portland , a 2.4-mile open-water swim that Robby had won twice. She started training at the local pool. At first, she was able to swim only a few laps, but she slowly built her endurance until she felt comfortable swimming across the bay in her brother's honor. "I was only going to swim the Peaks to Portland once," Gallant-Charette says. "But halfway through, there was something so tranquil about swimming in the bay. I saw seagulls and lobster boats. I thought, 'I really like this.'"
She felt good after her Peaks to Portland swim. Really good. Like she could swim farther. Curious to see just how far she could go, Gallant-Charette later swam across Sebago Lake in Maine, more than twice the distance of Peaks to Portland. It took her 3.5 hours, but when she finished, she felt like she could swim back across. So Gallant-Charette trained for a year and knocked out a two-way crossing of the same lake. "I looked at my husband after I finished and said, 'I think I might be one of those endurance athletes,'" she says.
Since then, Gallant-Charette has spent the past decade testing her limits. In 2010, she became the third-fastest woman to swim from Spain to Africa across the Strait of Gibraltar; seven years later, she became the oldest woman to swim the English Channel. Last year, she knocked out four marathon swims in two months: 28 miles around Manhattan Island, 21 miles across Lake Tahoe, 23 miles across Loch Ness, and 10.5 miles across Lake Windermere in England. In November, she was inducted into the International Marathon Swimming Hall of Fame . "I feel strong. Stronger than when I was a teenager," Gallant-Charette says. "I want to see what a 68-year-old can do , and then what a 70-year-old can do. I can see myself doing this into my 80s."
"I looked at my husband after I finished and said, 'I think I might be one of those endurance athletes,'" Gallant-Charette says.
In February, Gallant-Charette attempted her final leg of the Oceans Seven challenge, New Zealand's 16-mile-wide Cook Strait, after being on a waiting list for three years. (As marathon swimming grows in popularity, athletes have to register for specific windows to complete their chosen swim, for safety reasons.) She started the swim in calm weather and swam strongly for more than 12 hours, but her support crew pulled the plug just three miles from the finish because of dangerous currents. The conditions were so poor that Gallant-Charette's rescue zodiac was damaged by a large wave and began to sink. A similar situation happened during her previous attempt five years ago, although she only made it halfway (and no zodiac sank). "That's the territory for marathon swimming. You have to accept that sometimes Mother Nature won't be on your side," she says.
Gallant-Charette says she was mentally and physically ready for the swim, having trained all year, six days a week and a minimum of two hours a day, usually in a pool because she doesn't like swimming in open water. When she does train in the ocean, she knocks out laps close to shore, refusing to swim deeper than her waist. And she's completely self-taught. Aside from getting a few stroke technique tips from the local YMCA swim teacher, she's never had a coach.
Only a dozen people have finished the Oceans Seven since it was established in 2008, but Gallant-Charette says her age isn't a handicap, especially when she's had to battle constant jellyfish stings or gotten caught in a wicked current. "When you're younger, you get caught up in it all, trying to be the fastest," she says. "But when you're 68, you just want to have a good swim. If you're successful, great. But if not, eh, you just reschedule and try it again." Swimming across Hawaii's Molokai channel in the middle of the night, Gallant-Charette was bumped by either a shark or a dolphin, which sent her mind reeling to when she was a kid, frightened for her life at the beach in Maine. "These are tough swims. So much can go wrong that's out of your control," she says. "Trying to swim the English Channel in my twenties would have been overwhelming, but now I realize that it's just swimming."
Gallant-Charette doesn't think she'll attempt the Cook Strait swim again, but she's not done with marathon open water swimming. She's already compiling a bucket list of swims she wants to tick off around the world. She's halfway through the Still Water 8, a worldwide marathon lake-swimming challenge, and has her sights on the last four lakes in New Zealand, Switzerland, Russia, and Peru. And after she finishes the Still Water 8? "Who knows. I'm never going to retire," Gallant-Charette says. "After doing a marathon swim, I can do another within 24 hours. Once I get caught up on my sleep, I'm ready to go for another swim."
Lead Photo: Courtesy Pat Gallant-Charette
Trending on Outside Online