Notes from the Weirdest Fitness Classes We Could Find
A frank survey of the hottest new workout classes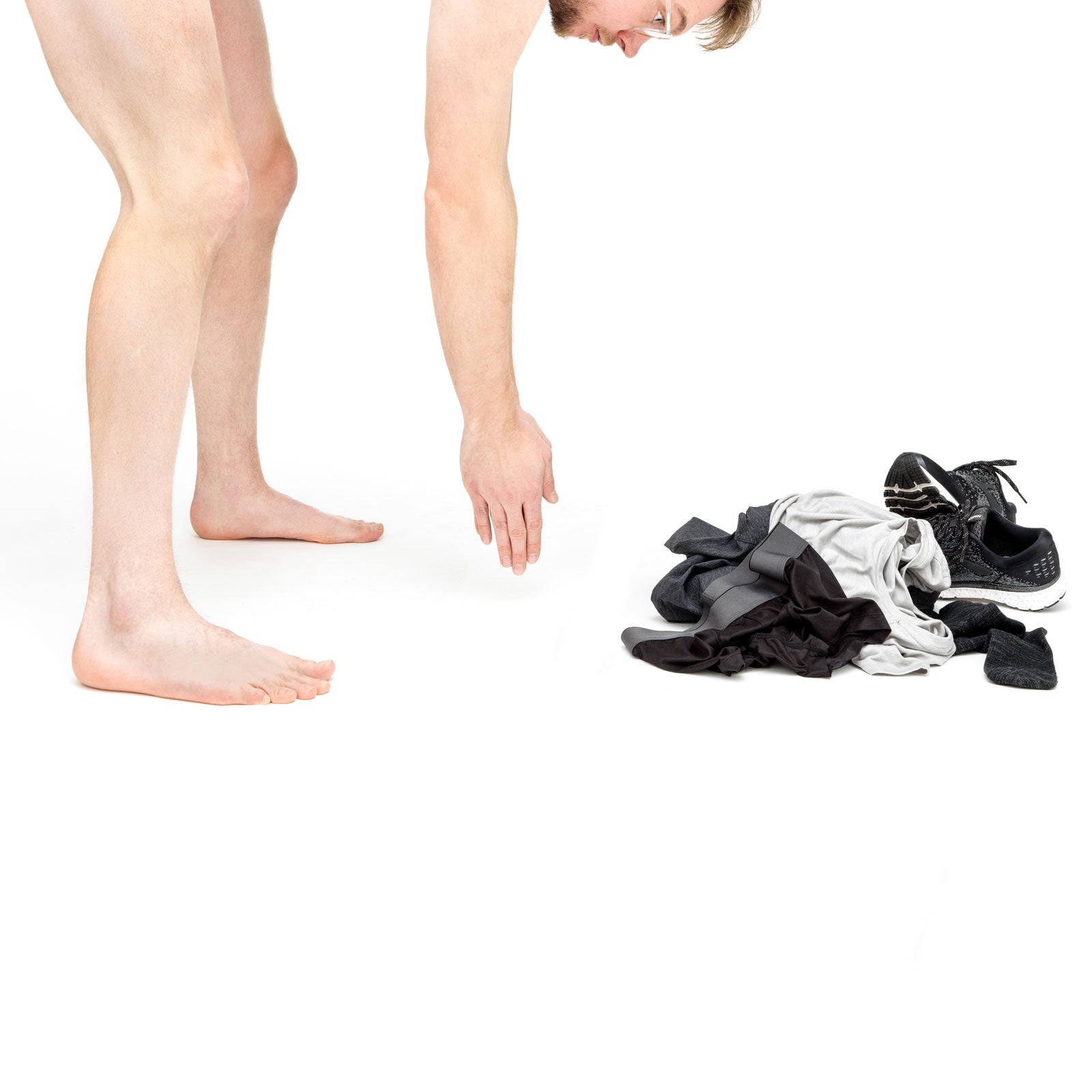 Heading out the door? Read this article on the new Outside+ app available now on iOS devices for members! Download the app.
Knowing that we all get a little bored with our fitness routines, I tested out six of the most unusual classes I could find in the New York City area. You're welcome.
Naked in Motion
What It Is: Nude yoga.
Fatigue Level: 5/10
Shame Level: 11/10
Instructor Quote: "Class rules: Nudity is mandatory. Everyone must participate."
Take This Class If: You're tired of washing your sweaty workout clothes.
The Gist: In 2016, Willow Merveille founded Naked in Motion to create a safe, inclusive space that would "offer a tool for developing a kinder relationship with the mind and body." I was skeptical. Ten of the eleven students were men. Was this a way to get more comfortable with your body, or yet another opportunity for those already comfortable with their body—mostly dudes—to flaunt it? By the end of class, I was surprised to find that I was OK with getting flexible in my birthday suit, surrounded by a classroom full of strangers. Give this a shot at least once—you'll be a hero at parties.
---
SLT
What It Is: Pilates centered on a reformer that's been modified with extra pulleys, springs, and bungees to ensure maximum burn.
Fatigue Level: 7/10
Shame Level: 6/10
Instructor Quote: "You can runner's lunge, but you can't hide."
Take This Class If: You're a Pilates enthusiast and you've wondered, Will more straps, bars, and pulleys increase my leg shake?
The Gist: SLT stands for strengthen, lengthen, and tone. The class comprises eternal planks, deep-as-you-can-go lunges, and pulsing squats, all in an intense 50-minute session. The pace of the reps is measured, but the transitions between exercises are fast, which had me looking around the room to see what contortion I was supposed to be doing. Color-coded numbers gave me Twister flashbacks. It's a great workout, but be careful not to sprain your ego when your body starts shaking during a move called the Mermaid.
---
Brrrn
What It Is: Yoga, slide-board, and HIIT classes in an extra-cold walk-in fridge.
Fatigue Level: 6/10
Shame Level: 3/10
Instructor Quote: "Everyone grab your sandbag and meet me at the South Pole!"
Take This Class If: You've had it with hot yoga.
The Gist: This was the most genuinely enjoyable workout experience of the bunch. Brrrn describes itself as "the world's first cool-temperature fitness concept." In other words, they crank the A/C. I took a slide-board class and not only learned what slide boarding is (repeated lateral movement on a piece of slippery rubber while wearing booties), but also discovered that 55 degrees is my optimal workout temperature. I wore a tank top and for once didn't end the class by trying to mop up an embarrassingly large puddle of sweat.
---
ConBody
What It Is: Boot-camp-inspired body-weight exercises taught by ex-cons who yell at you.
Fatigue Level: 9/10
Shame Level: 7/10
Instructor Quote: "You confused? You better not fucking mess up!" (Directed at me, following an explanation of the exercise progression to the entire class.)
Take This Class If: You're planning to commit a crime and need to be scared straight.
The Gist: The hardest class I took. The sign by the door said it all: "CrossFit. Cycling. Pilates. These white collar workouts aren't cutting it." My instructor, Coss Marte, founded ConBody after developing a workout routine during a four-year prison sentence. He didn't particularly care about catering to our egos; he was going to lead us through a difficult workout—60 minutes without a break—and we could follow along or not. I was dripping sweat as I struggled through a series of jumping jacks, push-ups, high knees, burpees, suicide sprints, mountain climbers, bear crawls, wall sits, and more. But intense workouts aside, ConBody's real mission is championing prison reform, and it hires formerly incar-cerated individuals to teach its classes. As soon as my hamstrings recover, I'll be back.
---
Mile High Run Club
What It Is: Like a spin class, but with really nice treadmills instead of bikes.
Fatigue Level: 8/10
Shame Level: 2/10
Instructor Quote: "We're all on our own run. Run your run, don't run anybody else's run."
Take This Class If: You like the cardio intensity of spin but are looking for something with a little more impact on your knees.
The Gist: An admission: I've done this class before, and I love it. It's basically an interval workout on a Woodway 4Front treadmill, a roughly $10,000 machine that is to a standard treadmill what a Tesla is to Fred Flintstone's car. Classes are offered at 28-minute, 45-minute, and 60-minute dura-tions. What sets MHRC apart from other treadmill-interval classes is the special attention paid to your perceived-effort level rather than to hitting specific speeds. A laminated pace chart is mounted onto each treadmill, and it encompasses a wide variety of fitness levels. Pro tip: don't choose a machine directly opposite a mirror. Nobody has a flattering tempo face.
---
AG6
What It Is: A circuit-based class set in the world of Tron.
Fatigue Level: 6/10
Shame Level: 2/10
Instructor Quote: "Trust your athletic intuition. Uncover your sixth sense."
Take This Class If: You'd rather play Candy Crush than go to the gym.
The Gist: This 45-minute session at Asphalt Green, a nonprofit organization dedicated to improving the health of local residents, makes familiar circuit-based workout stations more interesting with light-up tiles on the floor and walls that are responsive to touch. So you're not just doing sprints, you're doing sprints to illuminate a circle on the ground! You're not just doing medicine-ball slams, you're doing medicine-ball slams to illuminate a circle on the ground! You get the idea. This class was the most stimulating, but it also made me realize that sometimes all I want is a boring old jog.
More of Our Best Health and Fitness Stories