Gear Guy
I Quit the Gym for This Tricked-Out NordicTrack
Rowing is a great workout but can be somewhat boring. The RW900 fixes that.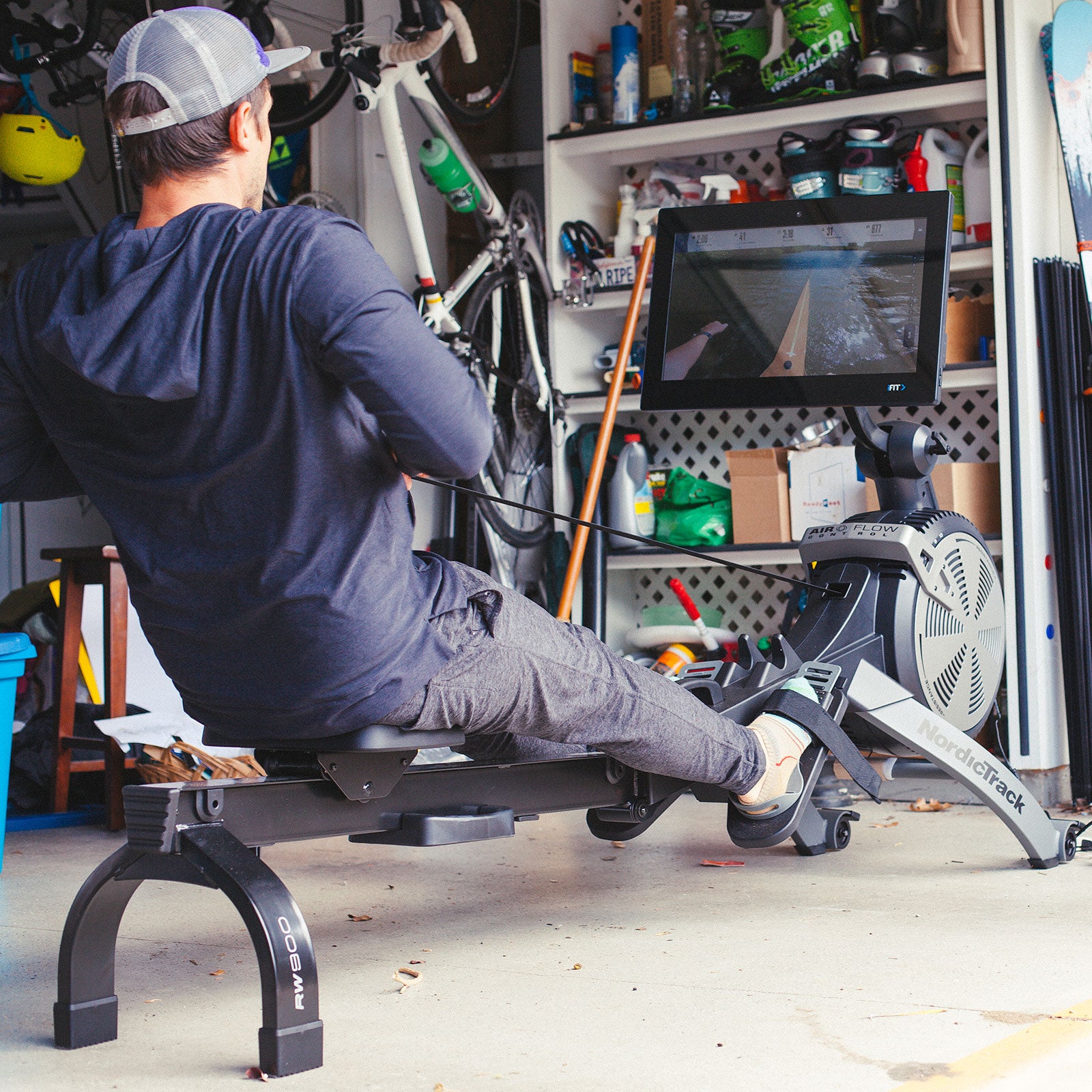 Sarah Jackson(Photo)
Heading out the door? Read this article on the new Outside+ app available now on iOS devices for members! Download the app.
As the ample snowpack here in the Pacific Northwest melts, I've been watching it run off and swell the rivers near my home in Ashland, Oregon. That means it's boating season! My legs were in great shape after skiing all winter, but to get ready for kayaking again, my upper body and core had to catch up. After a few weeks of research, I turned to the NordicTrack RW900 ($1,599). Having tested it for two months now, I can say it was definitely the right choice.
It isn't news that rowing is a killer whole-body workout. Though I've had access to a machine through my membership at a local gym for a couple years, it's been hard getting excited to go from my house or office to a concrete box and perform the same repetitive motion for an hour while staring at a wall.
The RW900 has solved my motivation problem. That's mostly thanks to the 22-inch touch screen, from which I can select a number of guided exercises. Think a 12-minute simulated saunter down the Kafui River in Zambia, or 35 minutes of lung-busting interval training at the pre-recorded hands of instructor Jay Wein (who magically seems to know when I'm no longer engaging my core). And Olympic gold medalist Alex Gregory has started to feel like an old friend—or, a tape of him has. He regales me with stories of his races on the UK Olympic crew team while we virtually hammer down iconic European rivers together. It feels like I'm not suffering alone.
On top of being entertaining, my workouts are incredibly efficient on the RW900 and I don't have to leave the house. If I'm feeling antsy while writing, I can find an exercise to obliterate myself—with a mixture of motivation from a trainer and resistance levels—and be back typing at my desk in 25 minutes. Or I can sneak in a rowing session while my daughter naps and my wife takes the opportunity to head out for a run or a bike ride.
The machine uses air and magnetic resistance, making it quiet so I don't have to crank the volume to hear the training commands. And the RW900 doesn't take up much space in my garage, folding up and slotting nicely into a corner when I'm not using it. While the touchscreen is effortless to navigate, the rower needs a solid internet connection to run those virtual workouts. I initially set it up in the farthest end of my garage, and the programs were taking so long to load and buffer that I nearly sent the RW900 back. It was easily fixed, though, by relocating the machine to the wall closest to the router.
At $1,599, the RW900 is not cheap. (This cost is compounded by the $40-per-month membership to access the training programs, though it's not necessary to spring for those.) But in the long run, this rower will save me money. It's so effective and easy to use that I canceled my gym membership last week, meaning I can keep that 60 bucks a month in my bank account. No more concrete box for me.
Lead Photo: Sarah Jackson