Our Kind of Crazy
We ask the pros what drives them

Heading out the door? Read this article on the new Outside+ app available now on iOS devices for members! Download the app.
What inspires an adventurous mind? You'd be surprised. Here are bold confessions from 15 Outside eminences, from alpinists and ultrarunners to a thrill-seeking news anchor.
Mike Horn
Earth Roamer
Mike Horn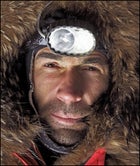 The question is, What puts a smile on my face at the end of the day? That's why I do what I do. When you have to rely on yourself to survive, you find that inner strength we all have so much difficulty finding in our daily lives. Once you've discovered it, you get such a sense of satisfaction, such a sense of being alive. We all want to take time off to think, to concentrate on that one thing we really want to resolve in our life. But that time is very difficult to take in the modern world. There's always someone around you, always something to do, always a phone ringing. Now imagine all that is taken away. All of a sudden you find yourself with so much time that you say, The only thing that I can really do today is look at myself. That is the freedom that we're all looking for that we can never find. Being alone gives you the freedom of choice, the freedom of thought, a moment to have bold ideas. I'm not doing what I do for the risk or to die. I'm doing it to live.
Horn, 42, has completed motorless circumnavigations of the equator and the Arctic Circle. During the winter of 2006, he skied to the North Pole.
Dean Karnazes
Running Man
Dean Karnazes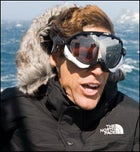 A great run definitely involves suffering. I think any adventure athlete will tell you that there's honesty in suffering. You feel more alive than when you're just cruising along. There are moments where you have very lucid thoughts. On day four, running across the Sahara last year, I nearly passed out at mile 23 of a 28-mile stage. I was dehydrated, it was extremely hot, I had exhausted my salty foods, and I was rationing my electrolyte tablets. My ears were ringing. My head was spinning. I was seeing stars. I finally sat down in the sand and just looked around. There was no one there. And I sat there for probably 15 minutes and got in my own head and said: Don't get ahead of yourself. Be in the moment. Don't think about the race you have to do tomorrow. Just take one step. Do your best on the next step. There's magic in misery. I talked to God out there.
Karnazes, 46, won the 2008 Four Desert Challenge, a 621-mile stage race across the Atacama, Gobi, Sahara, and Antarctic deserts.
Samantha Davies
Solo Sailor
Samantha Davies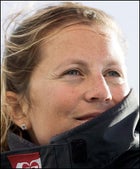 My grandfather was a submarine commander, and I wear his Saint Christopher medal. I'm sure there's something in my blood, but it could be just hero worship. Solo racing is so addictive to me. Every day at sea, I wait for the position reports. I'm trying to think and win. Some days I'll lose 300 miles to a competitor, other times I'll gain. Those highs and lows are part of the game. Being scared Like brown-trousers scared I know at some point I will be. You have those moments, when the waves are enormous at night. There's so much adrenaline. You're alone; you have no option but to get through it. I'm never aching to get back to dry land. Finishing is a bit anticlimactic. I enjoy my little life on my boat. I feel in control.
Davies, 34, took fourth place in the 2009 Vendée Globe, a single-handed, nonstop round-the-world sailing race.
Ed Viesturs
Mountain Addict
My first one was Mount St. Helens, in 1977. I didn't really know what I was doing, so I climbed with more experienced partners. When we got to the summit, I looked around and said, "Yup, this is it. This is what I've been looking for." I don't want to die climbing mountains, I really don't. It's not worth it. People make rules for themselves at base camp, but as soon as the summit is close, the rules go out the window. They think, Well, I'll get away with it. Sometimes they do and sometimes they don't. I like the whole process of planning, training, organizing, logistics. It's methodical, long-term, but I get a thrill at the end. My goal was to climb the world's 14 highest peaks without supplemental oxygen. It took me three tries to climb Annapurna at the end. When I walked off it, I was elated. But when I got home I lost a little of my sense of purpose. People were saying, "Well, I guess you're done, Ed." And I said, "No. I'm still going to do adventures and climb. I'll look for new challenges."
Viesturs, 49, was the first American to summit all 14 of the world's 8,000-meter peaks. This spring, he'll attempt to summit Everest a seventh time.
Shane McConkey
Airman
I just love the feeling of catching air. It's the combination of being completely out of control yet knowing that you're in control. And your stomach going up through your chest and out your mouth. It's just the scariest, coolest thing in the world. I think it's ingrained in our DNA. It stems from having to search for our food way back when. We don't have to do that anymore as humans, but we still have the urge in us—that primal instinct to go for it. For me, it's not about quenching the desire; it's about working through a project and then moving on to the next one. That old line about life being a journey is true: If you're always looking to be satisfied by completing something, then you never will be. It's about being out there and doing it. Accomplishing the mission is just one little part.
Big-mountain freeskier McConkey, 39, appears in this year's Matchstick Productions film Claim.
Burt Rutan
Space Cowboy
Ever since I was a child, I've enjoyed doing more than I thought I could do. Experimenting with model airplanes and aerodynamics, I created challenges for myself that were kind of out there. Not just for fun—I did it to win trophies. After I beat adults, I said, I'm going to go as far as I can. I can't put my finger on the reason for having humans in space. We'll likely have a decade of commercial space flight before we know why we're doing it. It's like the personal computer: When I bought my Apple II in 1978, the justification was games. Then, all of a sudden, there's this idea of the Internet. That would have been senseless if you just had IBM making five mainframes a year. I do want to spend a couple weeks in orbit, and take that big swing around the moon. It'd be days where you're seemingly motionless, then you'd make this screaming pass just above the highest mountains.
Roberts Rutan, 65, the founder of Scaled Composites, won the Ansari X Prize in 2004 for designing the first manned, privately funded craft to reach space twice within two weeks.
Lynne Cox
Icebreaker
Swimming is exploring for me. It's about the desire to see and really understand different parts of the world. By swimming in the water, I see a different side of the land. After I swam across the Bering Sea, during the Cold War, Gorbachev said it showed him how close the two countries really were and how our relationship was improving. Soon the borders were opened and families that hadn't seen each other for 48 years were able to reunite. It was enormously gratifying. Swimming is also about exploring yourself. There's something wonderfully creative in looking at a body of water and figuring out how to cross it—how to push yourself further. And there's always that question of "Can I do it?" The idea of swimming in Antarctic waters—nobody had done that before. But it's just problem-solving: What is water below 32 degrees going to feel like? How is it going to affect the body? Do I have to worry about icebergs? Do I have to worry about getting attacked by seals? Is this possible? That's what really propels me: possibility.
Cox, 51, has swum across the Strait of Magellan, Lake Baikal, and the Gulf of Aqaba. In 2002 she swam for 20 minutes in the waters off Antarctica, covering 1.2 miles.
Christopher Anderson
Silent Shooter
We all start out as idealists, but now war photography is just what I do what I know how to do. Name the conflict and I've probably been there: Iraq, Afghanistan, Israel, Palestine, Lebanon, the Central African Republic. It's a compulsive curiosity. I want to know what war feels, smells, sounds, and tastes like. I was with the first company of American soldiers to enter Baghdad and lost vision in my right eye for a couple of weeks when a rocket hit the vehicle I was riding in. There are photos that have changed things, but I don't believe in announcing that as my intention. If I can make a difference, I think it's adding to the historical record. Mostly, my reasons are my own selfish curiosity. I find it presumptuous when photographers say otherwise. I can't deny that I like adventure, but I don't take foolish risks. Well, maybe a couple like getting on a wooden boat with 44 Haitian immigrants trying to sail to the U.S. As we were sinking, a Coast Guard ship happened upon us and saved us from certain death. I wanted to feel that boat rock.
Anderson, 39, has a new photo book, Capitolio a look at dark nights in Caracas, Venezuela coming out in August.
Fred Beckey
Billy Goat
I don't know why I climb. Why does a guy stand for five hours in a river in Alaska, freezing his butt off, hoping to catch something? You can buy fish at the market cheaper, as we all know. I don't think I'm a climb-aholic. But there's maybe some kind of internal drive. Mountains grip me. Say you're driving, out from Nebraska or Kansas across the Great Plains, and the first sight of the Rockies gets you. Wham. There they are. They're beautiful. It's "Hey, I got to get my hands on them. Get tangled up in them." I've focused on first ascents because it's more of an adventure solving an unknown problem. There's no telling what may happen, or what the consequences will be. It's a commitment.
Fred Beckey, 85, has put up more than 1,000 first ascents. This year he plans to explore new routes in China.
Ben Stookesbury
Mad Paddler
Simple. It's to see the last unrun rivers on the planet. And to push the boundaries of what's considered navigable in any boat, let alone a kayak. An unrun river is the difference between buying a lift ticket and skiing a new line in the Chugach Range, in Alaska. When you repeat something that somebody else has done, the mental barrier has already been broken: You know it's doable. With a first descent, you've got to figure it all out on your own. That feeling of elation I used to get after making it through a rapid is harder to duplicate now. I've become more patient over time; I'm willing to wait for it and plan for it on a grander scale. So that when it does come, it's that much more exceptional. A first descent is a small honor, but it lasts forever.
Last January, Stookesberry, 30, paddled over Brazil's 100-foot-plus Anaconda Falls.
Tom Brokaw
Nomadic Newsman
There's just a sense of vitality, constantly, when you're out there. It helps you find out who you are. I don't mean I'm the kind of person who goes through life examining his navel, but I find that I'm renewed when I go off the grid. Part of the reason I wanted to get away from the dailyness of the Nightly News and Meet the Press is that I've still got my legs and I want to use them while I can. Getting on a cross-trainer is not my idea of adventure. But I've had my nose down so much in recent years that I haven't been able to lean back and say, Oh, God, I want to go do that. The important thing is always to be thinking about your next trip. Always to have it out there, just a little beyond your reach.
Brokaw, 69, a frequent adventure partner of Yvon Chouinard, has climbed, hiked, and fished around the world, from Rainier to Mongolia to Patagonia.
Les Stroud
Born Survivor
When I was younger, it was the dream. I'd watch Tarzan movies and Mutual of Omaha's Wild Kingdom and Jacques Cousteau, especially. Those were some big-ass adventures. But I was sure that because of my white-bread life a teenager in a Toronto suburb, smoking pot, drinking beer, listening to Styx and Supertramp all of it was out of reach. I just assumed you had to have lots of money. But here's something about adventure: You just do it. That's it. When it comes to Survivorman, I'm not interested in making a TV show. I'm interesting in creating powerful, inspirational, compelling pieces of work. People ask me a lot, "What are you afraid of?" I hate to give this cornball answer, but I fear mediocrity. There's that classic pull-it-out-of-the-Seven-Habits-book exercise: What do you want people to say about you at your funeral? I do that a lot. It really works.
Canadian survival expert and filmmaker Stroud, 47, spent more than 150 hours alone to create 21 episodes of Survivorman.
Chris Waddell
High Roller
My biggest worry after breaking my back in '88, in a freak ski accident, was that I would lose a life in which I could do whatever I wanted. Lying in the hospital bed, I realized my legs were paralyzed, but I was thinking, I'm going to ski-race by the end of the year. Some people might say that was classic denial. I say it was classic maintaining your dreams. I entered a race only two weeks after learning how to mono-ski. I was absolutely petrified, but it was really fun. Then I started looking at the course like a racer and realized, Wow, I'm back. Now I'm not as captivated by competition anymore, by podiums, but I still want to challenge myself. If they're easy challenges, they're not memorable, so you push yourself. It's about living life to the fullest.
Waddell, 40, is the most decorated male skier in Paralympic history. This spring, he plans to climb Kilimanjaro.
Roz Savage
Rowing Machine
You can very honestly ask, What does bobbing around in a rowboat contribute to the greater good? Well, people find inspiration in what I do. I've learned that you can achieve any challenge if you just break it into tiny pieces. It takes me a million oar strokes to cross the Atlantic. That's a hell of a lot of oar strokes. And in ocean rowing, very early on you pass the point of no return. The trade winds are blowing you and you can't turn around and row into the headwind, so you have to figure out how to make it to the other side without driving yourself crazy. When I first set out, my emotions were up and down. I'd come up onto my deck and go, I quit. Then I'd look around and see nobody there. I've learned that nothing worthwhile is easy. But, even when I'm having the most miserable time, I can say, Hey, this will make a great story in the pub.
In May, Savage, 41, will begin the second leg of her row across the Pacific, roughly 2,500 miles from Hawaii to the island nation of Kiribati.
Jimmy Chin
The View Finder
Climbing, like photography, is a fully creative process. There are aesthetic and style concerns. There's also the need to push the edge, to have an adventure with an unknown outcome. It's liberating. With a singular objective and high consequences for every decision, all the day-to-day distractions disappear. Conrad Anker likes to call it "cleaning out the pipes." A climb like Meru, where you can reacquaint yourself with the primal instincts of survival, gives you a fresh view on life. There's nothing better than deprivation to give you perspective.
Chin, 35, attempted the Shark's Fin route on India's Meru Peak with Conrad Anker for "Why Am I Here Again?"